10 Best AI Song Lyrics and Songwriters Generators
If you've been writing your own music, you know how challenging it can be to come up with original lyrics and melodies.

This is particularly true if you've been doing it for a while and everything you produce starts to sound the same.
Songwriters occasionally encounter situations when they want to create song lyrics but are unable to do it because of a lack of inspiration. A song lyrics generator might be helpful for them in this situation.
It provides them with automatically generated song lyrics and motivates them to produce.
What are the Best AI Song Lyrics and Songwriters Generators ?
In this post, we've included a list of several helpful artificial intelligence-based lyric generators. The majority of AI lyric generators are usually user-friendly and web-based.
1. Masterpiece generator
One of the greatest options for composing songs is Masterpiece Generator.The finest part is that it is totally free to use and that it enables users to quickly locate brilliant poetic thoughts.
A collection of tools for swiftly producing material including songs, stories, and poetry can be found on the Masterpiece Generator website.
The choices range from being entirely arbitrary to being extremely organized, and frequently there is also a parody component.You can even select from a list of musicians depending on whose musical taste is most closely like your own.
Choose from artists like Drake, Adele, Frank Sinatra, and others to make sure the lyrics created closely reflect your own style.
No matter what kind of lyrics you usually write or what genre your music falls into, Masterpiece Generator will be of tremendous assistance to you.
2. Bored humans
With only a few seconds and a single click of a button, boredhumans.com allows you to quickly find millions of lyric ideas.
This website offers 40 entertaining pages with artificial intelligence (AI) that operates similarly to autocomplete on your mobile device and anticipates the next word as you type.
This model has been improved for their song lyric generator so that it can now predict lines for a song instead of just one word at a time.
This lyrics generator has access to a sizable database and generates results at random, so you'll never get the same thing twice. It also won't provide you with a duplicate of something that already exists.
All you have to do is go to the website and select the "Generate Lyrics" button. After that, it will put together a full song for you after you wait less than a minute.
3. KEYWORDS TO LYRICS (mathiass gatti )
Mathiass gatti one of the Best AI Song Lyrics and Songwriters Generators, it is A website that generates fantastic lyrics is AI-Generated Lyrics based on keywords and phrases (mathigatti.com). You can get lyrics in a matter of seconds. Utilizing the platform is simple. Just remember to acknowledge the website when using the lyrics, whether the song is for commercial use or not.
4. Jarvis
Jarvis, a lyric composition helper, uses the criteria provided (artist, genre, title, date of release, song portion) and creates line suggestions. Like a co-writer, Jarvis can also produce a continuation of any given lyrics. The generated content can serve as a starting point or be used to improve your own song lyrics!
If you want to write original song lyrics, Jarvis can assist you, regardless of your skill level as a novice, an amateur, or a professional songwriter. Every writer experiences writer's block at some point; therefore, any new creative tool may be appreciated.
5. LYRICS
Simply shuffle the lyrics in order to alter them. Artificial intelligence does not drive this online lyric generator. However, using it is straightforward.
Being able to upload a picture to increase the impact of your song makes this song lyric generator unique.
Pros
It is absolutely free to use.
Select musical styles
Make arbitrary lyrics
Cons
Unfriendly user interface.
6. Anticulture.net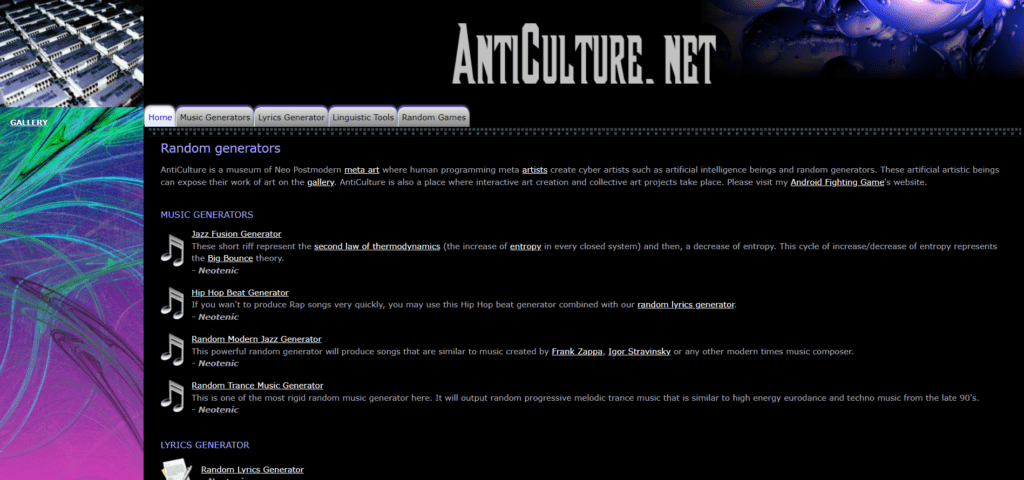 Use the Anticulture Song Lyric generator if you need some inspiration to come up with some solid ideas for your next song.
In only a few seconds, our web-based lyric generator will provide you with thousands of lyrics in entirely random order. Although it doesn't have the most appealing interface, it is quick and simple to use.
To get started, select the "Lyrics Generator" option. Select "Random Lyrics Generator" after that. To continue receiving random lyrics created to assist in creating your own compositional ideas, click the "Regenerate Art" option from there.
The sole disadvantage of this lyrics generator can be that you are unable to search for specific lyrics using a keyword, making it hard to tailor the results.
It will only provide songs with utterly arbitrary lyrics that have a very broad concept.
7. These Lyrics Do Not Exist
An AI-based lyric generator with a few simple yet helpful features is called These Lyrics Do Not Exist.It employs a neural network to assist you in creating creative lyrics rapidly for a range of subjects.
Simply enter the song title and click the "Generate My Lyrics" option on the page. Your lyrics will thereafter be available to you without charge.
With this AI songwriter, you can select from a wide range of lyrical subjects, like love, party, dancing, happiness, or human names. The ability to make songs with emoticons makes this website special.Among the six categories of lyrics are country, pop, and rap. You can choose a lyric mood before lyrics are generate.
Pros
Free and simple to use
Customize the song's theme
Select a lyric genre.
Download the song lyrics.
Cons
8. Deep Beat
With DeepBeat's Song Lyric Generator, you can input your own lyrics line by line and then utilize the generator to fill in any blank lines with lyrics you've run out of ideas for.
Additionally, you can write your own lines or use the "Suggest (Rhyming) Line" buttons to compose lyrics line by line.
Additionally, you can add certain keywords in the options area to better tailor the proposed lyrics to your own requirements.
Pros
It is entirely free to use.
Create rap song lyrics
Additional options for lyrics
Cons
The user interface lacks simplicity.
9.Wash Your Lyrics
Using the words of your favorite songs as the basis for your infographics, Wash Your Lyrics is a unique tool.
A typical lyric generator is not what it is. Additionally, it deserves a place on our list because it's an excellent tool for making a handwashing poster during this particular period.
With the use of this web application, a handwashing infographic will be automatically overlaid with the pertinent lyrics, line by line.
A poster with lyrics and information about handwashing is available for download.
10. Word palette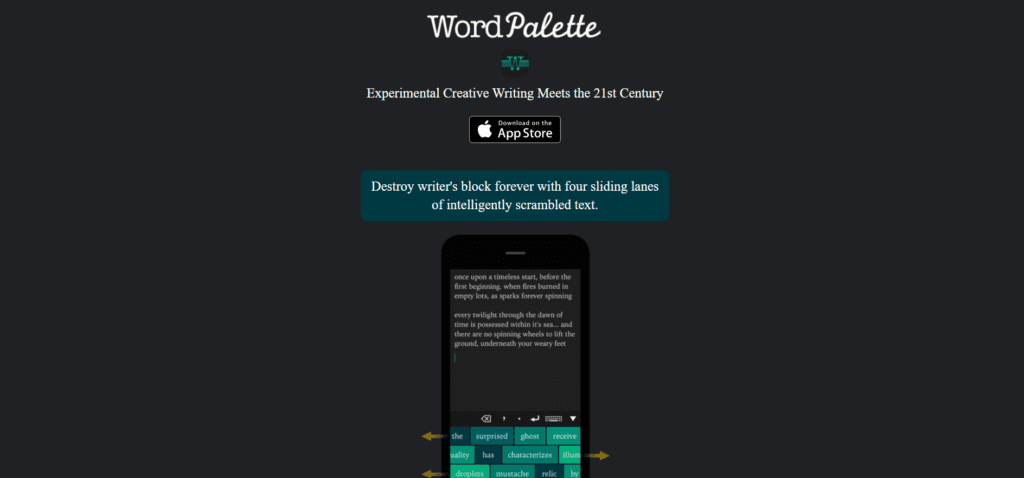 Word palette is good by producing random word combinations, this iOS songwriting software claims to "remove writer's block forever" and let you recover your creative flow.
You can choose from sliding panels of random words or words they've imported from their favorite books, music, and articles in Word Palette.
You'll produce fully arbitrary and unique lyrics by moving through the panels and adding mix-and-match phrases and words to your page.
You might not have thought of these lyrics before. For songwriters who need to write songs quickly and effectively while on the fly, this software is fantastic.
This resource embodies 21st-century experimental creative writing in all its glory.
Conclusion
When creating lyrics, lyrics generators are a terrific technique to generate song ideas. Have fun writing lyrics and playing with different musical genres.
The article's list of online lyrics generators is accessible to both composers and music listeners, and each one is easy to use. AI lyrics generators, which are readily accessible online, can help you quickly produce unique random lyrics.