A 3PL, also known as a third party logistics provider, is a company that works as a contractor for shipping, warehousing and fulfilling customer orders.

We collected informations about the best 3PL platforms and put all the informations in the list below.
1. ShipHero
ShipHero is a warehouse management system (WMS) that makes it easier to ship eCommerce. ShipHero is integrated with the leading eCommerce, marketplace, shipping and robotics platforms. Connect ShipHero with any of these systems in just a few clicks, it's really that easy, no manual processes.
Its mission is to make it easy for brands & fulfillment providers to ship eCommerce. Built by a diverse global team that values honesty, tenacity and purpose. Be a leader in the industry to positively impact how eCommerce is shipped around the world.
A warehouse Management System that saves you money, ShipHero's industry-leading WMS streamlines your warehouse's processes and procedures to increase your efficiency and make your team more effective. Plus, the real-time carrier rate shopping can save you money on every package you send.
Fully outsourced fulfillment that's faster than most, With 30% faster shipping times than the competitors, ShipHero is literally getting customers' packages out the door quicker. Coupled with highly rated Client Support team and intuitive software, ShipHero's outsourced fulfillment solution is the answer.
ShipHero has an average delivery speed, which is quicker than other 3PLs. And, it costs you less. You can get your products into the hands of satisfied customers faster and for less money than your competitors now.
– Inventory Management
ShipHero's owned and operated warehouses can optimize your inventory management processes. Simply send your products to a single warehouse and the fulfillment experts can take it from there.
– Visibility
With ShipHero Fulfillment, you'll get real time updates on your inventory and orders throughout the day, with info pushed to the warehouse the moment the order happens.
2. Magaya
Magaya is a modern, data-driven logistics software platform to optimize every step of your operations from origin to destination.
Magaya Supply Chain is a single solution for shipping and warehouse operations, tracking, connectivity, accounting, and compliance.
Whether you're a freight forwarder, 3PL, NVOCC, customs broker, or other logistics service provider, you'll find the technology you need to work smarter, not harder and modernize your operations to meet the demands of the modern supply chain.
– AUTOMATE
From filings and forms to tracking and customer service, automation frees you from bureaucratic busywork. You'll reach new heights in productivity and avoid the errors that can slip in with manual data entry.
– ACCELERATE
Expectations for shipping speed are higher than ever. Accelerate all your workflows with better data visibility, more collaboration, and the logistics software you need to be hyper-productive.
– GROW
Streamline and optimize your processes across the entire origin-to-destination supply chain. With Magaya technology, you'll build a loyal customer base and a strong foundation for sustainable growth.
All systems GROW with the Magaya Digital Freight Platform. The Magaya Digital Freight Platform, consisting of Magaya Supply Chain, Magaya Customs Compliance, Magaya Rate Management, the Magaya Digital Freight Portal, Magaya CRM, and a collection of extensions, delivers flexible, interoperable, modular, cloud-based solutions that can be used together as an integrated logistics software platform or independently with your existing solution suite.
3. Shopping Cart Fulfillment
Shopping Cart Fulfillment is a cloud-based ecommerce fulfillment, warehouse management and multi-carrier shipping software provider. A third party logistics software, Fulcrum 3PL allows you to easily manage your clients, their inventory and orders.
Dynamic pick/pack/ship work flows, each of your clients has different types of products with different fulfillment needs. Fulcrum gives you the ability to use different pick/pack/ship work flows for each owner.
– Batch Shipping
No more third party tools to print postage. Print postage labels directly from Fulcrum to streamline the fulfillment process.
Pick, pack and ship multiple orders at once using integrated labels.
– Billing
Fulcrum's billing package makes invoicing a snap.
Assign pick/pack/ship rates per owner.
Add miscellaneous charges.
Discount/markup postage rates.
Sync invoices to QuickBooks™.
– Integrated
Fulcrum integrates with several platforms. If yours isn't listed (and it has an API), it can be built.
The plan for 3PL allows to to get:
Up to 20,000 shipments per month.
Unlimited skus.
Unlimited integrations.
Unlimited users.
API Access.
4. Flowspace
Flowspace is the reliable, efficient fulfillment network helping brands meet their customers' post-purchase expectations in the real world. Flowspace software offers modern brands an ecommerce command center, centralizing their Order Management, Inventory Planning and Network Optimization into one place – accelerating delivery of goods to a customer's door while reducing shipping time, cost, and carbon footprint.
Real-time visibility and rich customer insights give brands an opportunity to better understand their supply chain and the drivers of purchase, empowering them to keep customer acquisition costs low and retention high.
– Visibility Suite
85% of shoppers wouldn't shop with a retailer again after having had a poor online delivery experience. Delivering an ideal customer experience is crucial to success. Don't fly blind – track your open orders across delivery stages with Flowspace.
– Inventory Management
Determine inventory levels with confidence.
InventoryFlow provides real-time insights and demand forecasting recommendations to help you make smarter inventory management and allocation decisions.
– Order Management
With Flowspace OrderFlow, sell where your customers are shopping, and then unify those orders across unlimited channels in one single view.
Immediate insights about your customer and inventory as you scale. Countless integrations supporting online and in-store fulfillment, helping you grow as you go.
– Network Optimization
NetworkFlow identifies the optimal fulfillment centers for you. With a distributed network of hundreds of fulfillment centers, connected by software, Flowspace will determine where to fulfill products closest to your customers, enabling you to offer consistently fast, efficient delivery from every channel.
5. Logiwa
Logiwa cloud 3PL WMS software is built for 3PL warehouses that ship products directly to consumers. Logiwa is built to help 3PL centers and companies that ship directly to consumers scale-up direct-to-consumer fulfillment operations. This cloud 3PL software can be up and running in just four weeks with simple pay-as-you-go monthly pricing. With Logiwa 3PL Warehouse Management Software you can easily expand your operations and grow your 3PL warehouses with confidence.
Logiwa's 3PL software solution optimizes every aspect of the order fulfillment process. With functionality for warehouse management, inventory management, and billing, Logiwa provides total visibility and control—improving speed, accuracy, and customer satisfaction.
When it comes to growing a 3PL business—bringing on new clients or adding new 3PL warehouses—Logiwa makes it easy. With the in-house domain experts, pre-built and custom automations, and more than 200 ecommerce, accounting, and shipping solution integrations 3PL providers can grow their network with confidence.
More than just great software, It's a high-volume fulfillment success company:
– Up and running in 4 weeks
100% SaaS product is easy to configure and easy to update. You can be up and running in weeks instead of months or years.
– Awesome automations
Use the pre-built automation rules or easily build your own to speed up everything from inbound operations to your pick, pack and shipping processes.
– 9 minute response times
This technology is great, but what customers love most is the amazing customer support. Get back to customer questions in 7–9 minutes.
6. Airhouse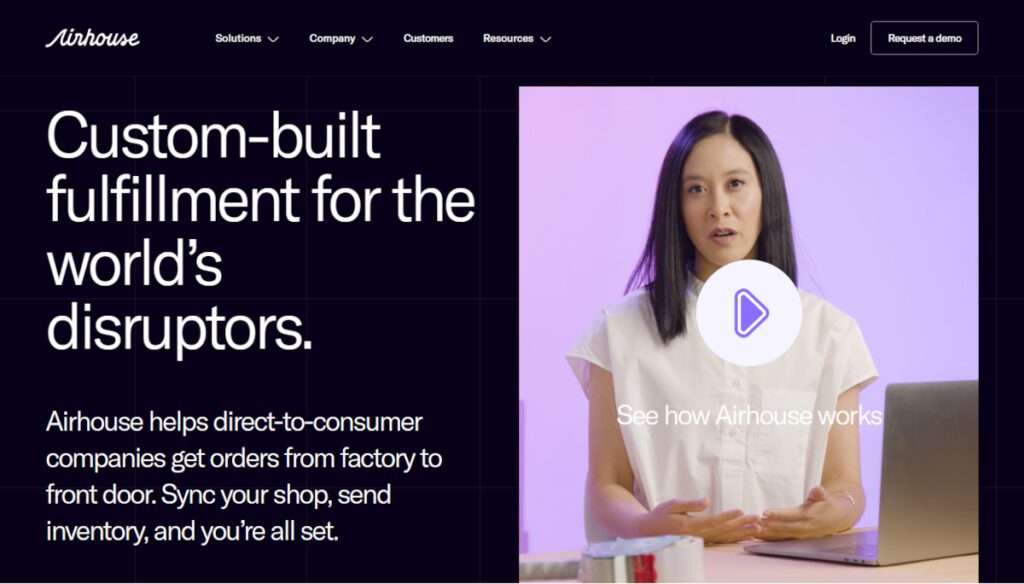 Airhouse is an all-in-one logistics platform for modern direct-to-consumer ecommerce companies, launch a complex fulfillment operation in seconds. With Airhouse, you get the same table stakes: low-cost, high-capacity fulfillment. What's different is how it operates and manages their network, so you don't need to change providers as you grow. Whether you need to add wholesale to your DTC strategy or expand into an international warehouse, it's as easy as integrating, sending your inventory, and finding the best-fit warehouse(s) within their network.
The beauty of their network is its flexibility—allowing you to pivot as quickly as you need to. We've seen that the growth plans of DTC companies can be experimental—especially as you start to scale. Airhouse is built for that optionality and can accommodate multiple strategies. Whether you're strictly DTC, fulfill B2B, or simply want to test all possible channels, Airhouse's warehouse network can work for any ecommerce strategy—preventing you from having to appraise new options in six months (or sooner).
Airhouse helps brands mature their operations with fulfillment tailored exclusively for high-growth needs. It took everything that you hate about working with 3PLs and fixed it:
– Skip the line
Use enterprise-grade warehouses and shipping options at your current order volume, today—instead of years from now—through Airhouse.
– Remote control
Airhouse brings you into warehouse quality control from wherever you are in the world, with unlimited photos and videos of projects, quotes, test shipments, and customizable "if x, then y" logic.
– No sweat transition
An operation done hundreds of times. Use this tech to ensure no interruption to shipping to your customers during a switch or test.
7. Shipsy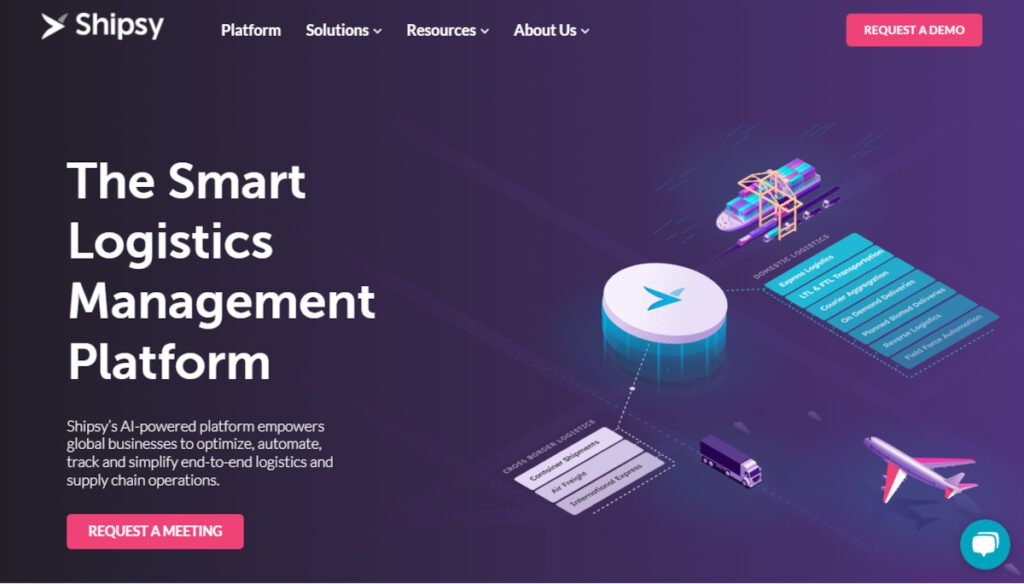 Shipsy's AI-powered platform empowers global businesses to optimize, automate, track and simplify end-to-end logistics and supply chain operations. Equipping the partners with information & intelligence to help achieve their goals of a sustainable business.
The AI-powered platform and mobility suite seamlessly connects cross border and local logistics by automating operations and ensuring intelligent 3PL management. Shipsy's intuitive platform provides complete visibility of first, middle and last-mile operations, unlocks operational efficiency, and leverages real-time analytics to make informed decisions.
For Domestic Logistics:
-Logistics Management
Streamline operations across the first, mid, and last-mile. Manage end-to-end courier management through one platform.
– Route Planning and Optimization
Smart allocation system automatically maps consignments with vehicles based on weight, delivery location, and several other factors.
– 3PL Aggregator
Intelligent allocation to the best carrier based on multiple parameters along with unified tracking dashboard to reduce returns and enhance customer experience.
For International Logistics
– Freight Procurement
Analyze and compare multiple freight quotes on a single dashboard and choose the best deal with the perfect balance of transit days and cost.
– Shipment Tracking
Manage documentation, multi-modal shipment tracking, and much more through a single dashboard.
– Invoice Reconciliation
The system reads invoice documents and reconciles them with freight procured through the platform.
8. FarEye
FarEye's platform simplifies delivery logistics throughout the entire delivery journey. It enables leading brands to ship from anywhere to everywhere, from first to mid to last mile. An industry-leading technology allows you to consistently deliver on time, every time, turning the delivery experience into your competitive advantage.
Enable every delivery to reach its destination every time, on-time, accurately, efficiently and sustainably. Simplify the delivery experience and strengthen customer loyalty, your customers demand a personalized and seamless delivery experience. Your goal is to provide a cohesive experience from order to delivery by creating simplified, efficient and cost-effective deliveries that increase consumer satisfaction and brand loyalty.
How it helps you scale your business:
– Mobilize real-time, actionable insights
Machine learning driven insights, visibility and decisioning for shippers, carrier networks, and consumers. Optimize your network, gain complete real-time visibility of all orders and empower your team to be proactive problem solvers.
– Simplify omnichannel, last-mile delivery
Optimize dynamic routing, delivery scheduling, order tracking and delivery accuracy. Streamline end-to-end omnichannel fulfillment with precision while minimizing last-mile cost.
– Increase consumer satisfaction and loyalty
Provide flexible and frictionless order tracking and fulfillment controls in a branded consumer experience. Create real-time updates on orders to consumers, enabling your business to enhance the post-purchase experience and increase brand credibility.
– Create new revenue streams and margin improvements
Map business process management workflows to current operational strategies. Keep pace with fluctuating consumer demands and deliver last-mile solutions to satisfy consumers.
9. ShipBob
ShipBob is a tech-enabled 3PL that offers simple, fast and affordable fulfillment for thousands of brands with an international fulfillment network across the US, Canada, Europe, and Australia. ShipBob's proprietary technology combines order and inventory management, warehouse management, predictive data and analytics, as well as optimized shipping for ecommerce companies.
HOW IT WORKS, How ShipBob goes from your online store to your customer's door:
– Connect
Connect your store, import your products, then send us your inventory.
– Store
Stores your inventory in any combination of the fulfillment centers.
– Ship
As soon as a customer places an order, it will shipped from the nearest fulfillment center.
It helps you determine optimal inventory placement across a growing fulfillment network to improve delivery speeds and reduce shipping costs. You can scale efficiently by distributing inventory into additional warehouses over time.
ShipBob's web-based platform acts as your back office for logistics to let you seamlessly leverage a single trusted partner for your omnifulfillment needs. ShipBob's proprietary fulfillment platform lets you manage, edit, and customize orders, track real-time stock levels from any location, and receive notifications when you need to reorder inventory, all at no extra cost for unlimited users.
Save time with reliable, transparent, and best-in-class technology and operations:
– Powerful tools and algorithms automate fulfillment and improve your bottom line
– Built-in reports and analytics to power your supply chain and give you a competitive advantage
– Trusted experts help you forecast, integrate, and orchestrate inventory and orders across channels and locales
10. ShipMonk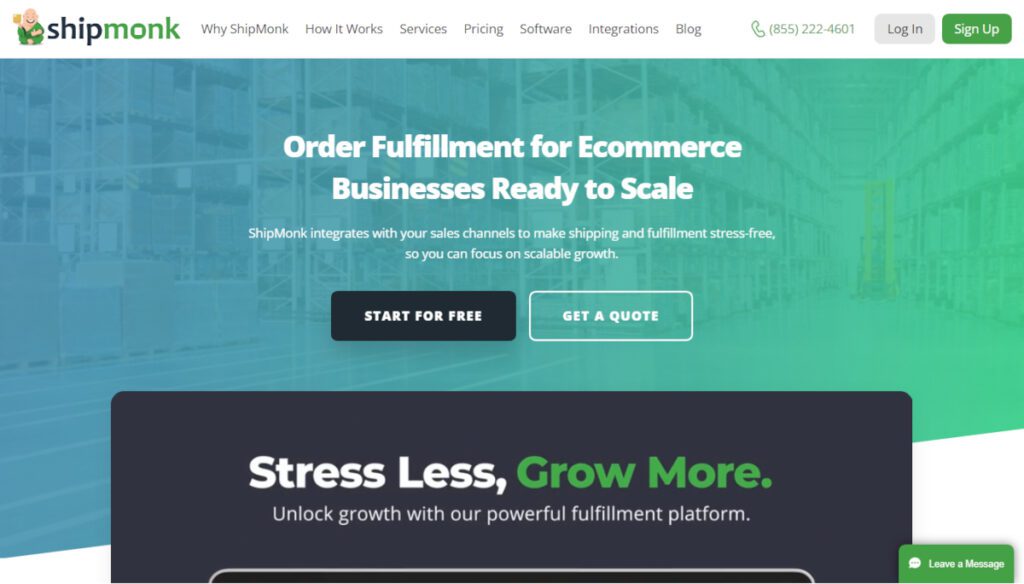 ShipMonk is an ecommerce fulfillment for high-growth brands, ShipMonk helps your brand unlock scalable growth with a powerful 3PL software and fulfillment centers.
It's a 4-in-1 Cloud-Based Software with:
– Inventory Management
With ShipMonk's inventory portal, you can kiss your cumbersome spreadsheets goodbye. Track inventory levels across multiple sales channels, identify your best selling SKUs, blacklist old SKUs, receive low stock alerts, and more. ShipMonk's inventory system will give you complete visibility and control of your inventory.
– Order Management
The core of ShipMonk's software is the order management portal. It's where the magic of managing your customer experience happens. The out-of-the-box integrations sync with your sales channels to eliminate manual importing of data and trigger all the necessary notifications to your end-customer. Track the status of each order from the moment they are placed to the minute they land on your customer's doorstep.
– Shipping Management
The shipping management system doesn't end with discounted shipping rates. The partnerships with all the major carriers combined with the transparency of ShipMonk's software allow you to calculate real-time shipping rates, view a multitude of shipping reports on the dashboard, or export the data to a CSV to run your own reports.
– Warehouse Management
ShipMonk's software is comparable to an iceberg where 90% of its mass is below the surface. The entire operation is powered through a proprietary software, full control over the features that benefit your business. What you can see is the ability to manage inventory across multiple warehouses, fulfill orders based on predefined assignment logics, request special projects, and much more.
Conclusion
You would wonder about why you need to outsource your logistics?
It will help you increase the shipping and delivery speed, increase consumer satisfaction, increase market reach of your eCommerce.
So overall, the right 3PL is a great way to expand the capability of your ecommerce business. And a better fulfillment will result in more favorable reviews and satisfied customers.