10 Best Call Monitoring and Management Software
Even in today's digital world, customers often prefer phone support when reaching out to customer service. In fact, this feature is an irreplaceable tool in some of the best call center softwares. The immediacy and familiarity of talking on the phone with a real human builds trust between a customer and customer service agent.While phone support is often a great way to help customers, it's also the most time-consuming, least cost-effective, and hardest-to-measure support channel. To offer customers great phone support, you'll need an effective call center software that allows your service team to do their best work. The best call center software routes calls to the right agents, provides employees with additional context, and helps management execute an omni-channel strategy.

So, choosing the right tools to build your call center is critical whether you're a team of ten or a few hundred. This post breaks down common features of call center software and the best call center software options available this year.
1. RingCentral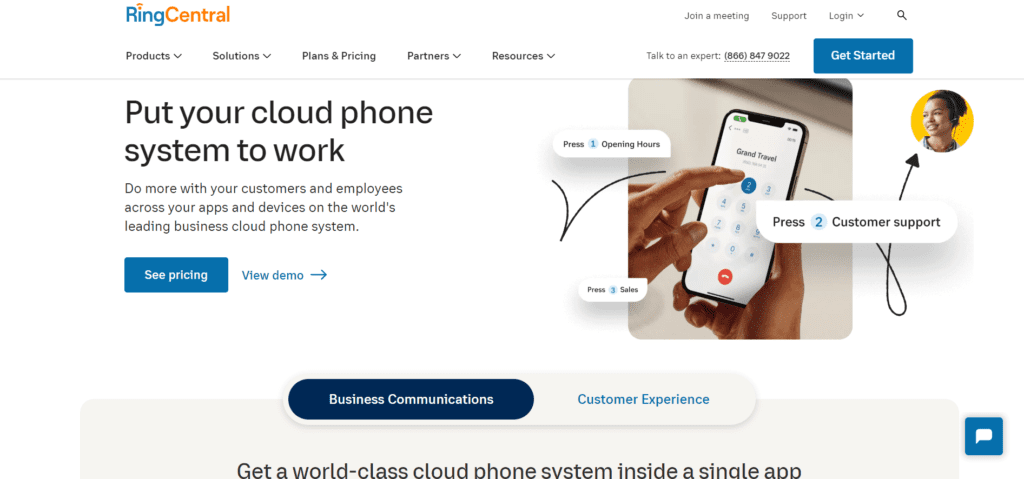 RingCentral is a flexible cloud-based phone system that supports desktop and mobile users. One unique feature it provides is "RingOut," which enables one-touch calling from any phone or internet-enabled computer. Additionally, RingCentral has powerful call delegation and answering rules so you can be sure calls are routed to the right individual.
Best for:
Omnichannel support
Escalation management
HD video calls
Integrations and APIs
Cloud-based calling
2. nextiva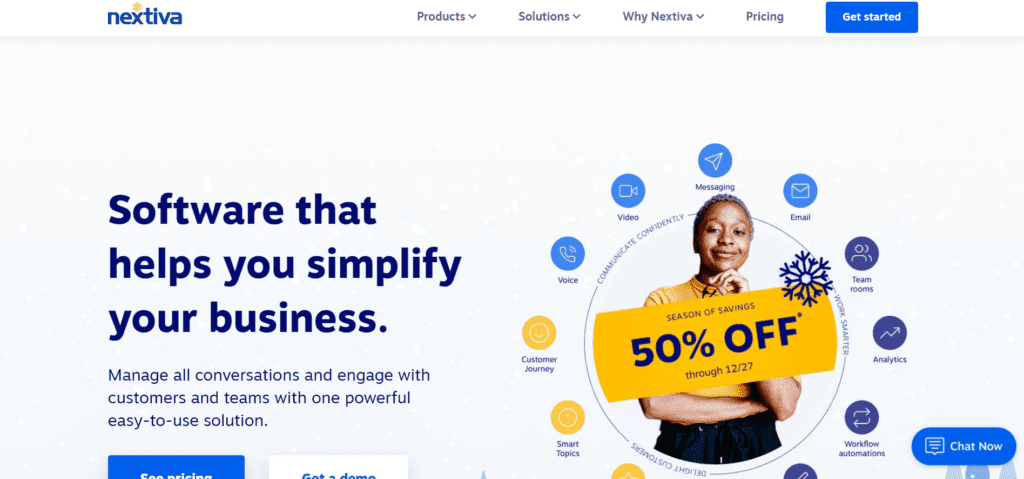 Nextiva is a cloud communications company that helps businesses build deeper connections with their customers. Nextiva combines communication channels — voice, video, collaboration, SMS, chat, and surveys — to help businesses of all sizes access the information they need at the right time to provide amazing customer experiences and drive business results. Built with business owners (not tech wizards) in mind, Nextiva's solutions are easy to set up, use, and manage. Businesses can scale up or down as needed, adding applications, such as sales and service productivity tools, at any time.
Supporting 2 billion+ conversations with over 6 billion minutes of talk time annually, Nextiva distinguishes itself with Amazing Service® and unbeatable reliability. Enterprises trust Nextiva's platform for its security and integrity. Nextiva's data centers are ISO/IEC 20071 certified, and NextOS is compliant with SOC 2. Nextiva also offers solutions that comply with PCI and HIPAA.
3. 8×8
8×8 Video Meetings is simple to use and offers limitless flexibility on how you collaborate with colleagues, vendors and customers. 8×8 Video Meetings is reliable, fast, secure and provides users and administrators a comprehensive suite of video collaboration features. It works as a standalone service or integrated with 8×8 Virtual Office for enhanced unified communications capabilities. 8×8 Video Meetings has an intuitive user interface that allows most operations to be executed in a click or two including setting up your first meeting, screen sharing, in-meeting chat and cloud-based meeting recordings. In fact, your invitees can join your meetings with a single click with no hiccups or last-minute download requirements. One of Video Meetings' strengths is how well it works with mobile devices. Using our Android or iOS apps, you can host a meeting from a field site, broadcast from a trade show or conduct video interviews. Your innovation is only limited by your imagination.
4. Vonage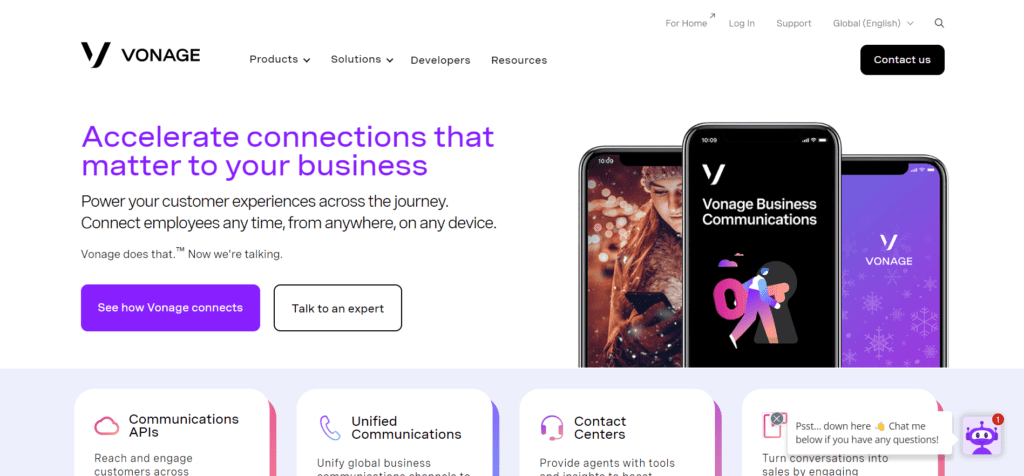 In this Vonage review, Forbes Advisor breaks down what you can expect from each of Vonage's three popular plans. We look at costs, call management features, top software integrations, add-on charges you need to know about. We'll also show you how Vonage compares to other popular VoIP solutions.
Summary:
Exceptional audio call quality, unlimited calling and texting and excellent uptime are just a few of the many reasons Vonage is a popular business communications provider. If you're looking for a new voice-over-internet-protocol (VoIP) phone system for your business, Vonage is worth checking out.
5. Google voice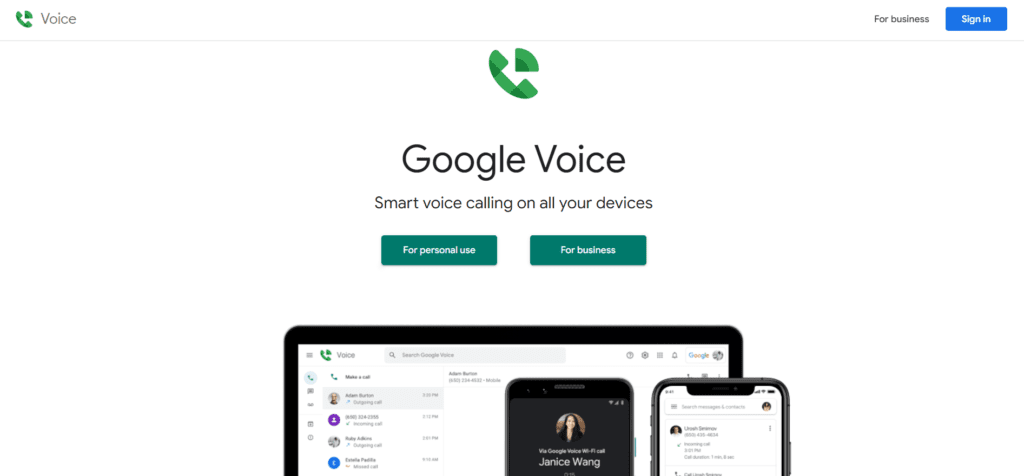 Google Voice is a popular voice-over-internet-protocol (VoIP) telephone service that provides exceptional call quality at a fraction of the cost of conventional phone service options. Feature-rich plans, unlimited calling and texting and helpful call management tools make Google Voice a solid solution for many businesses.
If you're debating which VoIP provider is best for your needs, Google Voice is definitely worth a closer look. This Google Voice review takes a deep dive into what you can expect from this telephony provider.
6. Grasshopper
Sound more professional and stay connected with Grasshopper, the virtual phone system designed for entrepreneurs and small businesses. Grasshopper works just like a traditional phone system, but requires no hardware and our mobile and desktop apps allow you to communicate from wherever business happens
– on your cell phone, in the office, or at home.
Find the perfect number to build your business identity from our inventory of local, toll free, and vanity phone numbers.With a robust set of features, you will be able to provide extensions for each department or employee on your team, transcribe voicemails and send them via email.
– local, toll free or vanity numbers
– port in your existing phone number
– unlimited business calls and texts
– forward calls to any device
– unlimited extensions and custom greetings
– voicemail and transcription delivered to your email
– mobile apps for Android and iOS
– desktop apps for your Mac or Windows computer
7. VCC LIVE
VCC Live is a cloud-based call center solution designed for call and contact centers of all sizes. The solution offers multiple contact center solutions, communication channels and other services. Key functionalities include database management, project management, user management, team management, quality management and more. VCC Live offers a telesales solution that manages telesales campaigns and telco services for organizations.
Features like predictive dialer, A/B testing, mass SMS, chat and email ticketing are available. Further, customer service is offered via multiple communication channels and call blending. Local and international telco service are also offered.
VCC Live Pay is used to make payments during a phone call. It helps in managing debt collection. Further, VCC Live integrates with Webhook, Database API, Javascript SDK and payment feedback applications. VCC Live provides its services on per seat per month subscription basis and support is provided via email, online guides and tutorials and over the phone.
8. Aircall
Aircall is a cloud-based business phone and call center system that helps manage and streamline customer support and sales engagement operations. Designed for offices and teams in remote areas, it enables users to integrate the software with client relationship management (CRM) and helpdesk systems and manage calls directly from it. Features of Aircall include voicemail, queueing, recording, shared call inbox, contact management, assign, tag and add comments. It allows businesses to form employee groups based on location, responsibilities, skill set and other attributes and create business strategies to facilitate team performance. Additionally, it provides phone numbers, which can be used to make calls from anywhere and get live feeds on processes.
Aircall integrates with 100+ third-party applications such as Salesforce, Zendesk, Pipedrive and Slack. Pricing is available on monthly subscriptions and support is provided via email, phone and chat.
9. Cloudtalk
CloudTalk is user-friendly cloud-based phone software for sales and support teams. It is used by startups, scale-ups, SMEs or eCommerce to improve customer experiences and team performance. To achieve this, CloudTalk provides more than 50 advanced calling features. Thanks to seamless integration with the favourite tools (such a CRM, Helpdesk, or e-commerce platforms, etc.), CloudTalk helps companies deliver first-class customer experiences, resulting in the growth of their profitably. Cloudtalk is used by 1000+ happy customers from companies as DHL, Electronic Star or Kärcher. Get started with a 14-day free trial (no credit card required), and see CloudTalk in action.
10. Five9
Five9 is an all-in-one cloud contact center solution for inbound, outbound, blended and omnichannel contact centers world-wide. Powered by Practical AI, Five9 enables agents to provide customer experiences across phone, email, chat, mobile, social and more. The AI-driven Five9 Engagement Workflow uses NLP and intelligent routing to get customers to the right agent while Five9 Genius derives customer intent data to provide agents with next step guidance before they pick up the phone. Four adjustable dialing modes skip no-answers and busy signals to triple agent talk time.
Five9's IVR with speech recognition can be used for common customer inquiries to free up agents for high-value interactions. Monitor, analyze and report on the contact center's performance with real-time metrics and dashboards, and automatically sync all interactions with CRM. The contact center can be up and running in a matter of days and can be scaled up or down based on business needs.
conclusion
What is Call Center Software?
Call center software is more than something that connects agents to customers. It's a system that contains a multitude of features, designed to support every aspect of a contact center. Regardless of whether you deal with inbound calls, outbound calls, or a combination of both, call center software can help you streamline your customer support in order to provide exemplary service.
Contact centers don't only focus on phone calls, and many solutions offer omni-channel support. This means you can manage all communication from one platform, creating a seamless customer experience.
Previously, only larger companies had the capability and space to set up physical hardware to create a call center. Software based solutions enable smaller companies and those without fixed offices to host virtual call centers, as well as reducing the up-front cost for on-site centers, too. The best call center software will have computer telephony integration, allowing it to run alongside existing phone set-ups (be that physical, VoIP, or something else). This means you don't need to upgrade everything in order to take advantage of its benefits.