10 Best Fleet Management Software
Whether you're running a trucking company or a car rental, proper fleet maintenance is one thing that should not be neglected. This helps keep your vehicles in pristine conditions to eliminate the worry of breakdowns. Fleet maintenance is a systematic approach that's carried out globally that involves regular planning, analyzing, making schedules, and ultimately execution. The fleet management software systems are there to keep your management on track at all times.

What are the Best Fleet Management Software?
Below our List of the top tools to choose for your business:
1. Detrack
Detrack is a real-time vehicle tracking & electronic proof of delivery solution that works anywhere in the world. Detrack is a delivery management software that allows you to offer uber style tracking, and to send automated notifications to your customers via sms at a fraction of the price.
It has cutting edge features to improve your deliveries from easy-to-use mobile apps, to live map view, location-based delivery tracking, and automatic customer notifications, Detrack helps you achieve more with less.
– Take Control Of Your Fleet With Vehicle Tracking
Track your vehicle's current location, speed and distance anytime, anywhere. Monitor all your vehicles on a single map, updated live to the minute. Review where your drivers have been with downloadable logs. The Tracking Widget lets your customers track their deliveries on your website.
Send & Receive Real Time Notifications
Improve your customer service to increase return business. Get real-time email and text updates on your delivery for you and your customers. Customize your email notifications to suit your organization's needs and include your logo.
– Scalable To Your Needs
Whether you're a transport enterprise or getting started, Detrack can help with services that scale with you
– Unlimited Sub-Users
Business is booming? No problem. You can add unlimited sub users and share important information with as many customers and drivers as you need.
– Geotags & Timestamps
Even with no Internet, capture accurate POD with time and location.
2. BulkdataPro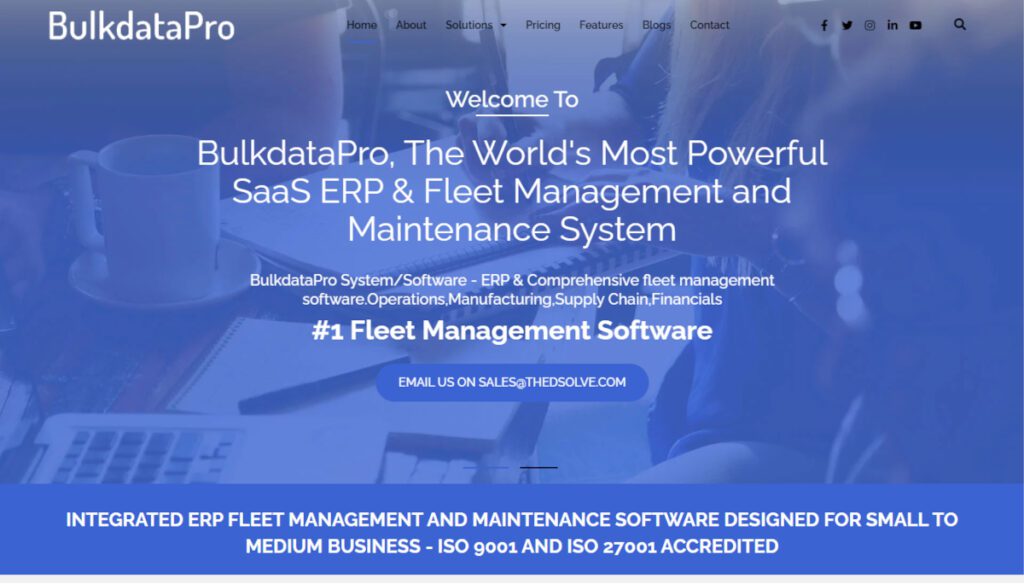 BulkdataPro is an ERP Fleet Management Software, a Fleet Management and Maintenance Software caters for the management of all assets. These assets include any vehicle fleet, buildings, offices, furniture, office equipment, accessories and construction and agricultural equipment. It even caters for the most important asset of any organization, the employees. Manage your Fleet Efficiently and have a better cost control, be it Fuel, Repairs, Authorizations, Rebills.
This software offers comprehensive and robust real-time reporting on different aspects of your business:
– Fuel Management Dashboard: Dashboards and Analytics for quality decision making.
– Repairs And Work Orders: Service Scheduling, Detailed Service History, Authorizations, Work Allocations, Approvals.CPK , Repair Exceptions Reports etc
– Fuel & Toll Management: Easy integration fuel card, Manual Capture options available.Fuel CPK, Consumption, Overfill, Top N reports
– Purchase Orders & Jobcards: Purchases orders, work flow, Payments .
– Inventory & Workshop Manager: Jobcards, Quotations, PO, Invoicing, GRV, forecasting, Multi-warehouse support
– OEM Pricing Catalogues And Service Packages: Manage undercharge and overcharge by Suppliers
– Integration & API: Integrate with Any GPS Tracking Companies, Accounting Systems, Smart Fuel Systems
– Fines & Licenses: Comply with legislature to avoid penalities.AArto compatible, fine redirection, court order reminders, camera integration
– Leasing & Procurement: Quotes, Rate Tables, Auto Billing, FML Leasing Models, Procurement Models, Costing Modules
– Financials: General Ledger, Creditors, Debtors, Accounts Receivable and Payable, Financial Statements
– HR & Payroll: ESS, Payslip , Recruitment, Discipline
– Sales: Sales Orders, Invoices, Receipts
– Incident Manager: Roadside Assist, Call Booking, Tracking of orders, WIP, Workflow, Mobile friendly
– Mobile Support: Mobile Inspections, Incident logging, Approvals
– Document Manager: Upload documents of all formats
3. Route4Me
Route4Me's Telematics Gateway is a fleet management unification and aggregation solution that allows concurrent integration and bi-directional data transmission with vendors, including real-time protocol transformation and normalization into a single database and single pane of glass for monitoring.
GPS-enabled telematics is used to track, monitor, and analyze vehicles or assets. Telematics systems (such as Geotab, Samsara, VTS, Azuga, et al.) gather data including vehicle location, speed, driver behavior, engine diagnostics, and ultimately visualize and report on this data within their platforms. These technologies help companies run more efficient businesses with better customer service.
Vehicles and assets are located and tracked using GPS technology. Some telematics vendors have OBD devices that plug directly into a vehicle. These OBD devices collect vehicle diagnostics and vehicle engine data. The captured GPS data is typically transmitted over cellular networks, but sometimes satellite uplinks, to the telematics service provider's servers. Their fleet management software and databases use the captured GPS and telemtry data to create value for business users.
4. Jungleworks Tookan
Jungleworks Tookan is a fleet tracking app for customers and fleet managers to monitor fleet status real-time on google maps, thus providing them with an UBER like experience. Monitor fleet running time, fleet frequencies or number of monthly runs, ratings & reviews, fleet downtime, cases of delays and non fulfilment, and much more to help you take complete control of your business.
– Fleet Manager Dashboard & Drivers App
Connect fleet managers to vehicle drivers. Fleet management app/dashboard for managers to monitor delivery requests, real-time status, routes, driver's activities & client's reviews. Drivers can see all current & future destinations, pick smart routes, receive communication alerts and mark delivery closures.
– GPS vehicle tracking system & Live alerts for customers
Fleet tracking app for customers and fleet managers to monitor fleet status real-time on google maps, thus providing them with an UBER like experience. Keep your customers updated throughout the fleet delivery lifecycle by sending them real-time SMS alerts at various stages. Reduce Vehicle Downtime and boost efficiency with this vehicle tracking software.
– Route Optimization to reduce Fleet run time & cost
The route optimization engine picks the shortest & fastest routes helping you manage multiple fleets with cost reduction and efficiency. Reduced ETAs on fleet delivery ensure an exceptional client service experience.
– Manage Fleet operations with a single Dashboard
Smart dashboard to receive & manage fleet delivery orders from all sources at a single place. Track complete fleet order fulfillment cycle from order received to fleet dispatch to fleet delivery. Take in time actions like sending alerts & reminders as per use cases. Complete fleet management tracking solutions.
– Fleet availability & Auto dispatch
Monitor fleet availability for order servicing and keep a check on fleet capacity. Map your entire fleet on Manager's dashboard to check fleet availability and schedules. Advance planning to ensure full capacity utilization and no business loss. Auto dispatch to the idle fleet as per route matches and alerts sent to corresponding fleet driver. Complete fleet management solutions.
5. Samsara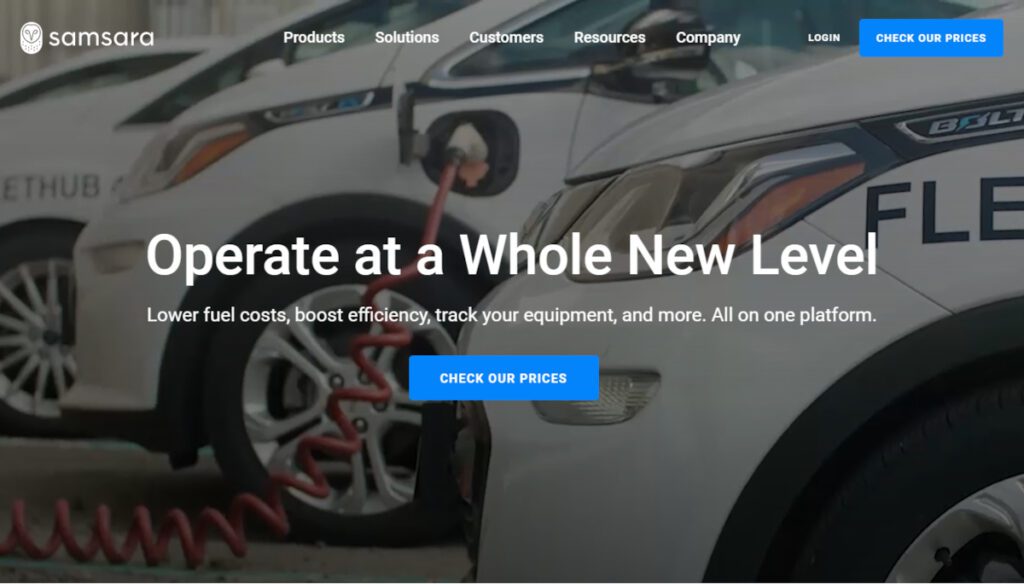 Samsara is a vehicle management solution with real-time GPS tracking, vehicle diagnostics, … Technology that goes beyond GPS tracking. It has a set of functionalities:
– REAL-TIME GPS DATA: Best-in-class location tracking & geofencing
Samsara's to-the-second GPS tracking and smart geofencing gives you best-in-class visibility to improve route performance and provide better service for your customers.
– FLEET OPTIMIZATION: Advanced fuel and vehicle diagnostics
Surface opportunities to improve your bottom line. Automate preventative maintenance, reduce downtime, identify fuel waste, and right-size your fleet with utilization data.
– FLEET PRODUCTIVITY: Automated workflows to reduce day-to-day tasks
Streamline communication from the office to the field. Go paperless to simplify reporting and administration and maximize fleet productivity.
– COMPLIANCE: Simplified compliance in a centralized dashboard
Save time and money on compliance management. Simplify compliance across your operations with intuitive workflows to reduce administrative overhead and compliance risk.
– ELECTRIFICATION: Future-ready tools for reducing emissions
Analyze vehicle cost and emissions to make informed electrification decisions. Procure EVs with confidence with advanced fleet management tools to ensure savings.
6. Geotab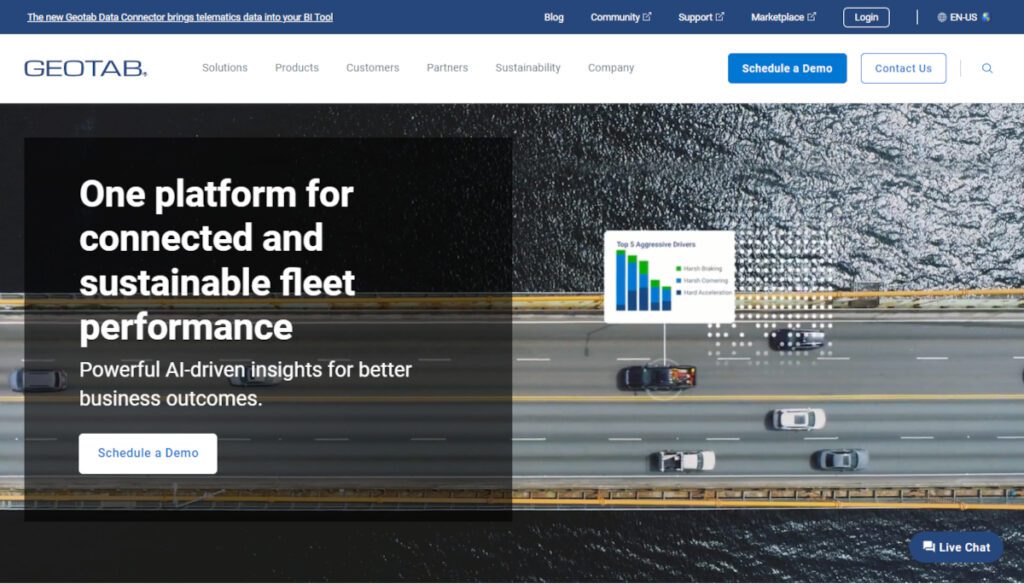 Geotab is a telematics provider that connects vehicles to the internet and provide web-based analytics to help organizations manage their fleets. It provides solutions that help to improve business operations. Geotab offers a variety of solutions for fleets of all sizes and industries from fuel management, driver coaching, routing and dispatching, and much more.
MyGeotab is a web-based fleet management software that is available to all Geotab customers under any feature package: Base, Regulatory, Pro, and ProPlus. See all your vehicle and driver information in one place and use it to make quicker, better-informed decisions for your business.
Fleets of all sizes have the same software foundation to grow on. With Geotab's fleet management software, businesses have powerful tools at their disposal for generating new opportunities for growth and savings. To extend the value of the data, fleet managers can leverage MyGeotab's Software Development Kit (SDK), customizing the software to meet exact fleet needs.
Geotab's fleet management software, MyGeotab, takes the complexity out of collecting data and transforms it into useful information that businesses can act on. For example, most Geotab customers want to understand how fuel consumption is impacted by driving habits, time of day spent driving, and the vehicle make and model. Geotab normalizes the data to a common unit of measurement to simplify fuel management. Additionally, MyGeotab is available in 14 different languages.
Fleet management software and system resources, decisions require accurate data. Fleet management software provides a user-friendly way to monitor fleet performance, with dashboards showing data and trends on vehicles and driving. Learn how a vehicle management system works and its benefits.
7. FleetComplete
FleetComplete offers solutions that address fleet and mobile workforce tracking and management needs. It is a GPS tracking solution & asset management software used to optimize fleet performance.
Gain optimal visibility using Fleet Complete, it brings a holistic approach to your fleet operations. The connected platform gives you the flexibility to start small and expand your capabilities as your business grows. Manage your entire fleet from one screen and see what is happening remotely in the field. Know where your vehicles and crew are, their productivity levels, and all the fleet metrics you need.
– WEB-BASED MAPS: Access your fleet information from anywhere on a mobile device with an internet connection.
– FLEET PERFORMANCE: Measure and analyze your fleet performance based on routes, trips and events.
– CRASH DETECTION: Connected to the vehicle's engine, the device will send an alert in the event of a collision or a crash.
Increase Driver safety with video telematics, better one time to see it than ten times to hear it. Vision is a reliable video event-recording solution that will help improve your fleet safety and driver coaching. It enables your drivers to proactively manage their own performance and review their driving daily in a personalized app. In-cab driving behavior feedback will help your drivers steer clear of traffic violations and champion road safety to best represent your fleet.
Improve vehicule maintenance with an app for that! Inspect app is a great complement to your regular fleet tracking, where your drivers can quickly inspect their vehicles and report defects to the mechanic or fleet manager straight in the app. A healthy fleet is a fleet that moves forward. Inspect app is designed to make driver vehicle inspection faster and more accurate. Especially for those who need to be on the road daily.
8. Teletrac Navman
Teletrac Navman is a leading GPS tracking and fleet management provider that offers beyond basic track and trace technology.
It offers GPS-based fleet optimization products and services, including real-time vehicle tracking, electronic logging, communications and analytics that enable companies to monitor, measure and improve operational costs and efficiencies. The company's technology currently tracks more than 500,000 vehicles owned by over 40,000 organizations on six continents, making it one of the world's largest fleet management software solutions providers.
Teletrac Navman is the fleet management software that keeps you connected with your people, vehicles and assets. Its flexible solutions are designed to digitize fleet management and keep your business moving smoothly.
– Get the visibility and insight you need to run your fleet: Turn data into decisions with fleet management software designed to answer your biggest questions, instantly. With real-time location tracking, instant data capture from driver apps and industry leading analytics you will have everything you need to keep your fleet on road and running effectively.
– Promote and monitor safe driving in a single platform: Develop a driver safety program designed to measure risk and encourage safe driving practices across your fleet. With the driver safety solutions on TN360, you can record performance and benchmark drivers with automated scorecards, create personalized training programs, ensure your fleet is fully maintained and get complete visibility with Smart Dashcams.
– Protect your people, your assets, and your business: With real-time alerts, simplified workflows, automated logging and detailed reporting, you can rest assured knowing your employees are safe and your fleet is meeting all government standards. Get everything you need to streamline compliance management, so you can stay focused on running your business.
9. Navixy
Navixy offers GPS tracking platform for service providers: white label, supports any GPS trackers, features web interface and mobile apps. Provide fleets with powerful and simple tools to cut management and fuel expenses, increase productivity and prevent accidents.
Solutions for fleets of all sizes. Get insights into vehicle usage, driver behaviour, and maintenance expenses:
– Fuel monitoring
Intuitive configuration and detailed reports. Instant notifications for abnormal usage or indication of fuel theft.
Fuel costs can amount up to 30% of all fleet management expenses, therefore affecting operating costs and company's profit in general. Among the major fuel related challenges experts define: fuel theft, increasing fuel costs, Fuel Tax regulations (like IFTA, etc.).
Navixy GPS tracking and telematics platform can help you cope with the major challenges related to fuel monitoring and management in the most user-friendly way.
– Telemetry readings
Vehicle data in real time. Alerts on key parameters. Reports for in-depth analysis per any time period.
– Driver behavior
Promote safe driving. Detect and prevent speeding, excessive idling and harsh maneuvers.
Speeding is #1 road violation in any country causing heaps of speeding fines and tickets, which negatively reflects on your budget. Harsh acceleration, harsh braking and harsh cornering can lead to deadly road accidents with multiple victims. Everyday millions of cars and trucks idle needlessly, affecting fuel economy, engine lifetime and releasing as much pollution as a moving car.
– Maintenance
Automate maintenance checklists on the platform for timely reminders. Control vehicle usage and repair costs.
– Driver journal
Sort journeys into business and private. Claim reimbursement on business mileage. Prevent unauthorized trips.
10. GPS Insight
GPS Insight provides mission critical insights needed to make physical operations on the road. GPS Insight is a fleet management and field services company. It helps in connecting Fleet & Field Service Management like never before, transforming the way fleet and field service teams achieve operational efficiency and drive customer success.
GPS Insight tracking makes it easier, giving you visibility into key areas of fleet management and allowing you to:
– See your fleet in real time and historically
– Understand how your fleet is being operated
– Reduce your fuel, labor, and other operation costs
– Streamline your entire fleet's maintenance
– Optimize the utilization of your mobile workforce
– Protect your people and assets with starter disable, Bluetooth-powered Driver ID, remote panic, and driver communication at the push of a button.
With GPS Insight, You Can Manage:
– Vehicles:
Increase fleet visibility, monitor daily operations in real-time and stay ahead of vehicle maintenance to reduce costs, improve productivity and increase accountability.
– Trailers: Receive deep visibility into trailer and yard operations to maximize utilization and improve operational efficiency. Monitor usage and location on powered and non-powered assets. See all trailer locations at a glance and verify drops/pickups. Streamline maintenance to reduce downtime for trailers.
– Heavy Equipment: Understand the movement and usage of your powered and non-powered heavy equipment to improve performance, productivity, and utilization. Monitor and protect your powered and non-powered assets. Understand runtime, real-time location, and advanced utilization metrics.
Conclusion
Your fleet will run more profitably and with fewer delays if you use a tracking and management system that features vehicle tracking and monitoring. Most of the above listed software allow to reduce costs, have more efficiency in managing the fleet by reducing the run time by creating running schedules.