10 Best Marketplaces to Buy Expired Domain Names
As marketing master class creator Torsten Mueller puts it, domain names are never really owned, they are just rented for a certain amount of time.
An expired domain is a domain whose owner stopped paying the rent. It was registered to someone else once. It had a past life. and may have been a commercial website with actual traffic or a more personal project. Then, for whatever reason, when the time came to renew the registration, the call to act went unanswered.
People buy domains for all kinds of reasons, and they let them expire for all kinds of reasons too.
Sometimes it happens by mistake. They choose not to auto-renew when they first register the domain but then stop monitoring the email account on file with their registrar, thus missing the alerts about upcoming renewals.
Sometimes people get a few domains as placeholders and choose to let the less suitable ones go. Or their web project only has a limited shelf life. The registrations on these domains end up expiring and they are released to potential new buyers.Below we find some sites that help you make the right choice.
What is the Best Marketplaces to Buy Expired Domain Names?
We have listed for you below a list of top 10 Marketplaces to buy expired domain names, you can use this domains for your brand or personal use, one thing you should know before buying domain name is that you have to check the profile of the domain name what I mean by that is that you check backlinks and other social Matrix and you have to check if domain name is ranking specified keywords so if you buy a domain name already ranking for the same niches as yours that means it will help you boost your business, so take a look to the marketplaces listed below to find a good expired domain name to purchase for your business.
1.Flippa
Flippa Number 01 in our Best Marketplaces to Buy Expired Domain Names list is the leading platform and network connecting online business owners with buyers all over the world. Flippa leverages more than 120,000 buyers representing $1.2bn in purchasing intent.Each month, over $41m worth of business value is listed for sale on Flippa and nearly 500,000 business owners and buyers visit Flippa to sell or buy businesses.Owners of eCommerce, SaaS, Marketplace, Fulfilled by Amazon, Content, Advertising and other online businesses choose Flippa because it's the easiest place to list and showcase, best place to connect and negotiate and the safest place to transact.Co-Founded by the Founders of 99Designs and SitePoint, Flippa aims to help small business owners find their exit, in an easy to use and safe environment
2.DomCop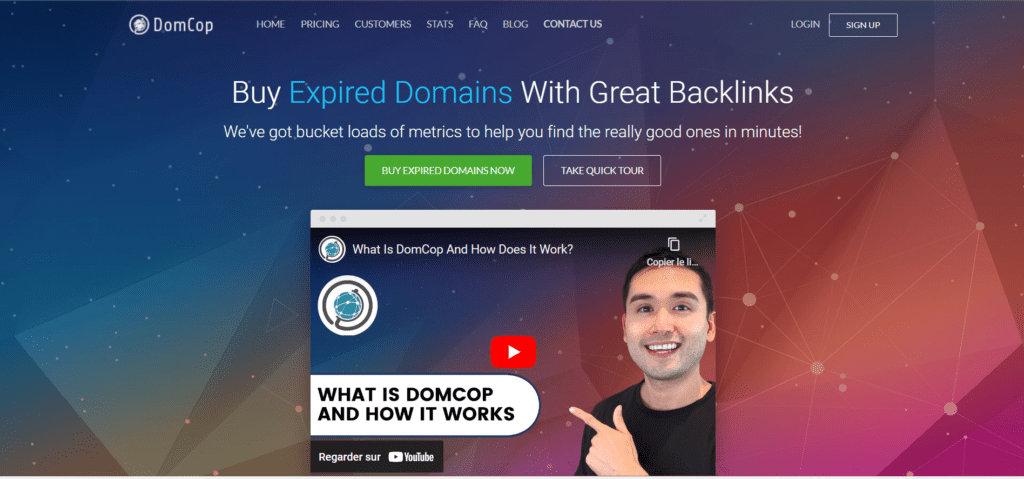 DomCop is a popular tool used to search for expired domain. can be used to find the following kinds of domains:
Buy Now Domains – domains that can be purchased immediately.
Domains in Auctions – these domains can be bid on. You win the domain if you have the highest bid in the auction.
Domains Pending Delete – you can place a backorder domain request with any service that you select.
Expired Domains – these domains can be bought from the registrar that you choose, as long as the domain is still available.
Pre-Release Domains – these are auctions for pending delete domains.
Crawled Domains (requires DomCop Guru plan) – purchasing the Guru plan gives you access to this feature. It crawls the Web for you and finds broken links associated with expired domains that have useful metrics.
DomCop doesn't sell domains. It shows domains in the category types listed above. From there, you can buy them using a backordering service, through a registrar or from an auction site.
3.Odys
Odys Global is a domain marketplace specializing in the sale of premium SEO-aged domain names. Not all domains are from auctions or are about to expire.
A lot are acquired from 3rd parties, existing members, and investor portfolios. I'd suggest putting it like 'They scour domain markets and invest in high-quality domains after acquiring and securing the domain names, they create brand new logos/brand assets.
By registering with Odys Global, you'll have access to the company's whole inventory of aged names. Odys Global is currently a members-only service.
That is because they restrict the marketplace because they want targeted and motivated members. They would rather have 10k members who are really interested in buying an aged domain than simply letting in anyone
After activating your account, all you have to do is filter the domains by niche, SEO metrics, price, and TLD, then choose and buy the name you want. Within a few hours, they will provide you with the necessary information to transfer the domain ownership to you.
4.Dynadot
Dynadot's main pitch is to help customers "register domain names and create websites simply and affordably".
They are one of the myriad smaller domain registrars that have a dedicated following compared to the big brands like GoDaddy. According to Domain Name Stat, Dynadot has over 3.1 million domain names under management. This puts them as the 16th largest domain registrar.
Dynadot Alternatives
You can get a free domain name (one-year term) when you get web hosting with the providers listed below. Here's a list of companies I recommend using:
Bluehost
HostGator
InMotion Hosting
It certainly will save you money compared to buying your domain name and hosting separately. To keep the domain name, you are usually required to stay with the web host for a specific period or pay a cancellation fee. Ultimately this is a better deal than buying separately.
5.DropCatch.com
DropCatch one of the Best Marketplaces to Buy Expired Domain Names, is a domain name back-ordering service which specializes in securing deleting domain names through its sophisticated network of registrars.
HugeDomains, the team behind it, formally opened the service up to the public in 2014, but it is a system that has served them so well for many years.
At the moment though, they only support major domain extensions such as .com, .net, and .org. If you are interested in other popular extensions like .io and .co, however, you should be looking towards Park.io and the rest.
6.Snap names
There are several companies, which provide domain names to their customers. If your search is to find the best company who can assist and provide you with the desired name, then we will recommend you to avail the services of Snapnames. As per our Snapnames reviews, we reviewed various aspects that are based on several conditions, and we found that Snapnames exceeds all our set standards. Searching the best and desired name for your domain is not an easy task; however, several factors control the same. The availability of the same is of most concerned. Several companies in market promise to provide the desired name for your domain, however, most of the times they fail to do so. This is not the case with Snapnames. In the reviews of Snapnames, we have noted that there is a maximum possibility that you get the desired domain name even if someone else already takes it. Further, Snapnames review also made it cleared that they act as a robust market where you can avail the services of auction on domain names. Their auction service is very effective where you can trust the Snapnames.
7.Expired Domains.net
Expired domain. net is a free resource and the most popular one to find expired domains. In the search for domain name box, you just need to type the niche you are looking for and want to work with, and you can find thousands of expired domain options.
You can find many niches like travel blogs, lifestyle blogs, and many more. You just need to type any word, like travel or lifestyle, etc., to get the related expired domains on that niche.
To make you more convenient, you can find lots of options and filters to apply. You can find the backlinks from different domains, ranking, date when the domain has expired precisely, etc.
As stocking domains and selling them at a premium price has become a popular business, it is hard to find a good domain from this site. Many expired domain sellers purchase and stock them for business. So, you need to buy from a premium site. Yet, there are some good domains here, and you can find them through analysis.
8.NameJet
Namejet is a domain auction service that allows the users to register the expired domains and allow the users to sign up for the deleted and expired domain names from partners and third party registrants. This is because everyday thousands of domain names become available for the purpose of registration and also because the name has not been re-registered.
Managing domain names automated
The domain names that have expired are registered with the multiple registrars. Winning an auction will let you create and account with the registrar. You would receive an email from them with details of the account. In future, if you win more auctions all domains will be put into your account automatically.
Backorder Request
You can avail of the facility of the backorder request on Namejet. The customer participates in the auction and pays the Backorder bid amount, if the domain is available. There is also the option of retracting the request.
Domain Backorder
Namejet is a service that allows the people using it to register for deleted or expired domains. Backordering allows the user to re-register these expired domains. To place a request for Backorder you do not have to pay anything. There is a list of domain name extensions that you can place the orders for. The domain or domains you have ordered for will show up on your account interface within 3 business days.
9.Domain Hunter GathereR (DHG)
Domain Hunter Gatherer (DHG) is an invaluable software tool that helps companies and individuals find expired domains quickly and easily. It can be used to go through multiple domain auction sites at once. This helps you find only the latest and most significant domains that are relevant to your industry. You can also use it to crawl Web 2.0 sites for expired domains.
Even though you may not legally own your own Web 2.0 site, you can use your accounts to redirect your links to your target websites. Many high-quality Web 2.0 sites are sitting abandoned by their creators.
Most current web platforms let people claim or re-register those abandoned sites. Domain Hunter Gatherer allows you to find available expired domains, which you can filter by quality indicators, niches, and other relevant criteria.
Domain Hunter Gatherer takes the guesswork out of searching for expired domains. You probably already know that the chances of finding the perfect expired domain manually are virtually slim to none. This software gives you a lot of essential options for finding those domains.
The software also lets you know how many social media mentions a particular domain has. It also lists the number of backlinks that the site had when it was active. You can save domains once you've found ones that you want to track.
10.GoDaddy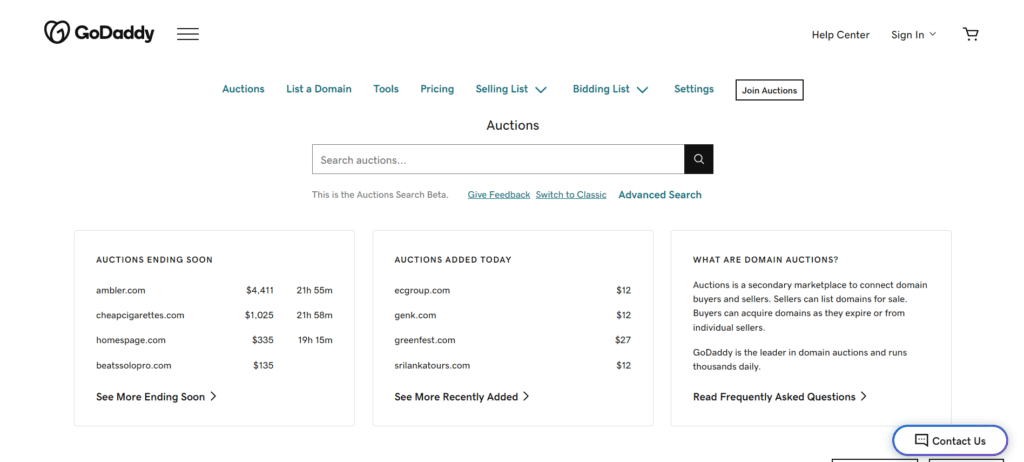 GoDaddy is a domain registrar and web host that has been around for more than 20 years. It claims a 99.95% uptime, meaning its site interruptions are rare. The company also offers 24/7 support and a 30-day money-back guarantee.
With GoDaddy, you can add email and other features to your domain for a fee. Add-ons like daily backups and SSL certificate might cost extra, depending on the plan you choose. Overall, GoDaddy is easy to use, especially for those who aren't experienced in website building.
Conclusion of the Best Marketplaces to Buy Expired Domain Names list
Searching for your dream domain is a creative and engaging process that can lead to great websites in the future.
Expired Domain Names offer several benefits. Your job is to separate the good ones from the bad ones.
That's why I have covered the 10 best marketplaces where you will certainly find high-value expired domain names within your price range.
Each site has a bunch of domains listed along with all important metrics to analyze the value of expired domains.
Now it's your turn to buy the right expired domain and give your new business website a head start!