10 Best Recruitment Automation Tools and Software
Almost any step of the recruiting process can be automated with automation and AI. Automation helps cut out tedious tasks and free up time for recruiters to make high quality hires.

In this list you'll find the best recruitment automation tools in the market.
1. Jobvite
Jobvite is the right partner to drive results for your company. The Evolve Talent Acquisition Suite is an end-to-end solution that integrates into your company's existing tech stack to enhance the candidate pipeline, accelerate hiring outcomes, and optimize complex workflows.
Jobvite's technology streamlines hiring across the entire talent acquisition lifecycle and offers an evolutionary approach in the market. As a trusted partner and strategic advisor, Jobvite has developed robust strategic, channel, and technology partnerships that drive greater success for customers. A unified suite that delivers results for each talent team across the full recruiting operation. And because it's built for configuration and integration, Jobvite's technology meets each team where they are and takes them to the next level.
Jobvite is ideal for high-growth and established enterprise and medium-sized companies. It partners with those organizations frustrated with point solutions that are too narrow, or HRIS and HCMs that are too broad by providing a specialized and comprehensive solution that meets the needs of the entire talent acquisition lifecycle. It partners with companies that have multi-dimensional roles and complex hiring workflows, enabling them to hire the best talent at scale and without limits.
01 Enable
Streamlining TA expert's workflows by automating mundane day-to-day administrative tasks.
02 Attract + Qualify
Deploying a strategic and unbiased approach to capture diverse. highly qualified candidates.
03 Engage
Engaging the digital candidate experience with the employer brand to streamline candidates' interview process.
04 Nurture
Driving awareness for candidate openings through a comprehensive recruitment system.
05 Capture + Onboard
Reporting in real time to inform future requisition, business planning with insights that enhance TA efforts.
2. Paradox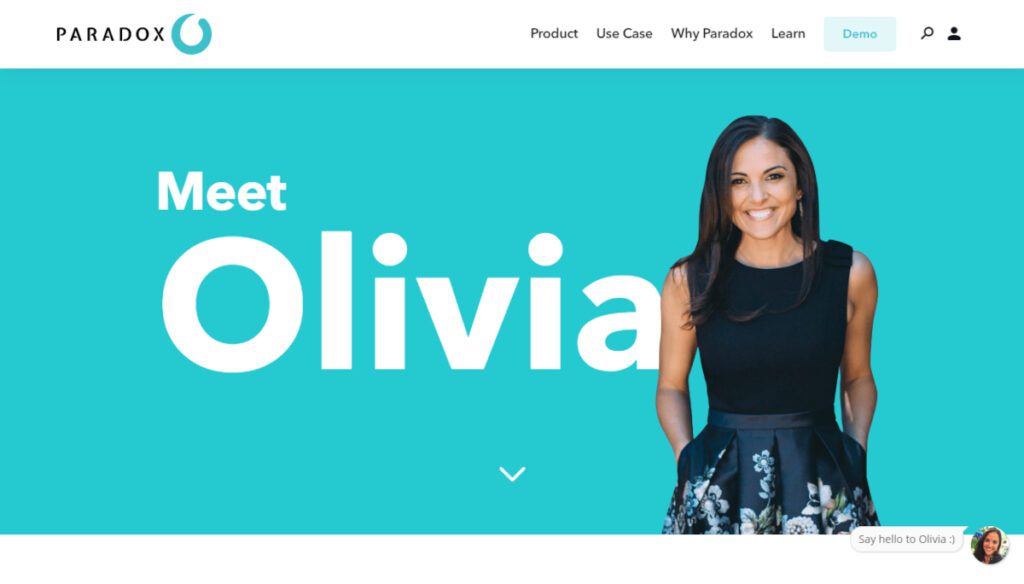 Paradox is the company that's inspired by a world where AI empowers recruiting teams to spend time with people, not software. Olivia is the AI assistant for recruiting from Paradox. A simple, conversational recruiting solution that does work for you. She automates, answers, screens, schedules, and onboards … to help you hire faster.
– Answer candidate questions 24/7, on any device.
Whether it's a question about benefits, work-from-home policies, or what to wear on the first day, Olivia can handle it all — in 100+ languages.
– Tell your story through an immersive experience.
Want your experience to look like what your candidates get from apps like Instagram or Snapchat? Olivia can help — sharing videos, docs, and more right in the conversation.
– Never schedule another interview again.
Multi-location, multi-person: Make complex interviews simple.
Video Interviews: Native and integrated video interviewing.
Rescheduling & reminders: Eliminate the headache of back and forth.
– Get real-time insight into your hiring process.
Olivia can gather feedback at any point in your hiring experience, customizing ratings with emojis, stars, and more — whatever suits your style best.
3. SmartRecruiters
SmartRecruiters Talent Acquisition Suite is recruiting software that puts all your recruiting solutions, people, and vendors at your fingertips. This enables you to run your talent acquisition program like a high-powered marketing and sales machine.
The SmartRecruiters Talent Acquisition Suite can replace your legacy applicant tracking system and recruiting software.
The traditional Applicant Tracking System (or ATS), lacks hiring manager engagement, hiring team collaboration, and real integration with recruiting services.
– Deliver a Compelling New Hire Experience
After offer acceptance, new hires seamlessly transition to onboarding activities in a slick new hire portal, where they're also introduced to your company values and culture . Since all onboarding tasks are centralized in one place, staying on track is a breeze.
– Let Your Onboarding Team Focus on Engaging New Hires
With standardized onboarding activities, you're able to automate what needs to be done, by when. You can highlight high priority tasks, like verifying employment eligibility, and manage access to sensitive information. Your onboarding team is freed up to get new hires plugged into your organization, build connections, and ensure they have everything they need for a successful start.
– Save Money and Improve Compliance
Collect all the information you need from your new hires in one system of record, mitigating compliance and security exposures, and reducing your total cost of ownership. Custom integrations through a robust API endpoints ensure a clean handoff of data to your HR management system.
4. Zoho
Zoho Recruit is a cloud-based hiring platform that gives HR teams and recruitment agencies the digital tools needed to fill roles quickly and efficiently. It's free to try, and it requires no on-premise software or data storage. From sourcing candidates to prepping them for onboarding, Recruit helps you manage your entire talent pipeline from a single app. It's available through web browsers on any internet-capable device or as a mobile app for Android and iOS.
Zoho Recruit's world-class recruitment software will help you find, evaluate, and communicate with candidates for any role. That means a more efficient hiring process and new hires that add more value to your organization or your clients.
Zoho Recruit comes with both an Applicant Tracking System (ATS) and a Candidate Relationship Management platform, often called a recruitment CRM. While an ATS focuses on faster sourcing and better hiring processes through automated workflows, a recruitment CRM has tools that to help you nurture passive job seekers and build relationships with candidates. Combined, they allow you to provide an exceptional candidate experience and better quality placements without sacrificing efficiency or speed.
– Source & Attract: Create a candidate experience that can't be overlooked
Post your jobs on 75+ job boards with a single click and share the listings instantly to all your social handles.
– Track & Engage: Build relationships right from recruitment, and make the right hire every time
Keep track of where your candidates are at every hiring stage and optimize your recruitment process with advanced analytics.
– Automate & Hire: Go from interview to onboarding in a snap with custom automation
Look in the best hire for every position with custom automation tools that push candidates through every stage in your hiring process.
5. SeekOut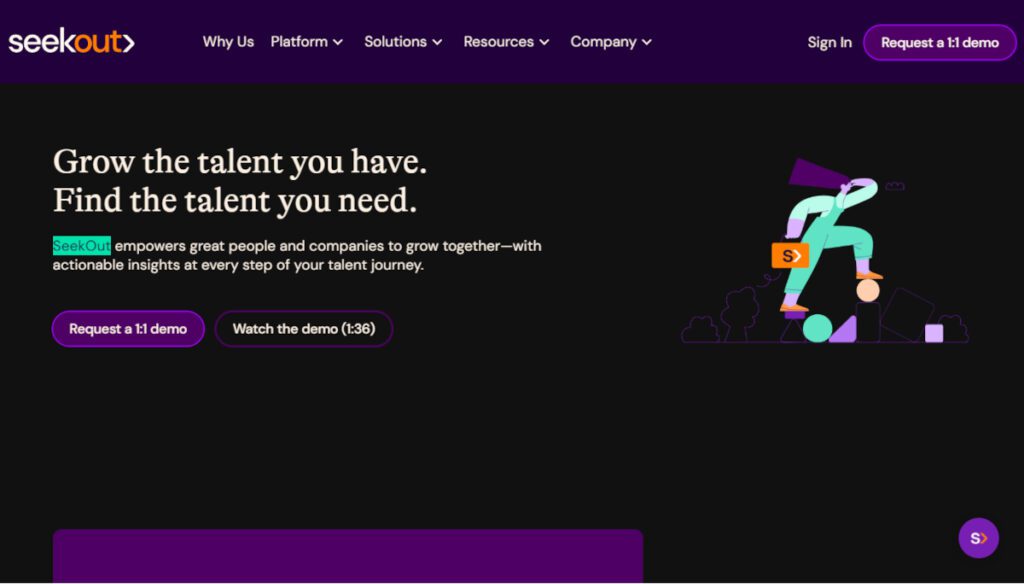 SeekOut Recruit makes it easy to create, diversify, and accelerate your talent pipelines. With millions of candidate profiles and specialized talent pools, SeekOut is the most trusted resource for diverse and hard-to-find talent.
To achieve your hiring goals, you need to find and engage quality candidates. With SeekOut Recruit, build a talent pipeline across passive, current, and past applicants. Refine your hiring strategy, with deep insights into the talent market.
– Source hard-to-find talent
Find qualified candidates for specialized roles with the most powerful candidate search. Filter by specific requirements—including medical licenses, security clearances, technical expertise, and more. Engage candidates with accurate contact information and automated outreach campaigns.
– Be a diversity champion
Build a data-driven diversity hiring strategy, then put your plan into action. SeekOut helps improve representation in talent pipelines and address unconscious bias in the recruiting process. Use data-driven insights to refine your talent process for underrepresented candidates.
– Turn past candidates into new hires
Your ATS is a goldmine of qualified applicants. Rediscover candidates in your ATS to reengage silver medalists, reduce time-to-hire, and save on recruiting costs.
– Increase recruiter efficiency
Review resumes faster and spend more time on candidate engagement. SeekOut validates applicants for open roles based on their skills and experiences. Save hundreds of hours, increase fairness, and reduce bias in the hiring process.
– Become a strategic talent advisor
Understand the talent landscape to make smart sourcing decisions and align expectations with your hiring team. View and share aggregate data about any talent pool, refining and optimizing your talent search.
6. Comeet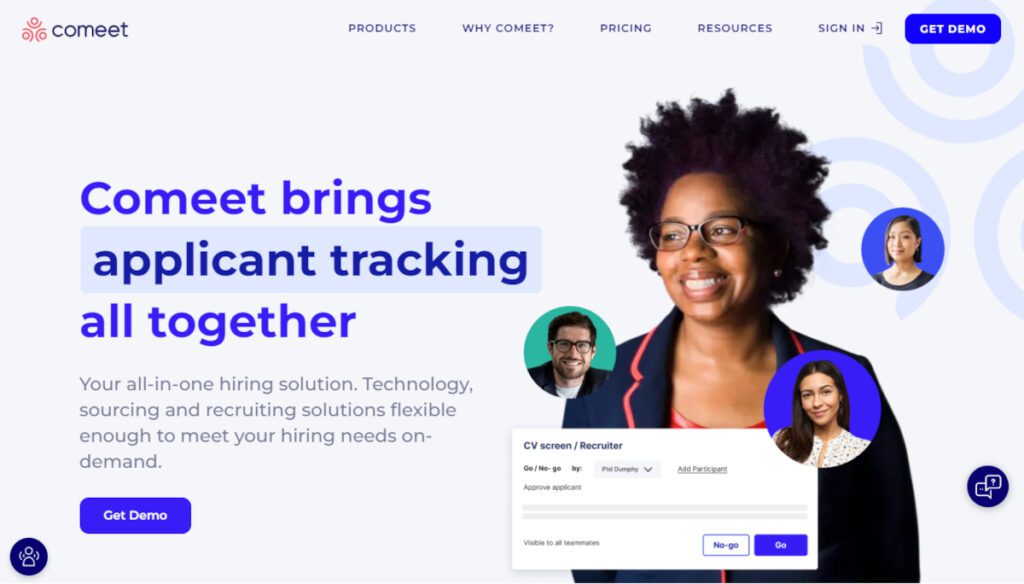 Comeet is an all-in-one hiring solution. Technology, sourcing and recruiting solutions flexible enough to meet your hiring needs on-demand. Comeet is reshaping the way companies find and hire talent. By delivering built-in sourcing, it helps businesses create winning teams.
Whether you're looking for an applicant tracking system, to selectively outsource your recruiting efforts or extend your team with full-stack experts, Comeet has a recruiting solution for you.
The Comeet Platform is a Collaborative Applicant Tracking System, Sourcing, and Recruiting. The Comeet platform gives you everything you need to quickly source, interview, and hire candidates. It's easy to manage your entire hiring process in one place with the tools and features important to HR, hiring managers, and recruiters.
– Attract and hire the best talent fast
Hire smarter and faster with a system that doesn't just screen potential employees but also helps you find them.
All the features you expect, along with a built-in candidate pipeline and a Talent Snapshot market insight reporting function.
– Comeet lets you move beyond the spreadsheet
Created to help fast-growing businesses make better informed and collaborative hiring decisions. It brings together tech and built-in sourcing so that you can focus on the right candidates, not filtering resumes or dealing with spreadsheets.
A dedicated team is there to support you both on the platform and with sourcing every step of the way.
– Hiring made easy. Grow your talent on demand.
Comeet solutions are configurable to your business's needs and quickly generate ROI. It delivers scalable solutions that balance your need for agility with the features important to HR, hiring managers, and recruiters.
7. SAP
SAP SuccessFactors solutions are cloud-based HCM software applications that support core HR and payroll, talent management, HR analytics and workforce planning, and employee experience management. The suite – now called SAP SuccessFactors HXM Suite – provides individualized experiences that keep employees happy, productive, and engaged. Launched in 2001 and part of the SAP family since 2012, SAP SuccessFactors solutions are used by over 242+ million users in more than 200 countries and territories around the world.
SAP SuccessFactors solutions can help you optimize cloud human experience management (HXM) the new people-focused term for HCM. The HXM suite lets you provide employees with experiences that recognize their individual value and consistently motivate them to achieve peak performance levels.
The SAP SuccessFactors Human Experience Management Suite focuses on what employees need in order to do and be their best. It shifts from human capital management (HCM) and its processes, steps, and procedures to individualized experiences designed to keep employees happy, productive, engaged, and improving.
From the beginning, employees do not view a paycheck as their only ROI, their experience matters. Let's choose to invest in people, knowing their experiences will shape those of the customers and the success of the company.
SAP SuccessFactors HXM Suite includes cloud HCM solutions in four key areas:
– Employee experience management – including a wide range of employee surveys, feedback analysis, and guided action.
– Core HR and payroll – including a powerful HR information system, payroll software, self-service HR, time and attendance, and more.
– Talent management – including solutions for recruiting, onboarding, learning, performance management, compensation, and more.
– HR analytics and workforce planning – including AI-powered people analytics, scenario modeling, what-if analysis, and strategic workforce planning.
8. Icims
Icims is the Talent Cloud company that empowers organizations to attract, engage, hire and advance the talent that builds a winning workforce.
Talent is the driving force behind every business transformation, not to mention the rapidly-evolving global economy, threr's no better tools to create connections between incredible people and incredible companies.
That's why iCIMS has built the world's leading Talent Cloud—to empower employers with a single platform that makes it possible to build a diverse, qualified and winning workforce that aligns with your mission.
Bringing the right talent together with the right teams can transform your organization, and will be to helping you drive your business forward with industry-leading innovation, connecting you with the industry's strongest community of talent innovators and by caring more than any other partner on the planet.
A single talent acquisition platform to build your winning workforce, the iCIMS Talent Cloud gives you more ways to attract, engage, hire, and advance the best talent.
– Attract
Generate candidate interest with compelling career sites and recruitment marketing solutions: Recruitment marketing software.
– Engage
Stay connected with your candidates and employees using text, email, chatbots, and more: Candidate engagement platform.
– Hire
Quickly route job offers and onboard new employees with AI-powered applicant tracking, offer letter templates, and more: Hiring software.
– Advance
Boost internal mobility with AI-enabled career pathing, analytics, and dynamic talent profiles: Advance talent.
9. Jobsoid
Jobsoid is a cloud-based Applicant Tracking System that lets you manage your entire recruitment process – right from creating a job opening to hiring a suitable candidate. Jobsoid is a simple and easily accessible online recruitment system, it'is a recruiting software for businesses & agencies. Trusted globally by over 4000 Hiring Managers and Recruiters in 100+ countries.
The main way that an ATS helps organizations is by reducing the time, energy, money and effort spent on tracking and managing information about candidates. Recruitment is often one of the most cumbersome processes that HR personnel deal with, especially when there are thousands of applicants for a single job opening. Applicant Tracking Systems like Jobsoid are designed to take over most of the work for you.
Jobsoid is not a job portal, but more of a handy helper for your company's recruitment process. As a cloud-based recruitment system, it takes over the tasks of data entry, communication management, candidate tracking and more, leaving you free to focus on locating the right candidate for each position. Jobsoid can automatically post a job opening at different locations and portals and track responses on your behalf.
Schedule interviews with the built-in interview scheduling software. Connect Google/Microsoft accounts and plan interviews based on the availability of interviewers.
– Schedule interview for one or many candidates in just a few clicks
– Create interview time-slots and allow candidates to choose the desired interview time
– Schedule video interviews for candidates for initial screening rounds
– Receive real-time notifications about the status of the interviews
Simplify the tedious interview process with smart interview scheduling software and improve your hiring efficiency.
10. PeopleFluent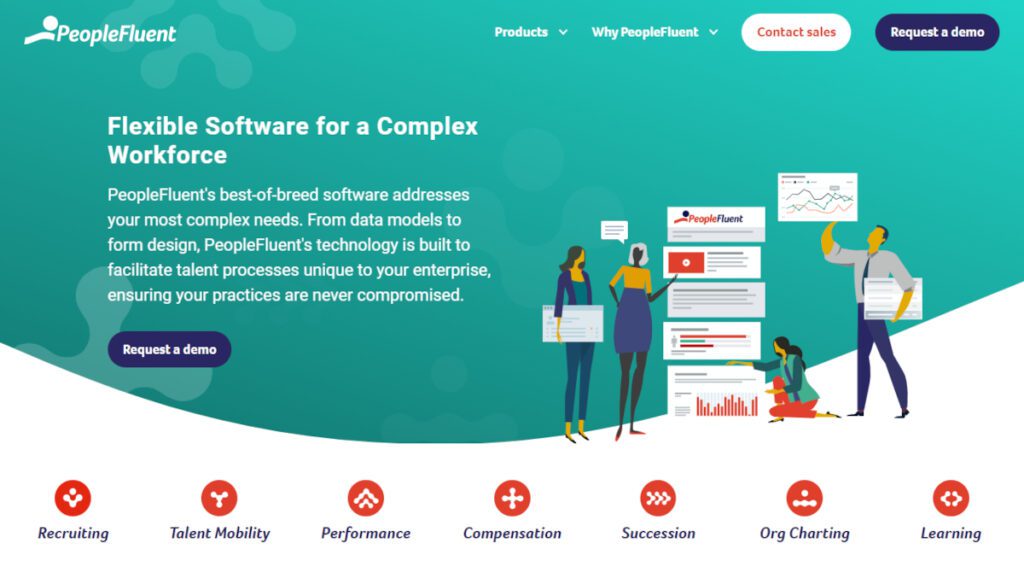 PeopleFluent has the talent management and learning solutions to help you guide your organization's people, culture, and outcomes. PeopleFluent provides world-class service and an unparalleled ecosystem of partners to optimize employee experience, employer brand, and business results.
As a market leader in integrated talent management and learning solutions, PeopleFluent helps companies hire, develop, reward, and advance a skilled and motivated workforce. Deployed separately or as a suite, the software spans recruitment, performance, compensation, succession, and learning—tailored for either large or mid-enterprise organizations. It delivers unmatched functionality and flexibility, recognized by leading analysts, to develop people, drive performance and deliver results. The talent solutions unify talent processes within a collaborative experience that enables HR and L&D teams to guide managers and employees with contextual learning—right in the flow of work.
– Recruiting
Align your talent strategy with the future of recruiting. How you source, engage, interview, and onboard people is unique to your business. That's why more companies are turning to specialized recruitment tools. All-in-one systems fall short in meeting modern recruitment processes. PeopleFluent Recruiting software integrates with your current tech stack and is built for how you work.
– Talent Mobility
Identify, grow, and retain your best talent. Prioritize talent development with a talent mobility solution that nurtures career growth and builds a high-performing workforce.
– Performance
Boost employee performance with ongoing feedback, productive one-on-ones, and deep analytics that help people grow. PeopleFluent's configurable performance management suite includes everything you need to move your organization forward. See how PeopleFluent Performance goes beyond basic HCM capabilities and helps your people reach their full potential.
Conclusion
To choose the right recruitment automation software, you should consider which features you need and at what budget you're willing to invest. For both applicants and recruiters, the right RAS would make the recruitment more efficient.