10 Best To Do List Apps For Task Management
There several To Do List Apps in the market, but which is the best for your daily use for Task management, Time tracking, Task tracking and Scheduling
What is the Best To Do List Apps For Task Management?
List of The Best To Do List Apps For Task Management to help you organize your daily tasks and be more productive.
1. Todoist: To-Do List & planner
Trusted by 30+ million people and teams worldwide. Todoist is a delightfully simple yet powerful task planner and to-do list app. Finally, organize your work and life.
Use Todoist to:
• Reach that mental clarity you've been longing for by using Quick Add to capture and schedule to-do list tasks the moment they pop into your head.
• Add tasks to your to-do list like "Read work emails every day at 10am" using Todoist's powerful everyday language recognition and recurring due dates.
• Available on any device, with apps, extensions, and widgets Todoist will quickly become your go-to task planner for getting work and life organized.
• Link Todoist with your calendar, voice assistant, and 60+ other tools such as Outlook, Gmail, and Slack.
• Collaborate on projects of all sizes, by assigning to-do list tasks to others. You can also leave comments, voice notes, and attach files to tasks. Planning work just got easier!
• Project templates available to help you tackle everything (from meeting agendas and accounting tasks, to packing lists and wedding planning).
• See what's most important by setting visual task priority levels in your to-do list, making task management a breeze.
• Get to know yourself better with insights into your personalized productivity and task planner trends.
2. TickTick: To-do list & Tasks
TickTick is a simple and effective to-do list and task manager app which helps you make schedule, manage time, stay focused, remind about deadlines and organize life at home, work and everywhere else.
TickTick helps you make the most of your day and get things done (GTD). Whether there is an idea you want to capture, personal goals to achieve, work to accomplish, habits to track, projects to collaborate with colleagues, or even a shopping list to share with family (with the help of a list maker). Achieve your goals with our productivity planner.
💡Easy to use
TickTick is easy to get started with its intuitive design and personalized features. Add tasks and reminders in mere seconds, and then focus on things that really matter.
3. Microsoft To Do: Lists & Tasks
Microsoft To Do is a task management app to help you stay organized and manage your day-to-day. You can use Microsoft To Do to make shopping lists or task lists, take notes, record collections, plan an event, or set reminders to increase your productivity and focus on what matters to you. Microsoft To Do makes it easy to stay organized and manage your life.
Accomplish what's meaningful and important to you each day with My Day and Suggestions, your personalized daily planner tools. Intelligent suggestions recommend tasks from across your lists that may be relevant for the day. From grocery lists to housecleaning routines, daily tasks are simple with To Do. When you're quickly switching between contexts and tasks, it's important to have tools that help you achieve what matters. Microsoft To Do helps you quickly capture and retrieve your lists and tasks across devices and between multiple accounts.
4. Any.do – To do list & Calendar
Any.do is a free to-do list, planner & calendar app for managing and organizing your daily tasks, to-do lists, notes, reminders, checklists, calendar events, grocery lists, and more.
Organize your tasks & to-do list
• ADVANCED CALENDAR & DAILY PLANNER – Keep your to-do list and calendar events always at hand with our calendar widget. Any.do to-do list & planner support daily calendar view, 3-day Calendar view, Weekly calendar view & agenda view, with built-in reminders. Review and organize your calendar events and to do list side by side.
• SYNCS SEAMLESSLY – Keeps all your to do list, tasks, reminders, notes, calendar & agenda always in sync so you'll never forget a thing. Sync your phone's calendar, google calendar, Facebook events, outlook calendar, or any other calendar so you don't forget an important event. Even on your Wear OS device.
• SET REMINDERS – One-time reminders, recurring reminders, Location reminders & voice reminders. NEW! Easily create tasks and get reminders in WhatsApp.
• WORK TOGETHER – Share your to do list and assign tasks with your friends, family & colleagues from your task list to collaborate and get more done.
5. Google Tasks
Get more done with the Google Tasks mobile app. Manage, capture, and edit your tasks from anywhere, at anytime, with to-dos that sync across all your devices. Integrations with Gmail and Google Calendar help you get tasks done—faster.
Quickly capture tasks anywhere
Add details and create subtasks
View tasks created from emails
Stay on track with due dates and notifications
Take control of your task management and install the Google Tasks mobile app. Start easily managing your to-do list on the go with the Tasks planner app from Google.
6. 3 Things : – Todo List for Focus
3 Things is designed to help you work through your todo list. This method is inspired by the Ivy Lee Method, a technique used successfully to help people prioritize the most important things each day and then to focus on those until they're accomplished.
🥇 Productivity is not about creating the "perfect" todo list that has every detail. It's actually about being able to say no so that you can prioritize the top 3 most impactful things you should be doing.
7. Wunderlist
Wunderlist is a discontinued cloud-based task management application. It allowed users to create lists to manage their tasks from a smartphone, tablet, computer and smartwatch. Wunderlist was free; additional collaboration features were available in a paid version known as Wunderlist Pro, released April 2013.
8. TeuxDeux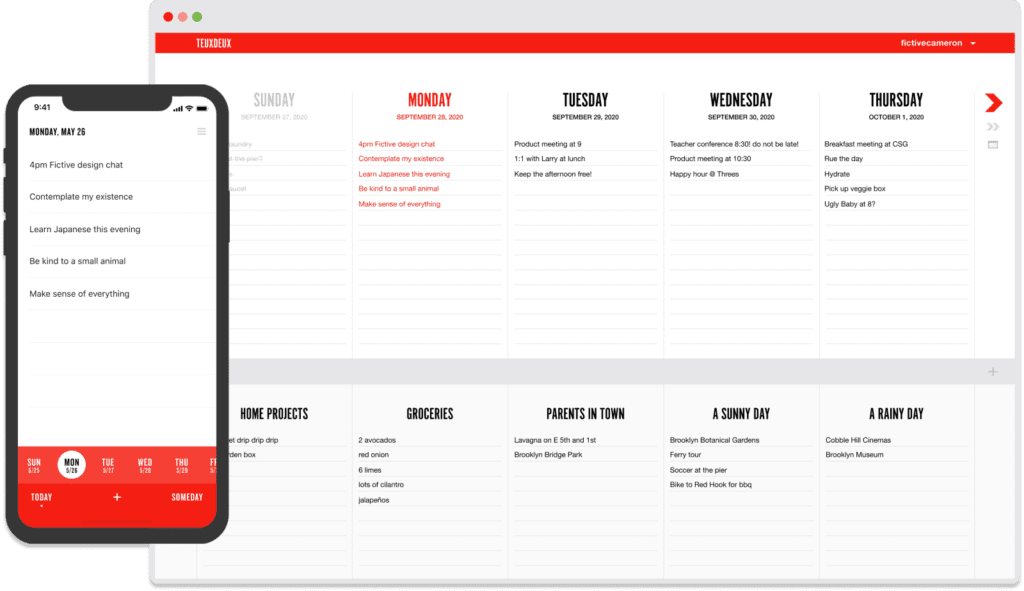 TeuxDeux *A simple tool for making and keeping your commitments—to yourself, your work, and your loved ones.*
– Stash ideas, bucket list items, and plans for later with our unlimited Someday lists.
– Add a new task with one click – so easy you can do it with your eyes closed (or under the table during a meeting)
– Our clean and simple interface is free from distraction – so you can get it all done without interruption
9. OmniFocus
Use OmniFocus to accomplish more every day. Create projects and tasks, organize them with tags, focus on what you can do right now — and get stuff done.
OmniFocus — now celebrating 10 years as the trusted, gold-standard to-do list app — brings unrivaled power and flexibility to your iPhone and iPad, making it easy to work the way you want to work.
OmniFocus manages everything in your busy life. Use projects to organize tasks naturally, and then add tags to organize across projects. Easily enter tasks when you're on the go, and process them when you have time. Tap the Forecast view — which shows both tasks and calendar events — to get a handle on your day. Use the Review perspective to keep your projects and tasks on track.
10. GTasks: Todo List & Task List
GTasks is a simple and efficient todo / task management app with Google synchronization. You can customize your to do list, set reminder, send tasks to your friends, family members or colleagues and sync with your Google Tasks perfectly. With it, you will never miss a task and focus on what really matters to boost productivity.
1. ICS(Android 4.0) style with bulk indent/move/set due date/delete and so on
2. View your tasks on Google Calendar
3. Synchronize with multiple Google accounts automatically; also support local mode
4. Customize sync mode: auto sync, manual sync or sync when open/exit/background sync
5. Batch add tasks
6. Scroll horizontally to switch between tasks/task lists
7. Sort your tasks by due date/name/create time/priority
8. Re-arrange your tasks easily by dragging & dropping
9. Indent to create subtasks
10. Send tasks to friends, families and colleagues
11. Set customized repeating reminders: daily/weekly/monthly… and so on

At the end of the Article Best To Do List Apps For Task Management, we hope you found the best App that mets your requirements.