Epicor Kinetic ERP Reviews
Epicor ERP is Entreprise resource planning designed to Simplify your business and maximize ROI with solutions that connect your operations and reduce time-consuming workarounds. Kinetic ERP is designed for Manufacturing Businesses.
Which Types of Manufacturing Businesses Use Epicor Kinetic ERP?
Aerospace and Defense Manufacturing
Injection Molding Manufacturing.
Automotive Manufacturing
Electronics and High-Tech Manufacturing
Fabricated Metals Manufacturing
Furniture Manufacturing
Industrial Machinery
Medical Device Manufacturing
Metal Service Centers Manufacturing
Injection Molding Manufacturing
Make-to-Order Manufacturing ERP Solution
Epicor Software Corporation is a business software company based in Austin, Texas founded in 1972. Its products are aimed at the manufacturing, distribution, retail and services industries.
Epicor provides enterprise resource planning (ERP), customer relationship management (CRM), supply chain management (SCM), and human capital management (HCM) software to business customers in both software as a service (SaaS) and on-premises deployment models
Epicor kinetic ERP interface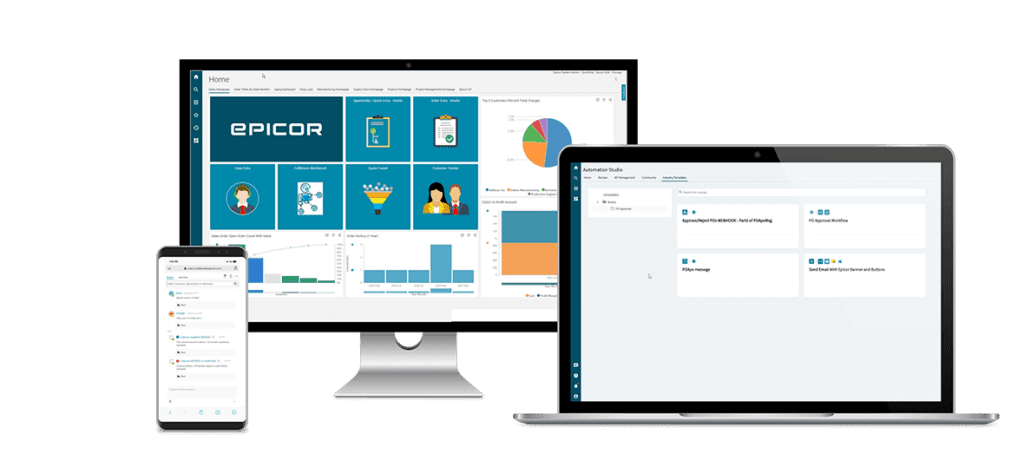 Pros & Cons
Pros
Highly customizable.
It provides all the core Business functionality.
Querying data is very easy with the built in business activity query builder. 
User friendly.
Fast.
Cons
The installation process is complexe and upgrading is a major event.
Report building in the SaaS environment is very clunky – it is hard to test as you develop reports.
It is still not fully mobile/web compliant – it is improving, but key functions like the manufacturing data collection still needs Windows based devices to work.
Human Resources management should be improved.
Overall security.
Epicor Kinetic Ratings
Integration & Deployment
Features (4)
Value for Money (3)
Evaluation & Contracting
Ease of use (3)
Customer Service (3)
Epicor Kinetic Reviews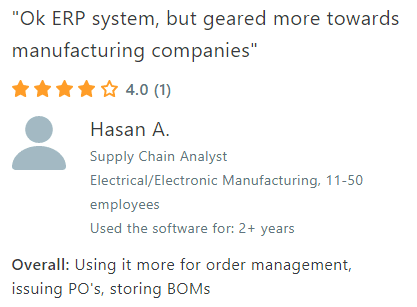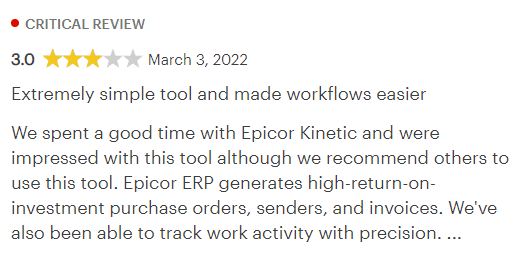 Epicor Kinetic Features
Integrate social-network-style communication
Empower teams to master content workflow
Streamline routine tasks with voice recognition
Ease adoption with a modern design interface
Give B2B buyers a B2C experience
Manage territories, teams, and forecasts all from one place
Manage contacts, leads, and customers from any device
Configure complex products faster with a visual CPQ
Track work in progress, real-time
Improve technical data processes
Increase automation and insights
Unify multiple site views with multi-company capabilities
Scale globally with extensive country-specific functionality
Leverage advanced EDI software for transaction speed and visibility
Get quick answers and drill down into detailed data
Turn data into actionable insights
Monitor production in real time
Empower HR with feature-rich tools
Elevate and modernize financial management
Use data to make smart decisions
Epicor ERP Pricing
For the price you have to contact de Epicor Company because the price it depends on the complexity of your process.