10 Best Business Intelligence Software
Business intelligence software or BI software is a set of tools designed to acquire, classify, integrate, analyze and present complex data in easy-to-understand reports to generate insights. It uses software and services to transform data into actionable insights that inform an organization's business decisions.

BI tools access and analyze data sets and present the analysis results in reports, summaries, dashboards, graphs, charts, and maps, providing users with detailed information about the state of the business.
In this article, we go beyond what's BI to show you the best business intelligence software:
1. Better Reports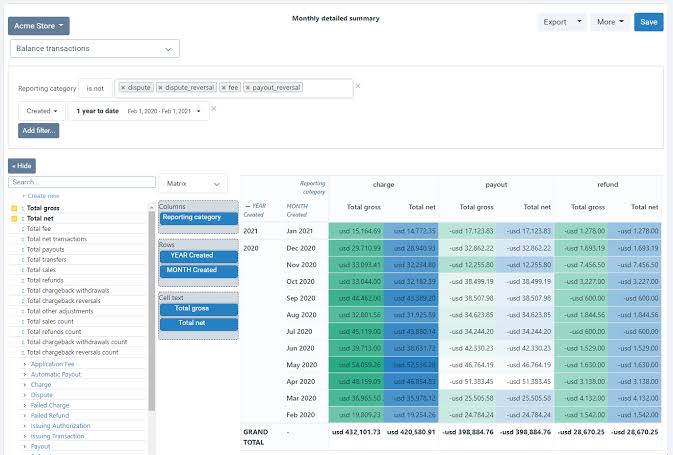 Better reports is an online SaaS tool that provides powerful analytics for popular apps like Stripe, QuickBooks Online, Shopify, and more.
Better Reports allows users to connect their apps (Shopify, Stripe, QuickBooks Online, etc.) and get instant access to dozens of built-in reports.It has powerful features such as:
100+ built-in reports: Choose from hundreds of built-in reports and metrics built specifically for each connector.
Visual Report Builder: Explore your data and create custom reports with pivot tables or visualizations.
Schedule automatic reports: Create daily, weekly or monthly schedules to have reports automatically delivered to your inbox or Google Sheets.
Drill down to details: Segment and filter on any field. Each connector uses all available APIs to expose each entity and field.
Powerful BRQL language: BRQL syntax designed for reporting and analysis. So you can Create your custom metrics once and reuse them on any report.
One click export: Download your reports to CSV, PDF, Excel or HTML files.
2. Convirza
Convirza Convirza is a cloud-based call optimization and call tracking solution that helps businesses of all sizes achieve marketing results and spend. The solution allows users to generate calls and trace them directly to offline and online sources.
The software's key features are :
Maximize ROI: Accurately track budgets and allocate them to activities that produce results.
Increase Conversion Rates: Automate follow-up triggers to reconnect with potential customers who are likely to purchase.
Map the customer journey: Understand buyer behavior at every stage of the customer lifecycle.
Boost your reputation: Identify and automate post-call review requests via text message or email.
Capture More Opportunities: Discover and prioritize follow-up opportunities for potential customers who are likely to buy.
Improve agent performance: Use assessment and tracking tools to be more strategic about call agent training.
Besides, Convirza Call Tracking discovers your most effective leads, shows you how accurate your marketing funnel is,individual ads, and specific keywords generate new leads and business.
3. ECMS cloud by computer Guidance
Computer Guidance provides eCMS cloud construction management software to commercial construction companies with a suite of intuitive browser-based applications including general ledger, job costing, payroll, human resources, equipment, project management, services and more.
Its innovative user interface ensures improved user experience and dynamic navigation in all eCMS construction software applications. In addition, the solution's open architecture speeds up integration with third-party software for transparent data and process exchange.
Hence, the software provides organizations with a holistic view of the data to ensure that the information is available and useful in various forms. Ultimately, companies gain the ability to truly analyze their organization and gain insight into different areas of their business and different types of data – uncovering unforeseen trends, hidden gaps and information that can be used to make smarter decisions.
Here are some of its advantages :
Completely Integrated ERP Software.
Most Comprehensive Construction-Specific.
Accounting, Job Costing, and Payroll Functionality.
Ranked IBM SQL Relational Database.
Browser-Based and Mobile-Friendly.
Business Intelligence and Analytics.
Industry-Leading Cloud Services.
4. Germain ux
Germain ux is custom monitoring, analytics and automation platform to improve user experience, automatically identify key insights, capture real-time user feedback, deliver business impact at scale, enable 100% searchable metadata and business data, and protect sensitive data according to GDPR requirements (e.g. B. Data Exclusion) Protection, Anonymization, etc.).
The main features of the platform are:
Automation: Execute various transactions at every step to ensure an optimal journey.
Business Process Monitoring: Understand workflow performance across teams and technologies, identifying points of friction, whether the root cause is functional or technical.
Code Analysis: Real-time analysis of C#, GoLang, Java, Javascript, NodeJS, (…) 24×7.
Real User Monitoring, Feedback, Session Replay, and Insights: Improve end-user experience across web apps, desktop apps, mobile apps, and the cloud.
Smart Insights: Proactively and effectively identify issues affecting your users, processes or technology
Technology Performance Monitoring : Improve Uptime and Performance of any Technology, Cloud .
5. Grow
Grow is simple business intelligence (BI) designed for growing companies. Provides all the dashboards, reports, analytics, and unique insights you expect from traditional BI, without the cost and technical resources typically required.
With grow, you can take advantage of the software to:
Build beautiful reports: Build all the dashboards, reports and analytics you've come to expect from BI without all the hassle and cost.
Centralize your data: Bring all your most useful data in one place and create a single source of truth for your business.
See your business in real time: Live stream your business to your team and say goodbye to missed opportunities.
Build a data culture: Put the right data in front of the right people, simplifying the decision-making.
Grow's Smart Builder includes features like automatic key-value and date detection, while tools like Datasets and the Data Explorer let data-savy users do all the heavy data prep once to create custom metrics that every team can use.
6. Matomo
Matomo is an alternative to Google Analytics that protects your data and your customers' privacy. With 100% data ownership, you have the power to protect your users' privacy. You know where your data is stored and what happens without outside influence.You decide how and where to store valuable data.
With Matomo:
Your customers will love you because their valuable personal information is protected.
You can rest assured that your website is GDPR and CCPA compliant.
You get better insights, unlimited websites, API usage, and more.
The ssoftware also features :
Open Source: Minimize risk with a secure, transparent platform rigorously tested by hundreds of contributors.
100% Accurate Data: No data sampling means you can make effective decisions based on 100% accurate reports.
Google Analytics Importer: You don't have to sacrifice your historical Google Analytics data as you can import your GA data directly into your Matomo.
Track personal information: Track personal information securely in accordance with data protection laws. This option is unavailable with GA.
Enhanced insights :The comprehensive range of features gives you actionable insights and a complete picture of your customers.

No data limitations :Get an unlimited number of websites, users, and segments. There's also no limitation on how much data you store.
7. Northspyre
Northspyre is a proactive intelligence platform that empowers real estate development teams to achieve simpler, more predictable outcomes on complex projects.
The software saves time, such as monthly investor reports and ad-hoc stakeholder links, so you can focus on better strategies powered by better data.
This platform gives you insight into spending forecasts, potential risks, remaining contingencies and more, giving you a clear picture of where your project is going. Additionally, Northspyre automates the extraction and classification of data from built-in email workflows to generate accurate monthly expense reports.
The software offers :
Cumbersome Reporting: Aggregate all historical project cost and performance data to automate and standardize time-consuming reporting duties.
Disjointed Data: Leverage centralized data storage and access to a single source of truth.

Reactive Decision Making: Using Proactive Alerts and Providing Predictions you can empower predictable outcomes.
Misleading Data : With Northspyre automation, eliminate manual file uploads, data entry, and human error, and base critical project decisions on the most accurate, up-to-date data.
8. Phocas
Phocas is an all-in-one business planning and analytics platform that enables you to better understand and serve your customers, and strengthen financial control.You no longer have to wait for changes and reports, so you can take smart steps today to plan for a safer future for your business.
Phocas's main features are :
Turn your data into insights : cloud-based data analytics solutions built for everyday users, delivering powerful analytics that aggregate and visualize complex information.
Financial reporting and analysis : Enable your finance team to share financial performance information across the organization so employees can proactively manage their department's expenses and financial KPIs.
Collaborative budgeting and forecasting: a dynamic and easy-to-use solution that is familiar with Excel, but offers data integrity and security. Follow the budget plan in the cloud anytime, anywhere.
Analyze margins and performance : Enhanced discount and commission management for businesses that rely on tight product margins and operate in multi-tiered supply chains.
Unlock new opportunities :When your CRM data interlocks with actual sales information in Phocas, you can see, track and analyze opportunities and risks, and turn analysis into action.
9. Two Minute Reports
Two Minute Reports is a cloud software that extracts data from various APIs/sources and generates reports dynamically. It allows you to monitor, investigate and report on your marketing metrics quickly and easily.
Two Minute Reports simplifies data import and analysis by connecting marketing/advertising platforms, databases, and SEO sources to Google Sheets. You can automatically retrieve data, schedule refreshes, and create custom reports in Google Sheets, saving time and effort.
Besides, you can use this software to :

Bring your data together: Combine marketing data from disparate sources into one report or dashboard in minutes, eliminating hours of manual work so you can automate your work and spend more time on important No code required, turn data into Ad Performance, SEO, Social Media reports with beautiful charts and graphs, and duplicate existing reports, set scheduling rules, and run your reports automatically .
Get a 360° view of your business: Report PPC advertising metrics for Facebook Ads, Google Ads, LinkedIn Ads, get product analytics from popular sources like Google Analytics, back up SEO metrics like keywords, clicks, SERP rank, FCP, FID and Pull raw data from product, operations or marketing databases.
10. UpMertics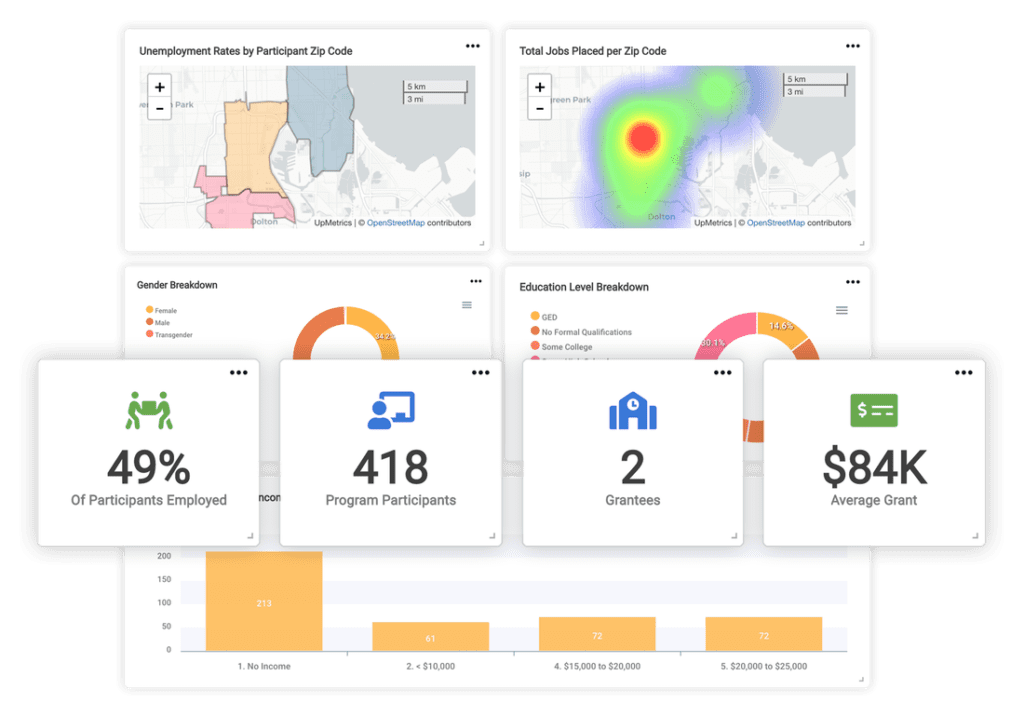 Upmetrics is an all-in-one solution that supports current and future impact reporting and analysis. Combine quantitative data with qualitative insights to improve impact ecosystems and connect organizations in the pursuit of lasting change.UpMetrics makes it easy for everyone in your organization to visualize impact and discover insights.
Their flexible data visualization tools are purpose-built for influential organizations, so you can understand what your data is telling you and make informed decisions.
Their flexible data visualization tools are purpose-built for impact-driven organizations to better understand your data and make informed decisions, as well as track and share ongoing progress against specific metrics and outcomes. With UpMetrics' easy-to-use data collection tools, you can deploy mobile-friendly surveys that update your dashboards in real time.
The software provides various functions such as:

Gain insight: Use a centralized reporting platform based on information from multiple sources, including public data, reports, and survey data.
Inspire Action: Turn data into action plans with flexible visualization tools and dashboards that inform the best strategies for maximum impact.

Drive Impact: Accelerate impact by identifying partnership opportunities, optimizing programs, and contingencies that resonate.
Conclusion
In today's data-driven world, businesses are being inundated with information, and those who want to work smarter are investing in technology to manage and understand it.
The era of big data has arrived. In fact, we generate so much data that 90% of the data collected today is generated now. Adopting modern technology can be difficult, but BI software often provides a positive ROI, even if the results are not immediately visible.