10 Best Clipping Software for Valorant
Searching for the perfect clipping software for your Valorant game streams and valorant recording ? Look no further! Action-packed games like Valorant are filled with exhilarating moments that deserve to be captured and preserved. These clips can be uploaded to TikTok or other social media platforms, or even compiled into an impressive montage.

What is the Best Clipping Software for Valorant?
In this article, we'll introduce you to a selection of the top clipping software options for Valorant, ensuring you never miss an epic in-game moment again.
1.Gazoom
The last clipping software for Valorant is Gazoom. It offers a one-stop solution to clip, review, edit, and share your game clips. You can choose to create your game clips manually or make the clips with its smart capture feature. When you are done, you can choose to save these clips in its smart storage so that you can access them on your mobile device at any time.
Key features:
Record your gameplay clips automatically
Allow you to capture game clips with audio, and there will be no more annoying background noises
Record gameplay without losing valuable FPS
Let you share the Gaming clips across Discord, Instagram, and more
2.AIseesoft
Aiseesoft Video Converter Ultimate is one of the best Clipping softwares for gaming and leading converting software that offers many features and functions at an affordable price. Different media enthusiasts use this software because of its effectiveness and efficiency. Not to mention it is a significantly less complicated process in converting additional files. Asid from converting features, this software offers extra amazing features that we can utilize with our media. A ripper , MV and collage maker, and a toolbox that also possess other tools too. Indeed, that Aiseesoft Video Converter Ultimate can be recommended for professional users and new users. At the top of these, the high-quality output is a guarantee.
3.NVIDIA Shadow Play
Nvidia Shadowplay Number 03 in our Best Clipping Software for Valorant List, it is a good option for any players who aren't interested in downloading extra software since this program should come standard if one has an Nvidia video card.
With Shadowplay, users can simply boot up VALORANT and get to work by activating the GeForce Experience overlay.
Players can use the Instant Replay option to record the last few minutes of their gameplay with a click of a hotkey, but you can also customize the Instant Replay by changing the amount of time captured, the video quality, frame rate, and resolution. If a user just wants to quickly make a clip, they can press their set hotkey and save it to their gallery.
If a user wants to manually record a whole game, for example, they can click the record option in the overlay as well. There is also a quick hotkey feature for the manual recording, so that players don't need to activate the overlay every time.
4.ACTION !4
If you are a heavy user of playing and recording gameplay, you must have heard of Action! It is a great game recording software that lets you create a game recording in superb HD video quality. While using Action to clip games like Valorant, you can display the game framerates, add a webcam, add live audio commentary, and more to make the clips attractive.
If you are used to publishing your game clips to social services like YouTube and Facebook, you cannot miss this program, as it provides predefined exporting profiles for these social networks!
Key features:
It is user-friendly and stylish
Support for Logitech multimedia keyboards
Export your recordings in various formats
5.POWER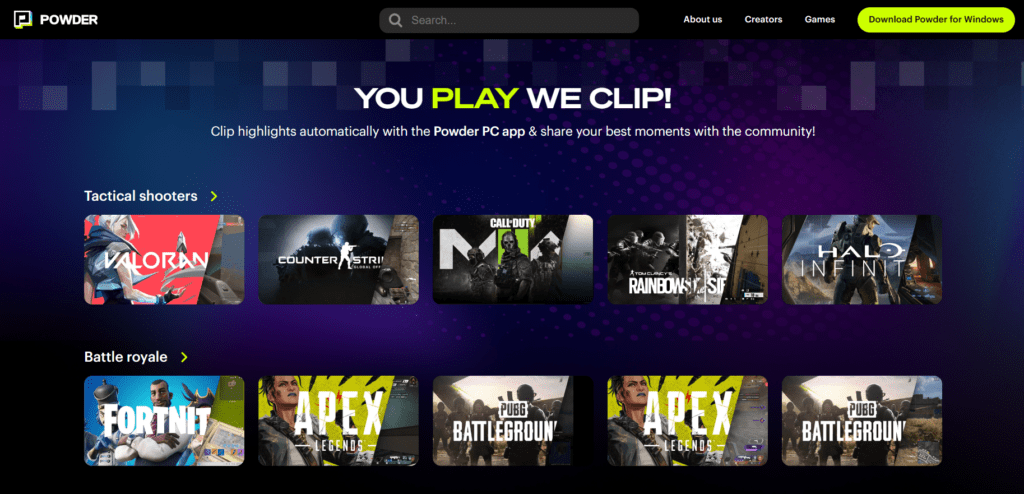 Powder is another Valorant clipping and valorant recording software for differing from other programs on the market. It clips the best highlights from your Valorant games automatically, which means you can always focus on winning. Apart from Valorant, it supports other 40+ popular games, like Fortnite, MW2, LoL, and more, and you can get fantastic game clips effortlessly with this software. Last but not least, when you have created game clips, you can directly share the videos in your Powder library to show your skills on social networks.
Key features:
Help you create video game clips automatically
Enahnce clips with montages tools
Support various gameplay
Support customizing hotkeys according to your needs
6.SteelSeries MOMENTS
SteelSeries Moments one of the Best Clipping Software for Valorant, it is free to download and is tightly integrated with the company's new GG platform. GG is a software suite that brings together the full array of products that SteelSeries users could want or need to get the most out of their PC gaming experience. It houses Engine, the program that offers in-depth mouse and keyboard settings, RGB lighting adjustments, and macro programming. GG also offers users access to the latest giveaways and promotions from SteelSeries.
7.EaseUS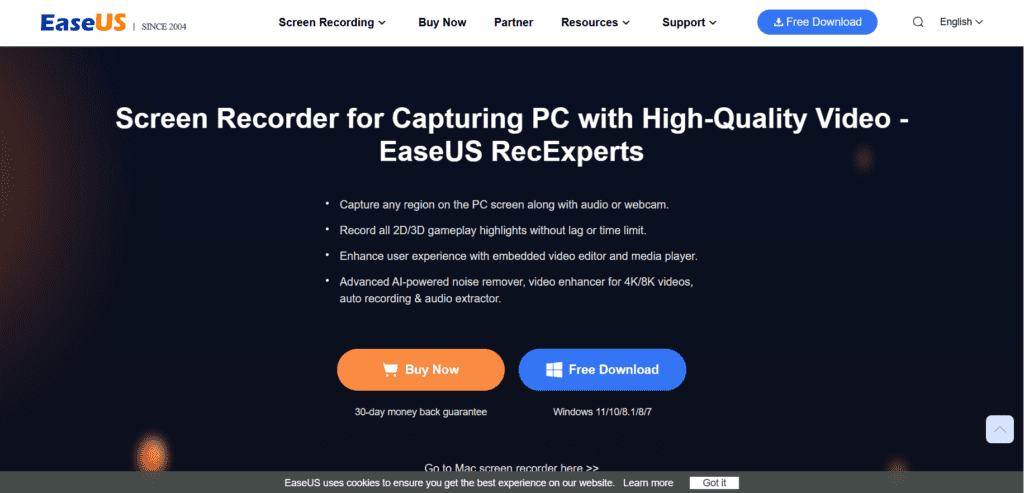 As one of the best PC clipping software, EaseUS RecExperts has enjoyed great popularity worldwide and helps most users create countless excellent clips in gaming. So, to some degree, it is also a great game clipping software that lets you clip Varolant, Fortnite, or other games with a few simple clicks. Besides, you are able to record Varolant gameplay n various FPS, including but not limited to 24, 60, and even 124.
Apart from that, it also works as a screen recorder that enables you to capture anything on your screen with no watermark & no time limit. Below are more functions of this clipping software:
Available for both Windows and macOS
Allow you to clip gameplay with customized hotkeys
Provide a built-in video editor to enhance your Valorant clips
8.OBS open broadcaster Software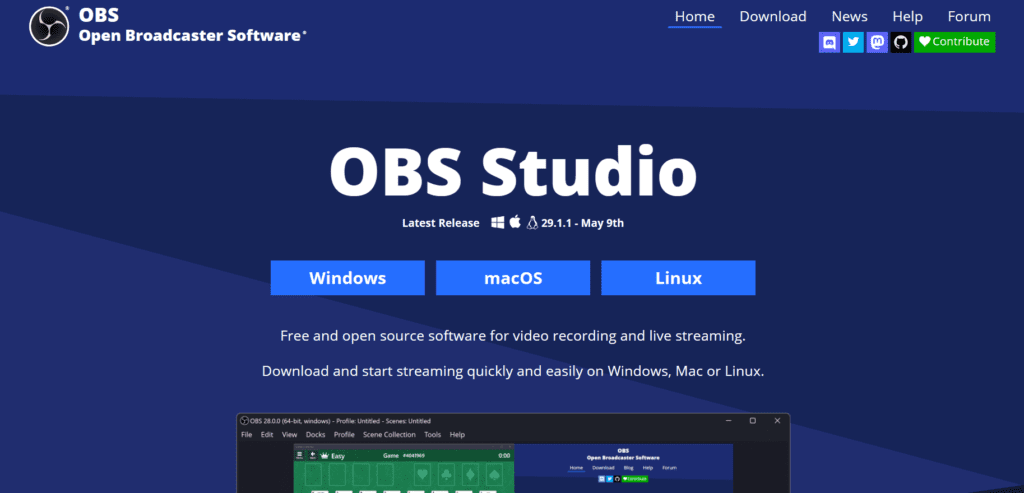 OBS Studio is an on-premise video recording and live-streaming solution for valorant recording, it is compatible with Windows, Mac, and Linux devices. With OBS Studio, users can capture real-time audio and video content. The editing tools allow users to mix specified audio and recordings when working on interactive video projects.
OBS Studio allows users to create videos using multiple sources/media including browser window captures and recordings, uploaded images, text annotations, webcam video, plus more. Additionally, an audio mixer tool includes filters such as noise gate and noise suppression to helps users edit audio files. An unlimited number of scenes can be used/selected when using video transition features. The OBS Studio API supports customized plugins and scripts.
9.Fraps
Fraps is one of the original game capture software. While it offers several decent configurations, it has fallen a bit behind on the times. It is still one of the best known software available for game capture, and is very easy to use, allowing you to record high-quality videos with ease using its accessible interface. Unfortunately, the developers have released very few updates since it originally landed on the market, and this has left Fraps lagging behind the competition. It is also lacking in helpful support documentation, and lacks any built in help options. However, because it has been around for so long, there are many user-run forums for support. While still worth looking into, it is certainly less flexible than the many newer, more up to date options.
One of the major issues with Fraps is the way it affects in-game performance. People have recorded about a 13% decrease in performance when attempting to record with Fraps. This is enough to require you to decrease your games settings from high, possibly all the way down to its lowest option, and you may even need to run the game at a lower resolution. Fraps, however, is remarkably consistent, increasing the frames per second by only about 9 percent, meaning that large jumps between minimum and maximum frame rates are nonexistent. Fraps also has no problems with latency when stopping or starting a recording, and does much better than the average game capture software does in this area.
10.Medal TV
Another valorant recording and Valorant clipping software is Medal TV, which has a great reputation on the market as the same as EaseUS clipping software. 
It allows you to record quality game video clips without dropping a frame on any Windows or Mac computer. Once you get the game clips, you can layer on a full suite of features to make the clips easy and rich on all of your devices, like trimming, merging, adding motion effects, etc. What's more, this software supports capturing clips ranging from 15 seconds to 10 minutes in up to 144FPS in 4K UHD.
Key features:
Support capturing game-audio only
Sync video or game clips to your phone instantly
Offer a wide range of video editing tools to make your clips stand out
Allow sharing clips to social networks
Conclusion
So these are some of the best clipping software for Valorant. You can pick the one that best suits your needs and preferences.