10 Best Policy Management Software
Policy management software manages the creation, review, and implementation of corporate policies across all departments of a company. This type of software helps companies ensure employees and business partners comply with corporate standards regarding issues such as security, privacy, inappropriate behavior, or breach of trust. Policy management is implemented on a company-wide basis and is most often used by compliance officers and executives. It can also be utilized by legal departments to ensure corporate policies are aligned with regulatory compliance.

Policy management can be deployed as a standalone product or as a part of an organization's broader governance, risk, and compliance initiative. When implemented separately, this type of software needs to integrate with other solutions such as HR management suites, workforce management software, environmental health and safety software, and governance, risk, and compliance software.
What is the 10 Best Policy Management Software ?
1. PowerDMS
PowerDMS is a policy and compliance management platform for high-trust organizations. PowerDMS is the leading, cloud-based platform bringing compliance to life through policy, training, and accreditation management solutions. PowerDMS provides a secure, cloud-based repository to manage policy and procedure documents throughout the entire lifecycle. Develop, review, approve, distribute, and track every policy with confidence, knowing that only one version exists, old versions are archived, and every instance is up-to-date after revisions.
This creates a single source of truth for all your policy content. With a platform like PowerDMS, you get an ecosystem where key management solutions and tools connect and inform one another. It gives you control over a single, living version of every document, so when you update a policy, for example, every instance of it in your training, public-facing documents, and accreditation systems is updated as well. In other words, PowerDMS brings compliance to life.
2. MITRATECH
Mitratech is a legal management system suitable for midsize to large corporate law firms. Key features include case management, contact management, document management, calendaring and docketing, time tracking, billing and invoicing and accounting. Mitratech began as an on-premise system, and in 2002, began offering a cloud-based software solution. The cloud-based version provides secure, global hosting with data centers designed to support data availability and store requirements. Each client receives a unique, separate database and file structures.
The contract management solution manages contract tasks and deadlines by tracking milestones related to every contract. Legal spend management allows users to engage with outside counsel, from negotiation and selection to budgeting, invoicing, approvals and analysis.
The Mitratech training courses allow clients to learn how to manage and utilize the features of the product.
3. dynamicPolicy
DynamicPolicy is a cloud-based solution designed to help midsize enterprises manage the entire policy management lifecycle through certification tracking, collaboration, version control and more. Key features include content management, policy training, audit trails and compliance management.
Teams using DynamicPolicy can store data in an on-premise repository and assign documents to employees for review. Multi-language support functionality allows users to browse and search documents by ID, title or text and add file attachments of multiple formats such as PPT, PDF, XLS and more. Additionally, users can configure the platform with company logos, language and colors to establish brand visibility. DynamicPolicy lets enterprises organize documents using folders…
4. PolicyHandler
PolicyHandler is a web-based policy management system, which assists small to medium insurance carriers with claims administration. Key features include workflows, automated renewals, messaging, task tracking and documentation. The platform comes with a data-driven rating tool with rating elements that are defined by users. Additionally, users can import loss cost tables to calculate yearly rate charges. Its quote-to-issuance workflow lets teams reuse previously entered quotes, which shortens processing time-frames.
Additionally, the system comes with direct and agency billing, allowing managers to set defined payment amounts and frequencies. PolicyHandler includes a portal which provides auditors access to policies, and helps manage workload of previously assigned audits. Its diary functionality allows users to track tasks and monitor policy-related activities.
5. riskonnect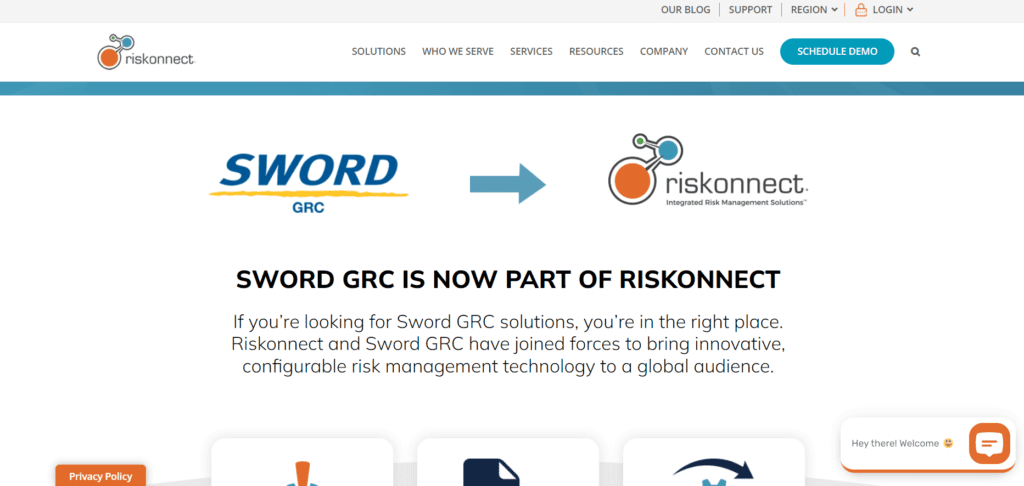 Riskonnect is a cloud-based risk management solution that provides an integrated platform for compliance management, business continuity management, enterprise risk management and audit management. Riskonnect's risk management information system (RMIS) enables risk professionals to identify threats and take corrective actions. The solution also automates various repetitive and time consuming manual tasks.
The solution enables risk professionals to conduct internal and operational audits of all processes in their organization. Executives can create an audit plan, store necessary documents and summarize results in a report. Riskonnect integrates with popular solutions such as IBM Cognos, Salesforce, Adobe and Conga to provide additional functionalities.
6. germain UX
Germain UX Top Rated Alerts, Insights and Automation Customizable Platform to improve User Experience, 24×7, real-time, which in turns will lead to better Adoption, Conversion and Retention, and at a fraction of the cost. Strong features (all customizable): Real User Session Recording and User Replay, Behavior Insights, Process Monitoring/Insights and Technology Monitoring/Insights, Proactive Issue Detection (via synthetic and prediction), Automatic Issue Resolution (via automation) and Alerting.
Pros
"Overall experience is really good, after purchasing software not only the product was extraordinary but the services are great too."
"It has great collections of wizards that can help you with the monitoring and automation of your system. I also love that there is a Chrome extension now, for monitoring and debugging my JS code."
"Also I was excited by good structured help pages where I was able to find any needed description."
Cons
"One downside of this apm is that some interface sections are not as simple or intuitive for the user's experience."
"The learning curve is a bit steep, probably expected from a fully featured monitoring platform. I struggled to get started and it took a lot of time to find my way in the documentation."
"It is a pity that there is no plug-in for angular 9 yet."
7. Compliance Bridge
My institution did not have a total picture of the number of policies and procedures in current publication, neither did we have the bandwidth or experience to create an in-house solution for controlling this process. We realized that this posed a significant risk on multiple levels to our organization. We are now moving ahead in a systematic and positive direction, knowing that our institutional history will be preserved in the archive while providing a single answer to questions of policy and guidelines for practice.
Pros
All the elements essential to our initial success were included under our contract, but we are aware that the risk and compliance module and the contract management module are something to consider in future as we grow in this process.
Cons
Learning to create in HTML was not something I had ever done previously nor did I take to it without assistance, which the team at ComplianceBridge provided in the most thorough and positive way. I would have no hesitation in calling my sales and implementation team for assistance at any time, and have done so on numerous occasions.
Reasons for choosing Policy & Procedure Management
We created a team to vet five different policy software solutions and come to a conclusion as to which best fit the needs of our institution as we dove into our first experience in using a software solution for our policy library needs. All presentations were considered in the context of which would require the most technical support on the institutional level; price; convenience; customer support from the provider; training for our users; and ease of implementation. Our overall favorite was ComplianceBridge because of its focus on simplifying the creation of a centralized archive, automated workflow for review and publication, and scalability. My experience with the ComplianceBridge team has been very positive.
8. converge point
Contract Management Software on Office 365 SharePoint for companies with more than 250 employees. ConvergePoint Contract Management is a cloud-based and on-premise solution built on Microsoft SharePoint that helps businesses of all sizes manage the entire contract lifecycle with automated requests, contract creation, review, approvals and reporting. Additionally, it allows users to collect electronic signatures via DocuSign integration.
Primary features of ConvergePoint Contract Management include a real-time dashboard, detailed reports, centralized document storage, obligation and renewal management, role-based access and vendor negotiation. Also, the platform enables users to prioritize contracts and negotiate terms with third-party legal teams. Additionally, it includes a targeted search tool that allows users to run criteria-based searches. ConvergePoint Contract Management provides auto-reminders as well as audit trails to let users send notifications and ensure compliance. The platform integrates with various third-party applications such as Microsoft Excel, Office 365 and Microsoft Outlook. The product is available on an annual subscription and support is extended via an online helpdesk.
9. Lubenda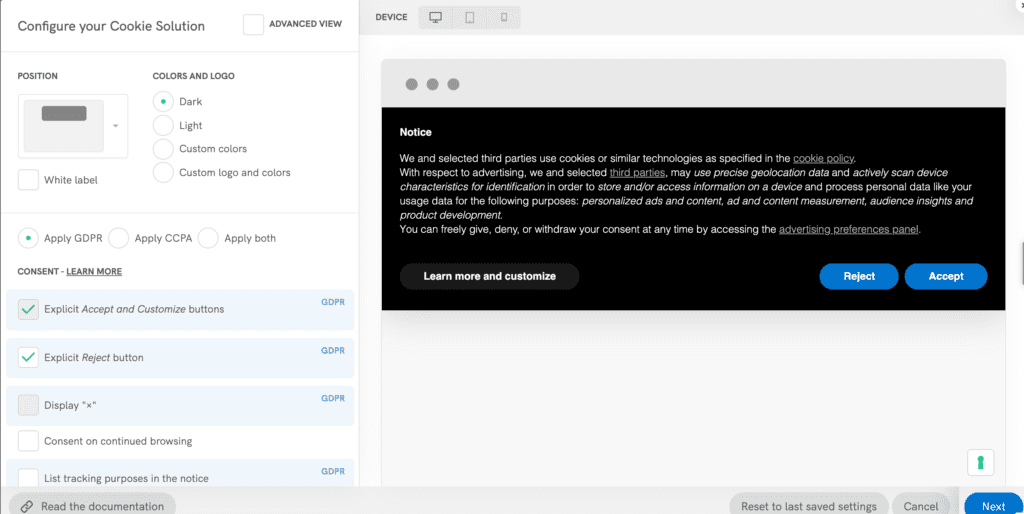 iubenda is a software that helps businesses build and manage their website's terms of service and privacy policy. It's an easy way to make sure that they are in compliance with the latest regulations, and it also helps create a trustworthy brand by clearly communicating their policies to customers. iubenda caters to businesses of all sizes, from startups looking for an easy way to get started with their terms of service and privacy policy, to large enterprises with hundreds of different websites.
They offer a number of features that make it easy for businesses of any size to use iubenda: from automated import processes, which lets users pull in data from other sources like Salesforce or Google Drive (and then keeps everything up-to-date automatically), to a comprehensive library of pre-written clauses, which helps customize terms without having to worry about writing them yourself.
10. RLDatix
PolicyStat is a cloud-based policy management software, which helps businesses of all sizes manage procedures and documentation. Key features include compliance tracking, auditing, contract management and collaboration. The platform's archiving tool helps users track the status of each policy in the library and comes with filter tabs to narrow search results.
Administrators can create workflows to automate the policy review and approval process, providing visibility into the sequence of users who review, edit and approve a document. Additionally, team members can create new documents using the PolicyStat editor, and attach files such as spreadsheets, PowerPoints, PDFs and images. PolicyStat enables editors to make formatting changes to policy documents and add lists, hyperlinks, tables, symbols and special characters. It is suitable for companies operating in industries such as life sciences, healthcare, education, finance and more. It is available on monthly subscriptions and support is provided via phone and email.
See Our List of Policy Management Software
What is policy management software?
Policy management software is a tool that helps users organize and manage all their policy and procedure documents centrally.
This type of software facilitates collaboration between legal and other teams on creating, editing, and maintaining policy and procedure documents. It also allows employees to digitally attest that they have read and understood the policies.
Policy management tools also offer security features such as access controls and administrator privileges to restrict unauthorized users from editing, reviewing, or approving policies.
Benefits of policy management software
Minimizes risk across your organization and enhances compliance: You can minimize security risks and react to breaches more quickly if your employees know the policies they need to follow in different scenarios. Policy management software provides a central repository for storing all policy documents and ensures that relevant users can access them quickly when needed.
Improves accountability: Audit trails and version histories allow you to track who updated, reviewed, or approved a policy. Additionally, digital attestation allows you to ensure that your employees have read and understood the policies, making them accountable for any noncompliance.
Automates policy management workflow and saves time: Policy management systems automatically send notifications to various stakeholders and helps to eliminate duplicate efforts in policy creation, review, and editing. They also eliminate the requirement of printing physical copies of the policies for approval or distribution.