10 Best Digital Sales Room Software
Digital sales room software is a secure online space where companies share data and resources within their teams to facilitate the buying process. It offers the opportunity to create interactive spaces where customers can visualize products, compare them and add items to their cart.

What is the Best Digital Sales Room Software?
Currently, with a lot of tools for sales managers on the market today, it can be hard to find the right one for your business.
That's why we choose the best digital sales room software that best suits your needs:
1. GETACCEPT
Getaccept one of the Best Digital Sales Room Software, is a digital sales room platform that creates authentic buying experiences through transactional and pipeline insights, customized point-of-sale materials, personalized videos and seamless integrations.
Use getaccept to create a safe public space for your business conversations. Share content, collaborate and negotiate with relevant stakeholders for a more engaging and personalized digital selling experience.
Getaccept can help you :
Build personal engagement with your prospects through high-quality interactions with personalized video, live chat messages, and automated text messages.
Maintain brand consistency across all of your sales collateral.
Improve visibility into business progress and performance.Reduce the number of tools in your sales tech stack.
Negotiate and move deals forward in real time by allowing your prospects to invite all relevant stakeholders into the digital sales room.
Allow potential customers to upload their own files to the digital sales room.
Get actionable insights about your content.
Update and notify your prospects of changes on your content.
2. RELAYTO
Relayto is an interactive experience platform that transforms your static content into engaging interactive experiences, allowing viewers to choose their own path and. Key features include activity tracking, access control, full-text search, document storage and file transfer.
With relayto, your sales team can :
Create interactive sales offers, promotional materials and presentations to impress prospects and arm them with analytics to close deals in record time.
Efficiently select, aggregate and personalize content for your unique use cases.
Embed content from over 1,000 platforms such as Google Docs, Youtube, Powerpoint, and websites without spending additional development time.
Open conversations with content comments in any content and provide a direct line of communication from prospects to sales reps.
Provide potential customers with on-demand access to demos, collateral, and presentations through the Self-Service Content Center.
3. DEALHUB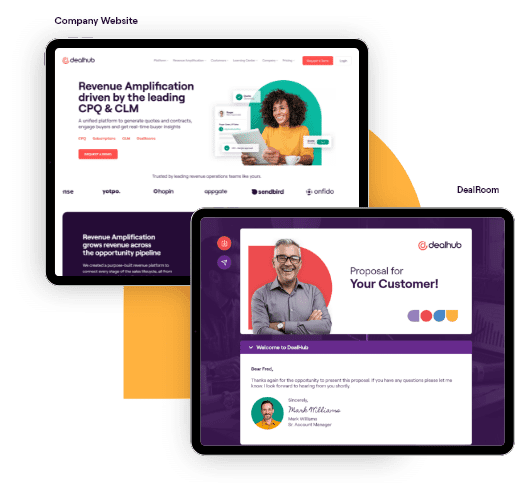 DealHub Is a Revenue Platform provides your company with the most comprehensive and connected revenue workflow. Convert deals faster with automated workflows for pricing, contract and subscription management.
DealHub offers :
Live interactive communication and dynamic content sharing in one place with all of our proprietary deal completion solutions.
Automatic synchronization pulls relevant information from your CRM to your DealRoom – this ensures 100% data capture and saves your sales team hours of time focused on the sales process.
Real-time insights into shopper behavior so you can see individual activity and keep transactions on track.
Integrations with Salesforce, Freshworks, Microsoft Dynamics 365 for Sales, Hubspot and Sugar CRM so you can continuously and easily sync information between them.
Use DealHub to bring sales teams and customers together in real-time so they can collaborate, engage key decision makers, and close deals faster.For important details, files and updates – from product and pricing summaries to approvals and contracts – so you can deliver a concise and personalized sales experience.
4. Enable Us
Enable us one of the Best Digital Sales Room Software, is a redefining B2B digital shopping experience for sellers, buyers and customers .it provides the most versatile buyer-centric support platform, designed to make the buying experience more efficient, transparent and personalized for everyone.
The software allows you to combine traditional marketing content with modern content like joint action plans and recorded sales presentations in one place.
With enable us, you can quickly build a professional-looking digital sales room that sets you apart from the competition, sharing all relevant content and next steps with buyers to keep everyone engaged, stay on track with the same deal and respond to real-time notifications when your buyers engage with content or acquire new stakeholders.
In addition to these advantages, enable us features :
Customize room to reflect your brand colors and messages, such as vanity URLs, standard banners, brand colors and fonts, icons, and more.
Room analytics provides an overview of room visitors, the number of visits per contact, and the time spent.
Notifications for room visits, shares , and conversations keep deals on track by responding to your prospects in a timely manner.
Sharing room link with your prospects and clients so they can easily find content and recordings, and keep new stakeholders up to date.
5. SP CE
Using SP CE you can bring your product to market quickly and easily. Our technology helps you bridge the gap between product, marketing, and sales organizations in new ways.You can get a single point of contact for each customer or account. As a result, even the longest sales processes can be managed without problems and your products will appear all over the world in no time.
SP CE enables you to meet with customers in one place throughout the sales process, organize sales meetings and tasks on a timeline to stay current, flow information in and out of your CRM, and manage and manage time to reduce tracking interactions and Identify buy signals instantly.
This sales enablement software includes many features such as : a digital showroom that allows you to create custom spaces for your products and share it in one instance, customer retention dashboards and notifications, recorded, transcribed, and AI-analyzed meetings, CRM, Zoom and Teams integration, and more.
6. DOCK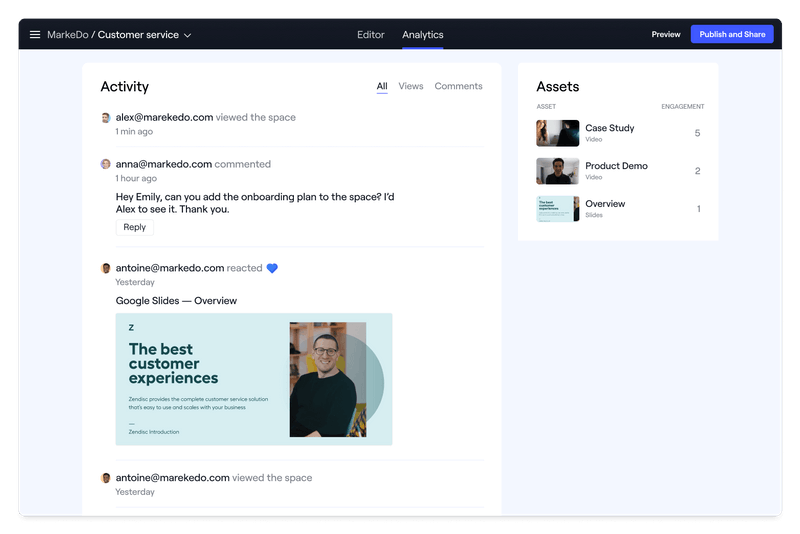 Dock is a software platform that promotes transparency and collaboration between companies. It organizes embedded videos, slideshows, PDFs, forms, dashboards and more in the workspace for prospects and clients. Share joint actions, onboarding, and project plans. Sync analytics with Salesforce and Hubspot.
Dock allows clients to comment on your work and share important resources through file uploads. You can also gain insight into when customers view shared areas and what they click on.
Enjoy dock's features such as :
Secure sharing, by adding password protection to the space.
Dynamic Planning, helps clients stay on track by creating dynamic project plans.
Dublicate space, lets you copy jobs from client to client with just one click.
Custom Branding, by adding your logo, client logos and custom banners.
Feedback from customers through reviews.
Track engagement, let's you know when someone is viewing a space and what is important to them.
Adding anything from images to PDFs to link and embedding any software from Figma to Google Slides to YouTube.
7. JOURNEYDXP
JOURNEYDXP is a leading provider of digital experience solutions, redefining the modern B2B buyer's journey, delivering digital-first software and services for integrated account-based marketing, sales and management. It also brings sellers and buyers together in a personalized collaborative workspace, aligning internal sales and marketing teams for full account-based engagement.
Use JourneyDXP Smart Rooms to build custom themes and reports, set effective KPIs, cross-sell products, enter new markets, and more by implementing best practices specific to your customer lifecycle and industry. Plus, its predictive insights can help you optimize marketing, sales, and account management strategies to accelerate growth.
The software includes a variety of features:
Personalization: smart Room provides a personalized and engaging customer experience that can be quickly and easily customized to each customer's brand.
Content management : Smart rooms (CMS) supports a simple, straightforward process at every stage with multiple design formats delivering a compelling experience as viewed in the customer-facing digital sales room.
Collaboration : Use live chat and presence features to connect and message customers directly or in groups with other company team members.
Automation: use automation tools to create an effective cadence that guides client teams and clients to the next best activity.
Analytics : understand your unique customer journey from multiple perspectives with actionable insights on content downloads, message opens, and more.
8. ONEMOB
Onemob is a video sales system that brings a personal touch to finding and closing deals. It helps sales reps record mobile or web video content with filters, text overlays, green screens, scripted teleprompters, and more, and send high-converting video emails that get more responses.It allows you to provide your clients with the resources they need to conveniently view data sheets, white papers, videos and testimonials all on one customized page.
With Onemob, you can send personalized video sales emails from any device, increasing your response rate. Additionally, to help your prospects understand the value on offer, you can easily create landing pages, host a library of support content, and use analytics to better understand which content is getting the most attention and engagement.
Use Onemob to see who watched which videos, for how long and which documents in real time, who watched which pages or slides and for how long. The software also offers you the possibility to see which link was clicked, and by who.
9. DEALPAD
Dealpad is a sales enablement software used by sales rep to build a two-way buying experience that converts more leads into customers.it's designed to provide buying teams with all of the information and insight required to evaluate and close on a deal.
The software includes mutural action plans, stakeholder mapping, live chat, calendar synchronization for quick meeting bookings, sharing data with teams outside dealpad , and inviting stakeholders to collaborate on deals.
You can use Dealpad to:
Predict and increase conversions from sales meetings.
Close more deals faster by tracking open rates and traffic.
Use business data to improve forecast accuracy.
Coordinate with your buyer the tasks required to close the deal.
Create a personalized space for your prospects.
Connect with your buyers via live chat.
Add more content to ensure your buyers have everything they need.
Add proposals and contracts to close the deal easily.
10. MEETSALES
Meetsales is the sales automation tool and video-based web app your B2B sales team needs. With a headless approach, Meetsales can be integrated with a variety of systems and implemented faster than other sales tools in your company.
Here are some of the features that Meetsales offers:
Video Conferencing : Hold professional video conferences with your clients. High-quality video and audio are available on any browser and device.
Integrated on-call Payments: With Stripe integration, any payment can be processed in real-time during a video call.
Data Driven Platform: The sales-friendly CRM-like interface includes all the data and information your team needs. All activity is measured and displayed in easy-to-analyze reports.
Supports for omni-channel strategy: With Meetsales, an integrated procurement process can be implemented where the customer experience across all channels is tailored to each prospect.
Automation: Sellers no longer need to enter data in CRM, write emails from scratch, and schedule meetings by calling each prospect. This is all automated to save time and resources.
Customer Management :effective account management is the key to your company's sales success. Built-in CRM along with implemented automation to meet needs and provide appropriate responses to their requests.
Conclusion
In today's digital-first environment, buyer expectations are changing as fast as their needs. Buyer paths and content types such as audio, video, and other files are becoming more fragmented, and there is a growing need for centralization if you want to attract employees and streamline seller workflows.You need to be able to adapt to changing buyer behavior and expectations by incorporating one of this digital sales room softwares into your business journey.
Click here to Find more Best Software and Programs