10 Best App Store Optimization (ASO) Tools and Software
Apps are prior if your business is on the digital platform. In a digitalized world, either small or big business, everyone utilizes a digital platform to enhance their success with wide audience reachability. But have you ever wondered how your app would be visible to the audience while searching in any App Store? This needs some algorithm that can be done while taking the help of the App Store Optimization ASO Tool.
App Store Optimization (ASO) is a process to optimize mobile applications in order to enhance their visibility in various app stores and increase conversion rates and download numbers.

What are the Best ASO Tools and Software ?
In this Guide we provide the essential features of each ASO ranking tool.

1. APPFOLLOW
APPFOLLOW is tools for review management and analytics, organic user acquisitions and monitoring helps apps and games companies get work done in a single place without constantly having to change focus and move between interfaces. It saves time dealing with app review management to increase your company's efficiency through automation (translation, tags, replies), a unifeid inbox, customer support KPI and SLA tracking, use of a rating and reviewing dashboard and intergration with help desks. AppFollow serves 70,000 companies worldwide, its clientele includes Disney, Expedia, PicsArt, Flo, Gett, Wargaming, Discord, and many others. AppFollow is developed by a fully remote team with HQ in Helsinki, Finland.
2. apptweak
AppTweak is an ASO pioneer, uses cutting-edge technology to collect insightful and accurate data from the app stores. Using deep-learning models, they use this data to provide innovative KPIs and actionable insights. Marketers across industries use these insights to audit, optimize and measure their mobile app performance every day.
Trusted by over 1,700 customers, AppTweak supports mobile leaders including Namco Bandai, Rakuten, EA Games, Paypal, Goldman Sachs, Amazon, Expedia, Uber, TripAdvisor, and Adobe.
Named one of the fastest growing technology companies in the world, AppTweak is a recognized leader in the app marketing sector, with an impressive four-year revenue growth rate of 463%, and awarded for "ASO Tool of the Year" at the App Promotion Summit 2021 in Berlin.
AppTweak established "AppTweak Japan GK" in Tokyo in July 2021 to better accommodate Japanese customers and further develop the market. With the expansion, the company now offers tools, customer support, and consulting services in Japanese for local app developers and marketers.
Upon establishing its Japanese subsidiary, JETRO's Invest Japan Business Support Center (IBSC) provided assistance including consultations on registration, tax and labor, provision of IBSC facilities, and introduction of service providers.
3. Storemaven
Storemaven One of the Best ASO Tools, It is a mobile growth technology company founded in 2014. They invented a new market for app store A/B testing and transformed how top mobile companies like Facebook, Uber, and Warner Brothers optimize their marketing performance in the app stores. They gained access to a treasure trove of data have attained unmatched domain expertise
Since 2014, they have grown into a profitable, leading enterprise brand in the mobile app market and built meaningful long-standing relationships with blue-chip clients across the globe; including Uber, Warner Bros., Facebook as well as Google and Apple themselves.
4. Asodesk
Asodesk ecosystem for promoting mobile businesses. It includes tools and data for mobile marketing, working with product and app reviews, as well as training and agency services.
Products:
– ASO tools. The complete set of tools for working with ASO.
– Top charts & store analytics. The App Store and Google Play data research.
– Analytics and replies to reviews. Professional tools for working with reviews.
– StoreConsole. Application metadata management.
– Competitive research. Tools for competitor application analysis.
– App monitoring. Application position research.
– App analytics. Analytics of application traffic sources.
– Boost to the top. Incentivized installs from real users.
– API. Build your own boards and get all the historical data through your interface.
– Free tools. Find new keywords, analyze metrics, and get new insights for free.
5. SplitMetrics
SplitMetrics offers an ecosystem of products and services that enable mobile-first companies and brands globally to build and scale their go-to-market engine. Top app and game developers turn to our company for intelligent data-driven solutions designed for mobile app concept & go-to-market strategy validation, A/B testing, full-cycle professional services for app and brand growth, and advanced Apple Search Ads automation and optimization. SplitMetrics is an Apple Search Ads Partner.
Benefits:
Solution trusted by the world top mobile app & game publishers including Kwalee, Mytona, Sybo, IGG, Etermax, Rockbite Games and others.
Smart and user-friendly platform that provides an opportunity to set up and run 30.000+ types of tests easily.
Continuous app validation from basic idea research and hypothesis development to test interpretation, evaluation with benchmarks, and getting actionable insights.
Instant results received from real users gathered on a single report page.
Transparent analytics with detailed qualitative and quantitative metrics on user behavior (including but not limited with: conversion, engagement & bounce rates, in-depth installs analytics, exploration analytics).
Ability to choose between various core statistical methods for checking concepts and hypotheses. The platform users can take advantage of Bayesian method, multi-armed bandit, or sequential depending on their experiment goal.
Secured app rank and testing privacy with the tests running in an isolated environment.
Dedicated expert team support on every stage ensuring onboarding, forearming with test ideas, helping with result analysis and hypothesis development.
Priority access to industry benchmarks and knowledge base of best ASO and A/B testing practices based on 1M+ users tracked.
Ability to get additional support or simply delegate app store optimization and design tasks to a team of SplitMetrics Agency experts.
6. App Radar
App Radar focuses on organic and paid app user acquisition and let's you combine self-service tools with managed services for app store marketing. So that you can grow faster, either on your own or with the support of our experts. The international team of App Radar has already helped to achieve more than 100 million downloads for customers like iTranslate, Kolibri Games, Wargaming, some of the world's most successful mobile companies.
USPs of our App Marketing Agency:
Price/value: We deliver high quality for an affordable price – aiming to have the best price/value offer on the market
Customer satisfaction is key: Keeping 90% of our clients, receiving positive feedback across the board (also from customers switching to us from other agencies)
International: We act globally with 12+ native languages inhouse (further languages covered with freelancers/partners) and are a perfect partner for international/global projects and localizations
Personalized Services & Flexible Contract-Periods: We do not offer standard packages with long contract periods – we try to come up with the most individual offer possible, that makes the most sense for your business and you only need to pay for what you need!
Additionally, we offer our software/tool for FREE on top of our app marketing services –> Also we work within our tool in their account, so the client has the most transparent data and also owns the data. As a result our clients can save more time during the ASO processes, conducting further competitive analysis and follow their Paid UA & App Store Optimization KPIS.
AI-powered Tool & Data-Backed Solutions
App Radar also offers an industry-leading ASO (App Store Optimization), ASA (Apple Search Ads), and Google App Campaign tools. The backbone of our tools is 100% data. We have one of the largest databases in the mobile app & gaming industry, meaning our clients receive the most relevant and reliable AI-powered app marketing recommendations.
7. Adjust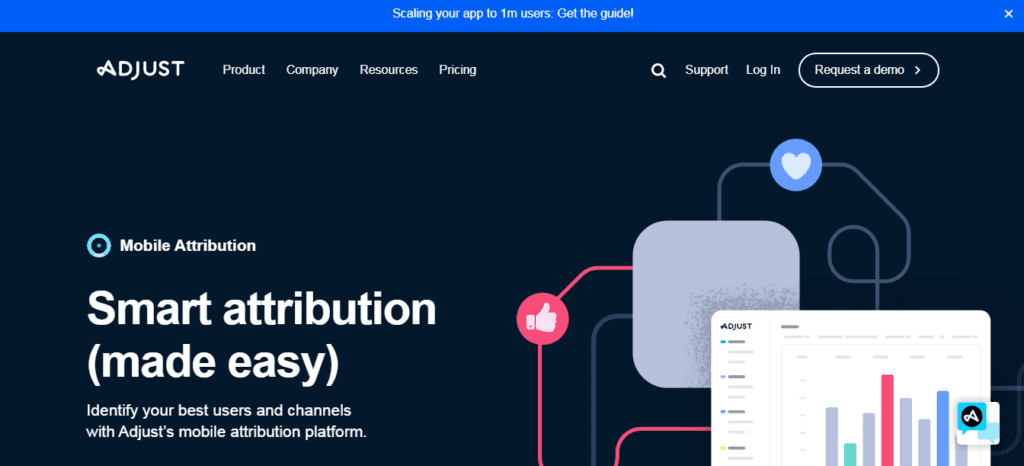 Adjust is a global app marketing analytics platform committed to ensuring the highest privacy and performance standards. Adjust's solutions include attribution and measurement, fraud prevention, cybersecurity, as well as automation tools. Adjust is the industry leader in mobile measurement and fraud prevention. By making marketing simpler, smarter and more secure, we empower data-driven marketers to succeed. Their products offering for eery level of stack:
Attribution – Track and attribute your users effectively;
Analytics – Assess traffic patterns to drive true optimization;
Automate – Centralize your marketing campaigns and manage them at scale;
Audience Builder – Segment your audiences seamlessly for effective retargeting;
Fraud Prevention – Stop fraud from harming budgets and data; Unbotify – Prevent in-app bot fraud at scale.
Their Salient Features:
German engineering – Quality software built to scale to your needs; Unlimited raw data access – Sync raw data to your own BI system or an S3 Bucket;
Leaders in security – They don't meet global privacy regulations – they exceed them;
Gold standard support – They will help you every step of the way.
8. Data.ai
data.ai is the first company to combine consumer and market data to fuel digital insights applying the power of artificial intelligence.
According to PWC, 60% of executives cite digital transformation as the top growth driver in 2022. The digital ecosystem, however, remains fragmented and relies too much on in-house IT, data science resources, agencies, and manual processes. This creates significant distraction from the core business. Digital performance benefits from a single point of control that unifies disparate datasets, predicting mission critical metrics like customer acquisition cost, lifetime value and ROI. data.ai's mission is to take complexity out of the equation by providing a unified view across all channels and illuminating opportunities with artificial intelligence.
also announcing a reseller agreement with Similarweb that provides the first unified mobile and web market dataset. Partnerships remain a priority to deliver on additional datasets while the company puts its focus on artificial intelligence to drive prescriptive recommendations across all digital channels- web, console, OTT and streaming services.
9. Sensor Tower
Sensor Tower has an app intelligence platform used by developers, venture capitalists, and others to track usage trends and popularity of apps. Its apps ask the user to install a root certificate which gives it access to all data and traffic flowing into and out of the device.
Sensor Tower claims that it only collects anonymized usage and analytics data. Most of the apps under its control have been removed from the App Store and Google Play Store due to privacy violations.
Randy Nelson, Sensor Tower's head of mobile insights, said: "Our apps do not track, request, or store any sensitive user data such as passwords, usernames, etc., from users or other apps on a user's device, including web browsers,"
A tweet from iOS developer Will Strafach in 2019 says companies like Sensor Tower have been doing this for a long time.
10. Checkaso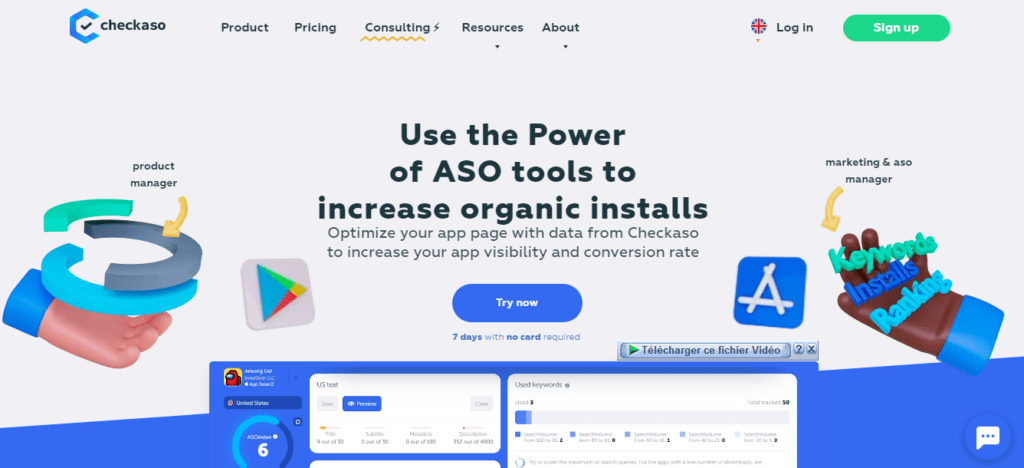 checkaso was released in December 2019. During this time, it has experienced a major breakthrough in the mobile market as it has grown remarkably. These are some of achievements:
Launched more than 10 ASO tools to improve search experience and visual optimization, select and prioritize keywords, analyze competitors in detail, track performance, and promote IAP. You can try all tools on a 7-day free trial.
Developed a system of indexes that can quickly evaluate various sides of promotion like app page optimization quality (ASOindex), app visibility for search (Search Visibility Index), efficiency of acquiring organic users (Performance Index), and the level of app visibility in Browse/Explore channels (Browse Visibility Index).
Conducted 15 training webinars, including those with Apptica, Phiture, App Masters, and Mail.ru.
Conclusion
ASO is covered with a brighter and potential future for us and business. that why is becoming omnipresent, it is a long-term process of constant improvement, tracking and optimization.
If you want to increase your ROI and profits, your app must be visible and downloaded frequently in the app stores. The ASO tools discussed above will help you optimize your strategies so that your app will rank higher in the app stores and you will get more downloads.