10 Best Free Adobe Photoshop Alternative Like Programs
In this article will see together the Best Free Adobe Photoshop Alternatives like programs, for Graphic Design, With Similar Features.

1. GIMP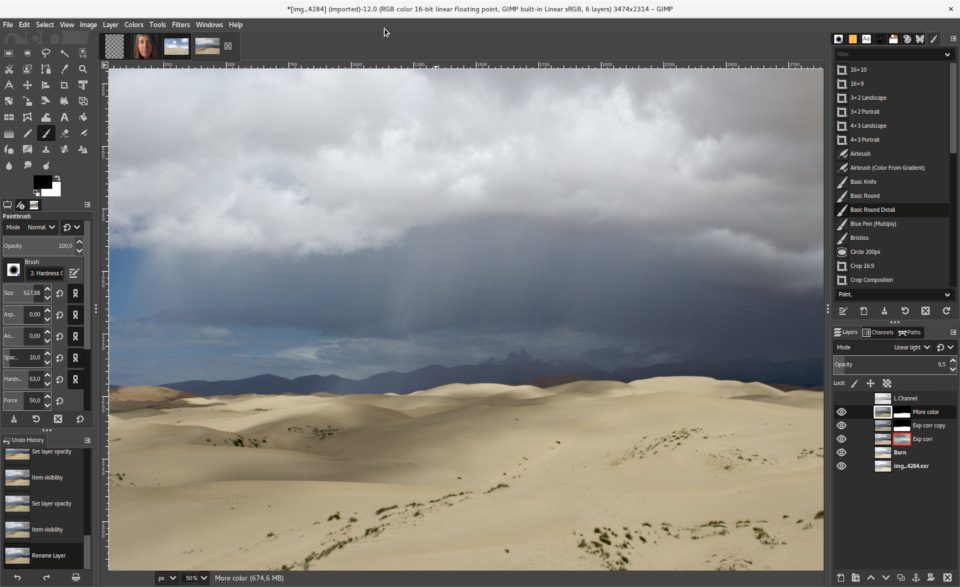 GIMP is an acronym for GNU Image Manipulation Program. It is a freely distributed program for such tasks as photo retouching, image composition and image authoring. The terms of usage and rules about copying are clearly listed in the GNU General Public License.
GIMP is a cross-platform image editor available for GNU/Linux, macOS, Windows and more operating systems. It is free software, you can change its source code and distribute your changes.
Whether you are a graphic designer, photographer, illustrator, or scientist, GIMP provides you with sophisticated tools to get your job done. You can further enhance your productivity with GIMP thanks to many customization options and 3rd party plugins.
GIMP provides the tools needed for high quality image manipulation. From retouching to restoring to creative composites, the only limit is your imagination.
GIMP gives artists the power and flexibility to transform images into truly unique creations.
GIMP is used for producing icons, graphical design elements, and art for user interface components and mockups.
Gimp Download and see the gimp system requirements
2. Photopea: Online Photo Editor
Photopea: one of the Best Free Adobe Photoshop Alternative, is a web-based photo and graphics editor. It is used for image editing, making illustrations, web design or converting between different image formats. Photopea is advertising-supported software. It is compatible with all modern web browsers, including Opera, Edge, Chrome, and Firefox. The app is compatible with raster and vector graphics, such as Photoshop's PSD as well as JPEG, PNG, DNG, GIF, SVG, PDF and other image file formats. While browser-based, Photopea stores all files locally, and does not upload any data to a server.
Photopea is often considered a free alternative to Adobe Photoshop with fewer features. Source: wikipedia.org
3.

Krita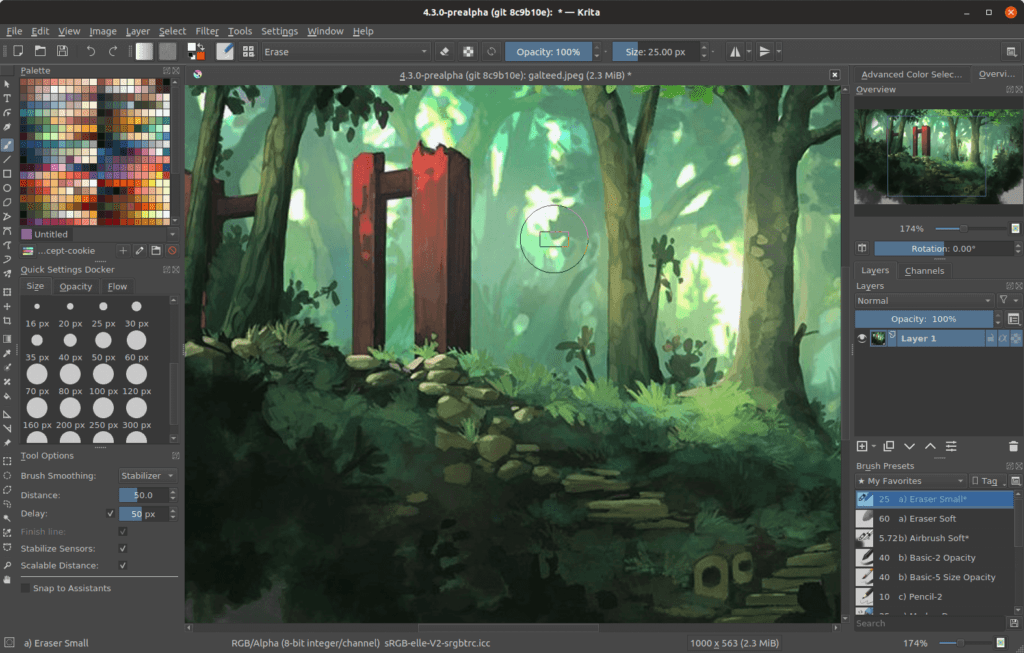 Krita is a free and open-source raster graphics editor designed primarily for digital art and 2D animation. The software runs on Windows, macOS, Linux, Android, and Chrome OS, and features an OpenGL-accelerated canvas, colour management support, an advanced brush engine, non-destructive layers and masks, group-based layer management, vector artwork support, and switchable customisation profiles. Source: wikipedia.org
4. Pixlr Editor
Pixlr is a cloud-based set of image editing tools and utilities, including a number of photo editors and a photo sharing service. The suite is intended from the range of simple to advanced photo editing. It features three subscription plans which include Free, Premium and Creative Pack.
The platform can be used on desktop and also smartphones and tablets. Pixlr is compatible with various image formats such as JPEG, PNG, WEBP, GIF, PSD (Photoshop Document) and PXZ (native Pixlr document format).
The platform introduced more features in December 2021 with a new logo and added tools which include; Brushes, Heal tool, Animation, and Batch upload. The brush feature enables the creation of hand-drawn effects. The Heal tool allows users to remove unwanted objects from their images whereas the Animation feature can be used to include movements into their edits. Users can also utilize Batch upload to edit up to 50 images simultaneously. Source: wikipedia.org
5. InkScape
Inkscape is a Free and open source vector graphics editor for GNU/Linux, Windows and macOS. It offers a rich set of features and is widely used for both artistic and technical illustrations such as cartoons, clip art, logos, typography, diagramming and flowcharting. It uses vector graphics to allow for sharp printouts and renderings at unlimited resolution and is not bound to a fixed number of pixels like raster graphics. Inkscape uses the standardized SVG file format as its main format, which is supported by many other applications including web browsers.
It can import and export various file formats, including SVG, AI, EPS, PDF, PS and PNG. It has a comprehensive feature set, a simple interface, multi-lingual support and is designed to be extensible; users can customize Inkscape's functionality with add-ons.
The Inkscape project has a growing international user community, and many learning materials exist to help get you started with your creations. Help and support is provided by the community, and there are lots of ways for you to get involved if you want to help improve the Inkscape project.
6. Paint.NET
Paint.net (stylized as Paint.NET or paint.net) is a freeware raster graphics editor program for Microsoft Windows, developed on the .NET Framework. Paint.net was originally created by Rick Brewster as a Washington State University student project, and has evolved from a simple replacement for the Microsoft Paint program into a program for editing mainly graphics, with support for plugins.
It started development as an undergraduate college senior design project mentored by Microsoft, and is now maintained and developed by Rick Brewster. Originally intended as a free replacement for the Microsoft Paint software that comes with Windows, it has grown into a powerful yet simple image and photo editor tool. It has been compared to other digital photo editing software packages such as Adobe® Photoshop®, Corel® Paint Shop Pro®, Microsoft Photo Editor, and The GIMP.
7. Photo Pos Pro
With +10,000,000 Downloads, Photo Pos Pro became one of the most popular photo editors around the world! Version 4 has free and premium photo editing features offers users a wide variety of possibilities in the fields of Image Enhancing and Image Editing and in the field of Computer Graphics Design. Using the editor you can perform various tasks, from simple basic tasks to complex tasks; you can edit existing images, create new works based on existing images, create new works from scratch and more.
The software support of many picture file types including RAW FILES, Support of scanners and digital cameras, Advanced Image Enhancing and editing tools and functions, Tools for creating Computer Graphics Design, Rich Text Tools, Special Effects, Selection Tools, Layers & Masks, Gradients, Patterns and Texture, Script Tools, Batch Operations and also The Ability to expand the software yourselves!
8. RawTherapee
RawTherapee is a powerful, cross-platform raw photo processing system, released as Free Software (GPLv3). It is designed for developing raw files from a broad range of digital cameras and targeted at users ranging from enthusiast newcomers who wish to broaden their understanding of how digital imaging works to professional photographers.
RawTherapee provides a powerful suite of tools for you to produce amazing photos and showcase your creativity.
RawTherapee benefits users who take the time to learn what it can do. Luckily the community is quite welcoming and helpful! Check out the Forum, read up on RawPedia, and ask questions – there's always something neat to learn!
High Image Quality
Outstanding Raw Support
Free and Open Source software.
9. Darktable
Darktable is an open source photography workflow application and raw developer. A virtual lighttable and darkroom for photographers. It manages your digital negatives in a database, lets you view them through a zoomable lighttable and enables you to develop raw images and enhance them.
10. InPixio
Based in Paris with additional development resources worldwide, inPixio is a brand of the Claranova Group.
inPixio is positioned on the key segment of photography and "Mobile to Print"
Benefits of our software:
Full Featured
Easy to use
Compatible & Modern
Support all of the most common image formats
Regular Updates
At the end of the article Best Free Adobe Photoshop Alternative like programs, we hope you have found the best free software for your graphic design as alternative to Photoshop.