10 Best Presales Software for High Performing Teams
Pre-sales includes all the activities that make the sales team more ready and equipped to sell. It includes research, validation, preparation and leadership development.

In this article, we will see the best presales software for your business:
1. CONSENSUS
Starting with our first pre sales example.Consensus is an intelligent demo automation platform that simplifies the complex buying process with an interactive demo experience, making buying easier and faster. With a library of interactive video demos, you can free up 11 hours per sales engineer per week to focus on technical demos and consultations with demo-qualified buyers
Use this software to transform your repetitive presentations and automations into an interactive experience to influence and empower buyers 24/7, quickly qualify or disqualify prospects to close more deals, and automatically discover stakeholders and Eliminate substandard demos.
Consensus offers :
Interactive Video Demos: provides options such as simple single videos, standard personalized demos, and advanced branching demos.
Demolytics: View stakeholder insights – including demos sent, organic stakeholders found, discovery rates, views, viewing rates, featured features/sections, and downloaded documents – for each recipient of the original link.
Integrations :Reduce friction by simply snapping Consensus into your most important sales tech like CRM and sales engagement to make workflows easy.
Solutions : Consensus comes with different demo functionality :
Sales accelerator shortens cycle times by 68% by giving AEs and ISRs a way to automate the repetitive parts of their interactions.
Channel accelerator to keep partners consistently on message and get real-time data on partner demo performance.
Marketing accelerators to add lead forms and CTAs to your interactive demos to capture leads at rates 4X higher than standard landing pages.
2. VIVUN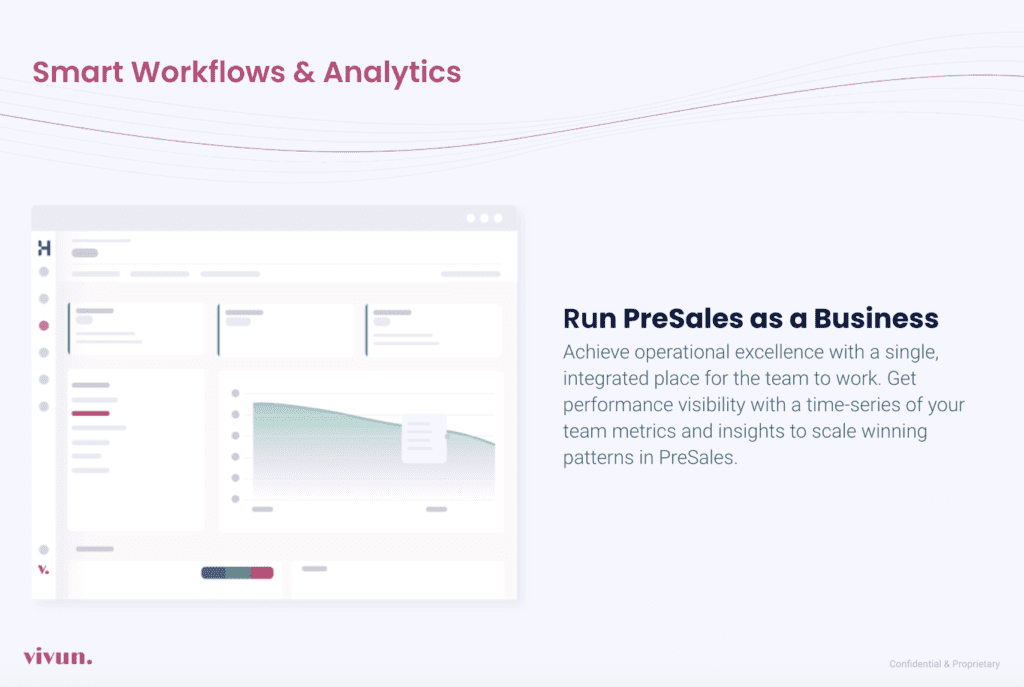 VIVUN is a presales workspace built on top of Salesforce that allows team members to develop templates, share strategies, and measure their success, all powered by the power of AI and machine learning.With vivus, you can spend more time making profits and less time on repetitive, low-value tasks like manually tracking activities and creating results from scratch.Get work done in your environment with stages and channels configured for solution teams, and real-time syncing of relevant data to Salesforce.
Enjoy the following features with vivus :
AI-driven "hero score" improves business strategy and forecasting, and calendar intelligence provides insight into pre-sales team activity and drives resource planning.
A library of product gaps to easily capture, aggregate, identify and integrate gaps into the system.
Collaborate through the Vivun Eval module.
Centralized library of reusable artifacts, documentation and resources.
Integrate with Jira, ZenDesk, Azure DevOps and GitHub.
Understand the influence gaps have on your business with the product Gap Analytics.
With Deal Revival, uncover revenue the moment product ships previous deal breakers.
3. NAVATTIC
With Navattic , you can instantly create, customize and share convertible interactive product demos. Add product-focused, personalized content to each channel, try new CTAs to attract leads and drive lead generation, then track and understand prospect interest in features before adjusting search.
With navattic, you can:
Convert website visitors: See a 25% conversion rate and create product tours for new landing pages without engineering or coding. You can also integrate with your existing CRM to see which tours or features are driving the most leads.
Engage leads: Provide potential customers with tailored product-led campaigns that realize value instantly, let them choose exactly what features or use cases they want to see, and ensure that the primary interest in your product is well above other assets.
Educate Prospects : Shorten your sales cycle and increase retention with proactive product education, and track feature interest and customize your discoveries before the call.
4.DEMODESK
Demodesk provides real-time support to reps during the call, gaining insight into how it works and automating all planning processes. Designed for prospect teams, the software provides presales teams with the real-time data they need, sets up virtual displays and automates non-sales tasks such as scheduling and CRM data entry.
Demodesk provides various features such as:
Automatic scheduling: Book more meetings and increase the speed of leads.
Meeting Distribution: Get potential customers to interact with your product or sales content.
Assistant: Automatically load the perfect script into every meeting and engage prospects with interactive content and tailored sales pitches using deep insights that sync with your CRM.
Coaching: Gain better visibility and understand why top salespeople are successful.Integrate with Salesforce, Hubspot, Chorus, Gong and Guru.
Branded virtual sales room: for interacting with products and content.
5. STORYLANE
Stroylane is a product demonstration software that provides interactive product demonstrations, shares with your potential customers personalized demos tailored to their role, and supports customers with product tutorials.
The main features of storyline are:
No code editor :Change the text, images, copyright and all content in the product. (or even add your custom HTML).
Team Collaboration : Multiple teams can easily collaborate with the right level of access.
Interactive Guides : Highlight product hotspots and create as many flows as possible with our premium widgets.
Flows and Checklists: Your potential customers will learn how the product works for them by choosing the right process.
Analytics and Insights: Track the behavior of potential customers based on clicks and time spent on specific pages.
Sharing : Share your demos as links, GIFs, or embed them on websites. Add viewing permissions when sharing a demo.
6. DEMOSTACK
Demostack helps reps present products in the best possible way, whether it's on your website, in a live demo, or a shared stay after your call behaves like a real product.
In general, Demostack helps software companies create, deploy, and analyze great demos. Use this software to :
Present demos to prospects as soon as possible to build trust, qualify, and gain insight faster.Get out of presentation mode and use presentations to facilitate discussion.
Customize your presentation with content that resonates.
Track demo performance and continuously improve based on data.
Deliver a tailored demo experience at every step of the customer journey.
Give potential clients a demo to explore without an account.
Demostack is great for all revenue teams – sales, marketing, customer success and partnerships. Our software is used by enterprise SaaS companies in all industries.
7. REPRISE
Reprise is a demo creation platform designed for pre-sales, sales and marketing teams. Reprise's application capture and screen capture technology can meet all your presentation creation needs.
The software does not require any coding or developer resources. Backed by ICONIQ Growth, Bain Capital Ventures, Accomplice VC and Glasswing Ventures, Reprise is changing the way companies deliver demo experiences. Reprise gives teams the power to control the narrative of their demos and deliver custom product experiences without developer involvement.
Reprise is used by Sales and Marketing to create:
Demos tailored for sales departments.
Demo for marketing purposes.
Product tours and walkthroughs.
Onboarding and Instructional Videos
Reprise also has the following features:
Sharing capabilities enables completed reps to be emailed or shared with prospects and clients via a link, integration with Salesforce and other CRM systems, configuration, onboarding, training and support, so clients get maintenance releases free of charge.
8. SALEO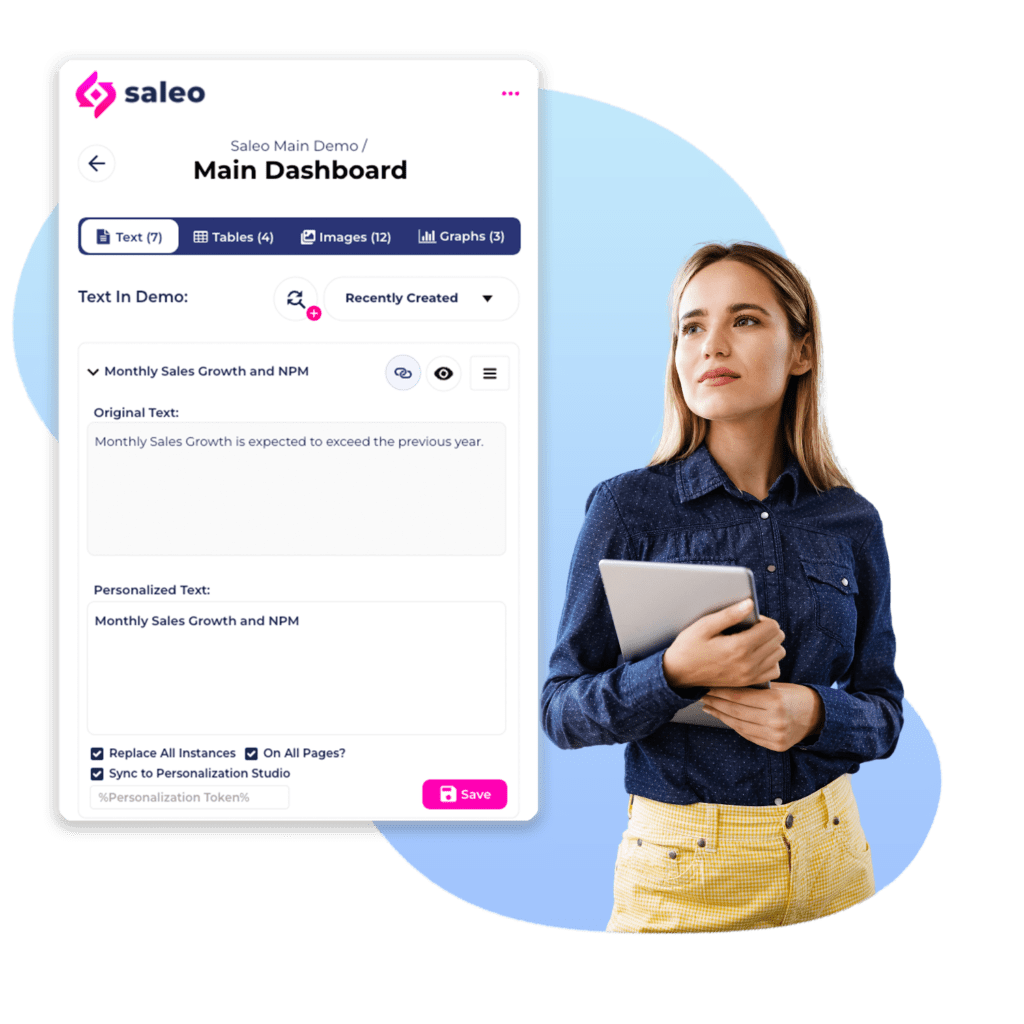 Saleo helps software sales teams improve their demo experience so they can close more deals with less time to close. Saleo's innovative approach to the sales demo environment enables real-time personalization of your existing products without code or product integration.Create data-complete presentations in your own real-time environment with full control over graphics, text, tables, images and symbols. So you can improve sales discovery and speed up deals
With Saleo, enjoy the following features:
Demo Library: Saleo can create an unlimited number of highly personalized presentation experiences in your own presentation environment.
Personalize every page: Saleo enables you to tell complex data stories in seconds, ensuring your next use case, white paper, blog or press release grabs your audience's attention right away.
Customize any chart or metric: Helps you publish years of complex data without expensive engineering or data resources..
Personalize Any Text Field :
whether it's a company name, description, data point, user name or more to help you tell your sales story.
Easy Onboarding: With a self service portal you can give live sales demos in seconds.
Customize Tables at Scale: allows easy editing, bulk personalization and a CSV upload to enable bulk editing at scale.
And finally you can show your product in It's nest light, personalize any image or icon, share your success with the entire team and more.
9. WALNUT
With Walnut , you can customize a sales presentation for each prospect to provide a customer-centric selling experience and increase your chances of closing a deal. This enables B2B companies to fully customize, manage and optimize their sales presentations.
Use walnut to :
Save time with ready-to-go sales demos that can be easily personalized for each prospect.
Close more deals with personalized demos that enhance your selling experience.
Sell ​​smarter based on user insights, you can know what features your prospects are using to optimize your presentations accordingly.
Automatically personalize your presentations, extend personalization by simply updating each presentation with the prospect's name and company.
Share and collaborate with prospects and teammates to fine-tune details together.
Understand what prospects think with advanced analytics and gain actionable insights to further refine your presentations.
10. PRESKALE
PreSkale is a control center integrated with the sales and product ecosystem, enabling presales teams to increase product acceptance, improve presales performance, and influence go-to-market strategies to win every customer. 45% of buyers conduct independent research before purchasing.
PreScale users can work closely with product, sales, customer success, and other teams to identify successful practices, document interactions with niche products, and accelerate product purchases to increase sales conversions.
The tool generates master playbooks accessible to all team members from a one-page assessment plan, repurposing every interaction, effort and insight to achieve extraordinary technical success. Enabling presales teams to measure skills-based performance, maximize resources, and allocate for maximum efficiency.
Presales management features demo automation ,Customers demo metrics, track, monitor and optimize pre-sales processes.They sometimes include sales intelligence and proof-of-concept skills to validate products and sales methods. Artificial intelligence is used to predict and improve business strategies.
Plus, the software helps coordinate the efforts of sales, product, and engineering teams. The performance of the pre-sales team is measured and analyzed. The software is used by sales and product teams, solution architects, and sales engineers.
Conclusion
As sales and pre-sale activities evolve over the years, your business must catch-up!
Understanding the pre-sales process and how it relates to sales can help you develop the skills you need to help your business scale and grow.