10 Best Marketing Attribution Software
Marketing attribution is a vast and complicated process, even for the most experienced of marketers. In this day and age, it's necessary to use some type of platform to get the best results possible, no matter what industry or size of business you are running.

That being said, it's difficult and time-consuming to test out different marketing attribution software on company time and the company's dime. That's where a good look at your options enables you to make an educated decision that's best for your company's needs.
In this article, we'll examine ten attribution platforms:
1. SharpSpring
SharpSpring marketing automation software provides robust capabilities to support a wide range of needs across the sales and marketing universe.
It's a cloud-based offering that includes tools such as CRM, sales integrations, and programmable and automated marketing campaigns across email, social, mobile, and content.
SharpSpring has the power and ease of use to capitalize on any digital marketing tips you want to employ.
SharpSpring is a fit for medium and large businesses as well as marketing agencies and enterprises. Its ease of use and robust feature set also make it a great fit for smaller businesses as long as they have a robust marketing plan and the budget to afford the system.
Smaller businesses could use SharpSpring as a one-stop shop for CRM, lead management, and essential marketing needs as well as critical marketing automations.
SharpSpring empowers marketers to create, test, launch, deliver, and analyze campaigns across various marketing channels and devices. SharpSpring enables personalized outreach by using IP addresses to identify site visitors and track the pages they consume.
This personalization matched with omni-channel campaign management provides marketers with everything they need for successful, modern engagement marketing that boosts conversions and generates business results.
Let's take a closer look at some essential SharpSpring features.
2. Leadsrx
LeadsRx one of the Best Marketing Attribution Software, is a SaaS platform that helps brands and agencies understand the performance of marketing budgets and marketing campaigns. The system is uniquely differentiated by the LeadsRx Universal Conversion Tracking Pixel™ and built-in identity graph technologies. These result in getting onboarded in days instead of months, customer journey maps that stitch together journeys across devices and browsers, and Return on Ad Spend (ROAS) reports that cover the broadest range of marketing channels including digital, radio, TV, podcast, OTT, and more. We view our mission as arming courageous marketers with the insights, technology, and confidence they need to deepen customer relationships and spark marketing performance. This enables brands to grow their business by putting the customer at the center of everything they do. Teams that use LeadsRx reduce wasted ad spend, optimize the customer journey, and make data-based decisions that stand the test of time.
3. Nuestar
Neustar Number 3 in our list of the Best Marketing Attribution Software, Neustar has good benefits overall. Good pay as long as management sees value in your position and it is still valid for the company. Enjoyed working with good people who cared about the work they did.
Cons
Always changes, too much changes some of which are just wasted efforts because someone with authority decided on a particular process or roadmap.
Neustar is a provider of real-time information and analysis to the Internet, telecommunications, information services, financial services, retail, media and advertising sectors. Neustar applies its secure technologies in location, identification, and evaluation to help its customers promote and protect their businesses. In 2021 Neustar was acquired by TransUnion.
4. Appsflyer
AppsFlyer helps brands make good choices for their business and their customers through innovative, privacy-preserving measurement, analytics, fraud protection, and engagement technologies. Built on the idea that brands can increase customer privacy while providing exceptional experiences, AppsFlyer empowers thousands of creators and 8,000+ technology partners to create better, more meaningful customer relationships.
Pros and Cons
Easy to obtain information quickly on the dashboard.
Easy to get your links and they are already appended.
We don't believe that the freight tool, Project 360, captures or flags accurately, and in some cases, marks fraudulent activity where it is not appropriate.
The exporting of reports can be more streamlined and user-friendly.
It would be good if you can customize your homepage or overview layout more.
5. Oktopost
Oktopost empowers B2B enterprise and mid-market companies across Tech, Financial Services, Healthcare and other sectors to adopt a data-driven approach to social media marketing.
Oktopost's social media management, social listening, and employee advocacy solutions enable B2B organizations to amplify their brand on social and measure the real impact of social on the business. Oktopost aims to enable marketers to better engage with customers and prospects, get actionable insights, and prove ROI.
Integrating natively with all major marketing automation and CRM platforms, Oktopost helps leverage social data to improve customer experience and drive revenue growth.
6. RULER Analytics
Ruler Analytics gives you the true picture of the impact of your marketing: call tracking, form tracking, CRM connections + more. It enables marketing teams to optimise their activities for more than form fills, create an lead-to-revenue reporting infrastructure and create better alignment with the sales team by passing data into their systems. Integrations with popular sales and marketing tools like AdWords, Salesforce, Google Analytics & more .
This is achieved by giving points of optimisation (call tracking) and information that are not usually provided by analytics tools (IP lookup, visitor level tracking & more). Companies who use Ruler Analytics effectively can easily achieve a 3x increase in pipeline growth in just a few weeks.
7. KOCHAVA
Kochava Inc. is a real-time data solutions company offering the leading omni-channel measurement and attribution solutions for data-driven marketers. The Marketers Operating System™ (m/OS) from Kochava empowers advertisers and publishers with a platform that seamlessly integrates and manages customer identity, measurement and data controls. Unlike the complicated, siloed tech stacks employed today, the m/OS takes the next step: unifying all of your data and critical omni-channel solutions into a cohesive, operational system that goes beyond data aggregation and reporting.
The m/OS provides the foundation for limitless advertiser and publisher tools, including the option to build third-party solutions onto the platform. By design, m/OS facilitates success by making data accessible and actionable to maximize ROI. With a culture of customer-driven innovation, dedication to data security, and the most powerful tools in the ecosystem, Kochava is trusted by top brands to harness their data for growth. Kochava also hosts the largest independent mobile data marketplace, the Kochava Collective. Headquartered in Sandpoint, Idaho, the company has offices globally.
8. Statcounter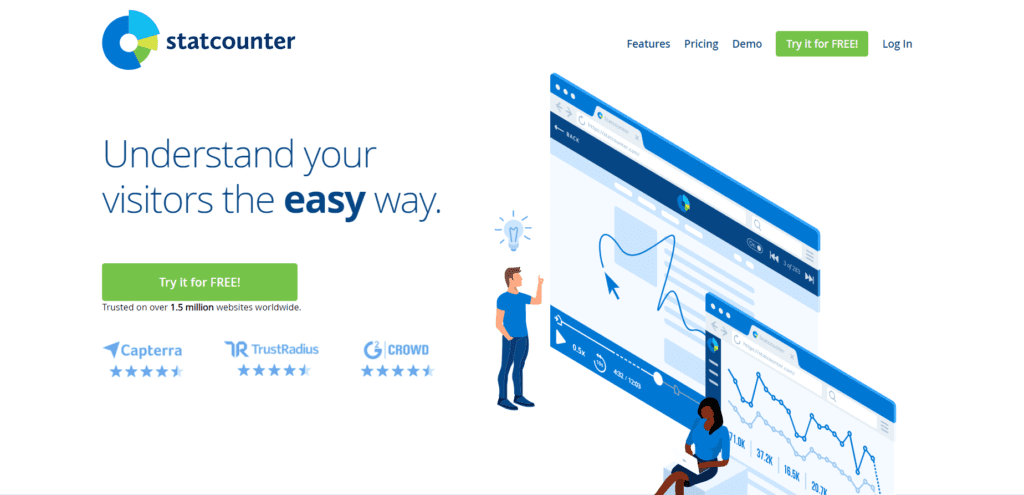 Web analytics product designed for SMB.s Statistics collected are based on page loads.
We used StatCounter to monitor traffic to our site. It gave us detailed information on where our traffic came from, what pages were visited, and what browsers were being used. I liked StatCounter because it gave more specific data by visitor than I could get with Google Analytics. In many ways, it is easier to use than google analytics.
Pros and Cons
I can visit my site in real time showing pages visited and the duration of the visit.
It shows very detailed data on where visitors came from.
I could monitor the performance of campaigns in real-time as visitors came to my site from a promotion.
I'd like to see individual visitor history for top visitors.
9. Google Marketing platform
Google's DoubleClick™ provides ad management and ad serving solutions to companies that buy, create, or sell digital advertising. The world's top marketers, publishers, ad networks, and agencies use DoubleClick platforms as the foundation for their digital marketing. With deep expertise in ad serving, media planning, search management, rich media, video, and mobile, DoubleClick platforms help customers execute digital media strategies more effectively.
10. INVOCA
The Invoca platform delivers the inbound call intelligence required for marketers to capture and optimize customer engagement and sales beyond the click. From attribution to intent, marketers gain a complete understanding of the customer's journey across digital, mobile and offline touchpoints so they can optimize their marketing spend, drive quality inbound calls and deliver a better customer experience.
Invoca Features
Granular Call Attribution
Conversion Analysis
Lead Scoring
Conversation Playback
At the End of the Best Marketing Attribution Software List
Among all the marketing attribution software on the market today, there's a wide variety of crate platforms for almost every need. From the small cottage business to multimillion-dollar industry leaders, every business can harness marketing attribution as needed.