10 Best Artificial Intelligence AI Logo Generator
Designing a logo for a new brand or business is no hassle, just use a logo maker to create a custom logo in seconds, straight from your browser and without any costs (for some logo makers). With a logo creator you'll be able to create, design and customize a logo in any way you'd like. You'll get a logo that would capture the attention of customers and build a recognizable brand that reflects your business idea.

What are the Best AI Logo Generator Software ?
Here is a list of logo generators to try for your next logo design project.
1. LogoMaster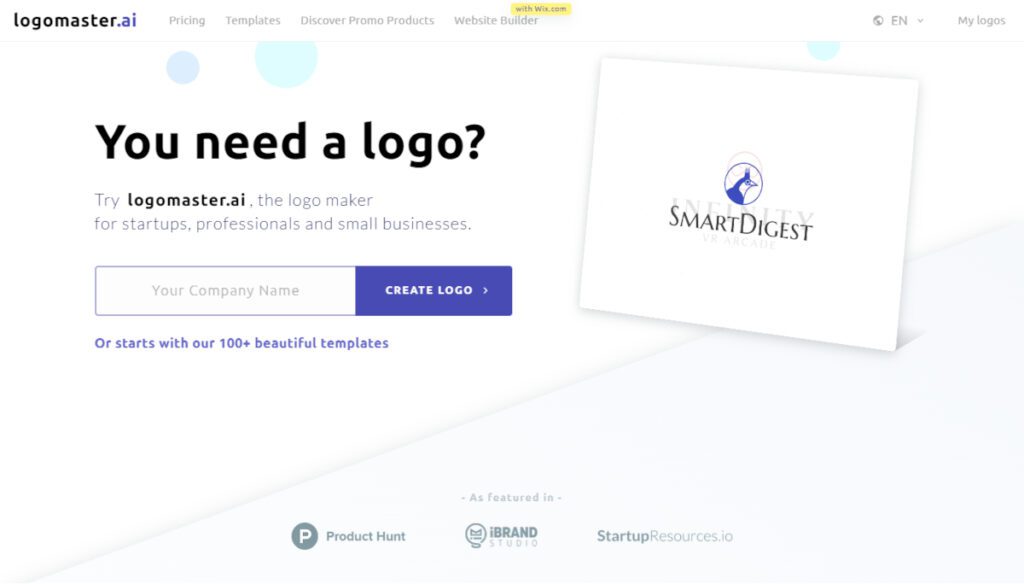 LogoMaster is an AI-powered online logo maker that helps business owners create beautiful logos. Designing a logo is free, no design skills needed, you pay to download the logo package when you are satisfied. LogoMaster is the the logo builder for founders. It's fast, easy and professional.
Get your logo instantly, Logomaster is a logo maker for your new business:
– Professional logo package
It delivers everything a designer would, so that you can use the logo in print or digital.
– 10x budget saver
It's 10 times cheaper than hiring a designer, but with more controllable result. You only pay for what you want.
– Royalty-free logo
You can use your purchased logo for any commercial or non-commercial purpose.
The paid basic one time fee offer to use this online tool lets you get:
– High resolution logo files (~ 4096px, suitable for all purposes)
– Web-ready files (Transparent PNG suitable for websites and social media)
– Download files immediately
– Logo on white & transparent backgrounds
– Changes not allowed after purchase
Logomaster has provided resources to create logo design in a range of different styles to create an elegant logo in 3 simple steps:
Step 1 – Set a background with an elegant frame
Check the box for background color and select a color as background.
From the background tab, select a frame from these elegant resources.
Set a color for the frame.
Step 2 – Add your brand name with an elegant font
After the background and frame. You can add your brand name.
Pick the category (Classic, Script, Poster, Magical). They look great with the frame.
It's possible to pick a bolder font for the brand name, set a color for the text, or add letter-spacing to the text.
Step 3 – Add a slogan with a modern font
For the slogan, you can repeat the above step to add a text. The sans-serif category gives a modern style to the design.
Pick a font, adjust font size of the slogan text and give it a color as well, increase its letter-spacing…
Now you should have a logo that looks elegant and beautiful. Try to preview the logo with the mockups and see if you like it or not.
2. LogoAI
LogoAI is an Ai-Powered logo maker that generates beautiful logo designs for you. LogoAI is created so everyone can design their own logo. Designing the logo is free and you only need to pay if you are happy with what you've created and like to download the logo design files.
Create your logo now, Let AI-powered logo maker generate your logo, create matching stationery, and design a brand you love.
LogoAI tool can generate a bundle of professional logos for any marketing, advertising or communications agency. Window and door logos will express your brand identity in a very attractive way. With no doubt displaying a company logo on glass or mirrors right in front of clients results in a visually appealing and modern look.
You will know the fonts and colors for your logo, after making your purchase, you can go to your logo download center then brand identity page to get complete logo information including the fonts and colors used in your design.
If all you need is a logo for your website or social media, you can choose the BASIC package. If you need to print your logo, you choose the PRO package. Of course, the BRAND package will provide complete branding assets for your design. More details of the BASIC plan:
– 3day Unlimted Edits
Worried about change of mind? You can make unlimted logo changes within 3 days of your purchase.
– Logo Download 800 x 600px
BASIC pkg can only download logo at 800×600 resolution. PRO and BRAND pkg can download high resolution logo files.
– Transparent PNG
Your logo with transparent background can be used on websites and business card that will blend in nicely with different backgrounds
Select the option Designer Manual Fix if you need to make manual adjustment to your logo design, you will be connected you with an in-house designer who will manually adjust the design based on your instruction (up to 3 revisions).
How AI Logo Maker Works?
– Unlimited Logo Ideas
Just enter your logo name and design preferences, the AI logo maker will generate endless design possibilities for your logo inspirations.
– Edit & Tweak Your Design
Select the design you like to easily edit logo layouts, change logo fonts and symbols, and try on different logo color combinations until you find the perfect design.
– Download Logo Design Files
Jus like your person designer, the logo maker provides complete logo design package including high resolution JPG, transparent PNG, PDF, and vector source file.
3. BrandMark
Using BrandMark create a unique logo, business card and social media graphics in less than a minute, build your brand identity with a generative AI. Brandmark uses deep learning tools to generate logos composed of an icon, typography and color scheme. The specific technologies used are conv nets, word embeddings and GAN.
Logo design is a creative field that's defined by constraints. A good logo is not only illustrative of the brand but simple enough to be legible from afar. It must also be unique enough to not be confused with the myriad of symbols and icons that surround us.
Logos are essentially abstract illustrations, but clearly not all illustrations make for good logos. In order to create logos systematically it needs some notion of what makes a logo good in a visual sense.
It can match up fonts and icons with similar visual features using their neural embedding, which generally produce more cohesive logos.
To create novel color combinations in the context of branding it takes the approach of pre-generating a large number of color schemes, then sorting them by lightness and vibrance. With some word association it can ensure that the results are thematically appropriate.
Build a beautiful brand on time and on budget, Kickstart your business with thousands of ready-to-use design assets with:
– Logo design files
– Social profile icons
– Business card designs
– Animated designs
– Letterhead templates
– Social media designs
– Presentation templates
– Brand guide
Instantly customize and export right in your browser, no designer or software needed:
– EXPORT TO ALL MAJOR FORMATS
Including SVG, EPS, PNG and PDF
– ADJUST TEXT AND IMAGE SIZE
Perfecly sized for web and print
– EASILY EDIT AND CUSTOMIZE
Double click to edit text
4. Shopify
Shopify's Hatchful is a free logo maker tool to generate custom design logos in seconds. This logo creator is built for entrepreneurs on the go with hundreds of templates.
When using the logo maker tool, you'll find various professional logo designs to choose from and customize. These free logo designs are curated for countless niches and business ideas and provide you with full control over customizing your business logo, so you can design it in a way that matches your brand identity. Shopify's logo maker has no hidden fees or upfront costs.
Using Hatchful's free logo generator, you can create a custom logo by choosing from hundreds of professionally-designed templates. The logo creator will help you choose from countless industries, each with their own specialized logo style. Once you create a design with the logo maker tool, you'll get instant access to your own library of logo files.
With Hatchful's logo maker, you'll find various free logo designs and looks that help you present your brand professionally in the light you shine best in. You'll have control over choosing the design, fonts, and colors of your custom logo.
When using the Shopify logo maker, you can add a slogan after adding your company name to any professional design. If you don't have a business slogan, you can either skip this step, or come up with a unique slogan that reflects your business idea. This will help take your own custom logo to a whole new level.
Design a logo from hundreds of templates:
– Create professional logos
High-resolution logos in just a few clicks. No design experience is required to create your own logo from scratch.
– Build a unique brand
Endless design possibilities. Customize your free logo using hundreds of templates, icons, fonts, and color combinations in the design studio.
– Connect with your audience
Free social media assets; download high-resolution file formats of your free logo design optimized for social media, business cards, and merchandise.
This tool is your personal graphic designer:
– Save time and money
Skip hiring a designer and make your own custom logo in seconds, no experience needed.
– Hundreds of templates
Access an extensive library of logo templates, all designed for you to make them your own.
– Social media assets
Download logos in high-quality PNG files to use across all social media platforms.
– Logo creation design studio
Add icons, customize colors, change fonts and edit layouts to create a one-of-a-kind logo.
– Customized for your industry
Find logo design options tailored specifically to your industry or business niche.
– Build brand recognition
Create a unique logo to help build customer confidence in your brand and products.
5. TailorBrands
TailorBrands is an intuitive artificial intelligence software that understands what you are looking for in a logo for a brand. And it has all the necessary business tools you need to succeed. Tailor Brands is such an easy-to-use tool, anyone can create their own logo and branding with it.
Easily create a logo for your brand, use Tailor Brands' logo generator to create beautiful custom logo designs in just a few minutes:
– Provide business details
Enter your company name and type of business, then tell us a little about what your business does.
– Choose your logo style
Select the type of logo that best suits your business; you can choose from a wordmark (logotype), monogram, or icon logo.
– Select your favorite fonts
Choose your favorite font styles to help the logo creator understand your brand personality better.
– Sit back and wait
The logo generator will go to work and create a selection of unique logos. It takes less than 1 minute.
– Customize your logo design
Pick your favorite logo and then customize it. You can change the fonts, icons, and colors.
– Download your logo
Download a high-resolution file of your design: Vector EPS, SVG, and PNG logo files.
Once you create a logo with the logo creator you get access to a full design studio. Here you will find a host of logo resources. It's like having your own professional designer. Here is what you will find inside:
– 100's of design varations
100s of different logos for you to choose from. With the logo maker you can customize and tweak all of the designs to get them just right for your brand.
– High-resolution logo files
Vector EPS, SVG with a transparent background. With these files, you can use your logo anywhere – your website, billboards, vehicle signage, and more.
– Social media formats
Provides you with 21 resized versions of
your logo that you can use across all the major social media platforms. No need for a resize tool.
– Branded assets
When you design a logo, it creates a suite of branded assets (for free). You get a brand book, branded letterheads, seasonal logos, business cards, and more, to make your business look professional.
– Customer support
If you have any questions about your account or need some technical help, the friendly and super knowledgeable customer service agents are ready and on hand to assist you.
– Additional business tools
After you design a logo, you can build a beautiful website, create digital business cards, print branded merchandise, and even form an LLC all from your Tailor Brands studio.
6. Looka
Looka Logo Maker combines your logo design preferences with Artificial Intelligence to help you create a custom logo you'll love. All it takes is a few clicks and five minutes.
– The logo maker is easy
Start by entering your company name and industry, then select the perfect logo styles, colors, and symbols that you like the best. Looka Logo Maker will use these as inspiration and start to generate custom logo designs.
– The logo maker is fun
Finalize your colors, fonts, and layouts in the easy-to-use logo editor to make sure you get exactly what you want. Undo any edits you make and then click Save when you've created your perfect logo design.
– The logo maker delivers
Looka's online logo maker delivers the goods, including vector logo files and color variations. Your Brand Kit includes everything that a logo designer would deliver, and more.
A logo creator that gives you everything a logo designer would:
– High-resolution logos
Crisp, hi-res PNG and JPG logo files for use online or offline.
– Vector files
SVG and EPS logo files that let you scale your logo to any size. Perfect for printing!
– Color variations
Get black and white, colored, and transparent background variations of your logo.
– Business card designs
Choose from 20 professional and easy-to-customize business card designs.
– Social media templates
Design perfectly-sized profiles and posts for Facebook, Twitter, YouTube, and more.
– Brand info
A one-page resource with your logo fonts and colors. Consistency for the win!
– Post-purchase changes
Make unlimited changes to your logo when you subscribe to Looka's Brand Kit.
Icon of a blue telephone
– Lifetime logo support
Their team is there if you need help opening files, tweaking your designs, or getting started.
– Royalty-free logos
Use your downloaded logo files for any commercial or non-commercial purpose.
7. DesignHill
DesignHill logo creator is an easy-to-use online tool that allows users to create professional logos for their businesses. Through its intuitive design platform, users can customize their logos with images, fonts and colors, as well as add text and symbols. The tool also provides users with a library of templates to choose from, making it easy to create a logo that perfectly fits the user's logo. Additionally, DesignHill logo creator allows users to share their designs on social media platforms and receive feedback from other designers. With this tool, creating a unique logo for your business has never been easier!
8. DesignsAI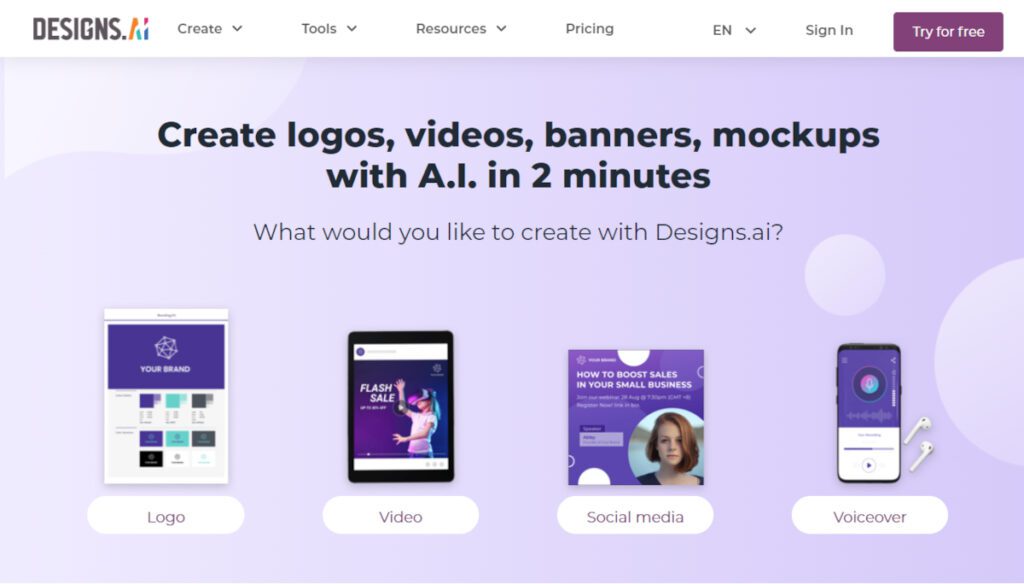 DesignsAI Logomaker is an A.I. logo generator and brand builder. Try it for free to create, edit, save and share your logo in just few minutes. It makes logo design easy.
Designs.ai is built with the mission to empower imagination through artificial intelligence. It's an online platform that uses proprietary AI technology to make design accessible to everyone. This means that even without design experience, you'll be able to create a stunning personalized logo in less than 2 minutes with the help of a user-friendly interface and AI powered tools.
The only tool you need to create stunning logos:
– SMARTER: Uses proprietary AI technology.
– FASTER: Exceptional results in less than 2 minutes.
– EASIER: Intuitive and accessible to all.
It uses artificial intelligence and a library of 10,000+ icons to create a powerful logo at a fraction of the required time, cost, and effort:
– Advanced A.I. technology: Logomaker uses A.I. to analyze your brand information and generates thousands of logo in seconds. Quick, easy, and cost-effective.
+ Generate thousands of logos in seconds
+ Smart suggestions for icons, fonts, colors
+ Export a full brand identity kit with A.I.
– Full brand identity package: Generate all your brand collateral instantly. The kit includes social media logos, branded merchandise mockups, and style guidelines.
+ Your logo in PNG, JPEG, SVG, and PDF
+ Brand narration, assets, and guidelines
+ Device, product, business card mockups
– Smart, intuitive logo editor: Make logo design easy. Create, edit, save and share your logo in just a few clicks. This logo tool also runs entirely on your browser.
+ Easy step-by-step logo creation
+ See your logo changes in real-time
+ No external software installation required
9. Placeit
Placeit's Logo Maker is super simple to use and lets you create bold and iconic logos in seconds. With a super simple interface and thousands of options, an amazing logo is just a few clicks away.
It doesn't matter what type of brand or business you have, Placeit has the perfect logo template for you. Click on an industry to get started.
– Thousands of Professional Logo Templates
Placeit's Logo Maker has more than 8,000 different professionally-designed logo templates to choose from. From Basketball team logos to Japanese restaurant logos and everything in between.
– Super Easy to Make and Edit
Simply type in your brand or company's name, choose your colors then click and drag the elements around. With Placeit's Logo Maker, creating your own custom logo couldn't be easier! No designer or design degree required.
– Carefully Crafted by World-Class Designers
Each Logo Maker is designed by a team of professional graphic designers so no matter which template you choose, your logo will look incredible. Skilled artists make sure each Logo Maker is fine-tuned and will look incredible for your brand or business.
How to use Placeit's Logo Maker:
– Choose from Nearly 8,000 Logo Templates
There are thousands of amazing logo templates ready to be used. No matter what industry you're in, Placeit has several stunning logo makers that are perfect for you. Choose a main category of logos or simply search for your industry and you'll be presented with hundreds of solid options.
– Endlessly Customizable
Each logo template has hundreds of graphic options, fonts and elements that can be easily edited to create a unique and iconic logo that's perfect for your brand. If you can fill out a form, you can create a stunning logo with Placeit's Logo Maker. Absolutely no design skills needed.
– Get the Animated Version of Your Gaming and Sports Logos
Animate your logo and prepare to dazzle your competitors. The animated logos are an .mp4 version of the logo you just made for your sports team or Twitch stream.
– Print as Big as you Need!
Your logo needs to look amazing on screens and in real-life. Download your logo as a high-resolution PDF that's print ready. Easily add your logo to stationery, merchandise, billboards, vehicles and millions of other places.
10. Canva
Canva has thousands of logo templates to get insspired from or you can customize to make your own. Choose a logo that resonates with you and feels connected to your brand.
Designing a logo doesn't have to be daunting. Canva's logo maker provides all of the ingredients you need to create a custom logo, fast and free. Learn how to design a logo online with ease.
Logo design made easy, your logo is the face of your business. Start your new venture on the right foot with a professional logo.
Not having a design experience is not a problem. Canva's logo maker and editor is made for non-designers: Simply drag and drop.
When you're finished, you can download your new logo—or print it on business cards, letterheads and more. The options are endless.
Set the mood with the right colors, your brand colors communicate the essence of your brand. Is yours bold and bright, or traditional and refined? Think about what you want to say about your brand, then choose the colors that project the right image.
Canva's logo templates are created with designer-approved color combinations. Or if you've got something specific in mind, you can easily adjust the colors throughout your logo design.
Canva can help your team create sleek, on-brand designs with shareable brand color palettes, logos, and elements within the editor. You can also collaborate together in real-time on any design, on any device, from any location.
How to make a logo using this tool:
– Open Canva
Launch Canva and search for "Logo" to start creating your own.
– Choose a professional template
Browse through Canva's massive library of logo templates to customize for your own. Find logo layouts for various businesses and needs like gaming, food and drink, sports and more.
– Customize your logo design
Ensure your logo is truly on brand by tweaking everything about the design. Swap out fonts, change color combinations and add your own text and images to ensure your logo reflects your business.
– Get creative with more design features
The drag-and-drop tool makes designing a logo fun and easy. Search through millions of icons, images, stickers and vectors to use. Experiment with tools like image flip, photo filter, and animate to add more spice.
– Download, share and build your brand identity
Once you're happy with your logo, go ahead and put it on all your marketing and branding materials! Save it as a JPEG, PNG or even PDF file for printing. Share it on all your social media platforms right from Canva.
Conclusion
Your logo says a lot about your brand. If it looks good, it leaves a good impression on your potential customers. If it looks bad, it could leave a bad impression, even if your products or services are top-notch.
Finding the perfect logo to represent your business can be a challenge. So choosing a logo design that resonates with your brand or business is a must, and using a logo creator for that lets you get a logo at a tight budget, as there's even free options.