10 Best Business Continuity Management Software
If an event disrupts your organization, would you be ready?

Organizations must be prepared for severe plausible and unforeseen disruptions, the recent pandemic and even ransomeware attacks are reminders of that.
Using a business continuity software, you can improve resilience against threats. We will introduce the best ones available.
1. FusionRM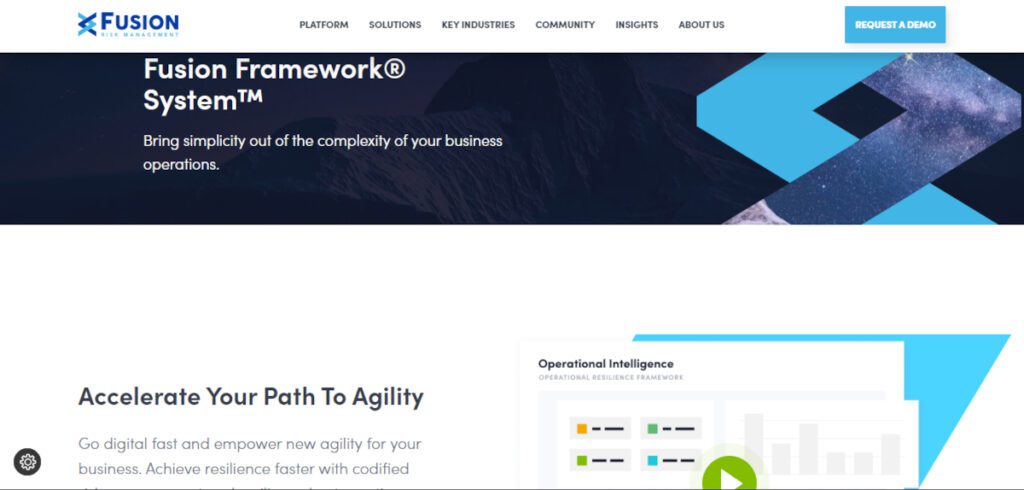 FusionRM Fusion's technology breaks down barriers and amplifies your team's efforts, creating resilience that scales across your enterprise.
Fusion embraces an integrated approach to business continuity management with a comprehensive scope of solutions encompassing IT disaster recovery, crisis and incident management, dependency mapping, and more.
Discover how this framework prepares you to adapt to evolving challenges, protects your organization from disruption, and enables you to resume critical operations quicker than ever.
Keep your business in business, understand how your business works, how it can break, and what actions you can take to fix it.
By discovering how your organization really runs, you will be better prepared to uncover and remediate key risks, single points of failure, and inefficiencies before they escalate.
Integrate a full picture of your business operations, run the business. Protect the business. Change the business. Grow the business.
Take the grey out of your day-to-day business operations by leveraging the data, process, people, and systems you already have to create a single operating view of your entire organization. Surveys optional.
Fusion Business Continuity feature list:
– Continuity Planning
Sequence your actions based on dependency and what-if analysis, not static plans.
– Exercise Management
Evaluate your organization's preparedness and response and improve systems and processes based on learnings.
– Risk and Impact Assessment
Simplify and scale business impact analyses with integrated real-time data from stakeholders across the organization.
– Impact Tolerances
Prioritize, set, and maintain impact tolerances and learn over time what your business can withstand or needs to address.
– Context Mapping
Gain a deeper understanding of how you deliver your most important products and services.
– Dependency Mapping
Visualize upstream and downstream dependencies and gaps across the enterprise.
2. Navex
Navex Business Continuity Management is part of the NAVEX IRM Solution. The industry-leading business continuity management (BCM) software enables your organization to minimize the impact of business interruptions.
Form a backup plan for the unpredictable, any crisis that interrupts business operations can debilitate your organization and drive away customers. Business Continuity Management helps you plan and prepare for business interruptions to minimize their impact and restore operations as soon as possible.
Risk management software to create clear, detailed business continuity and recovery plans:
– Identify Risks to Business Operations
Performs risk assessments to determine asset criticality and availability needs. Accounts for assets and resources, and enables RPO and RTO analysis for recovery planning. Directs business impact analyses to gauge the financial impact of disruptions. Conducts dependencies for various scenario modeling to determine and account for likely chain reactions.
– Implement a Best Practice Business Continuity Program
Creates and manages business continuity plans throughout their lifecycle. Develops recovery plans with asset priority and order of resources restored. Links continuity plans to risks, assets, controls, policies and vendors to identify and determine resource dependencies. Stores plans for business continuity, disaster recovery, and crisis management in one convenient, cloud-based location.
– Monitor Programs and Report on Performance
Produces interactive reports with drilldown detail that reveals plan thoroughness and ongoing efforts to support business continuity. Offers customized or out-of-the-box templates, standardized processes, and contextual reports and dashboards. Generates reports and analytics specific to BCMP like tabletop test results and executive-level snapshots. Establishes workflows to regularly review plans and to allow collaboration between stakeholders.
3. Premier Continuum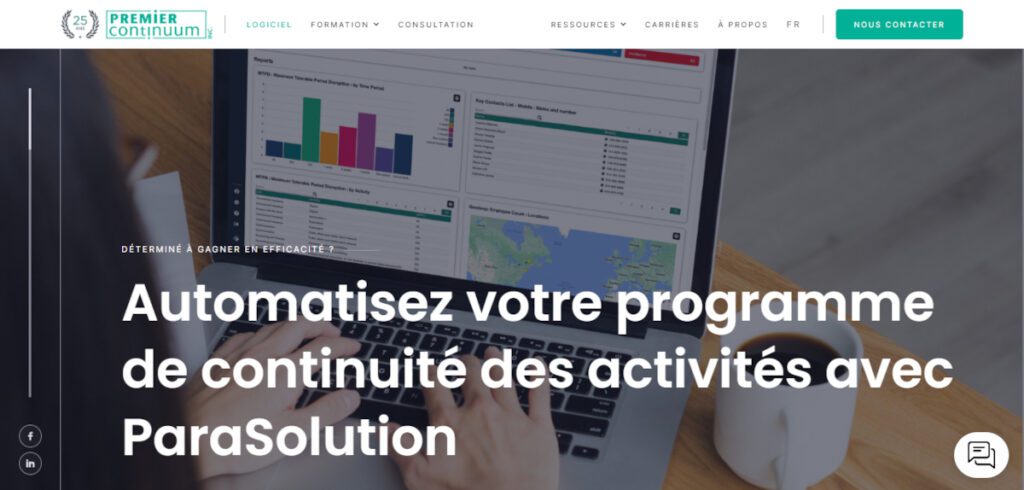 Premier Continuum has been providing a helpful software, superior consulting and training services in Business Continuity, IT Disaster Recovery, Crisis Management, Emergency Response, Risk Management for 25 years.
Automating your Business Continuity Program is the ultimate key to visualize data, comply with best standards and securely scale your activities. Built by BCM experts who have managed numerous programs, it offers the most intuitive pathways and is designed to promote all contributors' engagement in the BCM process, supporting your organization with solid core capabilities you can rely on. Highly flexible, the solution centralizes, standardizes, automates BCM activities without missing a beat and it adapts to your organization, not the other way around.
This solution's capabilities are:
– Grasp crucial information
Gather crucial info from all contributors and structure it smartly. In real time, visualize your state of readiness, make sound decisions and do what needs to be done.
– Tailor this Solution to your way
Adapt this robust tool to the way your organization operates. Structure your program, documents and plans to the most granular level. Define your priorities and build your own dashboards. Make it truly your own!
– Accelerate your growth
Boost your BCM organization's capabilities and scale up your program with minimal effort and resources. Focus on strategy and important BC/DR details to speed up recovery.
– Mobilize your stakeholders
Engage your team and increase your contributors' input rate with streamlined processes. During an incident, empower your staff and partners right away with the most current information and plans, through the web solution or the mobile app.
4. SAI360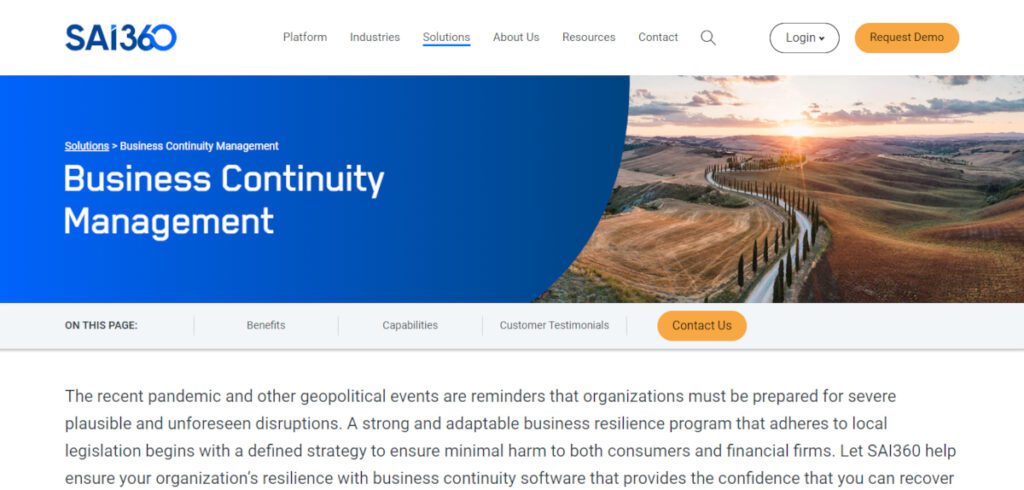 SAI360 platform helps top organizations maintain and audit preparedness across the enterprise. Let SAI360 help ensure your organization's resilience with business continuity software that provides the confidence that you can recover from any business disruption.
Expand coverage
– Expand coverage of critical processes
– Gain clarity across teams and eliminate redundancy with one risk language across data and terminology
– Effortlessly collect information from your stakeholders
Improve Business Continuity performance
– Eliminate gaps between recovery time objectives (RTOs) and capabilities
– Reduce consequences with thorough testing and exercising of plans
– Prioritize activities with a data-driven approach
– Establish a communications plan in the event of data privacy breach
Easily put Crisis Management into action
– Escalate operational and cyber incidents into crisis events
– Leverage a real-time view to execute your plan and assign tasks
– Monitor performance against RTOs
– Take corrective action and continuously keep people informed via the mobile-responsive interface
Confidently recover anytime and anywhere
– Instantly notify your team and stakeholders by integrating your emergency mass notification system (OnSolve, EverBridge)
– Track progress and resources as events unfold
– Roll out your solution across the globe with features like localization of date format and multi-lingual content of labels and screens
It's hard to stay on top of which plans are missing, which plans are outdated, and the outstanding actions required. If you don't have the information to identify threats, vulnerabilities, and gaps, you can't get immediate insights into your most vulnerable processes.
5. LogicManager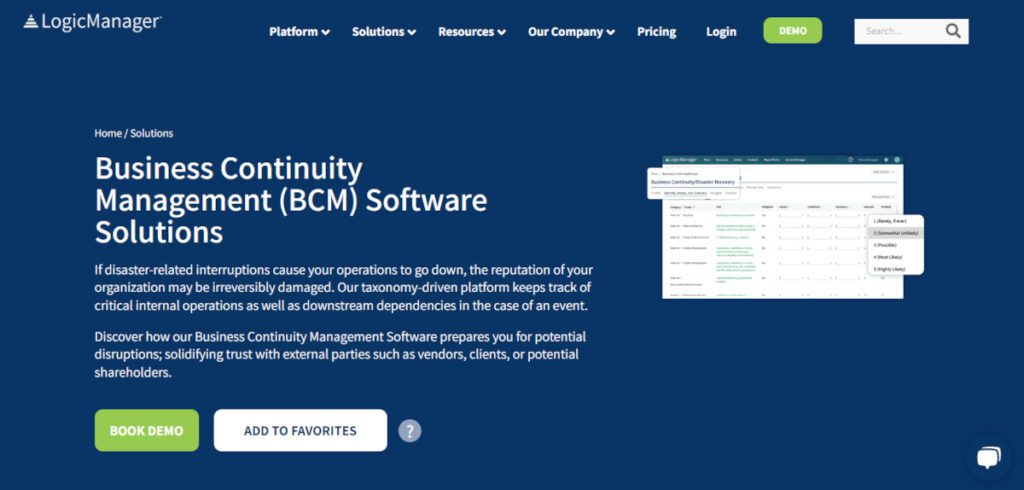 Logic Manager's Business Continuity Management software offers BCM tools for better planning & creating disaster recovery plans.
You need a better disaster recovery sidekick, Without this business continuity software, constructing your BC/DR plan can be extremely difficult and time-consuming.
– A traditional spreadsheets and Word document system makes your information hard to access, update, and share. You simply won't be able to create detailed business continuity plans.
– Identifying and engaging the critical operations in the disaster recovery planning process requires an unnecessary amount of effort when you don't have an integrated solution.
– Without business continuity planning software, it can be impossible to identify the gaps in your BC/DR plans and business operations.
– When disaster happens, you have nowhere to document and respond to these incidents for centralized tracking and trending.
LogicManager provides leading business continuity software, it's a business continuity software that erases all of your pain points and allows you to complete better crisis management.
– Easily access, review, and update all of your business continuity and disaster recovery information like business processes and related assets in one centralized framework.
– Link key risks and controls directly to the business continuity plans they relate to with the taxonomy technology.
– Manage your responsibilities and track the status of your projects with easily accessible to-do lists.
– Evaluate the criticality of each business process with pre-built, intuitive business impact analysis templates.
– Improve coordination between business continuity, disaster recovery, and crisis response teams with automated tasks, alerts, and reminders.
– Track disaster events when they occur, identify the gaps in your plans, and determine follow-up improvements to your procedures with the intuitive incident templates.
– Ensure the BCP you have in place is operational and effective with automated testing.
– Prove BCP compliance to auditors and BCP effectiveness to senior management with highly configurable reports and compliance checklists.
6. Quantivate
Quantivate Business Continuity Software has an easy-to-use interface that allows you to quickly construct your BC, DR, pandemic and crisis management plans.
Quantivate Business Continuity Software helps you to:
– STAY INFORMED
Understand connections and dependencies across your organization through integrated data-sharing capabilities
– PROTECT YOUR ORGANIZATION
Use guided processes to develop a complete continuity program — rather than disconnected activities and data silos — based on your actual business processes and resources
– GET ORGANIZED
Digitize and centralize your BC/DR plans and other documentation, upgrading from inefficient notebooks and spreadsheets
– DOCUMENT PROCEDURES
Record your organization's procedures for disasters, emergencies, and other unexpected incidents to facilitate quick response and recovery
– PLAN STRATEGICALLY
Develop data-driven BC/DR plans and ensure employees are prepared with built-in tools to identify critical processes, analyze risks and their impact, test the efficacy of your plans, and respond to incidents
-JUMPSTART YOUR CONTINUITY PROGRAM
Access BC/DR plan templates, a built-in editor tool, and even optional consulting services to get your continuity program headed in the right direction
Quantivate Business Continuity Software has an easy-to-use interface that allows you to quickly construct your BC, DR, pandemic, and crisis management plans with minimal effort. Simply point, click, and configure your way to a business continuity management solution that fits your needs.
It has features you need to succeed:
– Guided processes for identifying critical business processes (criticality and risk scoring)
– Risk assessment: threat and vulnerability analyses
– Business impact analysis (BIA)
– Editor tool for generating BC/DR plans
– Business process library
– Pre-loaded content: templates for BC/DR plans, pandemic plans, and crisis management
7. Agility Recovery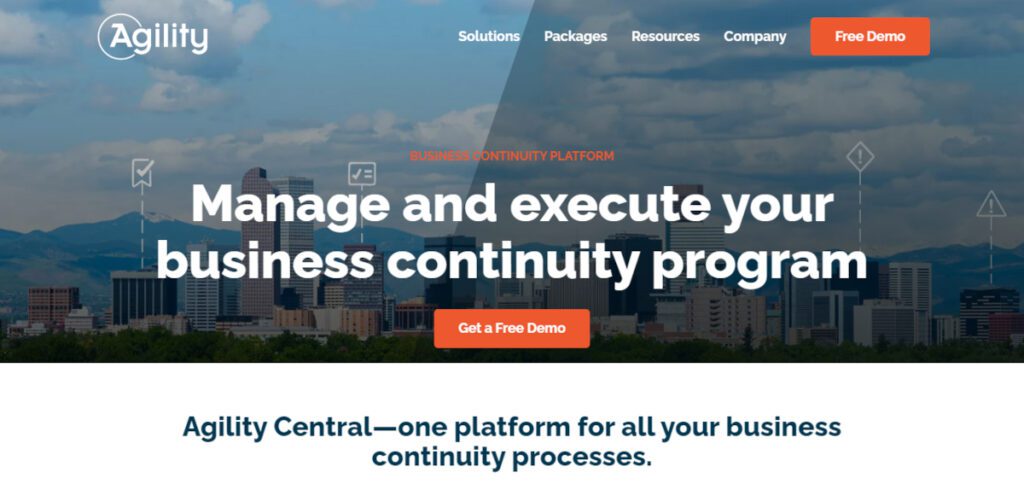 Agility Recovery is the only business continuity and disaster recovery solutions provider that has the services and expertise you need to stay operational. Agility Planner and RecoveryPlanner are intuitive business continuity planning and preparation tools that streamline, simplify, and support your BC.
End-to-End Business Continuity Management and Resilience Software Suite, RecoveryPlanner's fully integrated cloud-based software offers mature, flexible functionality to support a comprehensive BCM program and build operational resilience.
RecoveryPlanner is an award-winning, recognized industry leader for end-to-end business continuity management (BCM) and resilience software with deep, mature functionality. Meet pertinent BCM regulations, standards, and best practices while implementing a collaborative, enterprise-wide BCM program with this scalable software.
Used by organizations in all industries and sizes and tailored for BCM, RecoveryPlanner is ideal for organizations looking for a tool to support a comprehensive BCM program that also helps to build resilience in systems and operations. RecoveryPlanner has broad, customizable, and flexible functionality for experienced practitioners yet is simple enough for casual users.
A comprehensive and integrated BCM Software with deep functionality:
– Business Impact Analysis (BIA)
Make BIA data collection easier with a customizable tool that will guide stakeholders through the process. Prioritize business processes and understand their dependencies and interdependencies. Establish recovery strategies and controls.
– Risk Assessment
Produce, track, and report on risk assessments for availability, IT, and 3rd parties.
– Plan Creation and Management
Use the included plan templates or create your own.
– Vendors and 3rd Party Resilience
Perform vendor contingency planning and management by making 3rd party risk assessments and easily including them in BIAs and plans.
– Exercise and Crisis Management
Make activation, management, and participation easier with automatic creation of and easy access to actionable plans.
– Compliance and Reporting
Align with industry, regulatory, and organizational standards using default or customized reports, BCM metrics, analysis, dashboards, and BCM compliance mapping.
8. Archer IRM
Archer IRM Business Resiliency automates business continuity and disaster recovery planning and execution to protect your organization in the event of a crisis. You've got a business resiliency plan: manage crisis situations with confidence.
– Be prepared to respond
Improve your organization's responsiveness during crisis situations by automating business continuity and IT disaster recovery planning, testing and execution.
– Know your mission critical processes
Identify your organization's most critical business processes and supporting technologies so you can prioritize resources accordingly.
– Build towards operational resiliency
Expand visibility of resiliency risks so your senior management understands resource and budget requirements and has confidence in your resiliency program.
Archer provides a resiliency-driven approach to help your organization mature from reactive business and IT recovery objectives to a proactive posture that enables your team to significantly reduce the effects of disruptions to your business. With Archer, you can transform the efficiency of your resiliency team to protect your critical business operations. A full complement of use cases for multi-faceted challenges:
– Business impact analysis
Archer Business Impact Analysis provides a single system of record and a standard approach for executing and managing all business impact analysis activities. It includes a business process catalog and prebuilt workflows, notifications, review and approval processes, and reports.
– Crisis management
Automate the process of activating business continuity, disaster recovery and crisis plans to facilitate a coordinated and aligned response to crisis events. Archer Crisis Management helps you coordinate information, priorities and objectives among business continuity, disaster recovery and crisis teams.
– Incident management
With Archer Incident Management, you can centralize and streamline the tracking, workflow and resolution of various incidents before they disrupt your business. You can also categorize incidents to quickly evaluate their criticality and determine appropriate response procedures, assign response team members, and much more.
– Business continuity and IT disaster recovery
Archer Business Continuity & IT Disaster Recovery Planning provides a consistent, coordinated and automated approach to performing risk assessments and documenting and testing business continuity and IT disaster recovery plans for your business processes, locations, IT applications and infrastructure, and information assets.
9. Arcserve
Arcserve The Arcserve Unified Data Resilience platform ensures businesses avoid costly business downtime, disaster, and reputational damage from data loss. An end-to-end data resilience platform, with Arcserve Unified Data Resilience, you can ensure that your organization can recover quickly from, and operate continuously during, data outages—regardless of the cause.
Arcserve Unified Data Resilience solutions provide very strong capabilities, including:
– Securing the protected data against unauthorized access as well as from hardware failures, human errors, and cyberattacks
– Encrypting the protected data before it leaves the customer
– Immutable storage to protect the data against malicious changes
– Integration with Sophos X to provide protection against a wide range of cyberthreats
It protects your data on-premises, off-premises, or in the cloud, the Arcserve unified data resilience platform provides world-class data protection, backup, and recovery solutions. Arcserve solutions:
– Can be deployed as software, hardware, and virtual appliances, as well as within cloud services
– Support agentless protection of VMware, Hyper-V and Nutanix deployments
– Provide integrated automatic deduplication of the protected data
– Support a choice of storage options including traditional tape backup, immutable storage, and cloud
– Offer resilience for data deployed in both IaaS and SaaS, covering the major hyper-scale clouds, Microsoft 365, Google Workspace, Salesforce, and more
An essential element of your business continuity plans, Arcserve Unified Data Resilience solutions deliver comprehensive data protection, backup, recovery and immutable storage capabilities that are a fit for any size organization, from small businesses to global enterprises.
It simplifies data resilience, Arcserve solutions eliminate complex system integrations while delivering unified management with powerful, simple, and intuitive oversight at the lowest total cost of ownership (TCO).
A solution that seamlessly integrates cybersecurity, data protection, recovery, and immutable storage ensures data resilience and effective ransomware protection. Arcserve's Unified Data Resilience platform delivers all that and more.
10. Veritas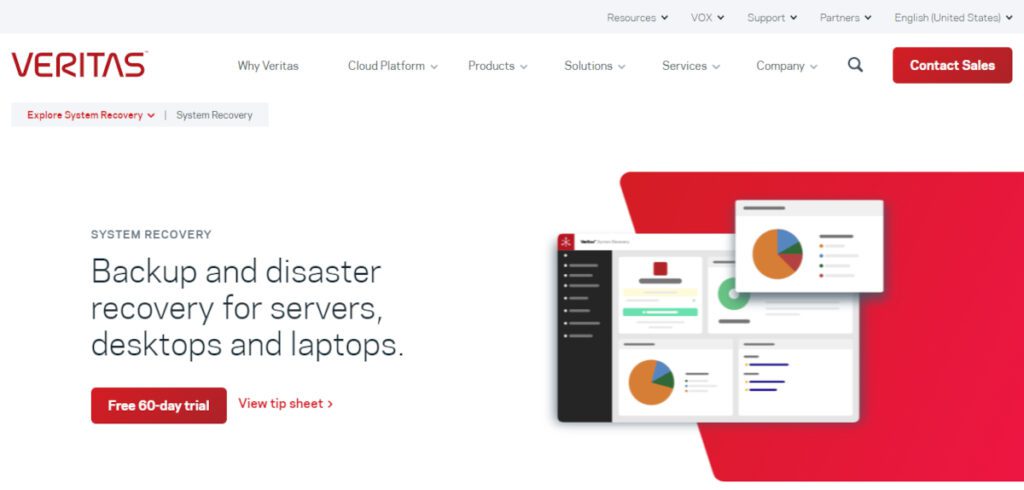 Veritas lets you ensure business continuity with a multi-layered defense. Reduce risk, eliminate uncertainty and maintain control.
Ransomware is powerful, but when confronted with a multi-layered defense, it doesn't stand a chance. Veritas gives businesses the advanced tools and capabilities necessary to keep their data and operations safe from disruption across every environment. A unified approach strengthens data resiliency by seamlessly integrating proactive protection, intensive detection and industry-leading backup and recovery.
Veritas gives you what other providers can't, an unmatched versatility and performance. A total peace of mind.
– Complete visibility in heterogeneous environments.
With NetBackup IT Analytics, you can actively monitor data from any cloud, any backup and any storage through a single, comprehensive diagnostic platform to quickly identify applications and services at risk.
– Protect critical data with immutable storage.
Veritas provides a comprehensive, immutable data lifecycle. Data is ingested from the client source and written to immutable on-premises flex appliances or supported third-party hardware, and then duplicated to cloud immutable storage such as Amazon Object Lock.
– Automate IT continuity across all platforms.
InfoScale monitors resources asynchronously and detects failures instantaneously allowing for automated failover with near-zero downtime. InfoScale even lets you test disaster recovery with no impact on your production systems, so you can be sure you're prepared.
– Detect dormant ransomware with advanced anomaly detection.
Ransomware can lay dormant, sometimes for months, looking for access points and vulnerabilities. Veritas helps detect the telltale markers with an AI/ML anomaly detection engine. Reports can pinpoint when an attack happened and confirm the last known "clean" backup.
Conclusion
If disaster-related interruptions cause your operations to go down, the reputation of your organization may be irreversibly damaged. You may consider choosing a BCM solution for your organisation to identify and manage the risks in order to be better prepared.