10 Best Talent Acquisition Software For Recruiters
Talent acquisition software helps you identify the right candidates for each position without wasting time.

Modern businesses, especially those that have hybrid or remote working environments, receive dozens if not hundreds of applications for each open position. Talent acquisition tools enable you to automate your hiring procedures so your HR team doesn't have to spend hours sifting through the applications in order to find the right people. 
What is the Best Talent Acquisition Software For Recruiters?
1. ViNCERE
Vincere is the Recruitment Operating System: the modern OS purpose-built for recruitment & staffing agencies worldwide. Launch with our powerful core suite of modules. Then expand your tech capabilities with pre-integrated Access Group products from Website Design (powered by Volcanic) to Screening and Pay & Bill (powered by FastTrack360). It's time to effortlessly unite your front, middle and back office on a single recruitment tech platform. Unleash growth without gravity
Pros
"We also like the fact they have the online timesheets and shift scheduler for when we expand our contract business."
"I made the right decision, we've had about 5 or 6 releases since we implemented Vincere and the platform is getting better and better with each one."
"The advanced search is wonderful as you can search for tagged candidates, and can even search for notes that you've made. The product does all the heavy lifting for me – I would really recommend."
Cons
"As a day to day user, it's a problematic & frustrating system. The platform feels clunky, click-intensive and prone to bugs and problems."
"The system is quite laggy sometimes – Unsure whether this is our internet though."
"This is the first time I've every bothered writing an online review which I think speaks volumes
2. TalentReef (Mitratech)
Mitratech's TalentReef platform enables hiring managers to focus on business operations and customers while decreasing time-to-hire. Today's candidates want a fast, intuitive way to find jobs and apply. We go beyond simple job boards with features that drive the fastest hourly employee recruiting experience, like Text Recruiting, Branded Career Pages, a Talent Community, and more.
Delays in the hiring process lead to loss of interest. Hiring is complex and requires immediate responses to get the best candidates. Your hiring managers need an automated system that streamlines hiring, drives compliance, and decreases time-to- hire.
TalentReef provides seamless third-party integrations that are key to enabling efficiency every step of the way. After you've hired your candidates, employees need to feel engaged, or they'll go to another company. TalentReef provides mobile-optimized tools and employee referral programs that become the cornerstones for an engaged hourly workforce.
3. UKG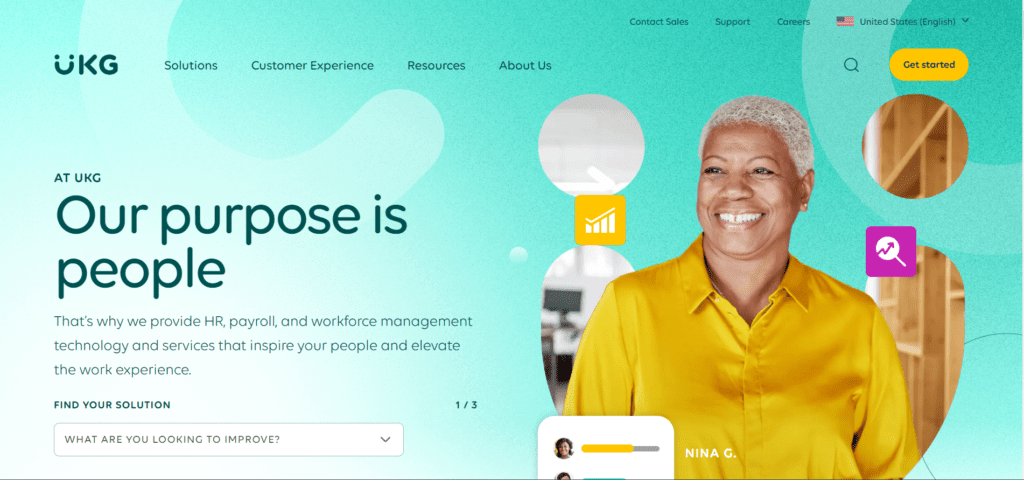 UKG Pro™ is a global human capital management (HCM) solution. With it, users are invited to transform their businesses with a connected global workforce experience delivered through HR technology. From payroll to talent to service delivery to surveys, and everything in between, UKG Pro aims to be the powerful HCM suite needed to drive people-focused results.
Pros:
The layout on the main dashboard is so easy to use and easy to understand. I've been able to find anything I need quickly and managing my benefits and payroll couldn't be easier.
Cons:
You can not configure the application for candidate experience. Terrible implementation and testing and deployment process.
4. Paycom
Paycom offers user-friendly HR and employee-driven payroll technology to enhance the employee life cycle, in a single software. Paycom drives efficiencies, increases data integrity and gives employees power over their HR information through a self-service app. Employees already manage their timecards, PTO, benefits and more. Now they can own their payroll, which results in improved accuracy, reduced employer liability, increased process oversight and unparalleled employee insight into their pay.
Paycom is used by CEOs, owners, finance executives, HR managers, IT decision makers, operations executives, and payroll managers.
5. Paylocity
Paylocity is a cloud-based human capital management (HCM) platform that provides human resources and payroll management tools to help businesses manage core HR functions. Key features include payroll processing, benefits administration, time management, talent management, employee engagement, an integrated applicant tracking system (ATS) and data insights. Paylocity's payroll module allows businesses to simplify payroll operations, automate processes, and stay tax compliant. With expense management, payroll administrators can eliminate spreadsheets and payroll calculators by automatically pulling expenses into Paylocity. With the pre-process register, users can preview, correct and verify employee paychecks before processing payroll.
Businesses can also utilize Paylocity's payroll service to manage tax filings and wage garnishments. Paylocity's core HR enables businesses to manage HR functions using quick-edit templates, custom checklists, action forms, position management, and dynamic reporting.
6. SmartRecruiters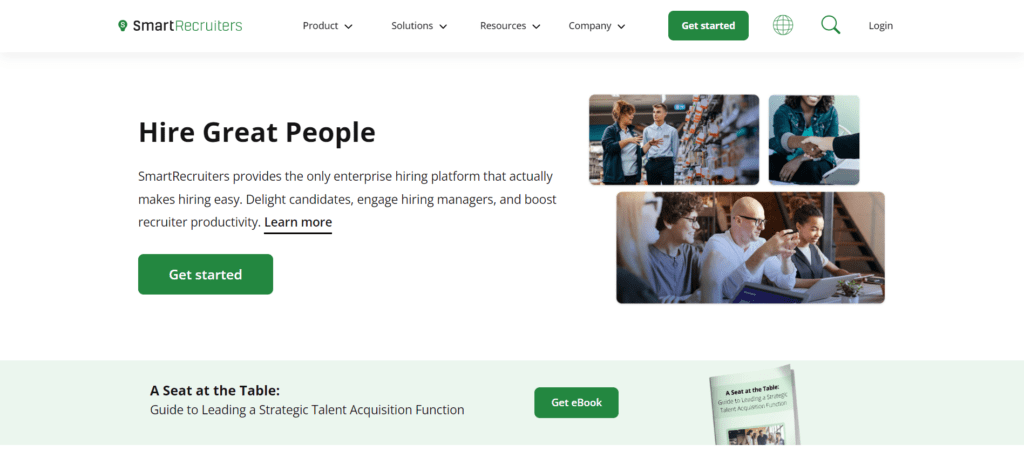 SmartRecruiters is a web-based hiring platform designed with the end-user in mind. The solution is suitable for companies with more than 50 employees in almost any vertical, and since it runs in a browser, it works well on all platforms, including Macs, PCs, iPhone, and Android. Applicant tracking and applicant sourcing applications make this a platform for all hiring needs. Additionally, SmartRecruiters' hiring success team offers support/training services to help companies reach their recruiting goals. With a user-friendly interface, users can navigate to post a job, apply for a position, review a candidate or remove an applicant from consideration with a few clicks.
The solution also offers managers and recruiters a mobile hiring app, with mobile-optimized job postings and career pages. SmartRecruiters' social features facilitate collaborative hiring so that users can evaluate, discuss and hire candidates as a team. The solution also features a mobile-ready hiring feed that provides visibility into each stage of the recruiting and hiring process.
7. Yello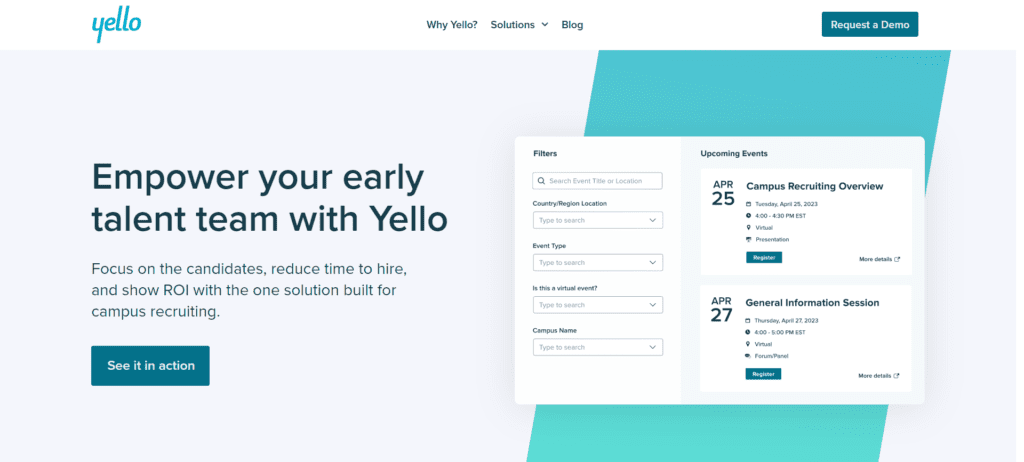 Yello is a cloud-based talent acquisition solution that helps businesses manage interview scheduling, video calling, candidate evaluations and more. Recruiters can screen applicants, schedule individual or multi-party interviews, send invitations/RSVPs, handle panel discussions and more on a centralized platform.
Yello lets businesses utilize white-labeled screen and recording portals to pre-record videos, allowing candidates to self-schedule interviews at convenient dates and time. The event scheduling tool enables users to create email/text campaigns, set up pre-registration pages and automatically send personalized reminders to registered candidates.
Additionally, managers and leaders can gain insight into interview completion rates, interviewee evaluations, applicant sourcing and other recruiting operations. It facilitates integration with several third-party applicant tracking and recruitment solutions including ADP, Workday, Taleo and Kenexa. Pricing is available on request and support is extended via phone and other measures.
8. LEVER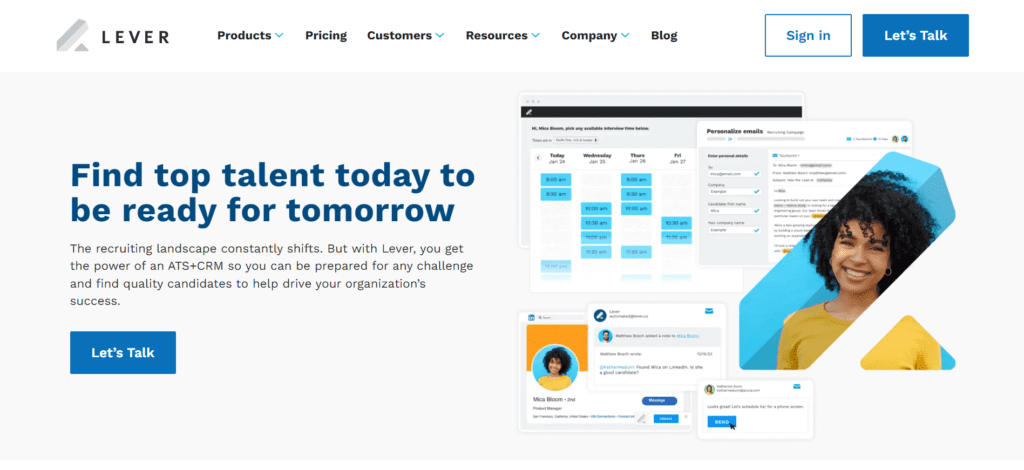 Lever is a leading Talent Acquisition Suite that makes it easy for talent teams to reach their hiring goals and to connect companies with top talent. Lever is the only platform that provides all talent acquisition leaders with complete ATS and robust CRM capabilities in one product, LeverTRM. The LeverTRM features allow leaders to scale and grow their people pipeline, build authentic and long-lasting relationships, and source the right people to hire.
Lever Analytics provides customized reports with data visualization, see offers completed and interview feedback, and more, to inform strategic decisions between hiring managers and executives alike.
their platform also enables companies to hire with inclusivity in mind, helping eliminate any hiring bias. Lever supports the hiring needs of over 5,000 companies around the globe including the teams at Netflix, Spotify, Atlassian, KPMG, and Nielsen
9. SeekOut
SeekOut is a cloud-based talent sourcing solution that helps small to large enterprises source and recruit candidates from across multiple channels. It enables users to filter candidate pools based on work history, location, keyword, education or skills and can even retrieve results using artificial intelligence (AI) technology.
SeekOut helps companies get access to candidates' contact information and create personalized outreach emails to improve response rates. Pricing is available on request and support is extended via live chat and other online measures.
10. Fetcher Ai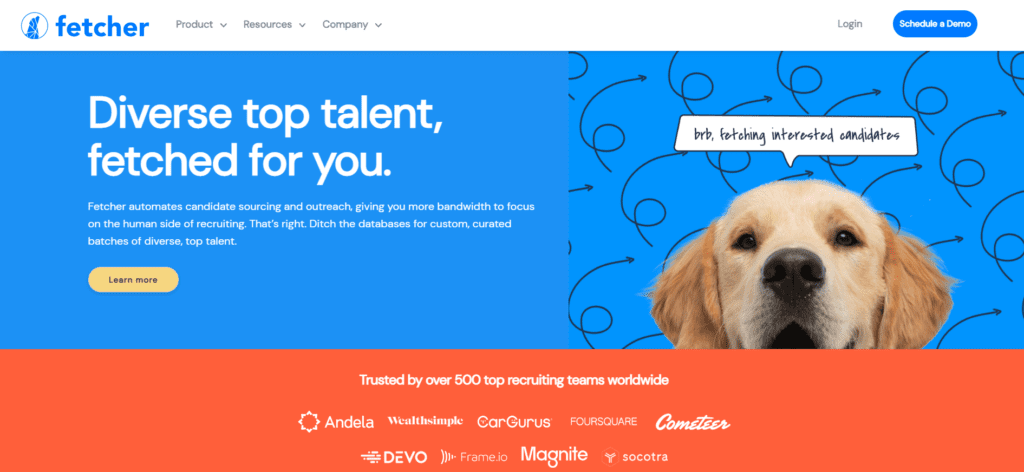 Fetcher's mission is to introduce companies to the people who will help them change the world. The full-service, recruiting automation software automates those repetitive, top-of-funnel tasks, so you can focus more on candidate engagement & team collaboration.
With Fetcher, recruiters and hiring teams can simplify sourcing, optimize outreach, and hire top talent. Fetcher combines artificial intelligence with human-in-the-loop insights to learn company candidate preferences and sorts applicants within these parameters. Users can continue to help calibrate their search by leaving qualitative feedback on candidate profiles.
To complement Fetcher's automatic sourcing capabilities, use the Chrome sourcing extension to capture candidate information from the web with a single click. Outreach tools allow users to create automated emails and custom email sequences to keep candidates engaged, and all email messaging can be personalized for the specific candidate and position. The reminders tab helps users stay on top of candidate responses and ensure that replies are sent.
Conclusion
Whether you are the CEO of a successful corporate or it is just a start-up of your new enterprise, Market analysis becomes crucial to sustaining yourself where current trends are rapidly changing with evolving requirements, therefore, If you are the one who is listing down the recruitment priorities and simultaneously looking for an Artificial Intelligence-based ATS that can transform your traditional recruiting into the foster "Intelligent recruiting", You may consider above listed Top Talent Acquisition Software with its helpful briefing.
Despite concluding the pros and cons that exist everywhere, choosing the best Applicant tracking system for your business is completely dependent upon the requirements of your business and planned budget for the same.