10 Best Disclosure Management Software
Do you need to compile consolidated, monthly, or quarterly financial statements? Or annual reports, regular individual financial statements, or other internal and external reports? Then we've got the right tools for you.

Find out how the solutions listed here can revolutionize your disclosure management process and learn about the transformational impact that these software can have on your annual and financial reports. Blow our list of the 10 Best Disclosure Management Software
1. Iris Carbon
Iris Carbon for Disclosure Management is a simple, intuitive, and feature-rich Office 365-based solution to seamlessly handle your financial and non-financial report authoring and the last mile of your corporate reporting.
The regulatory report preparation simplified, Iris Carbon's Disclosure Management solution simplifies your financial and non-financial report creation and authoring procedures by providing you with the most user-friendly and collaborative workflows and processes. Financial and non-financial reporting teams can now access and work on disclosure documents on a single platform.
Iris Carbon Disclosure Management introduces workflows to make the document authoring and approval process between individuals and teams much simpler. The platform unifies teams working on different parts of a document and provides full visibility to personnel involved in the review process.
The Disclosure Management solution collates data from multiple source systems so teams can efficiently combine data and narrative to generate financial and regulatory compliance reports. Projects may be managed centrally, with teams receiving approval to work on sections of the reports with a full audit trail.
Why to choose Iris Carbon Disclosure Management Solution?
– Cloud-based Platform: The cloud-based platform makes work efficient by helping teams collaborate on report authoring. Multiple users can work on a single document in a highly-secure environment.
– Streamlined Reporting: Using the best of artificial intelligence and machine-learning capabilities, Iris Carbon Disclosure Management streamlines and simplifies your reporting processes.
– Comply with Control: Report authoring teams have full control over projects due to a spotless audit trail functionality. Authoring can be managed centrally with efficient workflows and access rights.
– Efficient Dashboards: Check real-time progress on your documents with an efficient dashboards. Get status reports on your compliance or authoring process.
– Last-minute Editing: Make quick, confident updates to your compliance documents minutes before a regulatory filing. Carry out hassle-free review and editing at any stage of the authoring process.
– Flexible Filing Models: Outsource report authoring to us, handle it in-house, or take a hybrid approach. No matter what model you choose, an unlimited expert assistance is guaranteed.
– Version Management: Get complete visibility of all versions of your document with a superior version control and management capabilities.
– Relentless Innovation: Consistent and prompt in upgrading the solution to offer you only the best and state-of-the-art features and capabilities.
2. LucaNet
LucaNet one of the 10 Best Disclosure Management Software, is a professional disclosure management tool that delivers a complete solution for preparing annual reports as well as management reports.
Along with an extensive product portfolio, you'll benefit from:
– SmartNotes, the core product for creating annual reports
– The ESEF module for ESEF-compliant annual reports
– The Layout Robot module for creating print-ready reports
– The Factory module for generating similar sets of individual financial statements.
What you need for creating annual reports is this software, this software is sure to be the right tool for you thanks to all the functions it offers, which include:
– Easy data transfer from any source system
– Internal validation options and guaranteed data consistency
– Full audit trail
– Flexible solution for preparing multilingual financial reports
– Efficient management of report templates
– Integration of tables, charts, numbers, and running text
– Direct access to data in LucaNet
– Traceability when changes are made to the dataset
– Simultaneous editing of report sections by multiple users, in combination with a dedicated permissions system
– User-friendliness
– Updating and "roll forward" of reports at the press of a button
– Full MS Office integration
– Integrated XBRL processor
– Micro-layout thanks to a layout wizard
That's how LucaNet software can benefit you:
– Optimal interfaces: Import your financial data from all common FPM, ERP, and other source systems, such as LucaNet. Tables, diagrams, and figures in running text can be automatically filled with data in MS Word, Excel, or PowerPoint formats from your source system. Report preparation continues to take place in the MS Office environment you're familiar with.
– Consistent dataset: Validation and consistency checks guarantee you the highest possible data quality and reduce errors. Once data have been successfully imported, it immediately becomes clear in which sections of the report changes have been made. At the same time, a consistent presentation across different report sections is guaranteed.
– Integrated permissions system: An individually customizable role system with a workflow that can be specifically defined allows for a simple or detailed permissions system that completely matches your needs.
3. InsightSoftware
With InsightSoftware Certent Disclosure Management (CDM), reduce disclosure risk for regulatory, external, and internal reports. The Only All-in-One Disclosure Management System, Built on Microsoft Office, for External and Internal Report Creation.
Bring Speed, Accuracy, and Consistency to a Laborious, Error-Prone, and Difficult-to-Control Process:
– Annual & Quarterly Reports
– Preliminary Reports
– Statutory Accounts
– Solvency II (EIOPA) Reporting
– XBRL/iXBRL Filing
– COREP/FINREP (EBA)
– Press Releases & Regulatory News Service Announcements
– SEC/EDGAR & ESMA ESEF Reporting
– Results Presentations, Board Packs, & Budget Books
– ACFR Reports
Produce and format regulatory, internal, and external reports with ease by working within the Office products you already know how to use. Automatically roll forward documents to the next period to compress production cycles. Drive economies of scale by sharing content across multiple reports and distributing in multiple output formats: Word, PDF, PowerPoint, Adobe InDesign, XBRL/iXBRL, etc. Save time and money by reducing proofing cycles with external printers and eliminating the 24-hour plus pencil-down period.
Always tell the most accurate story around your company results, with confidence. Strong access controls and single sign-on ensure only authorized users can change and approve narrative. Workflow controls streamline and expedite the production cycle. Process task and check lists provide simple guidance to keep everything on track. An audit trail lets you see who did what and when, while validation rules tie out one part of the document to another part, or to a different document, to accelerate the review cycle.
Ensure every report is always in perfect alignment, direct connectivity to your source data and the ability to add links to data items into your narrative that are shared within and across documents ensure that you have a single version of the truth for consistent reporting. Refresh your data at any time to automatically update your report narrative as your numbers fluctuate to reduce the risk of manual errors.
4. SAI360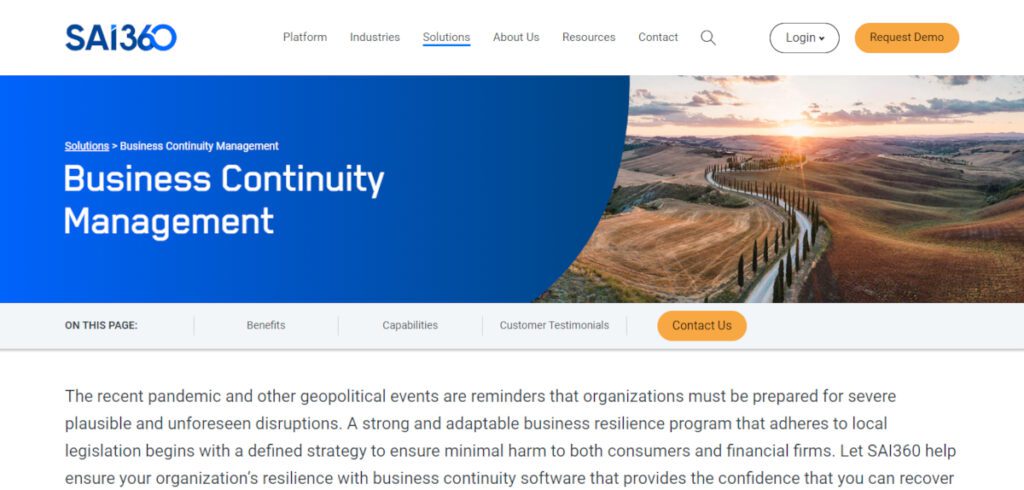 Using SAI360 automate disclosure reporting and monitoring, systematically distribute questionnaires and collect responses from employees and third parties. Increase transparency and reduce exposure with automated disclosure reporting and monitoring.
SAI360 is the leading Environmental Social Governance (ESG) cloud provider connecting Environmental, Health, Safety & Sustainability (EHS&S), Governance-Risk-Compliance (GRC), and Learning. The integrated approach is what sets us apart, helping organizations thrive, create trust, understand their impact, and achieve resilience for over 25 years.
Automate disclosure reporting and monitoring:
– Systematically distribute questionnaires and collect responses from employees and third partiess
– Easily route disclosures for review and response with configurable workflows
– Automatically create conflict records for non-preferred questionnaire responses
– Carry forward conflict of interest disclosure responses from prior year
– Capture ad-hoc disclosures from intuitive employee portal
Maintain visibility and control:
– Maintain records more easily from a centralized database
– Get a 360° view from one secure, organized repository of all conflict disclosures
– Administer flexible questionnaires and conditional responses
Manage and communicate conflict resolution plans:
– Efficiently link management plans to conflict records
– Auto-create conflict management plans using pre-defined, customized clauses
– Electronically send conflict management plans for review and signature
Create a culture of compliance with solutions that enable you to quickly identify gaps, detect problems and respond to risk:
– Unified management system
– Configurable real-time dashboards
– Automated workflows
5. Wolters Kluwer
Wolters Kluwer's CCH Tagetik Disclosure Management streamlines the last mile, discloses accurately and confidently. CCH Tagetik goes beyond basic CPM. By connecting financial and operational data in a unified intelligent platform, the expert solution easily integrates with your technology. The result is faster financial processes, a complete view of your entire organization and the best fit for your needs.
Meet statutory, financial and management disclosure requirements with ease in CCH Tagetik's end-to-end solution. CCH Tagetik, powered by the Analytic Information Hub, takes the human effort — and human error — out of the last mile of finance. Instead, this software automatically populates the latest results into reports, giving you the confidence that your annual filings, board books, and management presentations are up-to-date with the latest numbers.
Whether you're creating financial, statutory, or management disclosures, this end-to-end platform automates all checks and balances, while normalizing and validating data. The result? Your disclosures are accurate, consistent, and compliant with the IFRS or multi-GAAP you're subject to. You'll spend less time verifying disclosures, and more time on value added activities, like analysis.
The reasons why CCH Tagetik Disclosure Management let's you focus on your business:
– Comply with multiple disclosure requirements
Multi-GAAP requirements, EBA reports, IFRS disclosures, integrated reporting: quickly calculate and format disclosures for every regulatory body you need to comply with.
– Automate accuracy
CCH Tagetik normalizes data upon entry and validates data at every turn. Disclosures automatically populate with the latest data, minimizing manual input and guaranteeing consistency.
– Keep everyone on track
Reduce bottlenecks and foster seamless collaboration with a process workflow that funnels your team through each step. For data and process governance, an audit trail tracks who did what, and when.
From close to disclosure, CCH Tagetik cascades data — consolidated according to the standard of your choosing — into any output. Whether you're creating a net new report, rolling one forward, or simply updating a document, this end-to-end solution makes it easy.
– Dynamic reports refresh quickly with updated figures
– Increase confidence with a single source of data
– Microsoft Office integration ties numbers to narrative
– Multiple users can collaborate simultaneously
– Full traceability with audit logs for any change
6. Dow Jones
Dow Jones Data & Risk Management number 6 in our list of the 10 Best Disclosure Management Software, it is a global provider of best-in-class risk data, integrated technology solutions and due diligence services for managing regulatory and reputational risk.
What is Dow Jones Risk & Compliance?
At Dow Jones, the high-quality, well-maintained data is the lifeblood of effective screening engines, and that the right combination of information and technology can deliver an efficient compliance program that doesn't cut corners.
Built on the legacy of the world's most trusted newsrooms, including The Wall Street Journal, the Risk & Compliance division combines the expertise of a multilingual team of 450 researchers and analysts with industry-leading automation and artificial intelligence tools.
Delivers reliable, actionable information and applications that are developed specifically for compliance requirements and workflows related to anti-money laundering and counter-terrorism financing, sanctions, anti-bribery and corruption and international trade compliance.
Risk Management & Compliance Solutions:
– Financial Crime Compliance
Conduct comprehensive due diligence on your customers and connected parties as part of a robust Know Your Customer (KYC) program, with tools for:
– Third-Party Risk Management
erify the integrity of your supply chain and business partners by assessing risks, such as bribery, corruption and dealings with sanctioned parties.
– Sanctions Compliance
Keep pace with sanctions developments and requirements, even as international and national regimes shift rapidly.
– Trade Compliance
Criminals increasingly are using international trade to move illicit funds and goods across jurisdictions and to exchange goods with sanctioned parties.
7. Jambo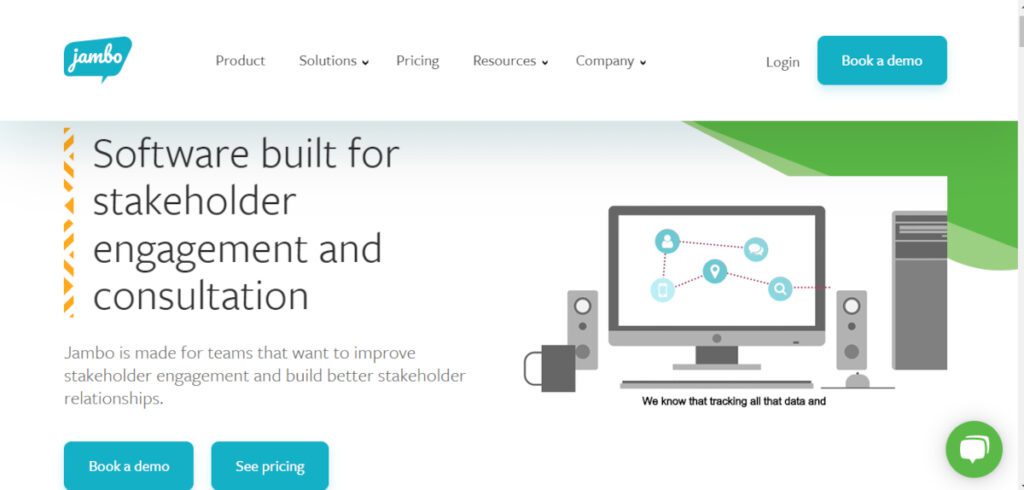 Jambo, a Stakeholder Relationship Management (SRM) software built to help teams improve stakeholder engagement and build better stakeholder relationships. Jambo is made for teams that want to improve stakeholder engagement and build better stakeholder relationships.
For effective stakeholder data management, you need an SRM! A CRM is for managing customers and sales, an SRM (Stakeholder Relationship Management) is for managing stakeholder relationships and engagement activities. Don't let data slip through the cracks. Jambo is a Stakeholder Relationship Management (SRM) platform built to help teams manage all their stakeholder engagement information in one secure location.
Jambo features are:
– Contact profiles
Keep up-to-date contact profiles for all your stakeholders and organizations in one secure location.
– Activity and interaction records
Add records for each activity or interaction with your stakeholders. You can even email a record directly to Jambo to save time.
– Communication campaigns
Build lists of contacts. Export the lists to be used in mass communication campaigns, such as email lists, newsletters, or mailouts.
Stakeholder information that is easy to access and search, you need a secure and reliable stakeholder database:
– Add a contact profile for every stakeholder or organization you are engaging with.
– Every time you add a record of communication, an issue, or a commitment and associate it with a contact, it links to their profile so you can view and understand the full history of engagement with them.
– Always be prepared before a stakeholder meeting!
A stakeholder platform that helps reduce risk, log and track issues and commitments to ensure nothing slips through the cracks.
– You can set different permissions for each user to meet their data requirements.
– These individual user permissions will help ensure everyone (even contractors) can use the platform to meet their specific needs while protecting your sensitive data.
8. Navex
Navex Global Launched disclosure management tool to help you align to disclosure guidance and frameworks like the Value Reporting Foundation, GRI, TCFD, and CDP. Collaborative reporting workflows save you time and unify your view of ESG. Navex Global is the worldwide leader in integrated risk and compliance management software and services that help organizations manage risk, address complex regulatory compliance requirements and foster an ethical, highly productive workplace culture.
NAVEX's GRC software and compliance management solutions support the integrated risk, ESG and compliance management programs at more than 13,000 organizations worldwide.
The ESG disclosure landscape has consisted of a group of guidance issuers with separate yet overlapping goals. The scopes of information have varied. Some standards focus on environmental information alone, while others include social, operational, and governance metrics. Not all standards focus on financially material information. Frameworks exist that provide strategic guidance, however, do not provide specific line-item disclosure topics.
The Navex One platform enables you to create a modern governance, risk, and compliance (GRC) program. One that helps you manage risks across the spectrum of legal, business, sustainability, and employees. NAVEX ESG is a core component of your modern GRC strategy and can be used to help develop a holistic program that mitigates risk and creates value.
Disclose to multiple ESG standards, frameworks, and regulators without starting from scratch:
– Access ESG Standards
Access the latest disclosure guidance from CDP, TCFD, the Value Reporting Foundation's SASB Standards, and more.
– Automate Workflows
You're in control. Simply assign key sections to the desired stakeholder and track project progress from one place.
– Simplify Disclosure
Whether it's an annual ESG Report, a voluntary framework, or an ESG ratings agency, you can confidently provide the right information.
Navex ESG provides the workflows you need to report to multiple stakeholders:
– Quickly respond to assessments from leading ESG standards setters and ratings agencies
– Assign batches of questions based on goals and reporting requirements
– Keep track of assessment completion rate
– Easily export results to support annual reports and disclosures
9. Objective
With Objective Product Disclosure Management, produce accurate disclosure collateral, in half the time. Maintain control, increase process efficiency, protect your IP, and easily produce accurate, on-brand and verified disclosure collateral.
Manage stakeholders and disclosure documents for accuracy and verification, keep your disclosure document management production, review, verification and publication in one central system. Bring siloed departments and subject matter experts together to contribute intellectual property. Efficiently and transparently manage content reviews, approvals and verifications.
Publish your collateral in web and print formats directly from this system. Keep track of every step in the process and mitigate risk by easily producing clear evidence of who authored content, who approved it, what was said, and why.
A single, secure and fully audited system, a centralised system brings process transparency and efficiency to authoring and managing content.
– Bring together multiple siloed departments
Centralise the creation and management of disclosure documents for a 360-degree view of a document in the product role life cycle.
– Manage product rolls faster with 'Collaborative Authoring'
Allow multiple contributors to simultaneously work on a single source of the truth for your disclosure content.
– Remove the nightmare and danger of versioning
Eliminate the time and worry of consolidating multiple individual pieces of feedback. You're always working on the right and latest set of information by keeping all contributors working in one master document.
– Eliminate the need to independently monitor and update common content
Common content can be defined centrally, verified in isolation of a product roll and maintained in the Smart Clause Bank. Changes made are instantly cascaded across all relevant documents.
Governance, risk and compliance management, audit and track of every change and action. Trace decisions back to the individual. Maintain proof of verification in associated content.
Beautiful, multi-channel, on-brand, verified disclosure collateral. Easily produce hundreds of variants of print-ready, downloadable or innovative digital disclosure collateral across multiple brands
10. OneTrust
OneTrust is a unified platform for trust intelligence, using OneTrust Disclosure Management, increase visibility and reduce risk by tracking, managing, and monitoring disclosures on an ongoing basis.
Reduce risk with conflict of interest (COI) disclosure software. Track, manage, and monitor disclosures on an ongoing basis to complete due diligence and protect your organization. This intuitive platform separates disclosure management from traditional case management to empower employees to report potential conflicts of interest.
Build a Successful Conflict of Interest Management Program:
– Consolidate Your Disclosures
COI software for conflicts of interest, gifts, travel, entertainment, and questionnaires.
– Employee Enablement
Provide employees with access to maintain their disclosure status at any time, reducing time spent on follow-up.
– Disclosure Automation
Gain ethics and compliance team efficiency by eliminating the manual process of managing disclosures.
– Proactive Reporting
Gauge real-time disclosure program effectiveness by tracking completion rates, correlation to helpline-reported issues, and more.
Automate Disclosure Workflows:
Leverage smart workflows to simplify the distribution and approval of disclosure questionnaires. Target specific employee groups using integrations with your HR business system, and customize each workflow according to the rules, messages, and reminders that map to your business needs and regulatory requirements. Automatically track completion rates so you only need to step in when action is required.
Prevent Conflicts of Interest:
The best way to mitigate risk is to identify and mitigate the risk before it becomes a real issue. Disclosure Management equips ethics and compliance professionals with a dashboard to visualize disclosure information and analyze potential risks to maintain compliance with laws and regulations, and to ensure alignment with your organization's policies and values.
Maximize Impact with Integrations:
Disclosure Management can integrate with your HR software to deliver rules-based campaigns to the right audience at the right time and compare employee activity with actions. Additionally, you can get a full view of campaigns, training, and policies within the context of your comprehensive compliance program.
Conclusion
Now that you have read about these tools, checked their different features and learned about how they can help organizations. Don't waste time, effort, and money by relying on manual processes to produce external disclosures and internal management reports. Automate instead.