10 Best Field Sales Management Software
Leading field service is a fairly challenging job for most industries. A lot of time is wasted waiting for job assignments , submitting reports manually, and searching for locations.

Using field service management software can help you manage your business by:
Optimizing communication with field staff.
Increasing sales representatives productivity with more meetings.
Improving sales representatives tracking.
Let us help you choose the best tool for your business by introducing our list of the best field sales management softwares :
1.ASSISTIVE :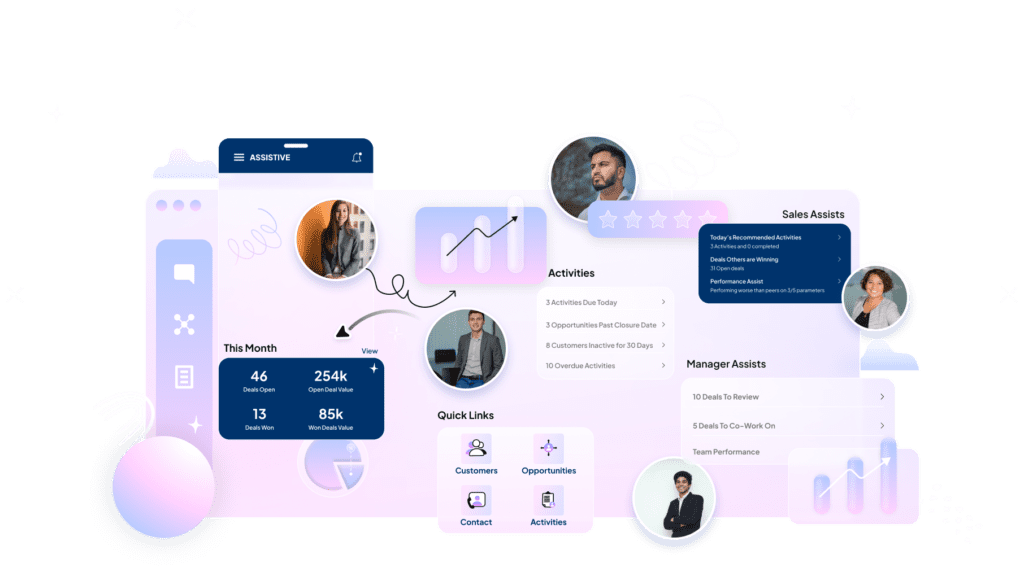 ASSISTIVE is a sales rep software and CRM solution that helps you save time spend on manual tracking and close deal in less time , by providing opportunity , time , location , customer and context sensitive assists , it also helps to optimize team performance by analyzing data such as time spent, travel plans, task plans, and more.
Assistive is infinitely configurable, offering unlimited configuration options to ensure you get the CRM solution that fits your needs, no matter your industry, region and use case
It helps identify possible deals, customer stakeholders as enablers or opponents, product portfolios that are more likely to sell, and more. It puts the most relevant actionable items at the top of reps' daily watchlists so they can focus on doing the right things instead of doing a lot at once.
With Assistive , most customization needs are deliver through configurability rather than code changes. in a short turnaround time, it is scalable, cost-effective and easy to maintain .
2. BADGER MAPS :
BADGER MAPS is the #1 Route Planner for Field Sales that helps you spend less time driving and planning and llet you connect with the right customers at the right time. You can save up to 8 hours per week by mapping your regions and optimizing your sales routes!
Badger Maps Route Planner allows employees to use built-in maps to create routes for estimated arrival times based on pre-determined daily visits , it integrates with the most popular CRMs such as : Salesforce, Microsoft Dynamics, Zoho, Hubspot, Insightly, NetSuite and more, allowing users to view all customers and prospects on one interactive map .Using their simple ROI calculator , salespeople can see the potential increase in sales revenue they will receive.
This sales rep software enables you to :
prioritize your day and focus on your best leads in minutes.
Filter opportunities based on location and your schedule.
Sync all information across devices.
Receive follow-up reminders.
Increase your team's CRM usage by 50%.
Consolidate your client list, map and calendar into one mobile field sales app.
3.SPOTIO :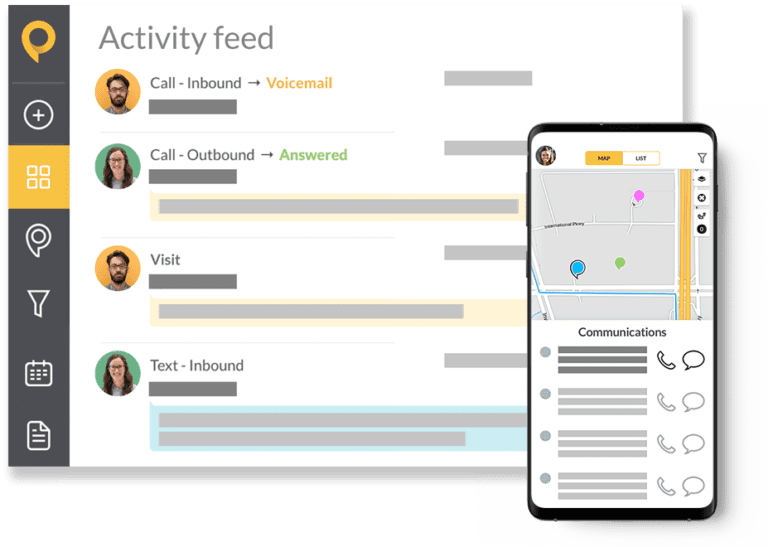 SPOTIO is one of the Best field sales management software designed to increase activity, reduce manual management and automate redundant tasks. it allows you to Integrate with your CRM, ERP and other tools and make more appointments for your reps without extra work.
With SPOTIO's field service software, sales reps can automatically capture sales data as part of their normal workflow, eliminating hours of data entry. Gain real-time visibility, accurate forecasts and improved performance of field service activitiesand track lead visits, phone calls, emails, texts and more notes.

This provides you with the data you need for better field service management by integrating with your CRM as a field service action system for sales reps.
4.MAPMYCUSTOMER :
If you're a small to medium business and you're looking for a tool to simplify your day-to-day business dynamics, MAPMYCUSTOMERS is a great choice.
With customer visualization, you can visualize the areas with the most opportunities on an easy-to-use map, understand your sales, and save 50% of your weekly planning time. This tool has filters and colorization to organize pins by product type you could know.
Plus, when prospects visit, you can optimize routes based on location, transaction volume, and priority.
Map My Clients helps you :
know which prospects to prioritize, choose the clients you want to visit and create optimized routes in seconds.
Automatically capture phone calls and emails anytime, anywhere.
See which companies are unaffected for a certain number of days.
Create groups based on tiers, regions, and more.
Integrate CRM to synchronize collected data.
Make calls, emails and visits throughout the day and let Map My Customers record and track your activity.
5. GEOPOINTE :
Geopointe is a salesforce AppExchange partner and the leading geolocation application, uses geolocation in Salesforce to provide geographic insights to easily manage your area and see more customers and leads while reducing the time to enter data and get reports .
End users, managers, administrators, and developers can use it to:
Plan trips and optimize sales activities to make sales pipelines more efficient, saving cost and time.
Sign in and take meeting minutes.
Fill out the meeting cancellation.
Create a location-targeted campaign.
6. SKYNAMO :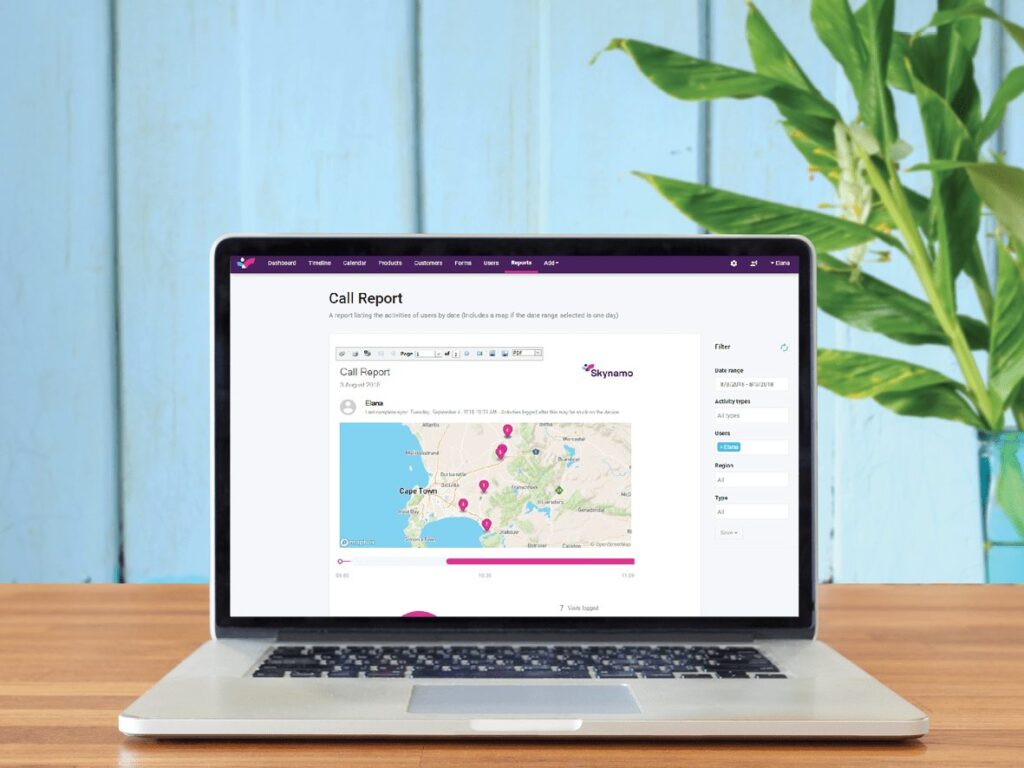 Skynamo is a field sales app with performance tools that allow you to set and analyze weekly goals for better sales.
Skynamo provides you with the following functions :
Automated sales analysis with real-time reporting.
Streamline your field sales CRM and contact management (including ordered products).
Capture and track real-time orders Integrate with your current accounting and ERP software.
7.SALESRABBIT :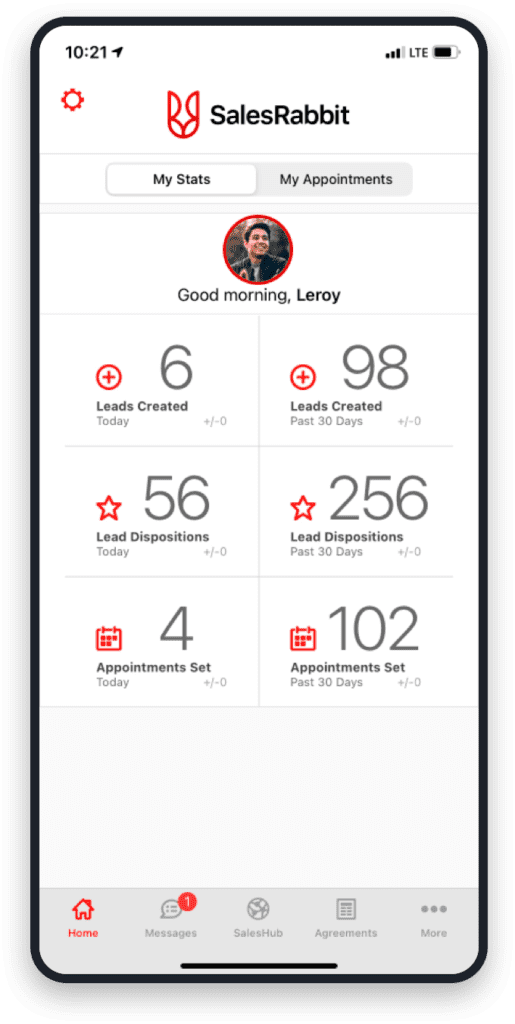 Salesrabbit is the complete SalesForce application. Sales enablement services and mobile CRM built for field teams, including field and door-to-door sales teams.
Their capture app provides solutions for lead tracking, lead management, and all your other field service and D2D needs. Using tools to keep your team organized, focused, and streamlined.
With features like lead and space management, sales rep performance tracking, digital contracts, and lead generation area mapping, you can easily map and assign spaces, track progress, view space history, and map your customers.
Additionally, leaderboards allow management to track their team's stats and organize contests on key performance issues and improving employee engagement.
Industries such as contractor services, HVAC, pest control, pool maintenance, roofing, and more can benefit from these SalesRabbit's features.
8. LEADSQUARED :
If you're a B2C company managing multiple opportunities for a single lead, or a B2B company, LeadSquared enables you to set up your sales process in a way that best suits your business and improve the efficiency of digital sales in your call center and distribution operations.
With LeadSquared, you can:
Reduce turnaround time and enable your reps to connect with prospects faster through the channel of their choice (SMS, WhatsApp, email, phone, self-service, social, etc.).
Automatically capture leads from all your channels, manage them intelligently, and route them to the right teams (and people).
Outline the best sales workflow for your different products and teamsIdentify sales opportunities and notify the right agents to take action.
Integrate with your favorite marketing and sales applications – native connectors, powerful APIs and developer platforms
9. VELOXY :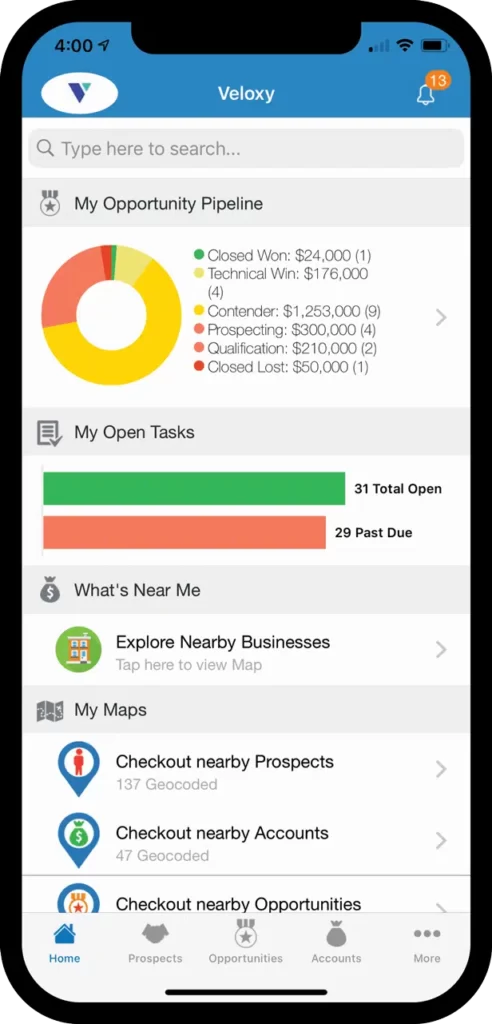 Veloxy one of the Best field sales management software that leverages sales engagement, email marketing, artificial intelligence, sales analytics, Salesforce automation, and more in one sales software.
If you're seeking to :
Maximize, Accelerate Sales Engagement.
Save 60 minutes a day on Salesforce updates.
See what really drives the pipeline.
Veloxy is exactly what you need.
In addition to these features, this tool also provides:
360° view of prospects, contacts and accounts views .
Smart caller ID showing name and occasion
AI smart notifications and remindersAnalysis of emails opened, forwarded and viewed.
Automatic CAN-SPAM compliance and opt-out.
The impact of your sales enablement on your business is multiplied when you use Veloxy's mobile app, inbox plugin and web portal to support field workers.
10. GEOREP :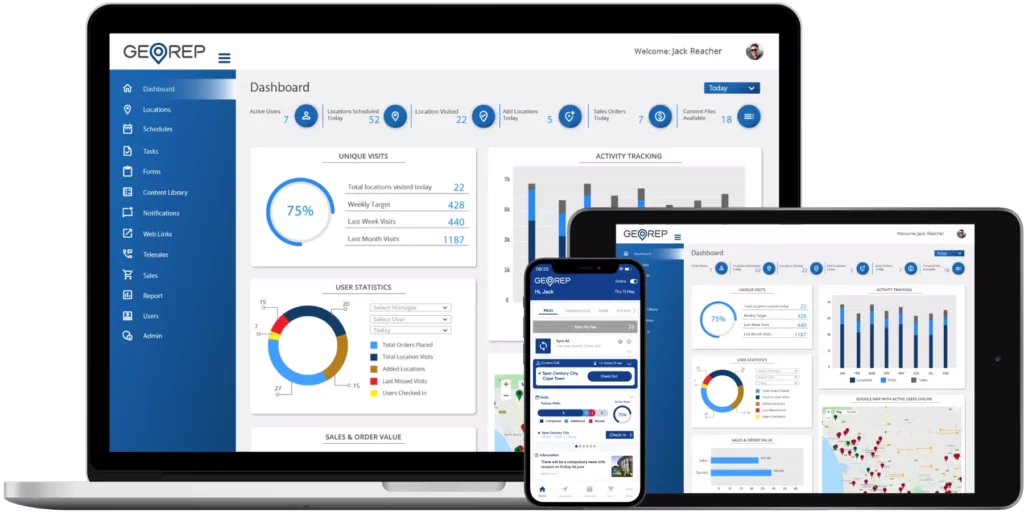 Georep is a field service application solution for multiple industries and any business that has a sales, advertising, merchandising or field service teams and sells products or services.
Geo Rep provides field reps with clear planning, simplified direction, tasks, key insights, simple management methods and improved sales processes.
The software has many functional features such as:
Real-time GPS tracking, route maps, and automatic scheduling , enabling field workers to plan, navigate and complete their tasks in a short period of time.
Customer history, location history, purchase history, previously asked questions, individual pain points, updated product listings and their inventory levels, enabling you to better serve your customers.
Call cycle calendars , allowing field sales reps to schedule their hours , days and weeks in advance.
Management portal for creating and managing forms and contracts, sending instant notifications and messages, updating, managing and viewing products, prices, sales orders and quotes.
Content library that provides field salespeople with simple and updated catalogs, documents, product listings, pricing and inventory information.
It also comes with other features like : Activity Dashboard, Action Items, Customer Geo Mapping, Geofencing , CRM,Editable Call Schedules, Push Notifications, Comments,Asset Management, Consignment Stock and more.
11. REPSLY :
Repsly is a retail execution solution for centralizing branded sales, quickly identifying out-of-stocks, discovering new prospects nearby. and simplifying scheduling, route planning, data collection and order entry.
Repsly helps your field service team:
View automated sales reports based on retailer point-of-sale data.
Compare performance by region.
Capture point-of-sale trends from primary national accounts.
View sales sheets, forecasts and other sales documents.
Scan barcodes to easily enter orders on the go.
Conclusion :
For field service teams to perform at their best, strong field service management is required and for this, I'd recommend Badger Maps. As it is definitely the leading high performance software in field service, it also gives you an overview of all your clients and prospects and helps you plan your route quickly and easily. Besides, it complements new leads by showing them on a filtered map. Because of this, sellers using Badger Maps drive 20% less and sell 22% more.
What are you waiting for ? you can start your 7-day free trial now !