10 Best Drug Testing Software
workplace drug testing has become an important safety concern to employers. In a recent survey performed by the American Management Association, 80% of companies reported they test for substance abuse by employees and applicants. It is not only important that companies have their applicants tested for drugs, but it is necessary company wide testing programs are managed in a consistent and compliant manner.

For a streamlined end-to-end process, drug testing software is commonly used with two other pieces of software – Applicant tracking systems (ATS) and Background check software. The integrated process will give the HR department one single point to login into an online portal where they can access the background information of the applicant and the drug test results simultaneously. Therefore, there is seamless access and use of data between different processes, driving efficiency in the recruitment process.
Professional drug testing software could do :
Test candidates or employees for drug use.
Real-time status-tracking of tests.
Secure storage and privacy protection of all results.
Generate reports specific to the company and candidates.
What are the Best Drug Testing Software?
Below our pick of the best tools and software to test candidates or employees for drug use.
1. AccuSourceHR
AccuSourceHR focuses on providing high-quality services, utilizing the latest technology and automation in employment screening to create safe workplace environments for both clients and the communities. The company specializes in background checks, drug testing, employment and income verification services, global checks, fingerprinting and vendor checks, helping clients.
Our high-tech resources are enhanced with the personal attention of our talented, experienced, U.S.-based staff. Our team members exhibit four core values. We are "All In", "Solution-Driven", "Customer-Obsessed" and ultimately, "Accountable – Do what we say". Through these actions, we deliver better solutions, improved efficiency and prompt results to our clients. Further, our organization's commitment to partnership enables us to provide a unique experience for both clients and their applicants.
AccuSourceHR provides exceptional value, as well as the key resources necessary to create safe workplace environments for both clients and the communities we serve.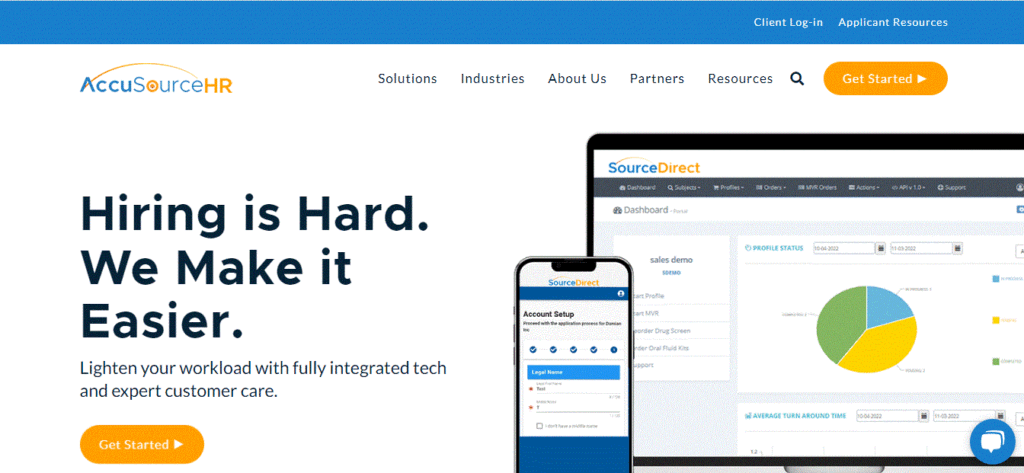 2. GoodHire
GoodHire provides background screening services that help employers build teams based on mutual trust, safety, and fairness. GoodHire's advanced technology platform makes background checks instant and easy, integrates with leading HR tools for a seamless hiring workflow, and provides an award-winning candidate experience. A leader in complianceexpertise, GoodHire is the only provider in the industry with built-in adverse action workflows for compliance with 180+ state and local ban-the-box laws.
GoodHire's survey also shows workers are serious about their dedication to DE&I, and value diversity over salary. 54% of respondents said they would consider taking a pay cut to ensure a more diverse and inclusive workplace, and 66% of respondents in leadership positions said the same.
"This show of goodwill by survey respondents tracks with what we witnessed early in the pandemic when many workers said they'd rather take a pay cut than see fellow employees lose their jobs. It's inspiring to know employees and leaders care about DE&I efforts more than one might have expected," said Max Wesman, Chief Operating Officer at GoodHire. "I'm hopeful this report will give organizations incentive to continue investing, or start investing, in DE&I programs that support hiring for a more diverse and inclusive workforce.
GoodHire is owned and operated by Silicon Valley-based Inflection, a leader in trust and safety solutions since 2006.
3. Hireology
Hireology's recruitment CRM empowers multi-location, decentralized enterprises and independently owned businesses to build their best teams with confidence. The company equips HR and business leaders with the skills and technology needed to manage the full employee lifecycle – from hire to retire – in one seamless platform. With focused expertise across several industries – including retail automotive, healthcare, hospitality, and professional and consumer services – more than 7,500 businesses today trust Hireology to help build great teams, lift customer service, and drive profitability.
seconde definition: Founded in 2010, Hireology is a hiring and HR platform that empowers decentralized businesses to attract and retain talent. As a company, we believe in our product, but our people are what make our business truly powerful. We're a tight-knit company, bonded through our commitment to helping organizations build teams they're proud of.
Ranked on multiple best places to work in Chicago lists including the 2023 BuiltInChicago rankings, Hireology has grown from a startup to a market-leading organization. We've created an award-winning culture that makes this company an amazing place to work.
Plus, our benefits empower you to love your work and enjoy your life. We offer perks like unlimited PTO, a remote-friendly work policy, competitive pay and healthcare benefits, and career growth opportunities across all departments.
Company Description:
Hireology is an all-in-one recruiting, hiring, and employee management platform that empowers decentralized businesses to build their best teams. The company equips HR and business leaders with the support and tools needed to manage the full employee lifecycle — from pre- to post-hire — in one seamless platform
With focused expertise across several industries – including automotive, hospitality, healthcare, and professional services – more than 10,000 businesses today trust Hireology to build their best teams and put people first.
Our growth and success in the HR tech space has been substantial. Hireology's employee referral platform helps our customers get more ROI out of their employee referral programs, and our Text-to-Apply feature allows applicants to apply to jobs seamlessly from their phone. We were also named #8 out of the top 50 HR Products from G2's Best of Software 2023 Awards.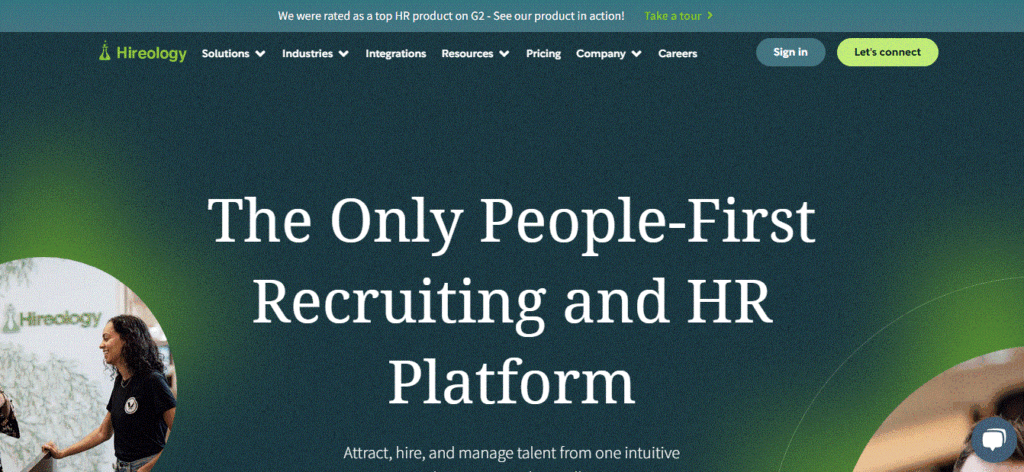 4. i3screen
i3screen offers the most innovative technology available today for CRAs and TPAs to provide drug and alcohol testing program management, random selection and occupational health screening services. At the core, i3screen provides its partners with outstanding service from its full service team of Medical Review Officers and support personnel to laboratory and provider management services. i3screen is integrated with most major CRA software platform vendors and with many proprietary systems as well. A partnership with i3screen provides a turn-key, white-labeled back office solution, making it easy to offer the occupational health screening services that your customers demand.
Features:
Scale On-Demand & Grow Faster:
Expanded Access: To the largest network of laboratories, clinics, & occupational health providers.
Own Your Customers: With custom features and white-label branding.
Unlimited Network Connections: To the providers you want.
Automated MRO Workflow: Enabling end-to-end screening solutions
5. intellicorp
IntelliCorp is a background check software created to help Human Resources (HR) professionals. They offer comprehensive candidate profiles including criminal, credit, and medical background checks, with a 99.9% profile accuracy record.
It is an accredited background screening provider with the Professional Background Screening Association (PBSA), offering comprehensive and legally compliant screening products and services which allow our clients to make informed decisions.
1- 25 years industry experience
2- In-house service team staffed with FCRA certified professionals
3- Focus on legal compliance and technical innovation
4- Extensive education and training program focused on maximizing value for clients
5- 12-time winner of HRO Today's Baker's Dozen Award recognizing excellence in the background screening industry.
6- Earned "Editor's Choice" Distinction by PCMag.com
Pricing:
IntelliCorp's pricing is not available on their website.
Review:
Pros: Information provided is always accurate and reliable.
Cons: Pricing options can be expensive.
Bottomline: IntelliCorp provides a detailed candidate profile with a history of high accuracy, along with an interface that is easy to navigate.
6. Victig
VICTIG Background Checks is the most innovative and widely integrated pre-employment background check, drug testing, verification and i9 provider in the industry. VICTIG excels in ease of use, FCRA compliance and quick turnaround times. We are the best option to screen your potential applicants. VICTIG is accredited by the Professional Background Screening Association.
Key Services Include:
-Nationwide Criminal Database
-Sex Offenders Registry Search
-County Criminal Searches
-State Criminal Searches
-Nationwide Federal Criminal Searches
-Employment Verifications
-Education Verifications
-Reference Verifications
-Drug Testing -FACIS level 3
-Applicant Tracking System Integration
-Credit Reports -E-Verify
-Federal Civil Searches
-County Civil Searches
-HRIS Integration
-ATS Integration and more…. We integrate with iCIMS, Workday, Greenhouse, Taleo, UltiPro, and many more Applicant Tracking Systems. Contact VICTIG today to find out if we integrate with your ATS!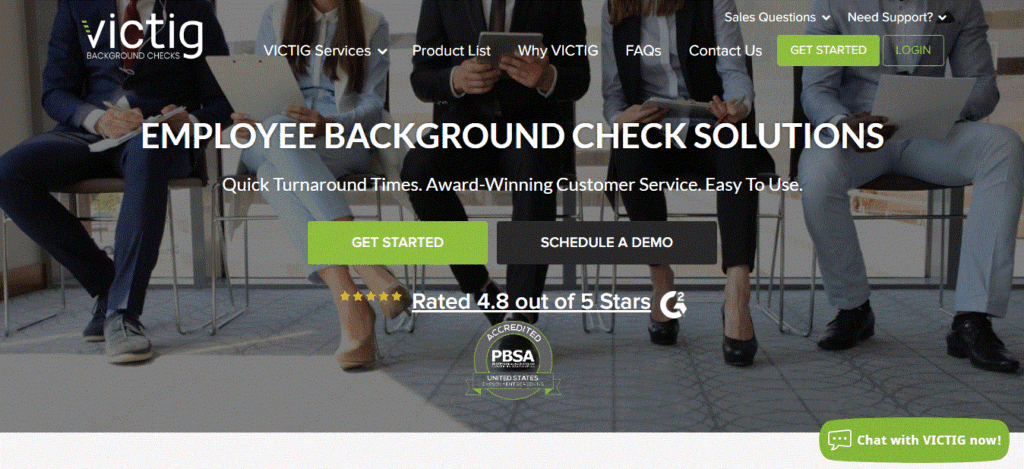 7. HIRE RIGHT
HireRight delivers global background checks, drug testing, and employment verification services through an innovative platform. We want all of our clients to grow successfully and efficiently – no matter their size or location.
We do this by offering a comprehensive screening solution that can be tailored to the unique needs of any organization, giving enterprises peace of mind about their people and processes. Our platform is easy to use and can be integrated with existing HR systems.
It's essential to hire honest people, but why else are pre-employment background checks necessary? Let's explore the advantages:
Verify the candidate is qualified – Some people, unfortunately, embellish their work history or education when job searching. You could end up hiring someone unqualified if you fail to check their background.
Perform a character check – Even if someone only slightly exaggerates their experience, it's a sign of dishonesty. Ensure your company only hires moral people by verifying an applicant's resume is 100% accurate.
Keep your workplace safe – The importance of protecting your employees, customers, and company goes without saying. Background checks save you from hiring dangerous individuals.
Reduce your company's liability – Your company can decrease insurance costs and avoid needless lawsuits by only hiring people who clear your pre-employment screenings.
Avoid bad hires – Hiring the wrong person is costly and frustrating. Making the small effort to conduct a background check before you hire someone could prevent major problems from occurring later.
HireRight has U.S. offices in Irvine, Calif., Tulsa, Okla., Nashville, Tenn., Chapin, S.C., and Dallas, Texas, and international offices in Australia, Canada, Estonia, , India, Japan, Mexico, the Philippines, Poland, Singapore, the UAE, and the UK.
8. checkr
Checkr is a background check company that enables firms to make easier hiring decisions. They offer an AI-powered service that makes background checks on potential employees faster, more accurate, and lower risk. To date, the company has raised over $160 million in funding, and has been used by thousands of companies to perform background checks on over 42 million potential employees.
Checkr has been able to able to take advantage of the digitization of individual and regulatory information to make background checks more efficient. By automating the processing of digital records, Checkr has created a highly scalable business, which can help lower the cost of verification on the gig economy.
Background checks have two main purposes:
To validate information provided by a candidate through the interview process.
To safeguard the company from people who might be potentially dangerous to others.
Automated Processing of Digital Records
Checkr attempts to streamline the process by pulling as much information as it can automatically and feeding it into a machine learning system. Documents gathered in-person by contractors are likewise fed into its system. Checkr also allows for more fine-tuned information about candidates – for example, the technology can discern the type and severity of a criminal charge. The result is a system the founders say can summarize disparate documents and identify convictions more quickly than any human.
9. NATIONAL DRUG SCREENING
National Drug Screening offers MRO services combined with a software platform which manages all of your occupational testing programs from test scheduling to test completion. system features include:
-Your web based reporting system branded with your company logo
-All results and reports branded with your company logo
-Fast turnaround – our clients say we are the fastest in the industry
-Automated e-mail notifications of difficulty in contacting donors
-Automated reporting via fax, e-mail and web
-Integrations with Quest, LabCorp, Alere, Medtox and CRL
-Manage billing functionality for all of your occupational health testing services
-Electronic Scheduling of non-DOT tests with electronic CCF (eCCF)
-Extensive network of electronically capable collection sites (over 3500)
-Real time status updates of all
-Testing available to you and your customers
-Scanned CCF attached to all result records
-Electronic point of collection testing – E- POCT
-Qualified third party translator service for interviews with non-English speaking donors
-Automated random drug testing consortium management
10. Sterling
Sterling (NASDAQ: STER) — a leading provider of background and identity services — offers background and identity verification to help over 50,000 clients create people-first cultures built on a foundation of trust and safety. Sterling's tech-enabled services help organizations across all industries establish great environments for their workers, partners, and customers. With operations around the world, Sterling conducted more than 110 million searches in the twelve months ending December 31, 2022.
Mission: Sterling provides the foundation of trust and safety our clients need to create great environments for their most essential resource, people. We believe everyone has the right to feel safe.
Conclusion
Drug testing software assist businesses in streamlining the drug testing process for new hires. Drug testing software allows employers to automate processes for alcohol and drug testing programs. Their solutions include drug testing data management, tracking results, and being compliant with regulatory requirements.
This value added service is extended to clients and allows Employers Choice Screening the ability to offer personalized, comprehensive drug screening programs including specimen collection, laboratory coordination, medical review and reporting of substance abuse testing results.