10 Best Label Printing & Design Software
Designing and maintaining a product label can be a daunting task. Label design should be professional and attractive while delivering all the information required for purchase.

To create an effective label, factors such as readability, typographic pairing, alignment, and colour grading must be considered. With so much to think about, the label-designing process can be expensive, time-consuming, and frustrating.
Therefore, businesses and individual users often seek label printing software to simplify and automate the label design process. But with more than 25 label printing software on the market, it can be hard to decide which label design and print software are the best.
What is the best Best Label Printing & Design Software?
To help you decide, we've compiled a list of the five best label printing software programs .Each of these programs offers a unique set of key features and benefits, so be sure to read through all of them before making your final decision.
1.Canva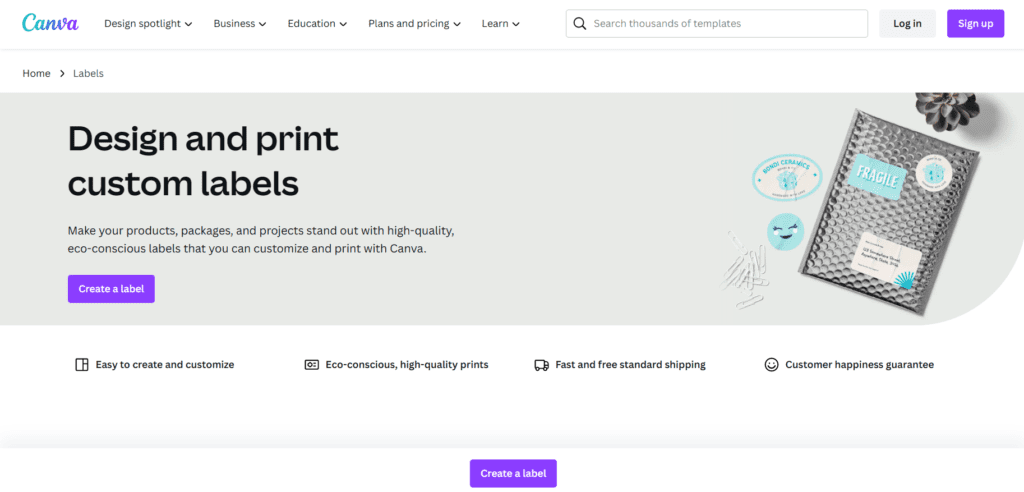 Canva is the Best Label Printing & Design Software, it is a web-based online design platform. Canvas requires a web browser and an active Internet connection. It also has mobile apps for both Android and iOS devices.
Canva is a toolbox for all your design needs. It is beloved by designers for its simple drag-and-drop interface. With a library of ready-made templates, shapes, images, stickers, and fonts, you can quickly create professional-looking labels – even if you've never designed anything.
However, keep in mind that Canva does not have a barcode generator or editor tool.
2.Microsoft word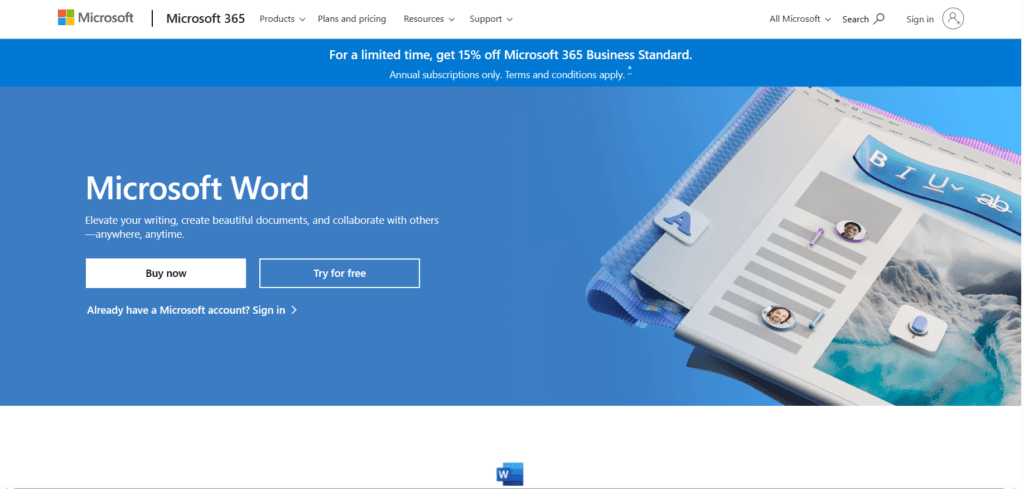 Microsoft Word allows users to create, edit, save and share documents using its cloud-based word processing software. In addition to being able to create new documents, Microsoft Word allows users to also open existing files and change them as needed; this makes it easy for multiple users within a business or educational institution to make changes and save them through the cloud.
Microsoft Word is a powerful word processing software that enables users to create professional documents. The application has a friendly user interface and a number of integrated features, such as text editing, spell checker and grammar checker, which help ensure higher quality documents. The application also comes with sharing capabilities that allow users to collaborate with others on the same document.
3.AVERY
Avery Design and Print Number 03 in Our Best Label Printing & Design Software List, it allows you to create logos, business cards, barcodes and other elements for advertisement.
This best label printing software offers many templates, fonts and images that you can use when creating your designs. With it, you can import files from your computer or cloud storage.
Besides, it boasts spell-check and barcode generator functions.
However, there are still some disadvantages of this software. It's suitable for Windows only, so if you are a Linux or macOS user, this option won't be suitable for you.
Another disadvantage is that you can print your labels only with Avery printers.
4.Loftware
Loftware NiceLabel is a desktop label printing software. It has a Microsoft Word-like interface which makes it easy to use. Unfortunately, it is available only for Windows.
With NiceLabel, you can design labels with barcodes, RFID tags, and variable data. In addition to built-in printing features, this label program includes document management and web-printing functions for the entire label creation process. These features are beneficial for printing businesses and e-commerce businesses.
Loftware NiceLabel is equipped with new and updated printer drivers. This makes the software compatible with all major brands of printers, including Zebra, Honeywell, datamax, and TSC.
5.endicia
Endicia is a shipping solution that helps businesses of all sizes streamline the processes related to order fulfillment including label printing, address validation, delivery and more. It allows users to choose suitable pricing based on business shipping rules and customer preferences. Endicia enables businesses to automatically generate USPS- compliant labels and documentation for domestic or international orders. The built-in address cleansing functionality allows users to check and validate customer addresses, reducing the number of undeliverable parcels.
it lets managers and leaders monitor operations across multiple workstations and warehouses on a centralized platform. Additionally, users can schedule carrier pickups and provide customers with an estimated delivery time based on chosen services. Endicia comes with an application programming interface (API), which lets businesses integrate it with several third-party applications. It is available on monthly subscription and support is extended via phone, email and other online measures.
6.Labeljoy
LabelJoy is an on-premise or cloud-based label printing software that allows businesses to generate, design, and print QR codes and over 21 types of barcodes. With the built-in label generator, LabelJoy allows users to easily create custom barcode/QR codes for product labels, price tags, or shipping labels. The full WYSIWYG interface provides controls to edit and customize paper and label elements, with over 6,500 pre-loaded layouts available.
7.Label Flow
Label Flow is a software that allows users to create, customize and print labels. It offers an intuitive platform that offers an effective step-by-step guided setup wizard. The software pulls data from any data source and/or executes barcode label printing directly from any existing software or web application. Label Flow offers the following features: – Print using a variety of standard label formats – Print labels with 1D and 2D barcodes – Pull information from any existing database or system – Print barcode labels directly from any existing applications
8.Label LIVE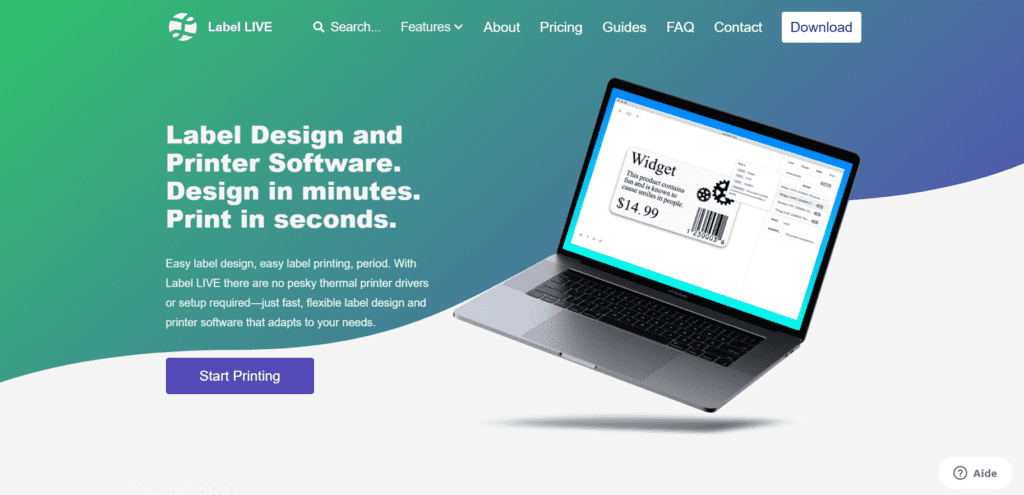 Label LIVE is an easy-to-use label printer app available for Mac and Windows. It is designed to help users save time and money when printing labels on a DYMO, Brother, ROLLO, Zebra, or other thermal label printers. The app download is simple and users can create a label design in 30 seconds – just set up the label size, add some text and images, and click print. For labels with barcodes, users can simply select a barcode type and enter the value.
To transfer individual label data from spreadsheets, users can import the file and add the fields to the design. Support for Label LIVE is provided via email and video tutorials.
9.Sortly
Sortly Pro is a cloud-based inventory management solution that caters to small and midsize businesses across various industries. Key features include activity tracking, location tracking, inventory management, barcoding and audit trails. Sortly Pro enables users to add notes or tags to items, which helps them to search and track items by quantity, price or product information. Users can highlight photos to pinpoint a specific object and back up their data and resources. The solution also allows users to print customizable QR labels for items and scan UPC, ISBN and EAN barcodes to search for specific items.
Additionally, users can send reminders for loaned items, return dates or warranty expirations and import CSV files. Mobile applications for iOS and Android devices are available. Services are offered on a monthly subscription basis that includes support via phone and email.
10.BarTender
BarTender software by Seagull Scientific transforms data into the labels, barcodes, documents and RFID that drive business. Hundreds of thousands of companies in supply chain, manufacturing, chemicals, healthcare, food and beverage, aerospace, pharmaceuticals, logistics and other industries trust BarTender with the labeling and marking processes that keep their businesses running.
With corporate headquarters and software development in Bellevue, Washington, USA, and branch offices in Madrid, Taipei and Tokyo, BarTender is available in more than 150 countries through a global network of local partners.
Conclusion
There you have it, 10 of the Best Label Printing & Design Software available today. All of these software have their unique features and benefits that make them stand out from the rest.
There are many factors to consider when choosing the right label printing software for your business needs. But by considering factors such as features, ease of use, and price, you can narrow down your options to find the best label printing program for your specific needs
We hope this list has helped you narrow your choices and find the best label printing software for your business needs.