10 Best Pricing Optimization Software
Can you say with confidence that you have the most effective pricing strategies?

The best balance of that human touch and automation?
The insights you need into competitor prices?
What is the Best Pricing Optimization Software?
If not, level up your price execution with a suite that can analyze and help to reprice from the list that follows.
1. Prisync
Prisync is one of the best pricing optimization software, the simplest way to increase your profit, by competitor price tracking & monitoring software of unlimited competitors and automate pricing. Using Prisync you will see your rivals in one UI, the competitor price tracking software gathers every competitor product price and stock availability information specified into a single and easy to use dashboard.
Companies from SMBs to Fortune 500 brands rely on Prisync's price and stock availability data to derive detailed analysis and execute their A-game without any hesitations or concerns. It extracts data with the highest accuracy by using a combination of both automated and manual assessments to pass on to the clients at no extra cost.
The following are all the features Prisync offers:
– Core Features:
Distributed Technology: That adapts to changing circumstances and is designed to help you better manage your prices, profits, and competitive edge.
Effortless Service: It deals with the servers, crawlers, websites, and all the other technical things that cause headaches so you can sit back and relax.
Transparent Trial: It has a 14-day free trial so you can decide if Prisync is beneficial for your business. No credit cards or contracts asked during your trial.
Undetectable Bots: Your competitors wouldn't be able to know that you're spying on them because the bots of this platform are kinda like the movie from Bladerunner.
Unrivaled Support: A proactive and friendly support team and always strive to provide the best service even to non-customers.
Affordable Plans: Price plans are structured to meet your needs for your business and they start with a week worth of coffee money.
– Data Features:
Batch Data Importing.
Product Variant Price Tracking.
Bulk Data Management.
Stock Availability Monitoring.
Worldwide Site/Currency Coverage.
Marketplace Data Tracking.
Unlimited Competitor Tracking.
– Analysis Features:
Advanced Filtering.
Price History.
Category/Brand Performance Analytics.
Price Positioning Comparison.
Frequent Price Updates.
Price/Stock Availability Analytics.
– Reporting & Notification Features:
Daily Email Reporting
Daily Price Change Notifications
Instant Price Change Notifications
Excel Reporting
2. Price2Spy
Price2Spy is an online price monitoring, pricing analytics, and repricing tool, designed by eCommerce professionals for eCommerce professionals.
A highly-specialized online tool based on 4 main mechanisms (price comparison, price change alerts, pricing analytics, and repricing), it provides essential aid, both in everyday pricing operations (an email alert each time it detects a price or availability change) and in strategic decision-making.
Working in such a competitive market, there's a need to listen to the clients and their ideas, it's what helps to build a better pricing tool software.
Price2spy has a set of different features, that are:
Price monitoring: for retailers and brands.
Marketplace price monitoring: as a comprehensive price monitoring tool, Price2Spy can monitor prices on various online marketplaces and price comparison websites from any number of sellers in any language or currency and check prices up to 8 times per day.
Pricing strategy and dynamic repricing: the Repricing module helps you define your own pricing strategies, which can be segmented either per product category, brand, or supplier (or for all the products in your Price2Spy account). This module will help you make the right repricing decisions, and keep track of decisions you've made in the past.
Pricing dashboard: The pricing dashboard is a screen where you can easily create your own pricing reports. In other words you can see what's been happening on the market lately.
Integration with Pricing API or eCommerce platforms: Price2Spy allows you to access all pricing data on your account via the Application Programming Interface (API).
Automatch: In addition to manual product matching, Price2Spy introduces a brand new automated way of product matching. The idea is to automate what's been a manual task so far. Even more than that Automatch is a continual process, even if the product is not matched initially, Automatch will keep trying and when the product gets added to a competitor's site, Automatch will pick it up, and add it to your Price2Spy account. Price2Spy will, in turn, take care of price monitoring.
Site crawl and data extraction: Do you need a detailed overview of your competitor's assortment? Price2Spy is a price crawler that can extract all products data from your competitor's site in one go, along with full pricing and product description, category, and brand information.
Minimum Advertised Price (MAP monitoring): You will get notified whenever a policy violation occurs. You will have evidence of MAP policy violations. You will have complete control over your brand's value.
Product matching: three product matching solutions are offered. Automatch, manual matching and hybrid matching.
Data import: it is a feature that will allow you to upload (import) data from an external source.
Capturing screenshots.
Product variations.
Capturing custom details.
Customizability.
User management.
3. Pros control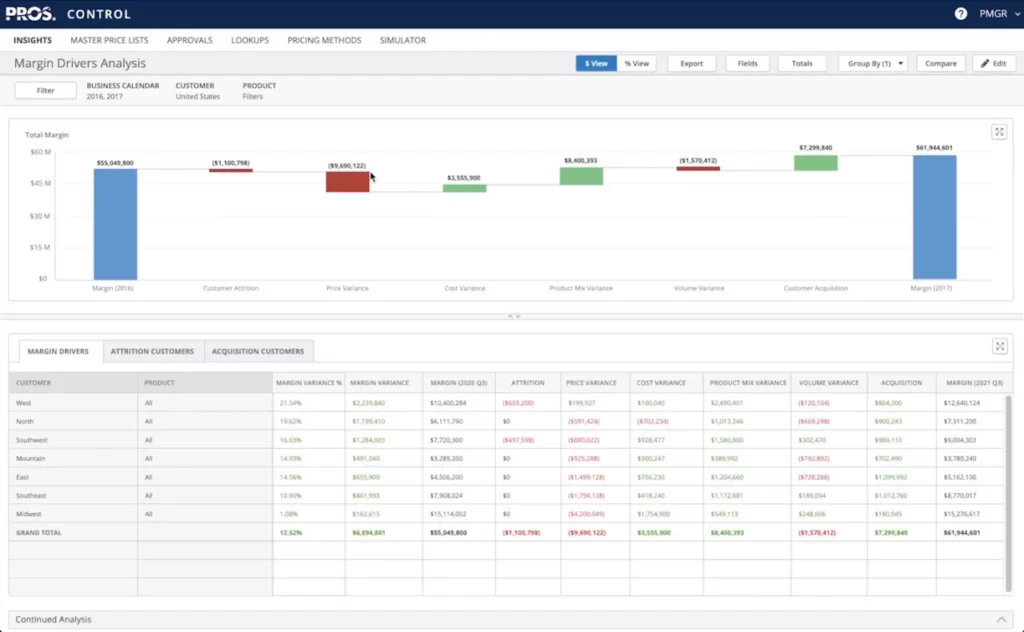 With Pros deliver instant, personalized prices, tailored for every unique buying and selling interaction and coordinated with all your go-to-market channels, discover how to improve key aspects of your pricing practices.
To meet buyers' needs and solve even the most complex business challenges, PROS allows pricing leaders to set AI-powered algorithmic price strategies, harmonized across all sales channels and optimized to evolving business needs, market conditions and customer expectations.
To eliminate over-discounting, inconsistencies, and high variability in your prices, PROS empowers you with:
Comprehensive pricing logic.
Flexible business rules.
The latest cutting-edge AI for price optimization.
For negotiated selling PROS ensures price recommendations consider customers' willingness-to-pay, empowering sales teams to provide faster quotes with the right prices. For eCommerce, you are equipped to drive personalized digital buying experiences with real-time pricing capabilities that continually adjust prices to market shifts and competitor actions.
Pros Platform administrators are able to view and better understand overall product usage, trends, and adoption levels and view key metrics across the Platform including:
Usage Metrics: View trends and key usage metrics at-a-glance. For instance, you can see usage of the PROS Pricing Evaluation API including the number of evaluations per day, per calendar month, peak traffic per minute, batch size, and guidance calls each evaluation makes.
Platform User Actions: Gain insights into the actions users take on key objects within the system to understand system status and make any corrective actions if needed.
Record Utilization: Quickly view current record utilization and key trends to better understand system impact.
4. Omniaretail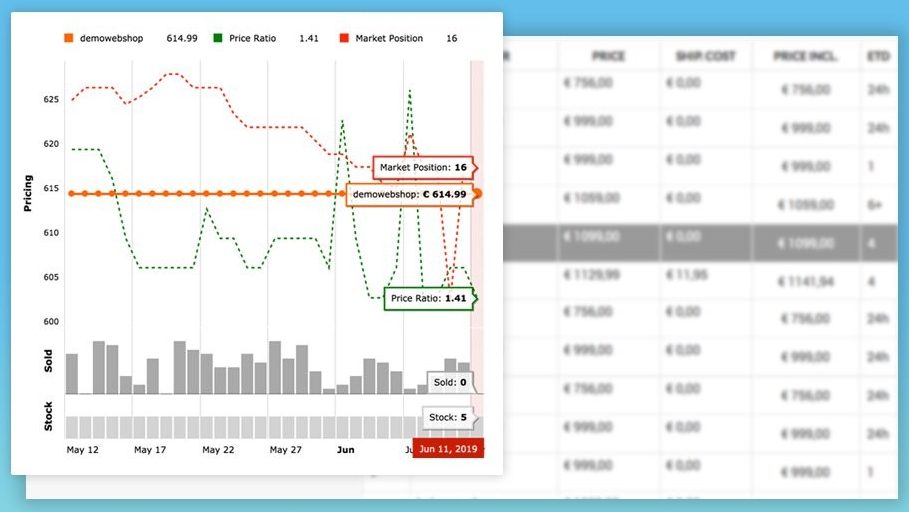 Omniaretail lets you set smarter strategies with dynamic pricing, automate any pricing strategy efficiently and at scale, no matter the strategy complexity or assortment size.
Implement any pricing rule you can imagine and give power to your pricing team with a flexible rule system, experiment with new strategies on a product or category level, stay flexible and agile with quick response times.
With dynamic pricing software for retailers, keep your prices consistent with your strategy and market levels with Dynamic Pricing:
Create any strategy you can imagine with a flexible rule system.
Optimize your strategy for margin growth.
Save 10-15 hours per week, per employee.
Use price elasticity data to make better pricing decisions.
Ditch the multiple contracts with separate pricing data providers, Omniaretail the retail price optimization software takes care of data collection for you. Omnia's Dynamic Pricing software is the only all-in-one solution on the market that automates the entire pricing process from start to finish. This saves your team members 2-3 hours per day and means they can focus on what matters most: growing your business.
Avoid costly pricing mistakes that may damage your relationships with retailers, support a direct-to-consumer strategy that lets you gather more information about your target audience. Control your brand's price perception across all digital channels.
How it works:
Omnia's team helps you translate your commercial strategy into pricing rules for every product.
Omnia gathers market data on all of your competitors.
Omnia uses your commercial strategy and the competitor pricing data to calculate fresh prices for every product.
Omnia updates your prices for you automatically.
5. Quoter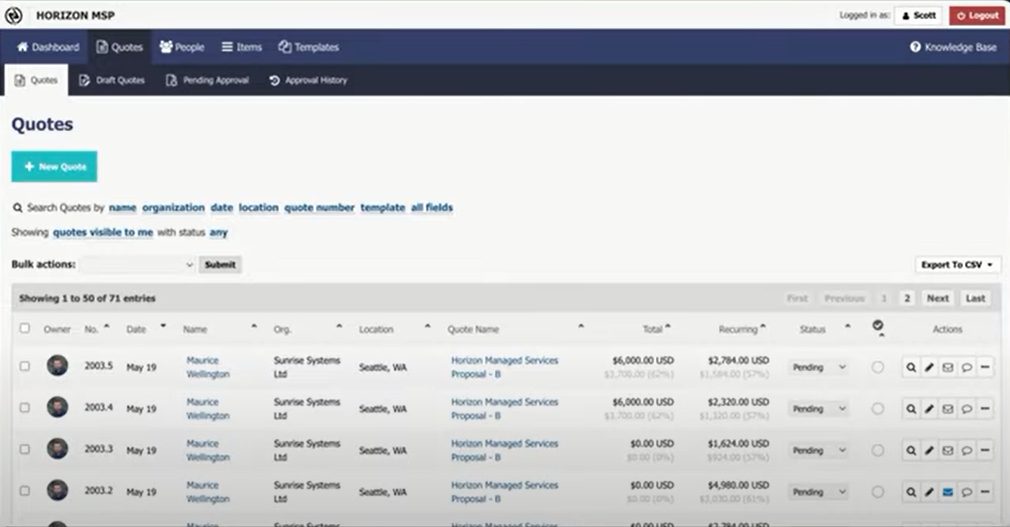 Quoter is one of the Best pricing optimization software, is a purpose-built cloud-based quoting tool that will allow you to empower your team, eliminate bottlenecks, and supercharge revenues.
Built to work with your current tech stack, in different categories like: PSA, Distributor, CRM, Accounting & Invoicing, Email Marketing, Billing & Other, Payment Gateways.
Features:
Bundles: simplify the quote by combining products or services into a bundle.
Product Configurator: create configurable products and services to automate the pricing calculation.
Product Cloud (Etilize): +20m Product Catalogue to integrate with your distributor(s) for real-time pricing and inventory.
Payment Processing: integrate your current merchant account and collect a deposit or payment in full at the time a quote is accepted.
Discounts: issue and manage internal discount codes for sales, campaigns or negotiation.
Cost & Margin Tracking: keep an eye on the important sales metrics without having to access the books.
Reporting & Analytics: know your closing rate, identify top performing users, products and services.
Thinking of Quoter as the Sales Ops role in your business, small-medium sized businesses may or may not have someone dedicated to sales, let alone a sales ops position. This creates gaps in the organization where the people on the team are not fully aware of how they could be doing their job more effectively.
6. Pricefx
Pricefx is one of the leading pricing software provider. Price optimization software & management (PO&M) and CPQ tools deliver actionable insights to drive success.
Manage all of your pricing in one place. Analyze, set prices, and enable your team to win larger deals, all with the help of AI. With the Plan, Price, and Profit packages you will be able to adapt to dynamic market changes quickly and easily.
The Plan Package will let you gain an accurate overview of your pricing and identify optimal margins and pricing opportunities. Analyze your business data at lightning speed and get actionable pricing insights in minutes.
It is a great fit for:
Gaining valuable sales insights to determine better or worse performing products, customers or regions and making informed decisions on the necessary next steps.
Leveraging powerful customer data that lets you map your price setting for optimal gains.
Identifying opportunities for profitability.
Accessing advanced analytics easily via segmented and categorized dashboards and user-friendly visualization tools.
Utilizing your existing customer, product or transaction data via an upload or seamless integration with third-party systems.
The plan Price will organize your price lists into segments, create unlimited price calculations and simulations to quickly test and define your pricing policies based on various critical factors that are essential to your business.
This plan is great fit for:
Leveraging powerful AI to signal opportunities for price optimization, incl. simulation of impact of price changes on customer and competition behavior.
Simulating, calculating and defining your pricing policies based on any number of business factors to maximize profitability.
Organizing your price lists to enable simple and fast price recalculation across customer segments, product groups or regions.
Dynamic price lists (Live Price Grids) enabling automated price recalculation based on defined triggers.
Managing customer specific agreements or wider promotions and discounts at any level of complexity.
The plan Profit will provide your sales teams with unmatched response times to sales inquiries and quote creations using fast and error-free quote configurator (CPQ), and AI-powered pricing simulations and calculations.
Profit plan is great fit for:
Achieving unmatched response times to sales inquiries based on automated deal and negotiation processes.
Giving your sales force optimal price guidance for any customer/product combination.
Identifying underperforming products, customers, quotes, etc., with granular root cause analysis tools.
Creating, calculating, tracking and executing discounts and rebates, all from one place.
Using a ship & debit claims management tool to guarantee long-term savings and customer satisfaction.
Linking customer value drivers to pricing decision-making based on willingness-to-pay.
7. TgnData
With TgnData's price monitoring solution, you get a comprehensive overview of the competition and the market in no time. By constantly monitoring the prices, promotions, and stock availability of your competitors, you can quickly adjust your prices. You can always keep an eye on your competitors' ratings and their relevance. In all the countries that are relevant to your business. At whatever interval you choose. Several times a day or even every 90′.
What makes TgnData different & premium is:
Automated Matching: All products are matched automatically and are checked by a quality assurance team that consists of experienced data analysts.
SLA Guaranteed: All services are performance guaranteed via SLA on 3 KPIs: Quality (quality of matching), Quantity (data coverage of the monitored products), Update time.
Unlimited Competitors: The users have true access to unlimited competitors worldwide without extra cost on their license.
Real-time data: All data is being updated dynamically within 90 minutes 24/7/365 irrelevant of the number of products. This means that at any time of the day you have access to fresh data.
Ready to connect: tgndata's data can be connected and imported into any pricing system, ERP or BI tool.
Simple billing: Unlimited Competitors, URLs, users. That way you know the costs beforehand which gives you full control over your budget and if a scale-up is required it's very easy to perform without calculating multiple variables.
8. Wiser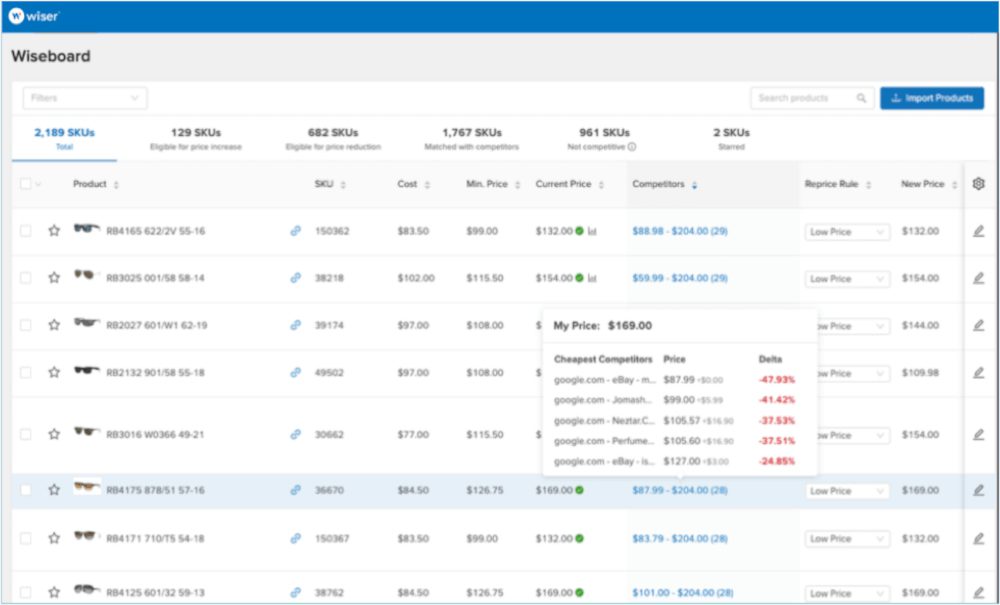 Wiser is a price intelligence and optimization software that boosts profit margins and allows online retailers to price with confidence. And that's how it works :
Import your catalog(s): first, import your product catalogs into the Price Optimization platform. Once there, these SKUs will form the foundation of your rules and let you start layering new strategies, repricing rules, price bounds, and more.
Start building: next, you can start creating new pricing strategies within the platform. Follow the simple steps to choose your SKUs, configure repricing rules, select price bounds, and set up a schedule.
Activate your strategies: finally, you can activate your pricing strategies immediately or schedule them for later. Changes can be updated directly across marketplaces or you can take the price recommendations and update manually.
Price Optimization can execute automated price changes based on a variety of inputs for the online marketplaces where your products are sold.
The repricing engine integrates with marketplaces so you can automatically reprice hundreds to millions of SKUs. The automated platform reduces the risk of missing competitive price changes and losing margins. You can set different rules for different products and segment products based on the strategy you want to use.
Price Optimization includes the prioritization functionality, a feature that enables you to order pricing strategies based on your predetermined criteria.
Price Optimization includes a live preview and simulation features, showing the potential impact of a pricing strategy on the SKUs.
Price Optimization comes with an inspector feature, showing you a step-by-step understanding of how Wiser recommends a new price based on previous strategies, prioritization rules, and price bounds.
9. Competera
Competera is an industry-agnostic solution suitable for online, offline, omnichannel, mono or multi brand retailers. That helps them to get optimal prices for each product across all selling channels by using a unique combination of pricing tools.
Technologies like Competera allow pricing managers to quickly test different scenarios, monitor results and determine the most optimal ratios for a specific group of goods, keeping an exceptional clarity of the process. It, in turn, saves time and makes calculations more accurate.
Rounding rules is a feature on the Competera Pricing Platform that empowers price management and makes it seamless. With this function, pricing experts can manipulate prices and customize them in line with their own pricing strategy. The system allows to set up a specific price range and apply a relative rounding tactic.
Users can also opt from three parameters before setting their price. They include rounding type(higher, lower, or mathematical), factor, and difference. What is more, the platform enables retailers to trim prices. It means that a user selects end digits, e.g. 3,5,7, etc, and the system offers the best options.
Get your pricing strategy wrong and you may create problems that your business may never be able to overcome. With the solutions Competera provides, you receive data-powered suggestions to prognose results and enhance your pricing strategy.
Competera has different solutions that perfectly fit any business needs:
Price crawling: As market is becoming increasingly dynamic, businesses require ever-fresh competitive data to set optimal market-oriented prices. Use advanced price crawler software to make sure your pricing decisions rely on high-quality and relevant data.
Price tracking: Competitor price monitoring enables you to get full 360* market view and enhance your competitiveness. Competera platform helps to stay ahead of the competition with smart scrapping based on real competitors and true KVIs' identification. Up to three times faster price monitoring and automated pricing rules fueled with high-quality data.
Pricing analytics: Learn how competitive pricing analysis software helps brick&mortar and online retailers to analyze market situation and correct their pricing strategies.
Price scraping: Staying ahead of the rivals as well as increasing market share requires the business to use only relevant data of the highest quality. That's why advanced price scraping software is crucial for retailers willing to engage with customer base and increase revenue.
Product matching: it is the process that identifies products, their attributes, prices, and other features across different resources using deep learning technologies. One of the most important aspects of competitive data is product matches. Matches are made when attributes of a product (e.g. picture, product title, product description) are compared to products that other retailers sell.
Assortment intelligence: Effective assortment analysis and essential data in a form of handy & customizable reports.
Promotions management: Minimize inefficient promo and save margin with smart promo management. Sustain a healthy promo ROI with easy-to-use promo calendars, data-driven insights, and promo scenario testing powered by Competera.
Pricing methods: Pricing method is an approach used by the business to set and maintain prices for goods or services. Depending on a factor or combination of factors considered while calculating prices, diverse pricing methods are distinguished. The examples of such factors include the competition, demand patterns, pricing rules, product type, etc.
Proactive pricing: To stay competitive in retail, find how advanced pricing software can help you to keep one step ahead of competitors with dynamic real-time repricing, true competitors and KVIs identification and customizable alerting system
Omnichannel pricing: Set the right prices for each item across all channels. Setting the right price is key for growing businesses that want to survive in today's constantly changing, technology-filled world. Prices are always fluctuating due to the behavior of shoppers and information gained, so you need to be able to stay on top of changes in order to keep a competitive price on the market.
10. PriceEdge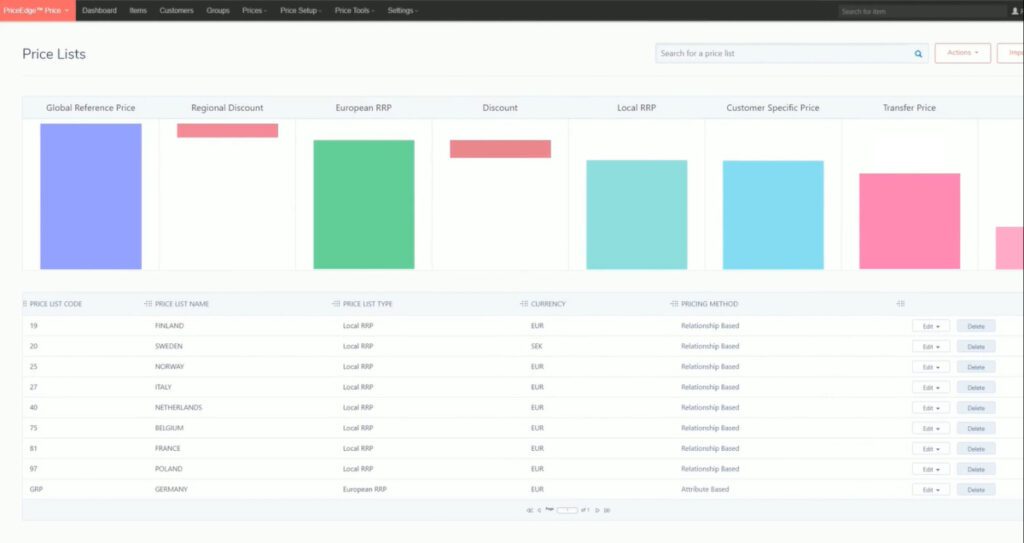 PriceEdge, a fast and flexible cloud based software to create, manage & rearrange any pricing strategy. Price optimization, track competitors and price management. It helps to manage thousands of prices on dozens of price lists.
The PriceEdge PO&M platform puts all the pricing activates in one place from competitor price tracking, to AI-driven price optimizations, to price management, to price analytics. Each Module is powerful alone, but better together.
PriceEdge Price
Price management software that enables you to create any price logic you need and is built to make pricing as smooth and easy as possible.
Out-of-the box solutions for advanced pricing. Manage all price lists by building your own pricing strategy. Easy and powerful.
Attribute based pricing to find the right value.
Market based pricing to stay competitive.
Dynamic rounding rules, minimum margin rules and more.
PriceEdge Analyse
Price analytics software that helps you simulate the effect of implementing new prices and equips you with a set of standard pricing reports.
The unique PriceEdge™ Index report helps you find price improvement opportunities, measure price effectiveness and provides a clear overview of the pricing impact over time.
Follow-up price changes and price impact.
Full drill down for quick actions.
Advanced filtering for getting the right picture.
PriceEdge Optimize
Proprietary AI-engine that helps you automatically optimize your e-commerce pricing by simply embedding a script on your web store.
A proprietary AI-engine that helps you automatically analyze your e-commerce pricing by simply embedding a script on your web store. Our AI-engine estimates the optimal price by analyzing and understanding the purchase behavior around each product in combination with competitors' pricing.
PriceEdge Collect
Price crawling software that allows you to easily deploy and scale price crawlers on demand enabling competitor price collection and tracking.
Track competitor prices and get a full overview of your competitor pricing landscape enabling better pricing strategies.
Select portfolio and websites to monitor.
Track competitor prices over time.
Let our algorithm automatically match products.
Conclusion
Pricing software saves time and if used correctly, can make manual inputs and the time used to extract sales and transactional or customer data from spreadsheets obsolete, as data records are updated in real time.
Use the power of the technology to deliver optimal pricing recommendations based on the historical sales records and give the sales team more time to do what they do best: sell!