10 Best Outbound Call Tracking Software
Outbound call tracking software is a crucial component of any outbound marketing campaign. It records the number of contacts made and the amount of time spent on each call. It also records the number of inbound calls and provides detailed analytics about the success rate of your campaign.The benefits of outbound call tracking are numerous. You can track which phone numbers are most effective and which campaigns are most successful at generating leads. You can also measure how long it takes for a lead to convert into a customer, how many leads were generated by each campaign, and more. In this article we choose the best call tracking softwares that can help you with your business

What is the Best Outbound Call Tracking Software?
1.Gong
Gong is one of the best software for call tracking that you can use to improve your revenues thanks to its powerful Ai system that helps your team to spend less time on their phones dealing with calls which makes them more productive for your company. This platform is trusted by hundreds of big companies that have accomplished great results in their business, for example, Linkedin, Twilio, Shopify and Zillow.
Using Artificial intelligence, gong filters and saves the most important customer interactions with your team on phone calls, messages and even video calls, those pieces of information will be analyzed after that to give you insights about the top questions being asked, the most important key topics being discussed and at the same time gives you notifications and warnings about the status of the deals that can help your team to be better and focus more on what's really working for your business.
2.Chorus by zoominfo

Chorus is a leading call tracker software powered by Zoominfo which is a company that has been in the business of information and data collection for 25 years. It was founded in 1993 by Michael Kagan, who had previously founded InfoUSA, a company that provides contact information on over 400 million businesses and individuals. Zoominfo's database contains over 4 billion records, which gives the company an edge in providing accurate and up-to-date information to its customers. Chorus, by gathering and studying all the data from customers' calls and messages, provides sales teams with detailed insights giving them a clear view of what's happening in their business and the weaknesses that they should work on to make better results. The platform offers also a good forecasting system that allows you to keep your eye on everything just from your CRM.
3. Mindtickle
Mindtickle is one of the most powerful platforms that offers call tracking.It is used by lot of huge companies as Wipro, Splunk and Square.Its sales readiness platform helps your team upgrade and really get to know the best sell behaviors and keep them aware of all the new changes in the business by using its conversation intelligence system that records calls and messages and analyzes that data to extract important informations and provide guidance to the workers. In addition the platform offers other multiple tools that will help you improve your revenues as:
Sales contente management .
Analytics and dashboards .
Sales readiness index.
Individulized sales coaching .
4. Salesken
Salesken is a company that produces AI-powered sales assistant software. They are aimed at helping sales people to be more productive and increase their sales.Its AI assistant has a number of modules which include: Database, Search, Email, Chatbot, CRM and Dashboard. All these modules are designed to help the user with their daily tasks in the workplace.The platform also allows for integration with other apps such as Google Drive, Dropbox and OneDrive for easy storage of documents and files.Using its Ai based system ,Salesken studies phone calls and messages to tell you exactly what went wrong during the call and gives you solid predictions and insights about your revenus .
5. Salesforce sales enablement
Salesforce Sales Enablement is a cloud-based software that provides sales teams with the tools they need to close more deals. It enables them to collaborate, manage leads, and track their progress. Based on its artificial intelligence system, Salesforce offers its users plenty of powerful tools that allow your team to give the best of the best such as insights and analytics and conversation inelegance according to the data gathered while tracking customers calls. In addition, the platform helps the managers to boost their coaching skills and get the best out of their works team by putting light on what need to be fixed based on detailed analytics.
6. Seismic
Seismic is one of the leaders of outbound call tracking software that gives sales teams everything they need to hone their skills and improve the results they make. By offering the right set of skills and tools allowing its users to learn, practice, and get high-quality coaching using AI data analyzing systems and intelligent conversation. In addition, you can integrate the platform with all the apps that help you with your job like email tools, CRM, content authoring, and others. Seismic is trusted by hundreds of startups and companies around the world for its power in engaging customers and growing revenue.
7. Ambition
Ambition is a great platform for tracking mobile that you can use for your business.A lot of famous and successful companies such as Outreach, Xactly and Pendo rely on Ambition for their revenue growth and upgrading their teams productivity .Thanks to its customizable metric-based coaching programs, this platform pushes sales teams performance out of their limits.In addition, using its Ai system, it helps to put the light on what really matters and show the sale leaders the most important topics that they should discuss with their teams in order to grow their business. Furthermore, Ambition uses all the data captured from call recordings and video call meetings to give useful insights and analytics and send notifications to the managers.
8. People.ai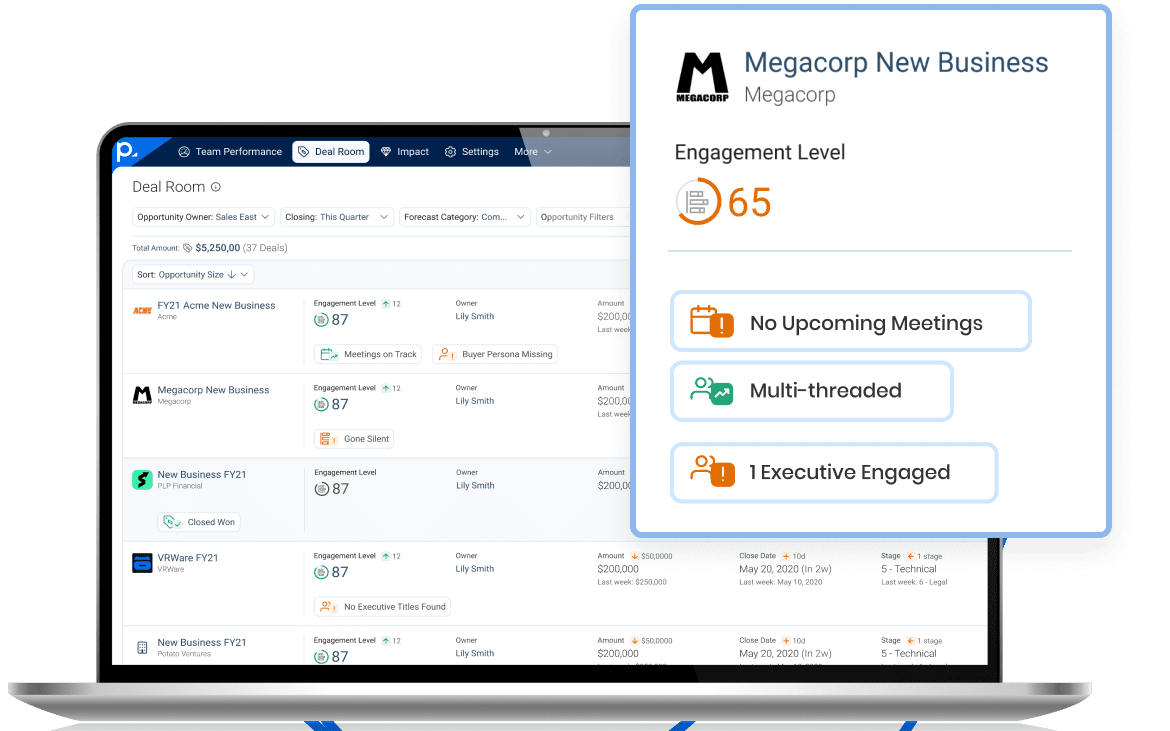 People.ai is an online platform that uses artificial inteligence to make it easy for sale leaders to get better results and grow their gains . By capturing and analyzing phone calls informations and email messages data , the platform provides insights and show the real indicators of troubles and weaknesses , which helps the team focus more on the thing that need to be fixed in order to have more successful business . It also helps organizing your dashbord by showing the status of every deal and priotirize the unfinished ones . Because of its high quality service , People.ai is used by the bigest companies in the world such as Zoom , PandaDoc , Okta and others.
9. Jiminny
Jiminny is a great alternative for sales leaders or any other revenue-generating teams. Thanks to its conversation intelligence system, this platform helps your team members learn exactly what they need to give the best performance. In addition, this call tracking software analyzes every single detail of your customers' calls, emails, and voice messages to send you real-time risk alerts and notifications about the deal status and allows the leaders to give online coaching to grow team rep skills and confidence. Furthermore, this platform offers an automatic login activity to your CRM using its chrome extension making your database up to date and providing more authentic analyzing results and insights.
10. Saleshood
Saleshood is the best solution for new sales teams to grow fast and have great performance. The main purpose of the platform is to boost sale productivity using sales enablement processes and using artificial intelligence to automate all the handwork, coaching, and selling. Saleshood is a sales training company that offers sales training courses, sales coaching, and consulting services. The company was founded in 2008 by two brothers who had the goal of providing better sales training to companies and individuals. They wanted to make it more accessible, affordable, and convenient for people to learn how they can become better at selling their products or services.
Conclusion
Outbound call tracking software is used by many companies to keep track of the number of calls their sales team makes. The software can provide a variety of functions such as tracking the number of calls made, the total time spent on each call, and the total revenue generated from each call and its one of the reasons of success that should be mastered, we hope our list of the Best Outbound Call Tracking Software was helpfull for you.
Click here to Find more Best Software and Programs