10 Best Purchasing Software
Purchasing and procurement problems can be costly. Unregulated purchasing activities cost businesses 10-30 percent of targeted savings. These numbers are the stuff of nightmares so most businesses try to avoid these purchasing problems.

What is the Best Purchasing Software ?
Give your team real-time visibility into budgets and get company spending under control by using procurement and purchasing software. This will give your teams visibility into paid-for items, purchased, approved, and pending spend requests, and how these items will affect the budget. All this using one of the software in this list.
1. Procurify
Procurify is the the best purchasing software your team actually wants to use. Getting started with Procurify won't be a headache and is an intuitive purchasing management software, simple and fast to set up. From the onboarding to product training to support, it focuses on making things easy.
Procurify will help manage your company's spending, giving you the control, and purchasing insights you need. Here are the features you've been missing the most:
– Customizable approvals:
Build and deploy customized approval flows with an intuitive interface and gain full visibility into actual spend, not just forecasted spend. Significantly reduce approval time, prevent purchasing bottlenecks, and trust that funds are efficiently managed.
– Purchasing workflows:
Track and analyze every stage of your purchasing journey. Easily request purchases, notify approvers, build purchase orders, receive items, and reconcile payments within the Procurify Platform.
– Real-time customizable budgets
Information is power. See how much of your budget you've already spent and know exactly what's left before approving the next request.
– Expense management
Say hello to easy reconciliation. Consolidate and manage ad-hoc credit card spend and reimbursable expenses in one platform.
– Physical and virtual spending cards
Streamline your purchasing process with reloadable physical and virtual spending cards. Retain control, tame rogue spend, eliminate the employee reimbursement process, and save more money.
– Vendor and catalog management
Work smarter with your vendors. Conduct vendor performance analysis and manage preferred items in a catalog for easier purchasing.
– And a lot more like: An easy-to-use mobile app, In-platform communication, Flexible user permissions, Recurring spend management, Audit logs, analytics and reporting, Accounting and ERP integrations.
Procurify's procurement system offers a structured way to gain and track approvals for spending. It organizes all your purchasing and spend documents, and enhance the information that's already in your accounting system.
Empower independent purchasing with spending card: Give team members the autonomy to purchase when and how they need, and finance teams the visibility to reconcile accurately and on-time, every time.
Customizable approval flows: There's a better way to manage approvals than email or Excel spreadsheets. Gain complete control of company purchases, and have confidence knowing the right people are approving the right purchases.
Organized purchase order workflows: Upgrade the processes that are letting things slip through the cracks. Streamline core purchasing processes, and confidently pay for the right invoice with 3-way matching.
Enhance existing accounting systems: Elevate your existing financial tools and data. Procurify offers integrations for QuickBooks and NetSuite, and connections to other popular accounting and ERP systems.
Simple and friendly interface: Procurify is software your team will be excited to use. The intuitive and user-friendly interface is simple and fast to set up. Complete the same tasks from the desktop or the popular mobile app.
2. Certify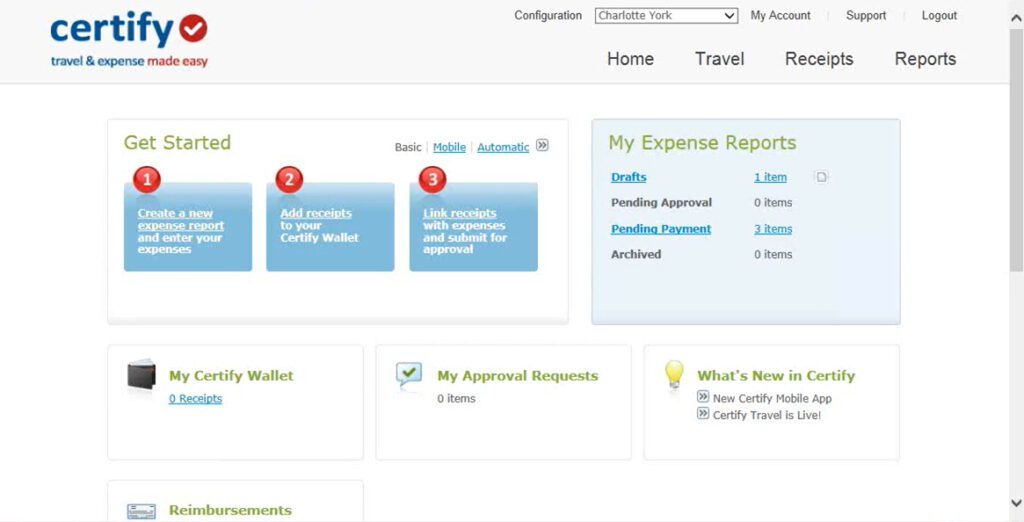 With Certify discover a better way to manage spend, effortlessly intuitive spend management and accounts payable automation. Empower employees with a suite of cutting-edge, fully-integrated spend management software solutions. Automate manual tasks, get deep and immediate visibility, and better control your organization's spend. Save time and money, and free up your finance team to focus on more strategic work.
A powerful software combined with best-in-class service With Certify, you also gain a level of personalized support that is the best in the industry. This helps you maximize user adoption and ROI.
– Seamless implementations
A dedicated implementation expert analyzes your accounting needs to ensure you have the tools, integrations, and configurations to get the most out of Certify.
– Effortless onboarding and training
Enjoy unlimited, no-cost, end-user and accountant training—with weekly training webinars, hundreds of how-to resources, and an engaging blended learning methodology.
– Unsurpassed, always-on support
US-based support experts are available to every user by phone, email, or chat 24/5. A comprehensive support center offers in-depth learning resources.
– Dedicated customer success partner
Your Customer Success Manager acts as your strategic business partner, guiding you through best practices in T&E policies, benchmarking, usage, and reporting.
The business benefits of Certify are clear:
Eliminate tedious and error-prone manual data entry.
Save time and help employees focus on the work that drives your business forward.
Streamline reconciliation and reduce reimbursement times.
Automatically enforce compliance with built-in policy controls.
Gain company-wide visibility into spend.
Built for global commerce with support for 140+ currencies and 64 languages.
3. Teampay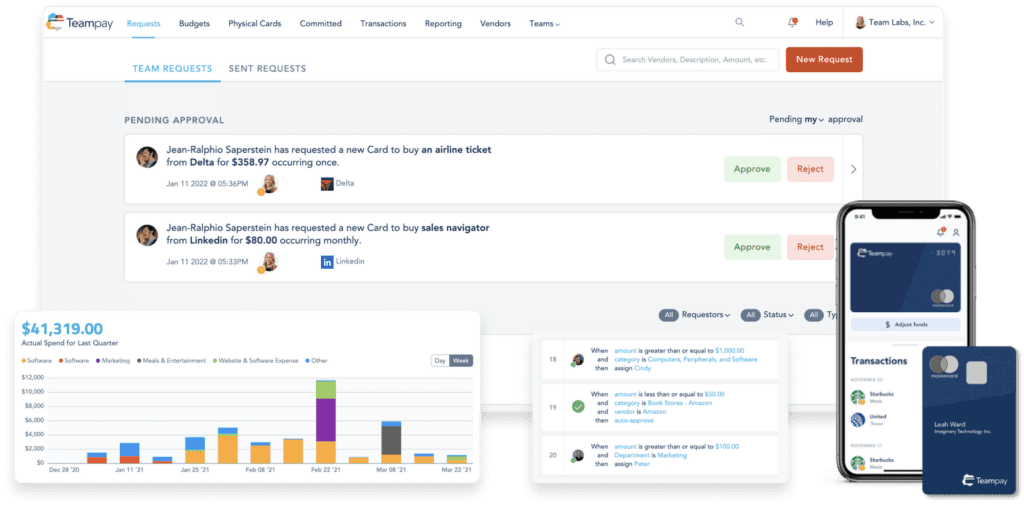 Teampay an all-in-one purchasing, all in policy, the platform that automates your spend without sacrificing control. Manage all spend in one place with speed, control and ease.
– Approve purchases before they happen:
Control your spend and eliminate surprises with automated, policy-enforcing purchase workflows that collect approvals before a single dollar is spent.
– Deliver an effortless employee experience:
It's so intuitive, they actually want to use it. Teampay integrates with your team's chat tools and gets employees what they need, when they need it—promoting easy adoption company-wide.
– Automate your routine work:
Put more of your brain power into driving business decisions. Let the software issue secure payment methods, reconcile purchases, create on-demand reports and handle your repetitive work for you.
– Maximize productivity company-wide:
Centralize all purchasing processes in one place. Minimize confusion and miscommunication. Make spending straightforward and seamless.
– Track your spend in real time:
Drive company impact by making up-to-the-minute analytics accessible to everyone. Deliver transparent, accurate reporting, any day of the month.
The key features of this platform are:
– Spend Management: Optimize spend like never before with software that enforces your policy upfront and enables you to manage everything in one place. Capture all spend in one place with a fast, easy purchasing experience employees actually use
– Purchase Assistant: Teampay's friendly, conversational Purchase Assistant guides users through the purchasing process, collects approvals upfront and keeps teams moving—all through your company's preferred communication tool. Teampay's Purchase Assistant integrates with your company's communication tool, so employees don't have to learn a new behavior to spend compliantly. Connect through Slack, Teams or the Teampay web app.
– AP Automation: Automated invoice processing and purchase order matching, routing for approval and payment, full visibility into POs, bills and payments—it's all powered by Teampay.
– Proactive Spend Approvals: Employees request purchase approval through Slack, Teams or the Teampay web app—so you don't get a DM every time a team member needs to buy something.
– Intelligent Cards: Cards so smart, they enforce rules for you, Teampay ensures every transaction stays in your company's specific policy. Easy-to-set rules ensure purchases are routed through the policy engine before being sent to managers for quick, easy approval. If a payment goes rogue, approvers get an alert to look into it.
– Accounting Automation: Each transaction automatically complies to the rules you set. Customize your workflows to limit spend by department, amount, vendor and more.
-Reporting & Analytics: Teampay automatically records each of your team member's transactions and payments, so you can access the data you need to make smart decisions. From card spend to POs and invoices, all the way to reimbursements, your data is accessible and accurate.
4. Order
Order makes it easy for businesses to automatically place and manage every order in one centralized location. No more complicated workflows, scattered spreadsheets, or uncertainty about your purchasing.
Radically reduce the time & money you spend on purchasing:
– Curate a custom catalog, purchase everything your business needs through Order, instead of ordering through each individual vendor. From big-box stores to industry-specific vendors and online marketplaces to vendors that receive POs via email, they're all in your custom Order catalog.
– Control purchasing through the catalog, ensure purchasing compliance through your catalog, complete with pre-approved products to encourage standardization across locations and eliminate rogue spend.
– Discover savings, save money on your purchases by tapping into Order's $4 billion in buying power. And, Order can strategically source products to discover savings on the same products you're purchasing today.
– Automate your purchasing, speed up your purchasing process and never create another purchase order again. Order automatically sends all approved purchase requests straight to your vendor. And, easily buy your frequently-purchased products based on premade shopping lists and scheduled orders.
– Track your orders, stay up-to-date on your orders across all vendors by tracking their statuses — from approval to fulfillment to delivery — in one location.
Improve operational efficiency, Order's dedicated Support team handles all of your manual purchasing tasks, so you can focus on growing your business.
+ Purchase orders, sent.
Purchase from any vendor through Order's online platform — including vendors that require POs via email or calls. Order contacts those vendors for you.
+ Returns & exchanges, resolved.
Return or exchange items with ease. Order manages all vendor communication, ensuring you get exactly what you need without the back and forth.
+ Order preferences, met.
Avoid unexpected shipping fees, price increases, or lengthy delivery lead times. Order ensures your fulfillment preferences are met every time you check out.
5. FieldGlass
With SAP Fieldglass Services Procurement, managing services doesn't have to be complex or risky if you have the right solution that is built it for you. Manage services procurement with one cloud-based solution that maximizes business value, procurement teams today face many mandates: control costs, streamline processes, mitigate risk, and carry out strategic business objectives.
The SAP Fieldglass Services Procurement solution simplifies how projects with external services providers, from consulting firms to agencies to maintenance crews are initiated, engaged, managed, and completed. With a single, integrated cloud solutions, you can reduce risk and securely track the who, what, where, why, and how of each assignment. Go beyond controlling costs and maximize the business value of every bit of your services spend.
As reliance on the external workforce grows, companies must adjust their external talent management strategies. Explore the many benefits that SAP Fieldglass Services Procurement can bring to your business:
Gain visibility: Track and manage the who, what, where, why, and how of the workers you engage.
Increase efficiency: Tailor templates, fields, and language to your business and eliminate manual work arounds.
Intuitive to use: Remove guesswork with an intuitive interface, AI-enabled chatbot, and Decision Wizard to guide you.
Review with analytics: Base procurement decisions on accurate, detailed performance data.
Strengthen resiliency: Scale services projects up or down to meet market demands.
Enforce compliance: Comply with local tax and labor regulations, meet government mandates, enforce internal policies.
Tighten security: Capture security certifications for highly regulated industries.
Rely on accuracy: Eliminate overcharges, duplicate payments, and fee errors.
What sets SAP Fieldglass apart? With over twenty years of experience and a 99% customer retention rate, SAP Fieldglass has the in-depth experience and insight of an industry leader, scaled for your business. Here are just a few reasons why the SAP Fieldglass VMS is the best choice for your business.
– Future-focused platform
Unlock more value from your external workforce through a future-focused platform.
Be confident in the long-standing industry leader for 20 years in external workforce management.
Active management boosts your ROI and achieves better business outcomes.
With the largest footprint in the industry, operating in more than 190 countries, it helps you manage even the most complex and dynamic external workforce.
– Industry leadership
Its been the industry leader for 20 years running and that's no accident.
Many of this platform "firsts" have become industry standards.
Committed to continual innovation and delivery of cutting-edge capabilities to customers.
A flexible, configurable platform designed to adapt to the ever-changing technical landscape.
– Connected ecosystem
SAP Fieldglass helps you find, engage, manage and pay via a connected ecosystem.
Expand your network of leading digital partners.
The open API framework, pre-built integrations, and strong relationships with Managed Service Providers (MSPs) can get you up and running quickly.
Curate a strong talent supply chain so you have the right skills at the right time at the right price.
6. Procurement Express
Procurementexpress helps CFOs wave their worries away, it's the simple purchase approval system for the small business CFO. Offering accountability with a single, seamless app that makes the team accountable for what they spend and CFOs popular with everyone.
Access powerful, easy-to-use purchase order management tools anytime that gives the best features:
– ADAPTABLE APPROVALS
Reduce the workload on staff with an innovative approval system
Set maximum spends, specify approval chains and more. Authorize specific staff members at predetermined approval levels and ensure that if a PO goes over a set value, it will automatically go to a more senior approver, so the right person is always in control. Every step of the approval chain can be tailored and automated to match your business' hierarchy and boost efficiency.
– FULL CUSTOMIZABILITY
Set unique custom fields to suit the unique demands of your business
Don't be held back by restrictions on PO fields. Create fast, precise POs in accordance with your relationship with individual suppliers. Add drop-down menus, required fields and more to match the context perfectly and produce polished, professional POs every time. Customizing your purchasing process has never been so simple.
– ACCURATE SPENDING ALLOCATION
Split and allocate costs to different locations to match your financial structure
Eliminate the possibility of overspending and save time by allocating specific portions of your POs to different departments or locations. You don't need a head for figures, just choose a percentage and the user-friendly software does the rest.
– INSIGHTFUL PURCHASING REPORTS
Keep track of the finer details of your spending, quickly and easily
Analyze comprehensive breakdowns of your spending via the report creation add-on, as well as in-app reporting. Filter reports to find out exactly what you need to know immediately, regardless of how long and complex your purchasing history might be. Never miss a beat.
– BETTER BUDGETING
Unlimited, detailed, customizable budgets to help you keep track of spending
Easily create periodical budgets for specific departments and projects. Customize them to your business, adapt them, share them and ensure that you stay on top of your outgoings for good.
– SIMPLIFIED SENDING
Streamline the sending process to save time and money
Send approved POs to suppliers, view those that have already been sent, and even get automatic PDF backups sent directly to your email address. Avoid any confusion and simply get the job done.
– MANAGE MULTIPLE COMPANIES.
– POWERFUL INTEGRATIONS.
– MOBILE COMPATIBILITY.
– EVERYTHING IN ONE PLACE.
– RECORD-KEEPING MADE EASY.
7. Ziphq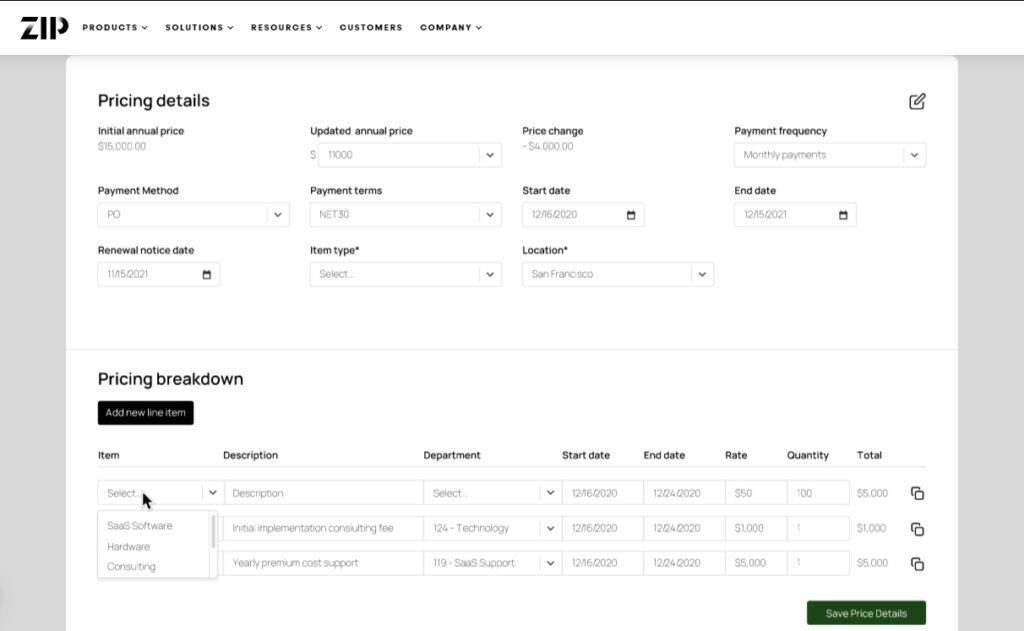 Ziphq is the new concierge for procurement. Increase employee adoption and get spend and risk under control. Buying B2B products or services is much harder than the experience most of us have buying nearly anything as a consumer. At Zip, they're focused on making it easy with the world's leading Intake-to-Procure solution to bring a consumer grade user experience to B2B purchasing.
Enable procurement to focus on strategic sourcing, no need to manually "shepherd" approvals across finance, legal, IT, and other teams. Automate vendor approval workflows and reduce cycle times. Make it incredibly easy for end-users to indicate they'd like to request a significant purchase before they've engaged a vendor, so that you can do what you do best: strategically source.
Reduce redundant vendors as Zip ingests and categorizes your existing vendors and automatically flags vendor overlap, from software to staffing agencies. Cut down on unnecessarily adding new vendors and increase your leverage to negotiate.
Liberate procurement from manually tracking approvals, and spend less time manually tracking approval requests across finance, security, IT, legal, and other teams, and spend less time fielding questions about status from the requester. Grant crisp visibility to all stakeholders.
Automatically create PRs and POs in your ERP or P2P, ensure all the line-level details are correct in Zip (your custom fields are synced). With a few clicks, you can automatically create a PR or PO in your ERP or P2P.
After the PO is approved, Zip syncs back the PO details, including PO number, amount remaining, and other information. Data is synced every 15 minutes.
An intelligent, intuitive front-end to your ERP or P2P: Zip sits on top of your ERP or procure-to-pay system. Zip requires no training for users to initiate or approve requests and automatically creates a PR or PO at the right time. It grants the requester visibility into the open PO amount and PO #, without ever needing a license to your ERP or P2P system.
Reduce redundant vendors: Zip ingests and categorizes your existing vendors and automatically flags vendor overlap, from software to staffing agencies. Save time for internal teams and cut down on unnecessary spending.
One intelligent intake that guides users: The average employee doesn't know your finance, legal, IT, and other policies. Easily configure your intake to guide employees and automatically loop in the correct stakeholders. Zero training needed.
8. E-procurement
E-procurement Eyvo's procurement system can help your company grow. Eyvo's purchasing software system is modular and flexible and can be customized as per your needs, you use only what you need.
Eyvo's eBuyerAssist procurement platform comes structured in a set of both core and optional modules, below is a brief overview of the different modules and their functions.
– Purchase Orders.
– Multiple Approval Levels by cost center, supplier, user etc and individual sign off level hierarchies.
– Dashboard Analytics with moveable widgets.
– Budget Management for 7 different account code structures.
– Internal Item Catalogs by Supplier By Category.
– Punchout Catalog Support.
– Supplier Contract Management.
– Multi-Currency.
– Terms & Conditions Database.
– Support for multiple delivery points.
– Management Reporting.
– Basic Vendor Management (with uploading documents e.g. Tax, Insurance and compliance docs etc).
– User roles, profiles and security.
This purchase order software ensures control and compliance and lets you monitor and verify your purchasing activities.
As you might expect, the Purchase Orders module is the heart of any purchase order software. Surprisingly, many companies simply don't use purchase orders. This is a fundamental error in business practice. The lack of using purchase orders allow opportunities for misunderstandings to take place between buyer and seller.
A correctly formatted and approved purchase order document assures that you are not open to misuse and maverick buying. In other words, purchase orders curtail people picking up the phone to place an unapproved order with a supplier.
Advantages of usingPurchase Orders:
Having a properly constructed purchase order system allows you as the buyer to explicitly state what you wish to buy, at what price, and under what terms.
It may also specify your policies on the acceptance of the goods/services and your policies on rejects and returns. This is crucial information that both parties to the transaction should be aware of prior to entering into the transaction. This eases the payment of the eventual invoice.
A centralized control point not only helps curtail unwanted or unapproved spending but also assists in seeing the overall spend through management reports.
9. Sourceday
Sourceday One of the Best Purchasing Software is the supply chain performance software that bridges the gap between a company's ERP and its supplier network. The relationship between buyers and suppliers is broken. Every quote, purchase order, and invoice is still emailed repeatedly, updated manually, and chased down daily. Your business can suffer from late deliveries and customer dissatisfaction due to the fragmented connection. A supply chain solution can help your business streamline the production process on a single platform.
This SaaS solution creates real-time visibility and accountability between you and your suppliers. It integrates with your ERP system to make sure that pricing, quantity, lead times, and delivery dates are accurate. With automated workflows and accurate information, you can cut your risk and develop a reliable reputation. Use these supply chain solutions to build supplier relationships and improve the supply chain process.
What you can do with this platform is:
– Connect Your ERP to Suppliers:
When orders change, getting that information back to the ERP is often a manual process. SourceDay integrates directly with your ERP, no matter which one you use so that it's always up to date. You can rest assured that you're getting detailed information directly from the source. If you or your supplier need to make any changes to the orders, this platform makes it seamless. This platform will help your business create effortless purchase order collaboration with suppliers.
– Manage All Open Orders in One Place:
SourceDay's innovative platform makes it easy to keep track of open purchase orders. The intuitive dashboard allows buyers to filter orders by status, ask suppliers for updates, and make changes to outstanding orders. It's never too late to communicate with your suppliers about changes to purchase orders. This solutions is a problem-free purchase order collaboration between suppliers and buyers.
– See Line-Level Details:
SourceDay understands that PO changes often involve only one or two line items. That's why the dashboard shows you every line item and allows you to communicate with suppliers on each. With SourceDay, there's no need for complex spreadsheets or multiple emails. You'll have every line of every PO at your fingertips. Your purchase order collaboration will illustrate every minute change through SourceDay's platform.
– Track & Improve Supplier Performance:
Supplier relationships should be partnerships. All too often, miscommunications about PO changes lead to finger-pointing. With SourceDay, supplier scorecards are available to both parties and are updated 24/7.
– Drive Tangible Results:
When supplier performance improves, your supply chain becomes more reliable. That means improvements in other areas of the business are sure to follow. Purchase order data issues can lead to mistakes that slow down your supply chain. This platform prevents those little errors, leading to smoother transactions and improved customer satisfaction.
10. Basware
With Basware you will Automate your procure-to-pay (P2P) process to drive cost savings, boost processing efficiencies, and gain 100% visibility across suppliers and spend.
Procure-to-Pay includes the whole process from point of order to payment, spanning the activities of requisitioning, purchasing, receiving, paying for, and accounting for goods and services. As such, the entire P2P process consists of many individual processes that take place across different parts of the organisation and involve multiple people. This introduces complexity and, at times, confusion.
If the P2P process is manual, it takes more time and effort and opens the door to human error. An automated P2P process, however, can be designed for efficiency, minimises potential errors, increases transparency, and reduces overall costs.
Basware offers a phased approach to support all your automation needs for today, tomorrow, and the future. Once you have the foundation in place to eliminate paper and manual steps from your procure-to-pay (P2P) processes, you can future proof your business operations to gain complete visibility across all flows of money, goods, and services globally that is referred to as Visible Commerce.
– Eliminate Paper and Manual Processes:
No matter how big or small your organisation, if you're still relying on paper-based, manual processes, you're likely facing several challenges high processing costs, lack of visibility, lengthy processing cycles and difficult supplier relations.
This platform will help you drive cost savings and processing efficiencies by eliminating time-consuming and error-prone manual processes from your procure-to-pay operations. With Basware, you can fully automate your procurement and payables processes, capture 100% of your financial data, and achieve the highest levels of visibility across the supply chain.
– Connect to 100% of your Supplier Base:
Not all of your suppliers are the same. And if you are a global organisation with operations in different geographies, the complexities associated with supplier interaction only increase.
– Drive User Adoption to Eliminate Maverick Spending:
The way to ensure compliance with purchasing policies and negotiated contracts is to provide an electronic procurement (e-procurement) solution that enables end-users to quickly find and order exactly what they need.
– Gain Visibility and Control Across your Spend:
Cost containment and spend control are becoming strategic priorities for CFOs and CPOs, while at the same time minimising disruptions to operations. Without complete visibility into your suppliers and spend, balancing these two objectives is almost impossible.
Conclusion
Organizations can't afford to not use technologies such as purchasing software. Technology is key to future-proof an organization's growth and profitability. Technology also gives a big picture of how purchasing and procurement fit into larger organization goals. Purchasing and procurement teams must choose the right procurement software that ensures efficiency and profitability in the long term.