10 Best Accounts Payable (AP) & Spend Analysis Software
Accounts payables (AP) and spend analysis software tracks corporate spend and AP to identify trends, risks, and optimization opportunities. This type of software consolidates information from multiple sources or entities on procurement spending and payables. AP and spend analysis software provides companies with visibility into payables and procurement information such as reconciled external data against internal transaction data, which enables managers to reduce unnecessary spending and recover supplier payments. This software sometimes uses artificial intelligence (AI) technology to identify errors in AP processes such as duplicate payments, anomalies, and fraud, as well as assist in recovering overpayments, duplicate payments, or unused credits from suppliers. This type of software is used by procurement professionals and by AP departments to track and report on supplier and contract compliance.

What is the Best Accounts Payable (AP) & Spend Analysis Software ?
1.PRECORO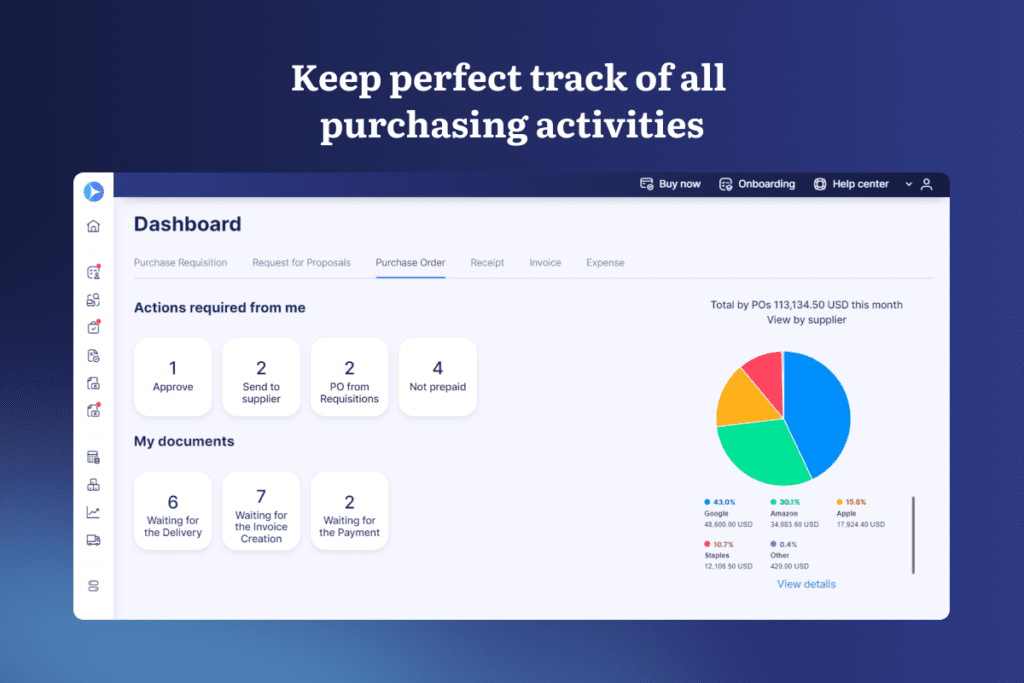 Precoro is a cloud-based solution for procurement process optimization. No more time-consuming manual procedures and human factor errors. Automated operations and centralized purchasing processes only. – Approve documents 2,5x faster from any device using email or Slack notifications. Streamline approval workflow by adding as many steps as you need and assigning specific roles for colleagues.
Connect Precoro with your ERP and other business tools using ready-made integrations (NetSuite, QuickBooks, Xero) or a free API.
Forget about duplicated payments and manual document matching.
– Keep all your data secure with SSO and reliable 2-factor authentication. Precoro's user-friendly interface lets you forget about complex onboarding and long-lasting training. You'll get advisory and support from your CSM anytime you need it. Precoro grants you access to all features and updates regularly.
2. PRM 360™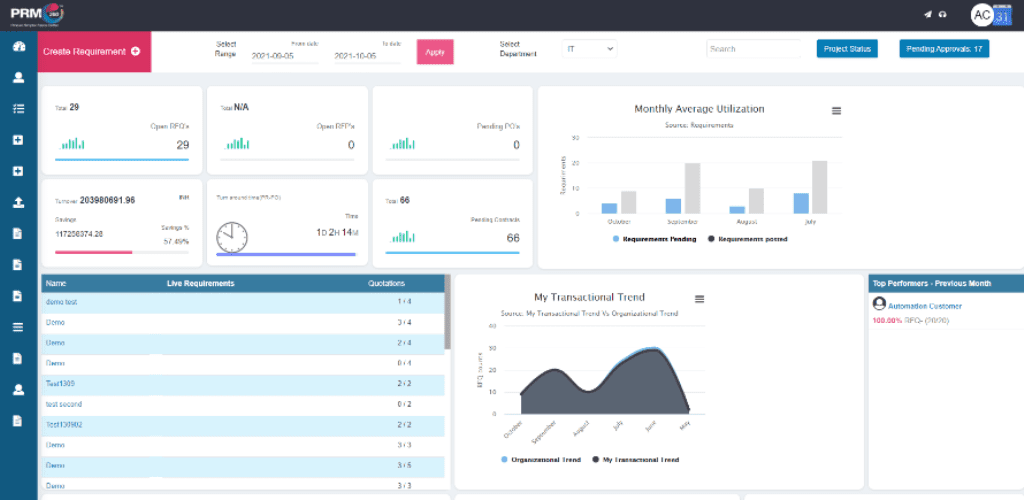 PRM360 one of the Best Accounts Payable (AP) & Spend Analysis Software, it is the smartest solution to your overall Procure-to-Pay requirement incorporating all these individual processes under one umbrella. With Requirements posted Online, Automatic Quotations received from vendors, and their timely Validation by our smart systems make PRM360 one of the best in the business. The Online Bidding process allows purchase officers to select the best offer under the sun saving almost 5-15% time over others. With Automatic Reminders to the vendor for Invoice Submission, and by seeking Online Approvals for Clearances, PRM360 cuts down on any possible delays in the payment schedule drastically. This not only contributes to vendor satisfaction but eliminates any unproductive time spent by the purchase team on follow-ups. Statistics show that PRM360 users are able to seek 300% ROI over other Procure-To-Pay solutions in the market.
3. SAP ariba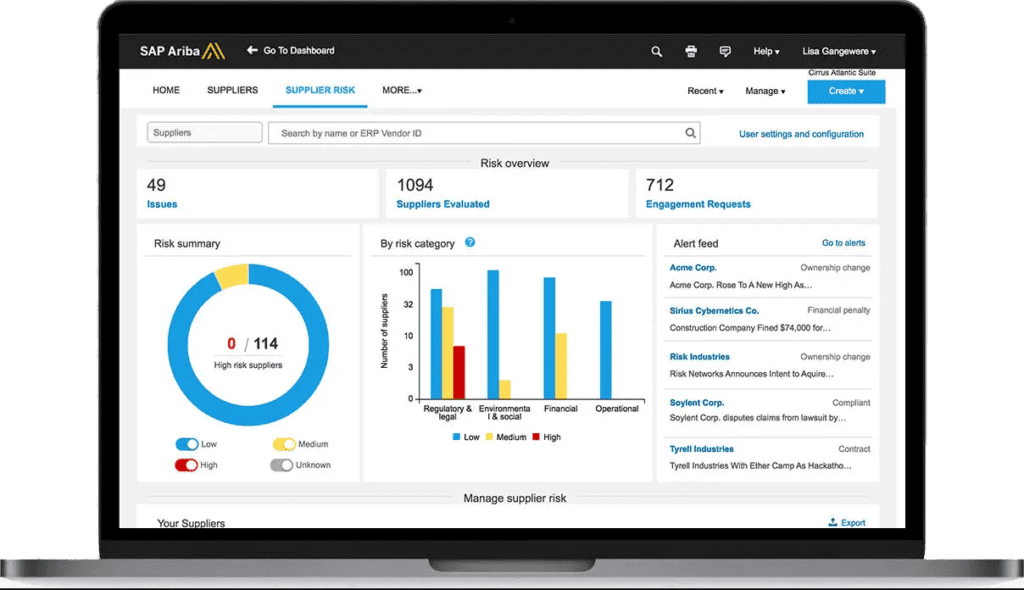 ARIBA Cloud-based solutions for collaborative spend, finance, and sales management.
ERP and CRM systems are great, but they don't do much to improve interactions between businesses. For all your investments in technology, your B2B transactions are still managed with a fragmented array of applications and manual processes. Blocking your view, keeping costs and risks high, and hobbling your competitiveness. You need technology that makes trading partner collaboration easier and more efficient. Because in a volatile global marketplace where businesses rise and fall every day, sustainable competitive advantage requires strong, mutually beneficial relationships.
Ariba makes that easy. With just your web browser and a user-friendly interface, you can work with your trading partners using market-leading SaaS solutions for spend management, collaborative finance management, and sales acceleration management all integrated on a single platform. These solutions are available by subscription and on-demand, so there's no software to install or maintain. They're scalable, cost-effective, and burden-free. They're also easily integrated with your ERP and back office systems. All it takes to extend your processes to more trading partners is plugging into the Cloud. And no worries, Ariba systems are thoroughly tested to ensure continuous, secure, and reliable service delivery.
You can be up and running in no time, using the industry's most complete platform to efficiently and effectively locate, communicate, and collaborate with your trading partners. Commerce is simply better with Ariba technology, whether you're looking to drive sales, control spending, or manage cash.
4. Coupa
Coupa Cloud-based spend management provider Coupa last week acquired InvoiceSmash, an Australian company that manages the accounts payable and invoicing process.
The motivation for the acquisition is thought to be the fact that the data extraction capability of InvoiceSmash will facilitate further automation of Coupa's invoicing and accounts payable offerings.
At the announcement of the acquisition it was claimed that the move was: "Designed to help enterprises of all sizes digitize and automate the often painful accounts payable and invoicing process, the InvoiceSmash innovations will be embedded into Coupa's organic cloud-based platform to instantly convert emailed invoice attachments into the field formats required by Accounts Payable."
Rob Bernshteyn, CEO of Coupa, said: "Our acquisition of InvoiceSmash is a huge step forward for the industry. The InvoiceSmash technology will help businesses large and small transact faster and easier than ever before with significantly less manual intervention," said Bernshteyn.
"The InvoiceSmash technology will be a hugely value-added extension to our organic suite of capabilities and will drive immediate value, supporting the very essence of Coupa's Savings-as-a-Service approach."
5. SAP Fieldglass
SAP Fieldglass is an open, cloud-based platform for workforce management and service engagement that helps organizations find, engage, and manage all types of flexible resources, from temporary staff to consultants, self-employed and more.
The SAP Fieldglass Vendor Management (VMS) solution automates the entire process of searching, obtaining, and managing external talent. Our platform helps companies reduce costs, reduce hiring risks, improve the quality of workers and suppliers, and increase the efficiency of work programs.
6. SpendHQ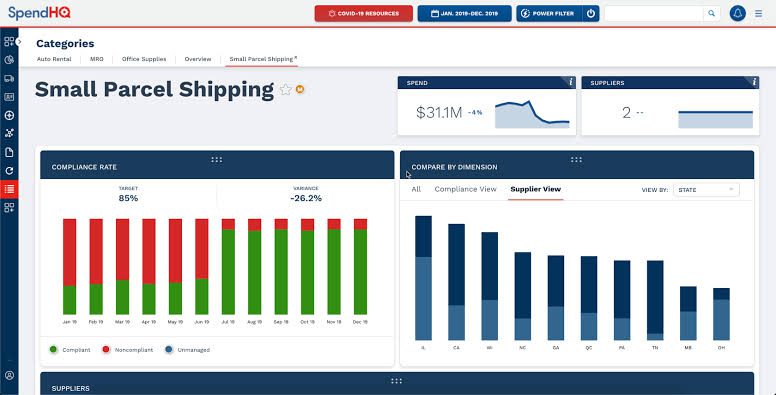 Built for procurement experts by procurement experts, SpendHQ is the spend analytics solution that provides rapid, accurate, and detailed visibility into enterprise spend data that industry leaders need.
The core of our business is  providing clarity and context to messy spend data, resulting in strategic decision making with confidence and bottom-line savings across your business.  Powered by AI and machine learning, SpendHQ aims to change the game of spend analytics through actionable insights driven from our deep procurement expertise and experience gained from working with the over 300 leading organizations leveraging our platform. Whether it's as a client or a new team member, you stand on the leading edge with SpendHQ.
SpendHQ has been recognized as an industry leader by Spend Matters' SolutionMap, Ardent Partners' Key Solution Providers, and Procurement Leaders' World Procurement Awards, as well as a metro-Atlanta top workplace.
7. Xelix
Xelix is the world's first invoice intelligence platform. It seamlessly connects with all ERP system(s) to supercharge your defences against overpayment errors (such as duplicate payments, payments to wrong suppliers, incorrect sales tax etc.) and fraudulent attacks, as well as automating heavily manual processes like supplier statement reconciliation.
By surfacing high-risk transactions in real-time, threats and errors can be investigated and corrected, prior to payments leaving the business. Xelix's AI gets smarter at learning the rules and nuances of each business over time which minimises the volume of false positives. We are proud to share a market-leading accuracy rate which means your team will not waste any time chasing legitimate transactions. What's more, Xelix offers a host of important AP analytics, both retrospective and predictive, to drive smarter decision making.
Benefit from a fully customisable business intelligence dashboard, as well as real-time email alerts.
8. Appzen
APPZEN One of the Best Accounts Payable (AP) & Spend Analysis Software USES ARTIFICIAL INTELLIGENCE TO AUTOMATE T&E EXPENSE REPORT AUDIT AND INSTANTLY DETECT FRAUD AND COMPLIANCE ISSUES.
AppZen, based in Santa Clara, California, and is the first Artificial Intelligence (AI) solution for back-office automation. AppZen's service uses AI to automate expense report auditing and instantly detect compliance issues and fraud.
AppZen's patented AI is able to automatically read and understand expense reports, receipts, and travel documents and cross-check them with hundreds of data sources in real-time to determine the accuracy and legitimacy of every expense. This enables companies to detect fraud and compliance issues in real-time.
The platform seamlessly integrates with all major expense reporting tools, including Oracle and Concur, an SAP company, and has already amassed a number of prominent enterprise clients, including Amazon, Hitachi, Comcast, Sunrun, and Intuit.
9. Simfoni
Distill and organize your complex spend data with AI-powered spend analytics. Whether your goal is finding ways to save money or full digital procurement, getting visibility into your spending trends is a great place to start.
Simfoni Spend Analytics is part of our Spend Intelligence Platform provides the data management and insights into pricing, vendors, total spend, categories, and diversity, allowing you to make smart and strategic procurement changes.
10. Glantus
GLANTUS Our solutions, technology & thinking are designed to free the awesome, untapped potential within Accounts Payable organisations to drive real time profitability, performance and progress. As a business we orientate ourselves around our mission to liberate people to do their best work within their companies. We do this through an end-to-end, human friendly AP solutions that layer onto existing systems bringing down cost and killing complexity whilst delivering new revenue streams – freeing up AP people and resources to innovate. We're a global business with enterprise level clients across 50+ markets – and our solutions are deployed with some of the world's most complex companies and biggest brands. Powered by data, insight and people passionate about progress. We liberate.
Keeping track of an enterprise's outstanding dues is crucial in building its reputation and scaling it to new heights. That is why a business must manage its AP effectively and efficiently.
As managing accounts payable can be overwhelming and tedious, employing an account payable automation solution is undoubtedly a wiser decision.All of the above tools have earned their place on this list because of their comprehensive interface, remarkable features, and formidable reputation in the industry. At the end of the article Best Accounts Payable (AP) & Spend Analysis Software, we hope the you have the best software that matches your requirements.