10 Best Procure to Pay Software
Procure-to-pay is the process of integrating procurement and accounts payable systems to increase efficiency, streamline the process and ensure accuracy.

Powerful P2P is one of the most beneficial systems for speeding up progress while tracking spending .But how do you find the best one for your business ?
What is the Best Procure to Pay Software ?
1. ORACLE
Oracle fusion Cloud Procurement is an integrated source-to-settlement suite that automates business processes, enables strategic sourcing, improves supplier relationship management, and streamlines sourcing to reduce risk, save costs, and increase profitability.
With this software you can:
Simplify purchasing, manage overhead, and realize cost savings by directing purchases to approved suppliers who offer negotiated prices.
Increase agility in supplier relationship management and increase risk visibility across the supplier lifecycle with configurable alerts and scoring using AI and natural language processing from Oracle DataFox Supplier Intelligence Cloud.
Deliver greater value through strategic sourcing and use analytics to uncover cost-saving opportunities, consolidate spend and gain greater value from suppliers.
Drive business value with analytical insights into spending patterns to simplify your supply base and negotiate better pricing and value.
Enter spending patterns to simplify your supply base and negotiate better prices and values.Improve supplier collaboration and productivity with an easy-to-use portal that provides self-service access to supplier registrations, profiles, catalogs, purchase orders, shipments, invoices, forecasts, and more.
2. PLANERGY
PLANERGY One of the best Best Procure to pay software, is an end-to-end purchasing platform that manage the entire P2P process with everything in one place , to save the time and hassle of dealing with emails, phone calls, phone calls, excel and lost informations.
With this solution you can :
Maintain control over your business spending, maximize profitability, gain spend transparency and pay the best price for your goods or services. Take control of order and invoice management.
Build strong collaborative relationships with your suppliers while leveraging data-driven insights to ensure the best terms and prices.
Employ procurement and accounts payable as value creators across your organization through process improvements, cost savings, strategic analytical insights, and better business decisions.
With PLANERGY's cloud software, you can create fully customizable automated approval workflows with a comprehensive audit trail of every action. Enforce contract compliance and save money.
Powerful spend analytics based on real-time data gives you the information you need to make informed decisions.Improve your mobile productivity with mobile requests and approvals. Contract management, spend management, procurement process, supplier management and billing data centralization. In addition, business process automation eliminates manual steps and barriers in the procure-to-pay process, reducing operational costs by up to 50% and cost per order by up to 70%, allowing you to reduce order cycle time and invoice processing time.
The software also features intuitive, user-friendly dashboards and forms with responsive support. You know who placed orders, who approved and who received each order, eliminating the risk of incorrect payments.
3. VARIS
varis is an entirely new class of software with a user experience that benefits purchasing organizations, partners and suppliers. All our products are designed with the end user in mind. The platform helps relationships thrive. We support and nurture long-term mutually beneficial relationships with buyers, sellers and partners to foster shared values ​​and unlock growth for all.Varis offers a unique opportunity to diversify your product portfolio and add value to your customers, benefiting everyone.
Use this software to :
Help customers and members thrive by saving them time and money while increasing efficiency through digitalization and transforming purchasing.
Grow your business and increase customer loyalty by integrating Varis' easy-to-use, fast ROI technology into your products to differentiate your business and set you apart from the competition.
Deliver value quickly with simple implementation and management, your team will be able to help customers get quick ROI without being a burden on your technical and support teams. Combined with Varis' flexible partnership model, this makes it easy to build a compelling business case for working with Varis.
4. MHC
MHC Best Procure to pay software, is enterprise automation software used to digitize and automate business functions including accounts payable, supply chain, payroll, and more.
MHC provides invoice automation to eliminate manual entry of invoice data and improve accuracy when processing large volumes of invoices. Enterprise resource planning (ERP) system integration supports automated data collection and transformation into secure financial transactions.
The software also offers several key features and functions such as:
Configurable workflow automation ensures that invoices are approved and processed in the way that best suits your business.
Out-of-the-box functionality allows your AP team to easily navigate the system without relying on IT resources.
Flexible integrations work seamlessly with your ERP and future ERPs.
Detect duplicate invoices and validate data before creating ERP transactions.
5. TRADESHIFT
Tradeshift is The #1 web solution for automating accounts payable processes. Go paperless and contactless throughout the order-to-pay cycle. Automate invoices by capturing them digitally and let AI do the rest. Pairs perfectly with compliant suppliers and an impressive CFO.
The software offers guaranteed vendor onboarding and real value in attracting sellers. Tradeshift engage provides value such as electronic invoicing and supplier analytics. And use Tradeshift Cash for working capital. When you digitize your b2b network, you enable your sellers to build stronger relationships.
AI-enhanced Ap automation lets you learn how to code and approve invoices, then effectively eliminate those steps for you. Turn up or down the desired amount of AI-driven actions in the ap automation dashboard.
Document Firewall ensures that every invoice complies with your business rules. Multi-way matching compares received invoices with other purchasing documents such as purchase orders and contracts. So only good to go can pass through. You can process more invoices per FTE.
With Tradeshift, suppliers of all sizes can access attractive financing when they need it at a better price than anywhere else. Applications (supporting your evolution) Future-proof your investment with an extensible platform. Leverage apps from the Tradeshift ecosystem or create new ones.
6. MEDIUS
Reinvent how suppliers pay with a single automated process, regardless of payment method . Medius Pay, our spend management solution, processes all your check, ACH and card payments on one platform.
With Medios, you can:
Streamline the invoice-to-pay process and bring efficiency and automation to last-mile invoicing with business spend management software with a fully integrated AP automation and payment solution.
Save time and money by eliminating multiple payment procedures and manual interventions while earning guaranteed bonuses from credit card payments with expense management software.
Improve security and reduce fraud risk y eliminating manual tasks, creating clear audit trails and reducing errors with best-in-class expense management tools and a fully automated invoice-to-pay process.
The software includes: Medius AP automation, Medius pay, Medius sourcing, Medius contract Management, Medius supplier management, Medius analytics and Medius connect.
7. VROOZI
Vroozi is a purchase to pay software that allows you to easily search for goods and services, make purchasing inquiries and place orders at the push of a button. Vroozi Purchase gives you the opportunity to shop, manage and approve orders from any device at any time, and track all relevant information in one centralized, easy-to-use platform.
Vroozi's modern, mobile and modular platform enables businesses to easily find, order and pay for the goods and services they need to run their business, enabling businesses to eliminate routine tasks, break down silos, gain financial control and reduce costs.
The tool generates:
Digital order collaboration: so you can electronically exchange orders with suppliers and receive invoices.
Supplier Marketplace: so you can find all your suppliers and all contract prices in one electronic marketplace.
spend 100% and invoice visibility : Enables you to view all company expense and invoice lifecycle statistics with powerful analytics and export data in various formats.
Easy integration: Exchange master and transaction data in real-time with your financial or ERP system.
The software also provides:
Approve requests on any device : How to configure your financial and procurement approval rules to streamline workflow approval cycles.
Digital orders in any format: You can intelligently get data from invoices without manual data entry. It supports PO and non-PO invoices.
Cognitive OCR Processing of Invoices: Intelligently capture data from invoices without manual data entry.
8. FINLY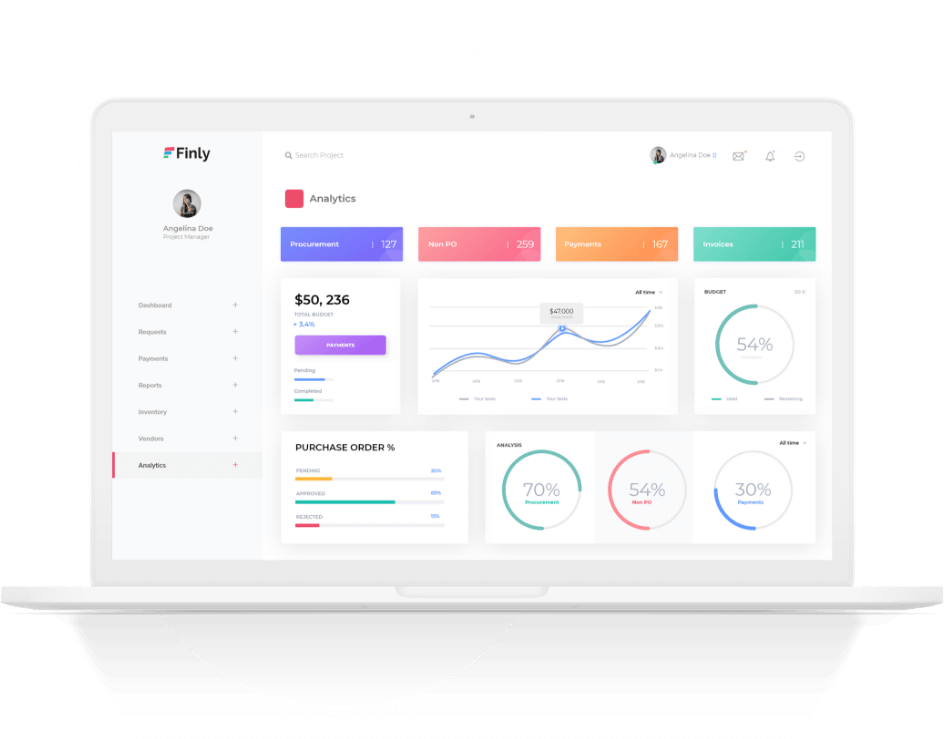 Finly is an enterprise e-procurement software that ensures that finance and procurement teams gain full control and visibility over business spend. At the same time increase the productivity of finance teams by more than 80% with a robust communication framework and simplify remote collaboration between finance and procurement teams. Streamline invoice approvals, automate reminders, automatically update GLs in accounting systems, and ensure audit compliance and governance with a system built and designed for finance teams.
Use this software to :
Manage all your Purchase Orders, Sales Orders, GRNs, Invoices, Shipping Challan, E-Way Bills from one place.
Purchase requests, invoices and payments are automatically reconciled.
Get notifications and updates about every activity on the platform.
Gain insights and create customizable reports on your organization's spending.
Finly integrates with all your business systems and supports the optimization of all spend and outlays across your organization with the likes of Tally, Quickbooks, SAP, Oracle etc. keeping your business system up-to-date.
9. IVALUA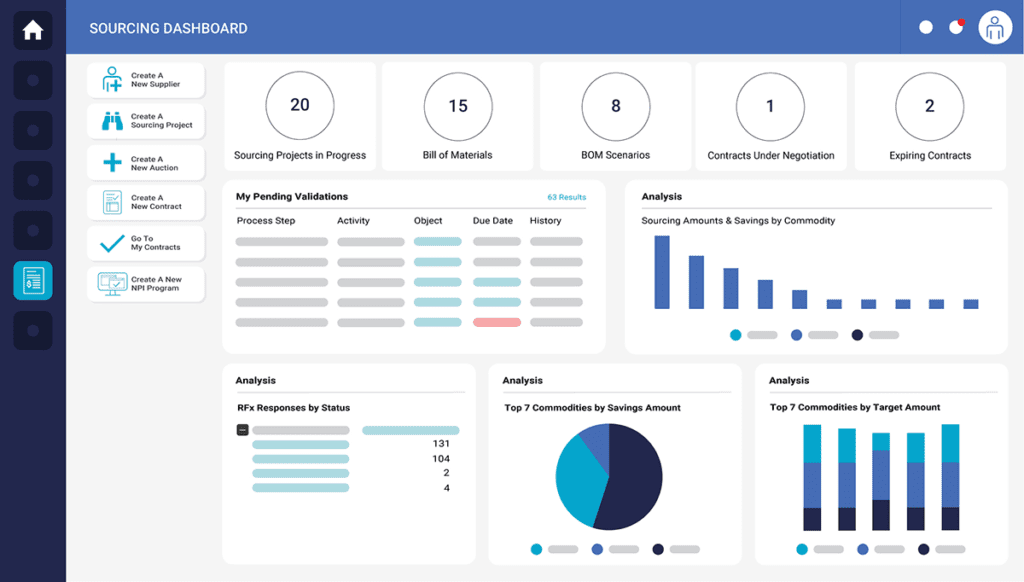 Ivalua's one of the procure-to-pay platforms that digitizes the entire process for all payouts and all suppliers, enabling your team to create greater value for your business. It can reduce costs, manage performance and risk, improve compliance and strengthen supplier relationships.It provides procurement and supply chain leaders with unmatched visibility, collaboration and adaptability. Analyze your spend, execute purchasing strategies, negotiate contracts, optimize procure-to-pay, manage supplier information, risk and performance.
The software provides:
Intuitive shopping and requests: Improve collaboration, configure workflows to apply the appropriate level of control, set alerts and defaults to streamline approval processes.
Streamline Purchase Orders: Automatically create multiple purchase orders from one requisition, allowing suppliers to change order quantities, item references, or delivery dates.
Receipt: suppliers can send advance shipment notifications, and users can receive future receipt notifications.
Budget tracking: by fiscal year, cost center, organization, project, etc.
Catalog Management: Work with suppliers to get accurate items and prices.
10. JAGGAER
Jaggaer is a procurement to pay software, with a modern e-shopping experience that allows users to find the items they need and generate smart suggestions for them. View and compare items from hosted catalogs, punch and internal inventory. The tool allows customers to control all spending and all processes with one solution suite. It covers all administrative processes for direct and indirect expenses.
JAGGAER provides SaaS-based end-to-end procurement solutions including advanced spend analysis, category management, supplier management, procurement, contracts, e-procurement, invoicing, supply chain management and inventory management on a single platform.
The platform offers :
Easy supplier network collaboration: Easily connect all your suppliers. Manage communications, transactions, problem resolution and business processes in an organized and accessible supplier portal.
Turnkey supplier support: It integrates and empowers your suppliers, manages catalogs and system integration to provide a comprehensive marketplace.
Solutions built around your business: It focuses on your business challenges, processes and people to drive toward key milestones and business outcomes.
It also features easy, dependable and flexible integrations, implementation options to deliver value faster and more.
Conclusion
Digitalizing your procurement process with Procure-to-Pay solutions can strengthen compliance and control between suppliers, contracts, regulations and buyers, providing cross-enterprise connectivity for faster request and approval of requirements, Select suitable supplier based on data and generate order and send to supplier…all electronic and easy to track.