10 Best Sales Intelligence Software Tools
Sales intelligence software helps in extracting data from various sources so that the sales team can use it to make better decisions.It extracts data from various sources like CRM, social media, email and website traffic , then helps in identifying trends and patterns in the sales data so that you can take necessary actions to improve your results . In this article we choose a list of the Best Sales Intelligence Software Tools to help you with your business.

1. LinkedIn Sales Navigator
If you lead a sales team and you are looking for a way to multiply your revenue, LinkedIn Sales Navigator is the best solution for you. With its huge network of more than 800 million users around the world and its advanced lead and company search , this platform helps you target the right buyers , keep track of key lead and company changes and engage them with personalized outreach . In addition, Sales navigator saves more time for your team by automatically integrating the prospecting leads and accounts you are selling to and log Sales Navigator activity to CRM helping you focus more on boosting your revenues. Furthermore, the platform offers real-time sales updates and interesting insights and analyzations on your accounts and leads all organized using tags and notes that keeps you aware of all job changes .
One of the interesting features provided by LinkedIn is the ability to see who viewed your account in the last 90 days and also the ability to see who read you messages, that lets you know which customers are really interested in your services. It also offers smart links presentation allowing you to present your content to your customers without downloading.
2. Adapt
Adapt is one of the most Adapt-able business contact database and sales intelligence platform .It ensures to its users an up-to-date contact data by connecting to hundreds of data sources and using AI to processes 2 million updates every week, ensuring their customers are only given accurate data that works . In addition , adapt is not like some other alternatives that use simple targeting strategy , it analyzes customers interactions and suggest the perfect prospects .Thanks to its google chrome extention , the platform helps sales teams connect , engage and prospect faster without any waste of time and ensures a great integration within your workflow .
3. Seamless.ai
Seamless.ai is one of the Best Sales Intelligence Software Tools that offer powerful sales intelligence tools. It is used by more than 300,000 companies to grow their business and multiply their revenue. Seamless finds verified cell phones, emails, and direct dials for anyone you need to sell to and offers a Real-time Search Engine for B2B Sales Leads that helps sales teams build pipelines by connecting with their most suitable customers which help close more deals in less time. Using its Ai system, this platform builds high-quality prospects lists allowing your team to pass more time working on catching new customers and getting rid of all the boring handwork. Using its chrome extension, Seamless.io helps you find phone numbers and emails and reach more customers just with one click and fill in any missing information in your lists with its real-time search engine.
4. Lusha
If you're struggling with your business and you need some sales intelligence solutions , Lusha is exactly what you are looking for. For its high-quality service and best accuracy rate , the platform is trusted by 800,000 sales companies .Using its browser extention , it helps you get prospect's contact details and B2B company info in one click. Lusha Everywhere allows you to instantly get all the valuable informations on any companies you want just by entering the company's website and lunching the extention , which gives you all the data you're looking for to grow your business and shows you exactly on what you should work harder . Unlike the other alternatives , Lusha gives you the opportunity to take data from LinkedIn and Salesforce and Hubspot CRMs without ever leaving the platform.
5. Uplead
Uplead is one of the best platforms that offers b2b sales intelligence tools and helps sales teams to find new customers with a userfreindly design and easy to use .All you need to do is precise the type of prospects you are looking for and it will do all the work for you in just one click . Thanks to its searching engine and multiple resources with 108 million business contact the platform offers always up to date and accurant informations allowing your team to pass less time trying to filter the qualified ones .In addition, Upload uses atrificial inteligence to give you a real time verification of all your emails and make sure to deliver them to your leads .
6. Cognism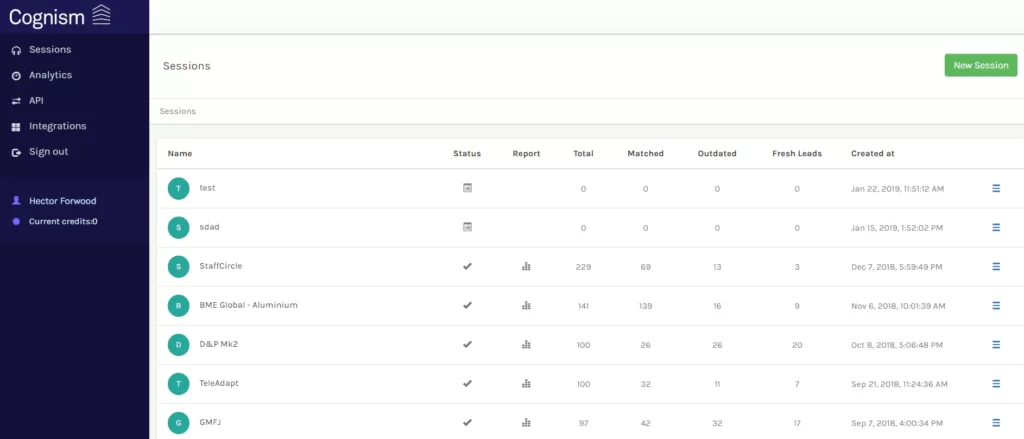 Cognism is a platform that works on international sales intelligence providing high-quality data that helps you save a huge amount of time passed on verifying all the account informations and allows you to book more meetings .In addition , the platform helps sales teams with building lists, it does all the work in 15 minutes giving the team the opportunity to be more focused on what really need to be done to boost their revenue .Furthermore , it helps teams increase the number of conversations with the decision makers by increasing the number of reps hitting target .Nevertheless , Cognism chrome extension helps extract data from all the LinkedIn accounts you chose in just one second and also export those pieces of information to HubSpot .
7. Hunter
Hunter is a great tool for you if you are looking for email addresses and phone numbers to connect with the people that matter for your business, it is used by more than 300,000 companies including Google, Microsoft , Adobe, ManPower , IBM, Invision, and other leading professionals . Its email-finding finding tool gives a list of all the people working in a company and provides you with all their email addresses just by entering the domain. In addition, Hunter ensures high-quality results by using advanced filters, unlike some other alternatives that use just simple and less effective ones, which helps your sales team to find exactly what they are looking for all organized according to their types, department , and data. Furthermore, it gives the ability to add any email to your leads with just one click and also it helps to verify whether those emails are working or not thanks to its email verifier based on a strong Ai system.
8. Crunchbase
Crunchbase is a prospecting software made to help sales teams grow their revenue by putting the light on the right companies to target and even the right people to contact in those companies .Thanks to its advanced search tool this platform catches exactly what your looking for based on your target criteria then organize all tha data using tags and notes helping your team to collaborate and prioritizing for you the most recommended companies . Furthermore , Crunchbase offers a fast CRM integration to salesforce or HubSpot and also offers verified contact data that is refreshed monthly and reviewed by their team of data experts.
9. BoostUp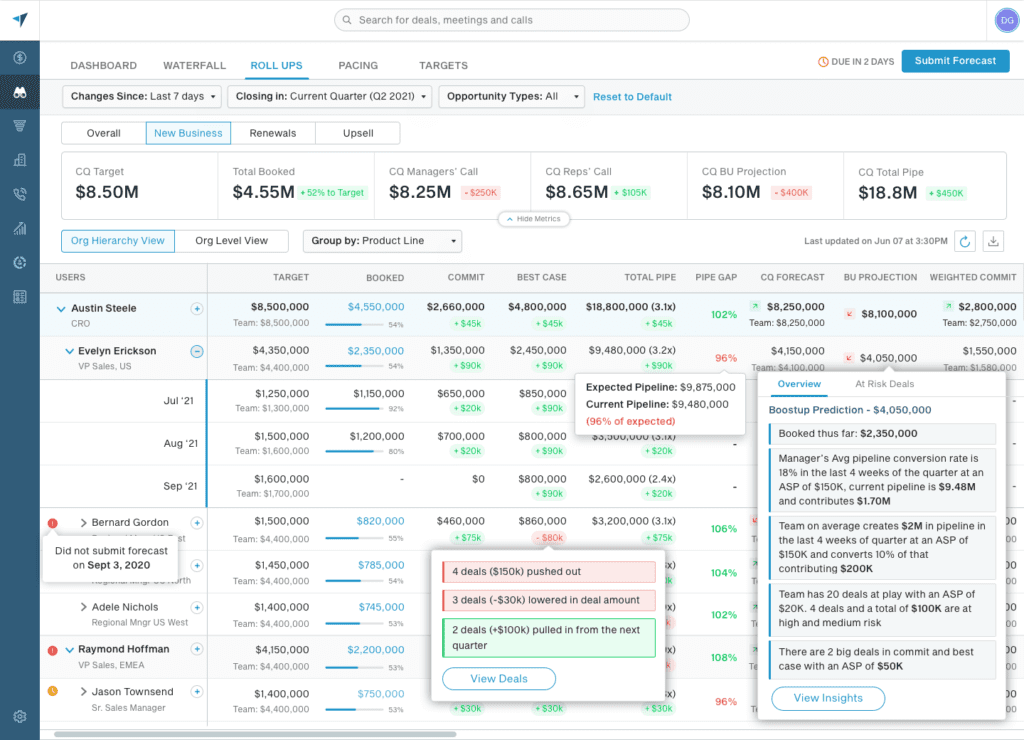 BoostUp listed in our list of Best Sales Intelligence Software Tools, it offers an advanced predictive forecasting trusted by hundreds of leading companies like Workato , Udemy , Teradata , 1Password and others . Th platform is highly flexible and configurable to suite your CRM complexity which allows you to make changes and import data to your CRM in seconds and helps you be always up to date and aware with the market changes .In addition , using its Ai system and its detailed analysis, BoostUp notifies you with accurate pipelines risk that sales team should consider and provides context and next best actions all in one place .
10. Rocketreach
Rocketreach is Sales Intelligence Software that offers Real-time verified data for 700,000 companies around the globe .The platform offers a powerful and advanced search tool that helps sales teams get in touch with more clients interested in their services and integrates all that data in your CRM automatically in just one click.In addition , thanks to its Google Chrome extension, Rocketreach makes it easier for sales teams to get data from any company they desire, just by entering the company's domain and starting the search tool extension , it will extract data based on the criteria you entered and import them directly to your workflow even if its complex.
Conclusion
Sales intelligence software Tools is a type of software that helps salespeople to be more productive in their job. It provides them with data about the latest trends, performance of their competitors, and even information about the customers they are targeting. That's why using them to develop your business became a necessity.