10 Best Security Compliance Software
Security compliance management is the process of monitoring and evaluating systems, devices, and networks to ensure they comply with government, industry, and local cybersecurity standards.

Compliance is critical for many reasons :trust, reputation, security, and the integrity of data but it also affects a company's bottom line.
In fact, the Ponemon Institute cites noncompliance as the number one factor that increases the cost of a data breach.
Staying compliant is not always easy, especially for heavily regulated industries and sectors that's why we will present to you a list of the best security compliance softwares :
1. VANTA
Vanta one of the 10 Best Security Compliance Software in our list, it is the leading automated security and compliance platform. Vanta helps your organization become and stay compliant by continuously monitoring your people, systems and tools to improve your security posture.
Thousands of fast-growing companies rely on Vanta to automate their security monitoring and prepare for security audits in weeks, not months. Simply connect your tools to Vanta, fix the vulnerabilities in the dashboard, and work with a Vanta-trained auditor to complete your audit.

It has many advantages, such as:

Minimize risk to your organization with continuous monitoring of critical tools and services to ensure you remain compliant when they are compliant, real-time alerts so you can troubleshoot issues as they arise, and centralized access management to Simplify deployment and decommissioning tracking with enterprise tools and more.
You can also use Vanta Trust Reports to quickly and transparently demonstrate your security: Control access with NDA-based sharing , customized to your company's look and feel and simple UI makes it easy to see test statuses and docs.
Propel automation with robust integrations : Vanta's API offers the most automation and the most flexibility, letting you build custom connections, leverage Vanta data in other tools, and automate more work outside of the Vanta platform.
2. DRATA
Drata automates your compliance journey from inception to audit preparation and beyond, backed by the security and compliance experts who built it.
The platform provides:
Compliance automation: Drata's platform is built by compliance and security experts, so you don't have to. With 75+ native integrations, you can easily connect your tech stack and automate evidence collection and auditing.
One platform for all frameworks: Easily build multi-framework compliance programs using Drata's proprietary control library. With Drata's automatic evidence collection engine, you can be compatible and adhere to all frameworks without the hassle of creating overlapping controls.
Continuous Control Monitoring: Drata's continuous monitoring system gives you a complete overview of your compliance status at all times. Gain real-time visibility through rich dashboards and alerts.
Customization : Assign control owners and policies to specific groups, create custom controls, and separate products into different compliance workspaces.
3. LAIKA
Laika is a central platform for building and automating your information security compliance program. Implement controls, manage audits, answer security questionnaires, and ensure ongoing compliance.
With Laika, you can quickly implement a tailored compliance program with simple onboarding, roadmap and action points, implementation of guidance controls, policy templates and editors.
Additionally, the software offers integrations and APIs, monitoring and alerting, supplier management,Onboarding and offboarding, security training, and penetration testing.
It also includes:
Compliance automation: vendor discovery, compliance monitoring, evidence collection, audit management, security questionnaires, and more.
Expert guidance:Your dedicated compliance architect and customer success manager demystifies compliance and helps build an effective, scalable information security program.
Comprehensive SOC 2 Review: Evidence requests are retrieved directly from Laika , empowering auditors to deliver highest-quality audit reports 60% faster with 90% less work for you.
4. Scrut Automation
Scrut Automation one of the Best Security Compliance Software, it is a platform of products that organizations across all industries can benefit from to strengthen their security posture and improve risk management. The automated process of identifying emerging risks using the risk management module, enforcing policies to manage risks using smartGRC, and continuously monitoring cloud environments to track misconfigurations using cloud diagnostic tools helps organizations maintain overall information security without sacrificing business growth.
As a result, the software enables you to connect Scrut Cloud Security to your cloud accounts such as AWS, Azure, GCP, etc. through pre-built integrations in less than 10 minutes and eliminate resource and Account misconfigurations so you know exactly what to do without browsing the fluff, create Jira tickets for misconfigurations directly from the scrut platform and add them to the assignee's pipeline and Stay on top of your cloud misconfigurations via centralized dashboards, with automated classification for danger, warning, and secure configurations.
In addition to this, the platform gives you the opportunity to:
Streamline your risk and compliance posture across public cloud accounts.
Identify misconfigurations and delegate tasks to internal teammates for required fixes.
Receive comprehensive, actionable advice and alerts on Scrut through your collaboration platforms.
Establish full-stack security for all your cloud-native deployments, across VMs, containers and serverless, by implementing best-practice security policies.
5. ANECDOTES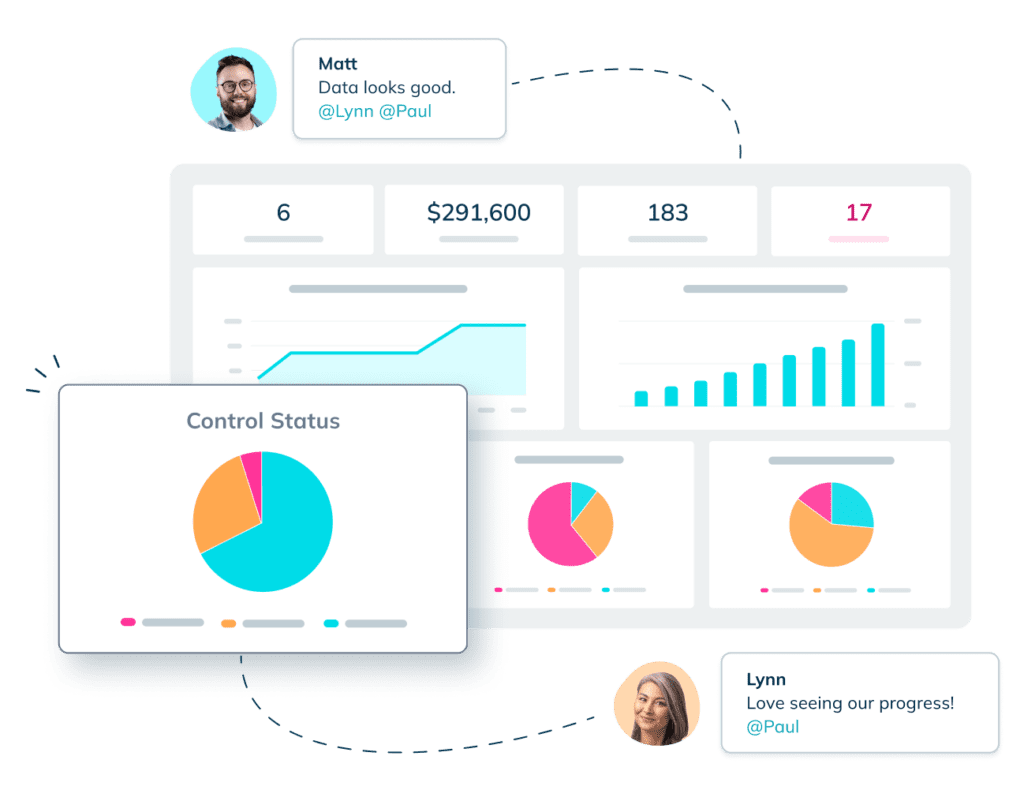 Anecdotes is an all-in-one workspace built for compliance leaders who use data to automate, manage and grow their compliance programs, from one-click reporting, cross-mapping and instant gap notifications to real-time integration with all clouds, development, The collaboration and security tools your organization already uses.
With data-driven automation, you can stop chasing controllers and wasting time performing tasks manually, leverage a continuous stream of data to gain a unified view of your compliance status and manage all aspects of your program in one place to finally demonstrate to leadership the true value of a compliance program by providing business insights.
The main feature of this platform are :
Innovative data modeling that enables you to run any compliance program.
Frameworks, requirements, and controls can be easily configured without code to precisely meet your needs.
Enjoy the benefits of a compliant operating system while delegating and controlling secret and sensitive data in private or public clouds.
A team that continuously develops and optimizes deep integrations.
6. ISMS
Isms is the management system you absolutely need for your information security, data protection, and other compliance efforts. You can manage your ISMS requirements, policies and controls in one place, use dynamic, visual, collaborative tools to identify and resolve risks, and guide you through certification every step of the way with the Assured Results Method.
Your powerful information security management system SaaS includes:
Compliance and control for multiple certifications, standards and regulations including ISO 27001, ISO 27701, ISO 22301, BS 10012 & GDPR.
A pre-configured ISMS offering up to 81% progress for ISO 27001 the minute you log on.
All the help you need with Virtual Coach, Assured Results Method, live customer support and an in-built knowledge base.
Besides, it also features :
Easy Risk Management: Easily respond to threats and opportunities and create dynamic performance reports.
Measurements and Automatic Reporting: Make better decisions and show your control with dashboards, KPIs and related reports.
Audit, Action and Review: Facilitate corrective action, improvement, audit and management review.
Mapping and Linking Work: Clarify key relationships and link regions elegantly.
Easy asset management: Select assets from asset bank to create asset inventory easily.
Staff Compliance Assurance :engage staff, suppliers and others with dynamic end-to-end compliance at all times.
Supply Chain Management, Prospect Management and more.
7. SCYTALE

Scytale is the ultimate security compliance automation platform with automated evidence collection and 24/7 control monitoring so you can centralize, manage and track all workflows in one place. It is a global leader in InfoSec compliance automation, helping security-conscious SaaS companies get compliant and stay compliant.
Here are some reasons why you should try this software:
With simplified compliance and dedicated support, you can save hundreds of hours.
Stay compliant year-round with automated monitoring and alerts.
Increase sales by providing proof of information security to your customers.
Keep business as usual and automate your compliance from start to finish.
Become and stay compliant with the ultimate compliance automation platform and simplify your entire compliance journey by increasing audit preparation by 90%, ensuring security across your organization, improving customer trust, and closing deals faster brigade, so that your company grows faster.
8. SECUREFRAME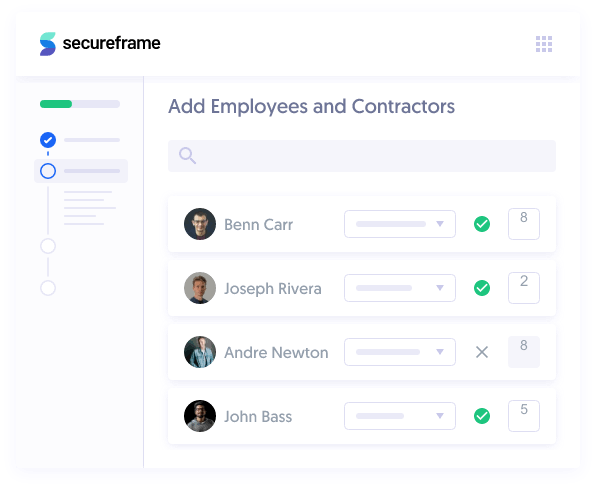 Secureframe is an all-in-one governance, risk, and compliance platform that helps you quickly and easily achieve and maintain ongoing security and privacy compliance, including SOC 2, ISO 27001, PCI DSS, HIPAA, GDPR, CCPA, and more.
It provides many functions such as continuous monitoring,inventory management,Supplier Risk Management,supplier access,Risk Management,
Company policy, administration, data room, preparation of reports, Secureframe questionnaires, etc.
Secureframe's automated platform helps you ensure security and privacy compliance by :
Getting audit ready and achieve compliance in just weeks.
Staying abreast of the latest laws and regulations to reduce legal, regulatory and financial risks.
Extending compliance for your organization and customize policies and tests to meet your unique needs.
Automating responses to RFPs and security questionnaires to close more deals, faster.
Easily implement security, privacy, and compliance with automated alerts and reports notify you when there's a critical vulnerability.
9. CARBIDE
Carbide is a cybersecurity management platform that not only automates much of the compliance process, it can also guides you through the rest of the journey: from initial design and gap analysis, through past implementation and testing, to maintaining and improving your program .
This means startups can get the step-by-step support they need to design and implement strong security and privacy, while established security teams can save valuable time by benefiting from Carbid's automation and efficiency.Carbide breaks down enterprise-grade security and privacy needs and makes them accessible and implementable for organizations of all sizes.
Here are some of its advantages:
Multiple compliance by design: With Carbide, you can adopt security and privacy best practices to create a foundation for meeting all compliance requirements, not just one.
Expert Guidance: Expert support and guidance to take the guesswork out of meeting compliance requirements
Save time and effort : making it easier to prioritize security without delaying your other priorities.
Wizard-Driven Customization : With a few quick questions, Carbide will automatically generate customized policies and an implementation plan that's right for you.
10. COMPYL
Compyl is a no-code information security and compliance automation platform that integrates with your current infrastructure can provide greater insight into what's working well and uncover gaps within your organization that need to be closed.
Centralize the most important information by aggregating data and turning it into actionable insights, and grow confidently while quickly adapting to industry demands, expansion, and other demands you face.
The advantages of this software are many :
Automation Engine workflows assign tasks to users: Start the workflow and Compyl starts tracking each user to ensure each task is completed on time
Track Compliance Progress: Always know exactly where your organization stands until you achieve ongoing compliance.
Create a personal guide unique to your company: During onboarding, Compyl identifies all regulatory requirements and IT frameworks that you need to comply with.
Conclusion
Without robust compliance management, companies risk falling behind competitors who strictly adhere to standards. Remote workers can be less productive. Managers can become disconnected from their teams, and basic security breaches can lead to constant firefighting as threats arise.
Project managers should call in compliance and security experts at every stage. By working together and choosing the perfect security compliance software for your business , you can ensure that all regulations are covered and that project teams follow security best practices.