10 Best AI Content Generator & AI writing Software
AI-based content generators are becoming an increasingly popular tool for content writers looking to save time and generate high-quality content. AI writing tools can help you create engaging, SEO-friendly content quickly and easily. With the help of AI writing assistants, you can generate unique, customized content that is tailored to your specific needs. Whether it's blog posts, web copy or long-form articles, AI writing tools can help you get the job done faster and with better results. in this artical we are going to talk about the best AI content generators so let's dive right into it !

1. Frase
Frase is transforming SEO and content creation with AI. it can Curate well-researched content briefs in minutes, not hours , Generate quality, high-converting copy at the click of a button and Unveil new content opportunities and prevent content decay adding to this a dashboard that automatically identifies and categorizes your best content opportunities. Frase uses your Google Search Console data to serve up actionable insights about what you should work on next.
2. Copy.ai
Copy.ai allows freelance writers, marketers, business owners, and copywriters to create quality content. This includes blog intros, landing page copy, LinkedIn ads, and product descriptions. Simply head over to Copy.ai, and you'll find all the templates laid out on the left.
3.Copysmith
Copysmith is able to generate text that was creative & explained the value prop with limited inputs. It saves hours, and it can be used for all upcoming campaigns , Copysmith is a revolutionary marriage of artificial intelligence and human creativity. Designed from the ground-up to help you craft compelling, hard-working copy that motivates and inspires your customers at every touch point along their marketing journey. Whether it's something as simple as a Google ad, or the very essence of your brand, Copysmith was built to help you create infinite compelling, richly worded variations, trained by world-class copywriters and marketing best practices.
4. Writesonic
Writesonic is an AI assistant that is designed to help create content for your business. It is designed to help write product descriptions, blogs, advertising copy, landing pages, and a lot more. It is a simple tool that will help you create content quickly and easily.
5. kafkai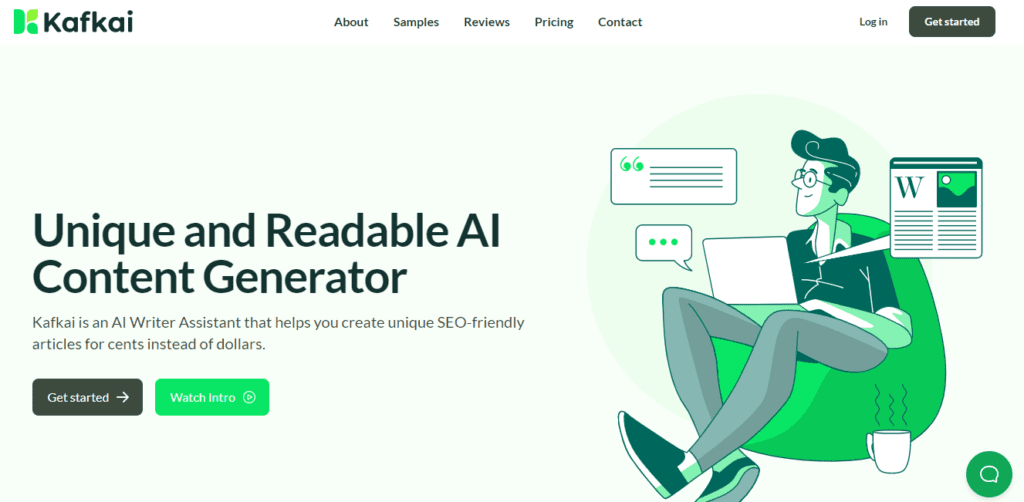 Kafkai is an AI Writer Assistant that helps you create unique SEO-friendly articles for cents instead of dollars , It's trained by AI technology to focus on SEO friendly content production. It's perfect for assisting you with your blog content, website copy, and social media posts. Kafkai will work as your content writing assistant. But it will also get you the content people are actually searching for.
6. Articleforge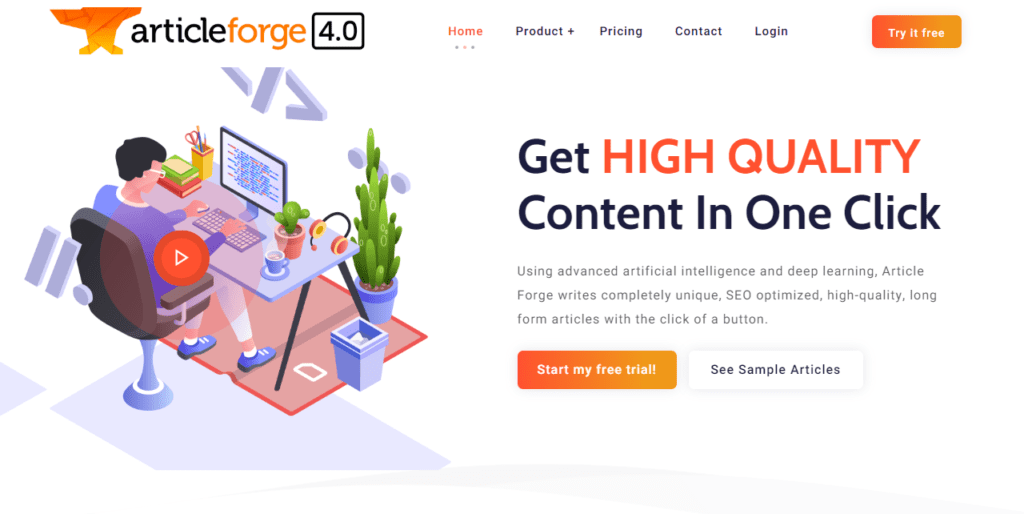 Article Forge's AI content generator uses the same type of deep learning models to write content that Google uses to evaluate content. So Article Forge will not only write high quality, topically rich, and useful content, but the content will also be written in a way that Google's algorithms will naturally love and rank.
7. Peppertype.ai
Peppertype.ai is a copywriting tool powered by artificial intelligence that helps you write better, and faster. It's like having your own personal content-writing assistant! To write compelling and engaging copy, you need to be inspired. It starts with a free plan, wherein you can use the tool for free to create content of up to 10,000 words. After you have completed your free tenure, you have to subscribe to an initial plan of US$25/month, billed monthly or yearly.
8. Articoolo
Articoolo has a variety of features. It is a web content generator that writes articles automatically based on four or five keywords. You can rewrite or summarize existing articles and find suitable images for them. In addition, it has a WordPress plugin to speed up its implementation.With Articoolo there is no possibility of plagiarism. The articles that are made in Articoolo are unique, accurate, and revised, which ensures content is free of duplication.
9. Storylab.ai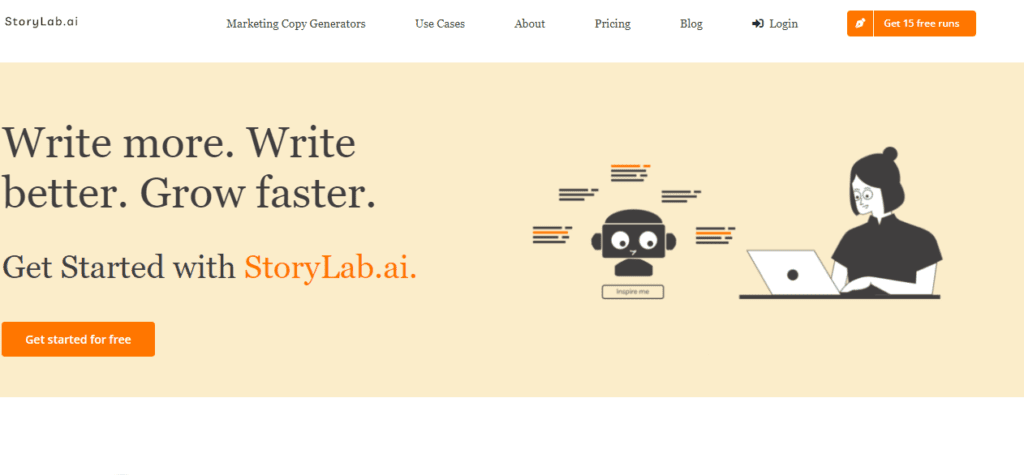 StoryLab.ai is an online toolThat generates content ideas for you, and then helps you along the writing process by generating hooks and outlines for your stories. We also offer ready-made copy for your marketing purposes.
10. Simplified
Simplified Rewrite the content in an instant. Improve or rewrite inspiring copy for Facebook and Instagram captions, quotes, descriptions, marketing materials, or website content with the magic AI copywriting generator and AI text generator. Optimize your copy with our content rewriter for uniqueness and readability, while keeping the same overall meaning.
Conclusion
The best AI content generator is the one that meets your specific needs. It should be able to generate high-quality content that is relevant to your target audience. Additionally, it should also be easy to use and have features such as natural language processing (NLP) and machine learning capabilities. With the right AI writing assistant, you can save time and energy while producing quality content at scale. we hope that this article was helpful for you to find the right generator that meets your needs .
See Also: Best Artificial Intelligence Story Generator (AI)