10 Best Transportation Management Systems (TMS)
Coordinating shipping from distributors through your warehouses and on to customers is one of the biggest challenges that companies face today. There are hundreds of potential carriers to choose from and an infinite number of potential routes, not to mention unforeseen delays that can throw a wrench into even the best logistics plans.

That's why so many companies rely on transportation management systems, also known as TMS software. TMS systems make it easier to book and optimize loads, manage routes and deliveries, and oversee your entire supply chain. Ultimately, TMS software can save your company time and money while helping you maximize customer satisfaction.
What is the Best Transportation Management Systems (TMS)?
In this guide, we'll highlight the 10 best transportation management systems your business can use today.
1.Alpega
Alpega TMS is a flexible and scalable cloud-based Transportation Management System delivered as a Software as a Service (SaaS). Alpega TMS enables shippers, logistics service providers, and carriers to collaboratively manage and streamline their logistics operations with efficiency and cost-effectiveness. Source, plan, optimize, execute, settle and analyze end-to-end transportation processes for increased capacity utilization and reduced overall freight spend. Alpega's cloud-based platform enables real-time horizontal and cross-functional collaboration with all trading partners across your logistics ecosystem.
It offers the opportunity to deliver rapid time to value, scale up with additional modules, functionality, or volumes; or scale-out across the supply chain to additional sites, carriers, logistics partners, vendors, or customers. Alpega TMS provides global support, sales, and implementation. They are a trusted partner for over two hundred companies across 80 countries, and customers vary in company size, revenues, and transportation spend. The solutions meet the needs of simple to complex supply chains.
2.Mercury Gate
MercuryGate is a transportation and supply chain management system (SCM) suitable for businesses of any size in a variety of industries. It can be deployed as either a cloud-based or on-premise solution. It offers support for all carrier modes including parcel, LTL, TL, rail, air, ocean and intermodal. MercuryGate is a multimodal, multi-leg solution for planning, optimizing, executing and financially managing shipments.
It also supports all types of freight management business models including buy/sell, management fee, gain-share and more. Global users can access information using localized terms, languages, currencies and units of measure according to their geography and requirements. MercuryGate offers an online customer portal which enables customers to access necessary information, create their own quotes and track progress. The solution is available for purchase through subscription pricing or a perpetual license.
3.E2open
At E2open, we're creating a more connected, intelligent supply chain. It starts with sensing and responding to real-time demand, supply and delivery constraints. Bringing together data from customers, distribution channels, suppliers, contract manufacturers and logistics partners, our collaborative and agile supply chain platform enables companies to use data in real time, with artificial intelligence and machine learning to drive smarter decisions. All this complex information is delivered in a single view that encompasses your demand, supply, logistics and global trade ecosystems. E2open is changing everything. Demand. Supply. Delivered.
Four key enablement pillars help you unlock your supply chain's potential:
Harmony: Unified analytics and collaborative workflows on a single interface for all participants with role-based access to underlying applications and data sources
Applications: Full range of connected, artificial intelligence (AI)-driven algorithmic applications to correlate data, streamline processes and drive better decisions
Data: Harmonized and synchronized decision-grade data drawn from real-time sources and shared by all tiers of internal and external partners according to role
Network: Reusable connections to internal and external data sources and transactional systems in the physical supply chain with 100,000-plus demand, supply and logistics network participantsRead less
4.MY CARRIER
MyCarrier was formed, inspired, and driven by the shipping and logistics digital innovation possibilities. We aspire to be the ubiquitous platform that connects customers and carriers instantly and without barriers to fuel the future of supply chain. We want to make shipping simple, fast, and cost-effective. Our difference is in our people. We believe that our team members are the greatest assets to our mission. We're driven to support our employees with all the tools and resources needed to support their individual talents. Our people live the values that makes MyCarrier a great place to work.
Our focus is helping our customers simplify the shipping experience. MyCarrier enables shippers to automate and streamline their shipping processes resulting in fewer manual processes and more cost savings digitally. Our digitized workflows allow organizations to quickly compare shipment rates and transit times across multiple carriers, streamline the booking process using an adaptive learning flow that auto-populates frequent order details, and finally, auto-generate an electronic bill of lading. The platform analytics provides quick and intuitive access to delivery status and booking details for every shipment, and carrier performance reports give our customers a simple, fast and cost-effective solution to manage all aspects of their shipping experience.
5.RateLinx
Ratelinx is a logistics data and technology provider that helps its users manage operations, drive better results and reduce costs. Organizations can utilize intelligent transportation management, real-time visibility, freight audit and advanced analytics to strengthen data insights across logistics, planning, execution, tracking and payment procedures.
It offers robust modules to obtain inbound transparency, track shipments globally and boost shipment efficiency. Businesses can extend better multimodal services, control and planning resources through accurate predictability.
6.Cargobase
Cargobase is a global cloud-based TMS built to solve tomorrow's dynamic logistics challenges today. Our vision is to simplify the lives of logistics professionals. Since 2013, Cargobase has partnered with Fortune 500 companies alike to develop software that helps logistics professionals to Get Ship Done.
With our unique no-nonsense approach, managers and logistics professionals can enjoy software that is simple, easy to implement, cost-efficient, user friendly and produces immediate ROI.
Enterprise shippers (manufacturers) that send or receive air, ocean, road, parcel, and rail freight shipments and work with multiple carriers domestic, regionally or globally.
7.FreightPOP
FreightPOP is a cloud based transportation management software solution that caters to mid-size and Enterprise manufacturers, distributors, and retailers. Simplify freight rate shopping, shipping, tracking, and auditing of your inbound and outbound LTL, FTL, parcel, and International air and ocean shipping.
Shop: Get the best rates for every shipment by comparing your rates with marketplace rates or our negotiated rates. See it all in an Expedia-like dashboard. Even use it to negotiate spot rates.
Ship: Optimize boxes and pallet configurations, print labels and BOLs, Fetch and associate relevant documents and synch them with your ERP.
Track: Track outbound AND inbound shipments from over 300 carriers. Maintain communication with your customers to keep them satisfied, and keep internal supply chain stakeholders in the loop. Connect to your CRM and other systems so your organization is all in synch.
Audit: Identify areas of missed opportunity, like over charges and errors that could be costing you 15% or more.
Analyze: Identify trends and opportunities to better negotiate rates, identify training opportunities or supply chain options to further streamline and reduce costs.
8.DESCARTES Aljex
Descartes Aljex is a cloud-based transportation management software designed to help businesses across retail, manufacturing, distribution, eCommerce, and various other industries handle invoicing, vehicle tracking, and supply chain management operations. It enables employees to create and edit customer profiles, view historical and scheduled payments, and automatically prepare quotes for clients.
Features of Descartes Aljex include an activity dashboard, automated notifications, a drag-and-drop interface, reporting, communication management, and more. The application allows freight brokers, third-party logistics (3PLs), and shippers to evaluate procurement and shipping orders and streamline route planning operations based on various parameters such as cost, lead-time, number of stops, and more. It also lets organizations automate recurring tasks related to dispatching, accounting, and electronic data interchange (EDI) processes.
Descartes Aljex offers API-based integration with various third-party applications such as Sage, QuickBooks, PostEverywhere, myGeoTracking, HubTran, Microsoft Dynamics GP, and more. It allows managers to gain visibility into multi-party shipment activities and store documents in a centralized repository.
9.GOCOMET
GoComet is the world's leading Logistics Resource Management platform that makes it possible for companies to comprehensively transform the way that their supply chains operate, creating process resilience and driving double-digit cost savings.
The software deploys the power of data science and progressive machine intelligence to simplify end-to-end logistics and gain transparency in business.
Cloud-based, our easy-to-use software is quick to set up, can be rapidly extended across organizations and is simple to integrate with existing systems.
Through innovative solutions, GoComet automates freight rate negotiations, tracks shipments in real-time, automates invoice reconciliation, makes audits seamless and offers unique insights through auto-generated reports.
10.roserocket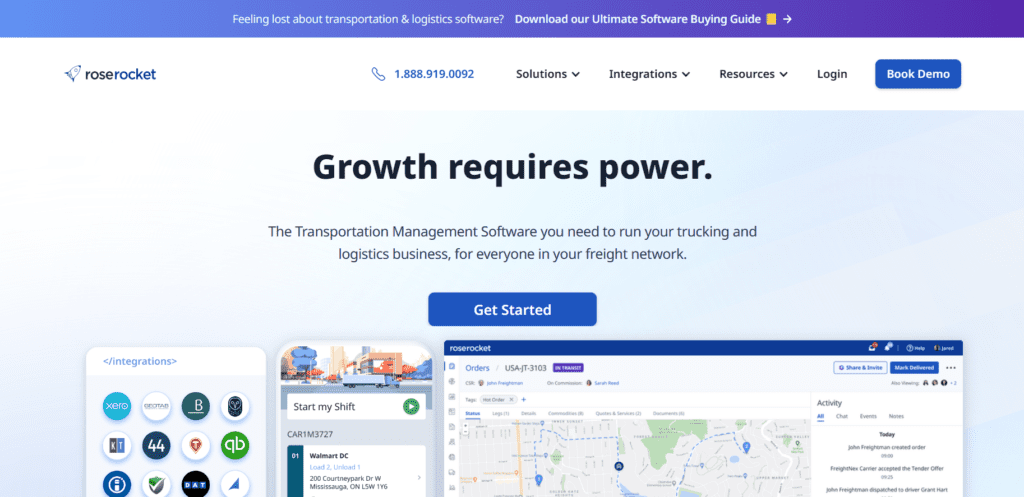 Rose Rocket is a transportation management software (TMS) built for modern trucking companies and brokerages.
Input orders, generate contracted rates and spot quotes, track & trace shipments, manage documents, invoice, and report on important business metrics like on-time percentage, total spend, and IFTA from a single software.
Rose Rocket automates every part of the freight process from quote to cash with the power of the Network TMS. It helps simplify order entry with a built-in quoting engine, dispatch to drivers or carriers seamlessly, and monitor the live ETA of in-transit orders so freight gets delivered on time, every time.
The TMS software paired with industry-leading driver mobile app, customer portals, and partner portals, helps improve communications and visibility at every step of the transportation process, enabling companies to better serve their customers and grow their business faster.
Key features: Industry-leading Customer & Partner portals, Driver Mobile App, Real-Time Reporting & Analytics, Driver Calendar, Carrier Directory, One-click Integrations .
Conclusion
Despite the challenges that remain, businesses are in a steady state to welcome transportation in logistics as one of the most helpful and beneficial for managing their overall transportation needs. Though the platform is best suited for businesses dealing with a single logistics unit or own shipping arrangements. The latest Transportation Management Systems comes with many advanced features of data collection and utilizing the data to form efficient reports helpful for the management to make effective decisions at critical times.