10 Best Artificial Intelligence (AI) Recruiting Tools
Artificial intelligence (AI) is being leveraged by companies in many different ways. One of the areas being most impacted in the day-to-day operations is recruiting. AI is enabling leadership to hire and recruit potential employees through things like voice-enabled chats, machine learning-pattern matching, and people analytics.

What is the Best Artificial Intelligence (AI) Recruiting Tool?
Here is a look at the 10 best AI recruiting tools that companies can use to find the right candidate for a job
1. Phenom
Phenom has a purpose of helping a billion people find the right job. Through AI-powered talent experiences, employers are using Phenom to hire employees faster, develop them to their full potential, and retain them longer. The Phenom Intelligent Talent Experience platform seamlessly connects candidates, employees, recruiters, hiring managers, HR, and HRIS — empowering over 500 diverse and global enterprises with innovative products including Phenom Career Site, Chatbot, CMS, CRM, AI Scheduling, Video Assessments, Campaigns, University Recruiting, Talent Marketplace, Career Pathing, Gigs, Mentoring, and Referrals.
2. Clovers
Clovers is an intelligent interview platform that uses human and conversational intelligence to accelerate hiring and put the right people in the right role – every time. With Clovers intelligent tools like role-based interview guides, I/O certified questions, sharable interview recordings, highlight reels and real-time feedback, recruiters and hiring teams can effectively uncover talent and easily collaborate on candidates and make great hiring decisions faster.
Clovers works with your existing video interview technology (Zoom, Microsoft Teams) and is ATS agnostic, to support ease of adoption throughout your organization. We like to call this in the flow of work, so you and your team can focus on delivering great interviews not difficult technology. Clovers interview platform supports both internal recruiting teams as well as external recruiters and staffing agencies. With Clovers internal recruiting teams can:
– Reduce the time needed to prepare for interviews with our Clovers Interview Builder that includes thousands of I/O certified questions based on roles. Questions are designed to help interviewers uncover key skills and talent.
– Rely on the power of replay, not recall with our recorded and transcribed videos. No more sharing disparate notes or trying to remember candidate conversations.
– Review interview highlights in minutes vs. hours by creating an interview highlight reel.
– Easily collaborate on candidates feedback with a consolidated candidate page that includes all candidate recordings and highlight reels, interview team feedback, transcriptions and ratings.
– Reduce the number of interviewers required, by sharing recorded interviews with team members to get feedback.
– Minimize manual note taking and focus on candidates with recorded interviews and accurate interview transcriptions.
3. Skillate
Skillate is one of the best tools on the market for AI hiring. It is an advanced decision-making engine that can dramatically improve the hiring process, offering AI-powered intelligent hiring services, people analytics, and improved candidate experiences. With the tool's ability to mark personal information about potential hires, companies can focus on making unbiased decisions.
Key features of Skillate:
Deep learning to extract information from resumes
AI-based assistant for writing job descriptions
Auto-interview scheduler
Data-backed insights and analytics
4. Turbohire
TurboHire is an intelligent recruitment platform driven by data. It is structured and provides many opportunities for valuable collaboration. By combining both human and machine intelligence, TurboHire can provide deep insights into potential candidates. The platform is also extremely secure when it comes to customer data, and it encrypts communications between customers and the cloud.
Key features of TurboHire:
Resume parsing
Candidate ranking
Chatbot assessments
Automated job recommendations
Talent pipeline for open positions
Personalized interviews
5. Seekout
An advanced talent analytics company, SeekOut offers deep talent analytics that enable companies to reduce bias, diversify pipelines, and increase candidate engagement. The platform is personalized to each individual and pulls data points from many different sources.
Key features of SeekOut:
Talent 360 platform that offers personalized experiences
User-friendly tools like video interviews
Resume parsing
Executive-level insights for hiring managers
Actionable recruiting strategy
6. Turing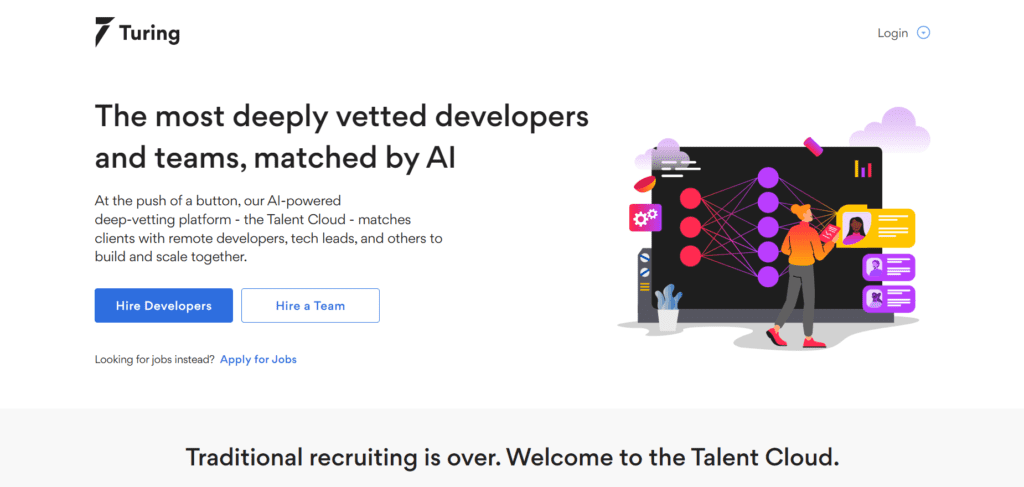 The best option for a company recruiting AI talent is Turing, which provides their AI-backed Intelligent Talent Cloud to help source, vet, match, and manage the best remote software developers across the globe. Used by some of the world's top companies like Pepsi, Dell, and Coinbase, the platform leverages global sourcing, intelligent vetting, extensive matching, HR/payments compliance, and automated on-the-job quality control.
Turing does an excellent job of making the remote hiring process easy for both companies and developers. Companies can hire pre-vetted, highly-qualified remote software talent that spans across more than 100 skills. The process only takes 3-5 days.
The Intelligent Talent Cloud relies on AI to vet, match, and manage over 1.5 million developers around the world, saving companies a ton of time and resources as they construct an engineering team in days.
Here are some of the top features offered by Turing:
AI-backed Intelligent Talent Cloud
More than 1.5 million developers worldwide
Helps construct engineering team in days
Pre-vetted, highly-qualified talent
100+ skills among talent
7. ideal
Ideal is a talent intelligence system that enhances HR software to help teams make more accurate, efficient, and fair talent decisions. By leveraging propriety artificial intelligence technology, Ideal analyzes data across the entire employee lifecycle. With this technology, Ideal accurately automates administrative tasks, as well as screens and matches talent – while also providing concrete, data-driven insights on diversity, equity, and inclusion. As a result, Ideal's customers see a reduction time to fill by 70% and a 20% increase in new hire retention.
8. Xor
XOR AI Recruiter for Blue-Collar and Hourly Workers in the US XOR's AI platform helps businesses hire blue-collar workers for only $500 per hire. XOR will attract, pre-screen and then schedule the best candidates for the interview with your recruiter or hiring manager.
The whole process is fully automated, that's why our costs are much lower than the competition. XOR's AI contacts and engages candidates proactively, taking into account the location and the requirements for the position. We use non-conventional sourcing channels to help our clients hire the best workforce. Our intelligent algorithm assesses and scores candidates to ensure they are a perfect match for your role.
We sync our system to the recruiter's or hiring manager's calendar and automatically schedule prescreened candidates for an interview just 2 days after launch. According to our stats, it takes around 5 interviews to hire 1 candidate. All that your recruiter has to do is to select and hire the best.
9. eightfold.ai
Eightfold AI's market-leading Talent Intelligence PlatformTM helps organizations retain top performers, upskill and reskill their workforce, recruit talent efficiently, and reach diversity goals. Eightfold's patented deep learning artificial intelligence platform is available in more than 155 countries and 24 languages, enabling cutting-edge enterprises to transform their talent into a competitive advantage.
eightfold.ai is the #1 ranked solution in top Talent Intelligence tools, #5 ranked solution in top Talent Acquisition tools, and #7 ranked solution in top Talent Management tools. PeerSpot users give eightfold.ai an average rating of 8.4 out of 10. eightfold.ai is most commonly compared to Gloat: eightfold.ai vs Gloat. eightfold.ai is popular among the large enterprise segment, accounting for 64% of users researching this solution on PeerSpot. The top industry researching this solution are professionals from a manufacturing company, accounting for 14% of all views.
10. HireVue
HireVue aims to transform how companies discover and hire talent with its AI-driven Hiring Intelligence platform. Combining predictive, validated industrial/organizational science with artificial intelligence allows recruiting professionals to augment human decision-making in the hiring process, delivering higher quality talent, faster. HireVue boasts having hosted over six million interviews for more than 700 customers worldwide, including more than one-third of the Fortune 100 and brands such as Vodafone, Nike, Intel, Hilton, HealthSouth, Qantas and Carnival Cruise Lines.
HireVue features
Outro Videos ;On Demand Digital Interviews;Live Video Interviews ; Question Library ; Technical Coding Challenges ; Digital Introductions ; Predictive Language Analytics ; LinkedIn Integration ; Multiple Question Types: Written, Video, Scenario, Multiple Choice ; Fully Branded Landing Pages ; Configurable Scoring & Rating ; ATS Integration ; CRM Integration……
Conclusion
In conclusion, consider using an AI recruiting tool to hire or upgrade your talent acquisition software.
These systems can help streamline the process while also increasing company transparency. Furthermore, this technology can answer questions about the company itself, saving recruiters time during their busy work schedules.
I hope this list will help you get the most out of AI when recruiting the top talent for your organization.