10 Best Partner Ecosystem Platforms Software
Do you need a partner management platform that is the best at managing your relationships with partners, having a user-friendly interface and including a set of features that help you achieve growth for your business?

What is the Best Partner Ecosystem Platforms Software?
Here is our selection of partner ecosystem platforms with their features to help you choose the best platform:
1. PartnerStack
PartnerStack promises that they are the only platform that automates and scales an entire ecosystem of partners to drive more revenue in half the usual time and cost.
And that they support every stage of partnerships growth.
Whether you're just getting started with partnerships or want to scale up your existing ecosystem, PartnerStack's complete partnerships platform can hp kick start your partner ecosystem, expand your indirect channels and maximize partnerships performance.
2. Impact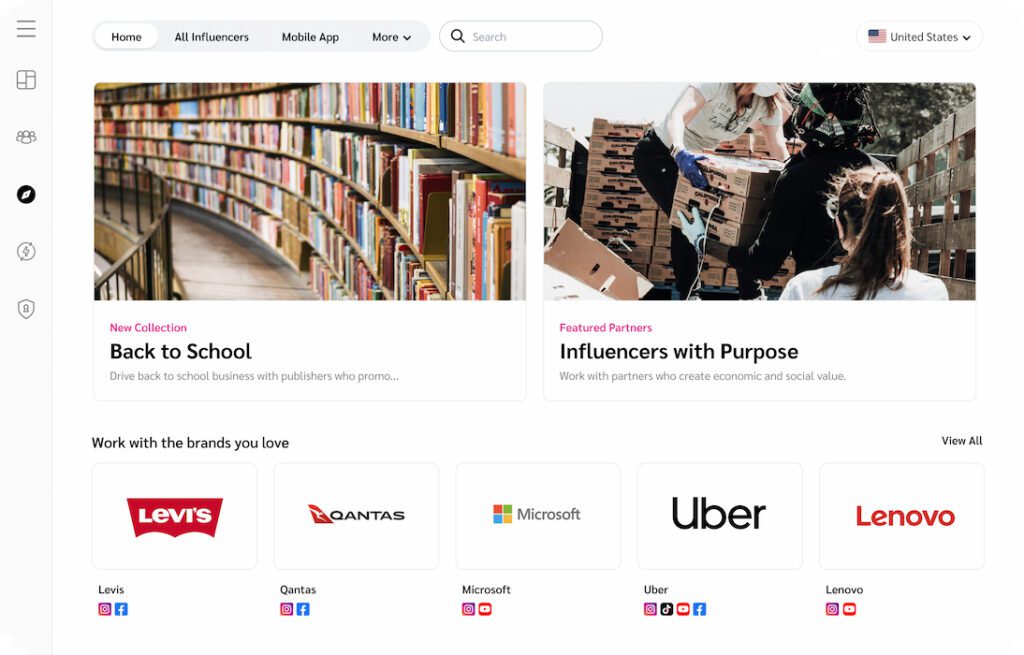 Impact is a partnership management platform that automates every type of partnership and scale to all new levels. Partnership automation lets you expand your program and scale every type of partnership, including affiliates, influencers, strategic business partners, mobile apps, publishers, and more
One of this partner ecosystem benefits is to grow your business rapidly with Impact's partnership platform.
3. Crossbeam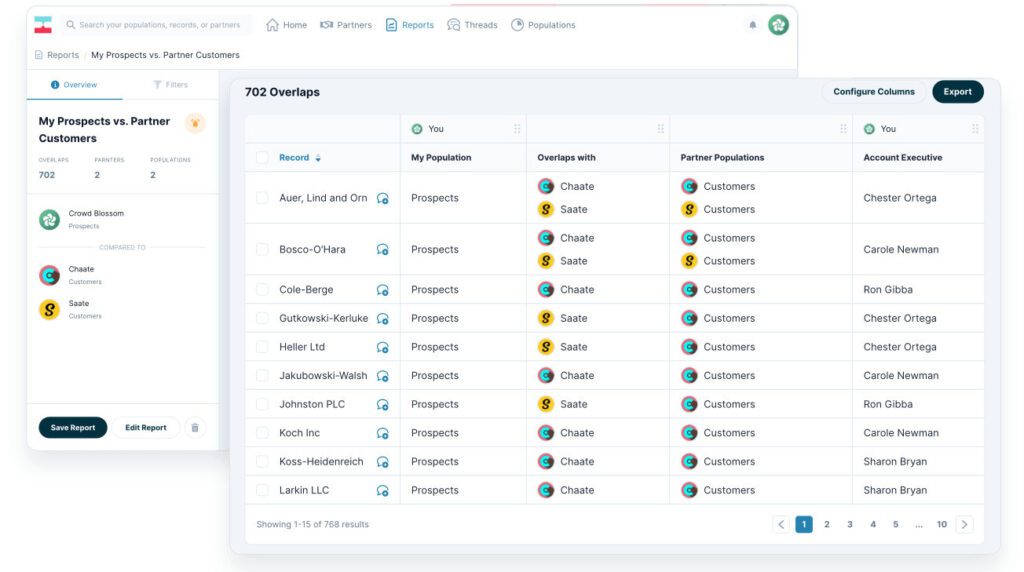 Crossbeam is a partner ecosystem example that helps companies build more valuable partnerships. They have free account mapping tools, industry-leading networking, and growing integration marketplace that brings partnerships and revenue together.
It's like LinkedIn for partnerships. Where you can find and connect with the companies in your partner ecosystem in just a few clicks.
It allows to connect with partners and start account mapping to find overlapping customers, shared pipeline, and more.
Crossbeam securely integrates with an existing systems to build lists of prospects, opportunities, and customers. It supports the most popular data sources including the leading CRMs, data warehouses, Google Sheets, and CSVs. No matter the source, the user have total control over what data enters Crossbeam.
4. Kiflo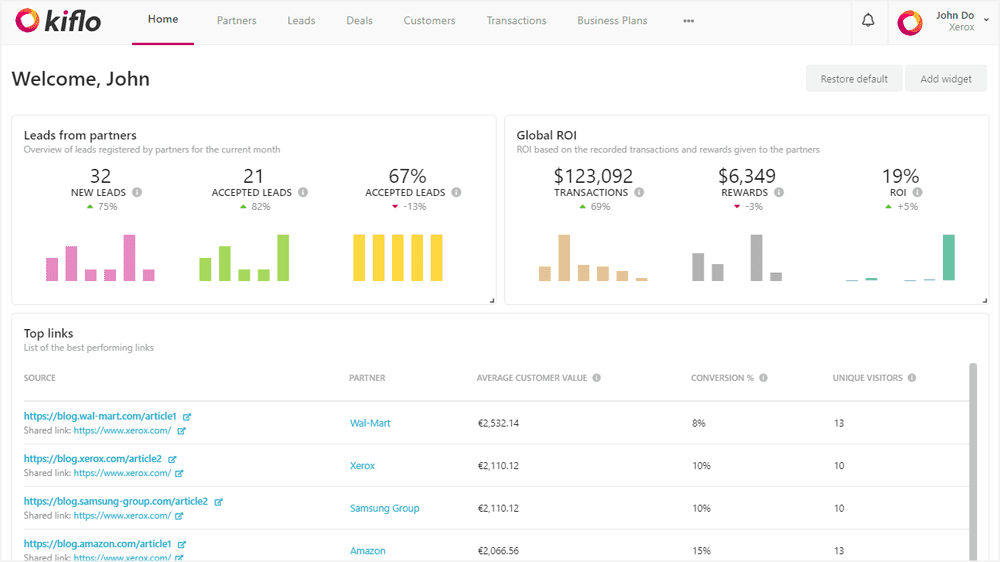 Kiflo helps to drive sales growth with partnerships. Enables partners to share up-to-date material, and streamline the sales process while being connected to marketing tools and CRM.
This software features are:
Deal registration: to gain confidence from partners and increase loyalty.
Lead sharing: to stay organized and increase the chances of closing more deals.
Content management: facilitates information exchange and keep all the partners up-to-date.
Partner onboarding: onboard partners with ease and get them operational quickly.
Business plans: optimize partner strategy and reach sales goals.
Partner portal: enhance the autonomy of the partners and increase their engagement.
Deal management: gain full visibility over the indirect sales and stay on the same page.
Lead generation: expand the reach and get new Leads faster.
Reward program: delight the partners and increase performance.
Integrations: enhance Kiflo by connecting other apps.
5. PartnerTap
PartnerTap is for partner and channel sales teams that want to build an ecosystem-wide view of the market, customers, prospects and pipeline.
It instantly maps millions of accounts and opportunities and gives channel teams the reports they need to identify more sales opportunities and grow any business faster with the best partners on each account. The main features of this platform are (of the paid edition):
Unlimited mapped accounts, mapped data and unlimited partners.
Invite and connect directly with partners.
Chat with connected partners.
Global ecosystem reports and ecosystem dashboards.
Push all the mapped PartnerTap data back into any CRM, to have the partner data needed directly from the platform.
6. PartnerPortal
PartnerPortal is a platform with interesting features that give the power of growth with the ease of simplicity, here is a list of its main features:
Deal registration to co-sell and track: a structured registration process for new deals and opportunities while ensuring lead attribution stays clear and transparent.
Automation to simplify and scale: of partner registration, partner commissions..
Referral fee or commission payments made simple: it offers a custom-tailored approach of payments.
Metrics: will help to showcase the program impact month over month, and quarter over quarter. By integrating each lead into your CRM, and provide invaluable insights ranging from individual close rates, total commissions issued, total partner revenue generated, to the general impact the program is producing.
7. Partnered
Partnered connects your sales team with your partner ecosystem to exchange customer introductions, recommendations, or strategic information. It creates a secure, private connection between companies to harness the power of their network.
The key features are:
An all-in-one tool that can do everything you need with B2B sales prospecting.
It's an account-based partnership platform that cuts your time spent prospecting.
It allows you to see exactly which of your existing partners can introduce you to the prospects you want to meet.
Tracks all interactions with your prospects and stores all the information you receive about them from your partners in one easy-to-find place.
Partnered automation handles follow-ups and reminders and helps track every partner interaction
Gives sales teams a complete picture of sourced and influenced revenue. It offers you real data to help you make better decisions and grow revenue.
8. PartnerHub
PartnerHub is a free platform for all digital agency users, and for tech companies who are invited by one of their agency-partners.
The key features of this platform are:
Partnership recommendations: The app will suggest other users to partner with who sell to the same customer profile.
Shared growth projects: Co-manage the partnership successfully across one of a few key growth projects.
Partner referral tracking: Send and receive referrals, view updated pipeline stages, push to CRM.
Co-marketing offers everywhere: Agencies can review and accept valuable co-marketing offers submitted by tech companies daily.
Spiffing partners anytime: Send money to partners any time, anywhere in the world after referrals, birthdays, whatever!
Integrate Partnerhub into your workflows: Partnerhub can integrate into almost any apps you use daily. Connect it so you don't have to change.
9. Partnerize
Partnerize, a platform that help to find, recruit and optimize diverse partners with automated, data-driven recommendations.
Partnerize offers an innovative partner technology platform and a team of experts to help you achieve profitable growth from your partnerships. Whether you need short-term support to quickly ramp your partnership program, or you have long-term aspirations to establish an in housing practice, Partnerize is the only provider that offers both, giving you the optionality you need.
10. Pronto
Pronto will help you increase the productivity of your partner team, run a high performing indirect business and create exceptional partner experiences.
A full lifecycle platform for partnerships teams to automate repetitive work, accelerate GTM, and grow indirect revenue. Get up and running in 90 minutes.
Automate partner onboarding and enablement, develop plans together, and promote joint solutions and integrations in searchable catalogs.
In conclusion
Choosing the best partner ecosystem will allow you to utilize significantly greater levels of automation and customization in managing and growing your partnerships.
The above mentioned examples of partner ecosystem have a set of features that you may need to consider to make a good choice.