10 Best HR Software for Startups
Unstructured HR processes and recruitment practices can quickly get out of hand. Besides, they can contribute to toxic work environments, cause confusion in employee management, and negatively influence staff morale and retention.

Businesses that consciously build a solid HR function demonstrate respect for their employees and the company. These businesses excel at recruiting, training, and retaining staff.
When you start employing people and building a team, certain HR fundamentals are worth investing in. They'll save you time and streamline your entire HR department, helping you build your team faster and more effectively.
What is the Best HR Software for Startups ?
1.deputy
Deputy provides tools for scheduling, task management, time tracking, and employee communication. It helps you rotate shifts efficiently without overscheduling workers or hitting calendar conflicts, all while keeping you compliant with labor laws. Managing your team better and cut costs that help you stay on budget—two things that every startup needs. Deputy integrates with other popular HR tools and payroll processing software to streamline your to-do list.
2.Personio

Personio HR is designed to be an all-in-one HR platform that streamlines HR processes for small and medium-sized businesses. The software includes features such as applicant tracking, onboarding, time tracking, and performance management. It also integrates with other tools such as payroll software and benefits providers.
Personio HR's features include applicant tracking, onboarding, employee data management, time tracking, performance management, payroll, and benefits administration. It also offers integrations with other tools such as Google Workspace, Slack, and Zapier.
3.Breezy HR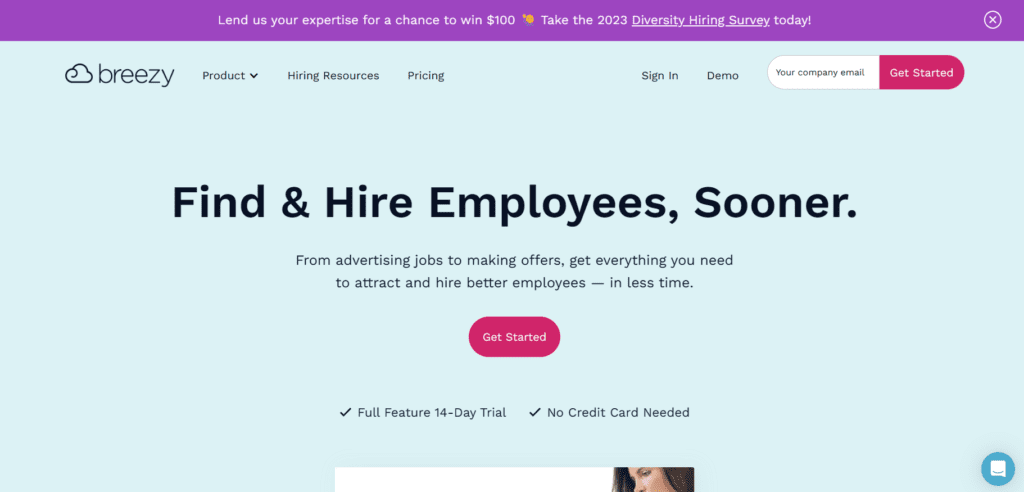 Breezy HR is a recruiting platform that is widely used by small to medium-sized businesses. It is a perfect solution for companies to revamp their recruitment process in tune with the current trends.
It is an end-to-end recruitment software that helps companies attract and hire top talent with minimum effort. It incorporates the best features to enable streamlined recruitment and HR management.
The platform allows HR teams to automate different stages of a recruitment process. Right from spotting the best candidates to sending offer letters, the software offers a wide range of tools to perform these tasks with ease.
4.Snappy
Whether it's new hires, spot rewards and recognition, work anniversaries and corporate events – Snappy is a complete solution to your employee recognition needs.
Besides being considered a corporate gift company, Snappy generates reports from automated campaigns, offering you the best insights covering employee nominations, customer win rates, and projected future campaign budgets all in one place.
Top features:
Custom integrations
Flexible API suite
5.BambooHR
With BambooHR, you can be confident that everything works together to give you an all-in-one experience that removes inefficiencies. Automate key functions, tasks, and integrations all with a single source of data. Collect and track signatures electronically to streamline your people operations in a fast, organized, environmentally conscious, and painless way for everyone involved.
BambooHR helps you tap into workflows at every stage of the employee lifecycle to keep your organization running smoothly. BambooHR brings all your employee, payroll, time, and benefit information together in one place, giving you the data accuracy, security, and coordination you need to sleep soundly.
6.Culture Amp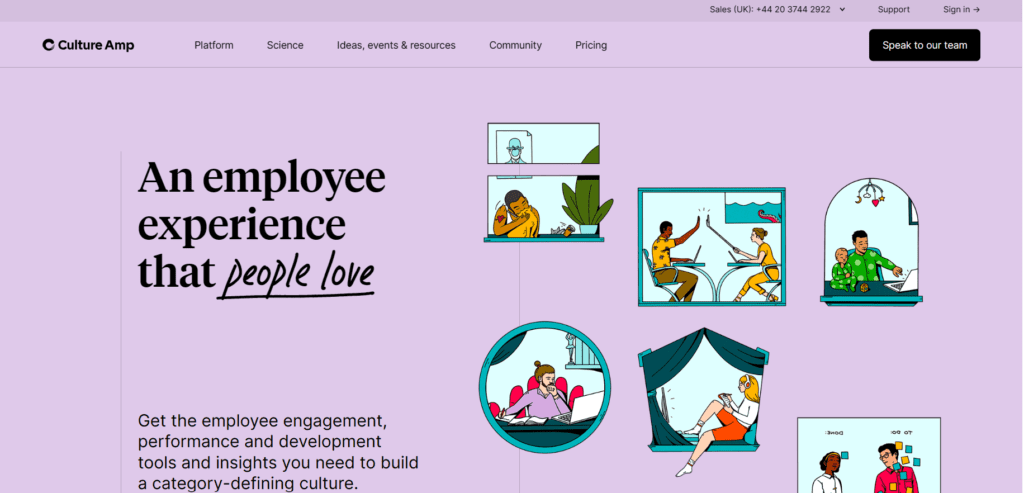 Culture Amp helps you monitor, report, and improve employee engagement and performance. It provides survey tools for giving and receiving feedback on whatever schedule you'd like, whether that's weekly, monthly, quarterly, or annually. The data is compiled into easy-to-generate reports that can give you valuable insights into your workforce's health and happiness. More importantly, you can use this data to inform how you hire, retain, and grow your workforce
7.Remote
Remote helps your startup manage payroll, benefits, compliance, and HR on an international scale, which is essential if you're building a globally distributed team. The platform helps you with hiring and compliance laws around the world, and it provides tools for automating onboarding for employees and contractors.
Remote provides local expertise to give you the know-how you need to avoid wasted time, extra costs, and hiring risks. It also enables you to pay your global workforce in their local currency.
8.Litmos
Litmos is a popular name that helps companies build eLearning solutions and has a comprehensive course library. Also, you can purchase the standalone LMS or course library or clutch them together.
Besides, this cloud-based solution allows HR teams to author and collaborate on web-based training courses and schedule and track instructor-led courses. Especially for businesses that can't afford to invest time in creating content, the off-the-shelf systems can be instantly loaded into the LMS.
Top features:
Integrated content creation tools
Real-time learning activity notifications
AI-generated video assessments
9.Gusto
Gusto is a cloud-based HR software that primarily delivers payroll and benefits management for full-time, part-time, and contract employees. Gusto works great for any size team, and it scales easily with transparent pricing and features. Full-service payroll ensures everyone gets paid on time, and it also automatically files your taxes and delivers W-2s and 1099s.
Gusto has a modern-day user interface that's easy to navigate for both admins and end users. If you need to expand your use case, you can simply upgrade to add management features for hiring and onboarding, time and attendance, talent management, and insights and reporting.
10.Lattice
Lattice, as termed is a performance management platform that managers and employees use to track performance that drives business outcomes and career growth.
Moreover, the platform is a complete HR solution that helps you manage performance reviews, conduct 1:1s, share reviews and updates, and recognize employees publicly.
Top features:
Personalised career growth plans
Set OKRs and handle goals
Connect performance and compensation
Connected and actionable people insights
Conclusion
In conclusion, choosing the right HR software for your startup can be a daunting task, but it's essential to ensure that your HR processes are streamlined and efficient. After reviewing some of the best HR software options available for startups, it's clear that each has its own unique set of features and benefits. Ultimately, the best HR software for your startup will depend on your specific needs and budget. We recommend carefully evaluating each option and choosing the one that best fits your business requirements. With the right HR software, your startup can focus on growth and success while ensuring that your HR processes are taken care of.