10 Best Realistic AI Voice Generators (Text-to-Speech)
Text-to-speech applications are not new. The voices and voice avatars, however, have undergone a considerable transformation to replace the monotonous robotic speech with more lifelike renditions. The introduction of AI and machine learning in the speech synthesizing process has proved to be the real game-changer.

The use of AI and trained neural systems has allowed AI voice generators to add humanlike inflections and emphasis that make the generated speech sound natural and more humanlike. The increasingly realistic voice outputs mean that there are now a wide variety of uses cases for these AI voices.
is a computer simulation of human speech from text with the help of machine learning techniques. Developers use TTS to create voice robots, such as IVR (Interactive Voice Response).
The technology allows businesses to save time and money by automatically generating a voice, eliminating the need for studio recording (and re-recording) every time a script is adjusted.
A TTS application can read a text in a voice almost identical to a human voice. And although the best representatives of TTS technologies are able to achieve impressive quality, you will most likely still be able to tell that it is a robot's speech. However, TTS is applicable to a range of use cases.
What are the Best Realistic AI Voice Generators (Text-to-Speech Software) ?
We have listed for you below the best tools and softwares to use in your projects for converting text to voices, that will help you create realistic audio clips with the best AI tools. So we have simplified for you the process of choosing the accurate tool for your business by listing the best ones, and giving the pros and cons of each tools.
Now we will help you to choose the best AI Voice Generators.
1. MURF.AI
Murf AI is a cloud-based realistic text-to-speech platform that can be used to create voiceovers for their content (YouTube videos, podcasts, advertisements/ commercials, e-learning content, presentations, audiobooks, etc.). We harness AI and deep machine learning technology to generate these ultra-realistic voiceovers across a range of 120+ voices in 20+ languages.
Voiceover production traditionally is a time-consuming and complicated process that involves hiring a voice actor, getting a script ready, recording in a studio, editing, adding music, images, or videos, and finally, syncing them all together. This is where Murf steps in to simplify the entire process and reduce the overall cost and time by leveraging AI.
Murf serves as an all-in-one platform where content creators/users can not only easily convert their script into natural-sounding audio within minutes but also add images, music, and video to their voice-over and sync them all in one place.
2. LOVO
If your are looking for rapid Realistic AI Voice Generators LOVO accelerates content production by providing highly adaptable AI Voiceovers, synthetic speech, and custom voice cloning platform. With over 200 voices that can deliver 30+ types of emotions, creators can simply type a script and generate expressive speech for games, films, advertisements, streaming services, e-learning institutions, app developers, and much more.
Our voice creation platform allows clients of all shapes and sizes from established enterprises like NBC Universal, Cameo, Frontier Developments, Siemens, and Samsung to independent artists and content creators, to streamline production and licensing costs and apply natural AI voice to their projects.
3. Listnr
Listnr is an amazing Realistic AI Voice Generators platform that lets you convert your blog posts or any other text to voice overs or podcasts. So now, you can start a podcast without the headache of buying recording equipment or the hassle of recording or editing any audio. The platform facilitates easy one click conversion, where you simply have to select the content (you want to converted to audio) from any website or just write the text in the dashboard, and Listnr converts it to the audio format which you can download and distribute to platforms such as Spotify, Apple podcasts and Google.
Through Listnr you can start a podcast in 30+ most spoken languages of the world including English ( US, UK, India, Australia dialects), Hindi, Russian, Mandarin, German, Spanish etc in different regional dialects. Also, users can easily embed the audio files created through Listnr into one's blog post or website with code snippets.
Listnr uses state of the art Speech Synthesis + the company's in-house Deep Learning Engine to make the voice sound very human like and get a sentiment analysis of the written content.
Listnr.tech is one of the best-rated Text to speech software in 2022, we're one of the first few text-to-speech software with podcasting capabilities. We support over 600 AI voices in 80+ languages. We're trusted by over 20,000 users from 60 different countries.
4. Speechelo
speechelo is Realistic AI Voice Generators (text-to-speech software) that allows content creators to put a voiceover atop their videos without having to enlist the help of another person. It provides a text-to-speech service that uses a computer-generated voice to speak the content without it sounding like an AI. There are more than 60 human-sounding voices to choose from, each one realistic enough that it's virtually impossible to tell that the voiceover is not a human, but a computer.
Speechelo Features, and Benefits:
1- 50 Voices –The most amazing collection of natural voices
2 – Online Text Editor – A.I. engine will check your text and will add all the punctuation marks needed to make the speech sound natural.
3 – Breathing & Pauses –You can add breathing sounds, longer pauses after each phrase. (or you can leave its A.I. engine decided when to add breathing sounds or pauses)
4 – 23 Languages
Arabic, Mandarin, Danish, Dutch, English, French, German, Icelandic, Italian, Japanese, Korean, Norwegian, Polish, Portuguese, Romanian, Russian, Spanish, Swedish, Turkish, Welsh.
5 – Voice Tones– Sometimes you need a serious tone other times you need a more joyful tone for your voiceovers. With Speechelo you can do that! It means it provides any tone you need.
6 – Change Speed & Pitch– You will get full customization control in Speechelo. You can customize speed and pitch according to you.
5. Play.ht
Play.ht is an AI voice generator and text-to-speech cloud-based software that generates text-to-speech content without human intervention.
This is a great advancement in the field of artificial intelligence and voice recognition because it enables anyone to speak any language they want without needing to know how to speak or read them.
Play.ht uses the most advanced machine learning techniques to generate accurate text-to-speech results through a highly optimized machine learning algorithm that has been trained for each language.
It uses artificial intelligence and natural language processing to generate text-to-speech (TTS) output via multiple platforms such as web browsers and apps.
The TTS software can convert any text into audio files while also providing several other functionalities such as the pronunciation of words. If you are looking for a voice that sounds like a human voice, then Play.ht is the right choice for your business or personal use.
Voice recognition is a big part of AI, but text-to-speech (TTS) is more important. Play.ht allows your computer to understand what you say and then speak it back to you in the form of text or an audio recording.
Here are some advantages of using Realistic AI Voice Generators software:
It doesn't require any hardware or special skills to operate.
It's way cheaper than hiring a voice actor to record a voice message.
It can be used by people with dyslexia who have trouble reading.
You can use multiple languages without having to hire multiple translators and editors.
6. RESEMBLE.AI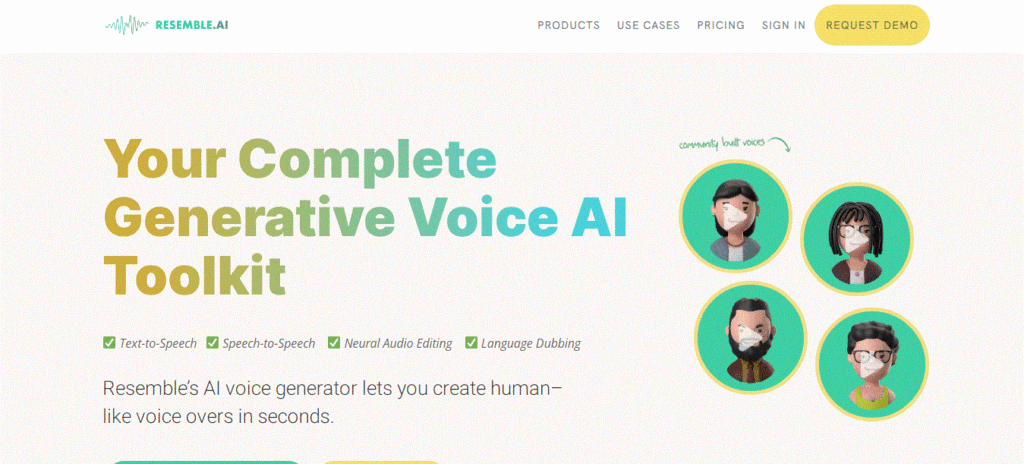 Resemble AI uses proprietary AI models to create a highly realistic voice clone to be used with TTS and our real-time APIs. Use Resemble AI's voice technology for your next conversational AI project or in games/media.
Resemble AI is one of the Best Realistic AI Voice Generators that offers support for broadcast-quality audio with support up to 44 kHz.
Resemble has already started attracting investors, including AET and Craft Ventures, and is closing a seed round for an undisclosed amount soon. The company was also chosen for the Betaworks Ventures Synthetic Camp accelerator program in New York this year, which came with a $200,000 investment.
7. Synthesys
Synthesys is a solution that adds the brainpower of thousands of people to a team. by reading through all data and highlights the important people, places, organizations, events and facts being discussed, resolve highlighted points and determines what's important, connecting the dots together and figures out what the final picture means by comparing it with the opportunities, risks and anomalies that are looking for.
8. REPLICA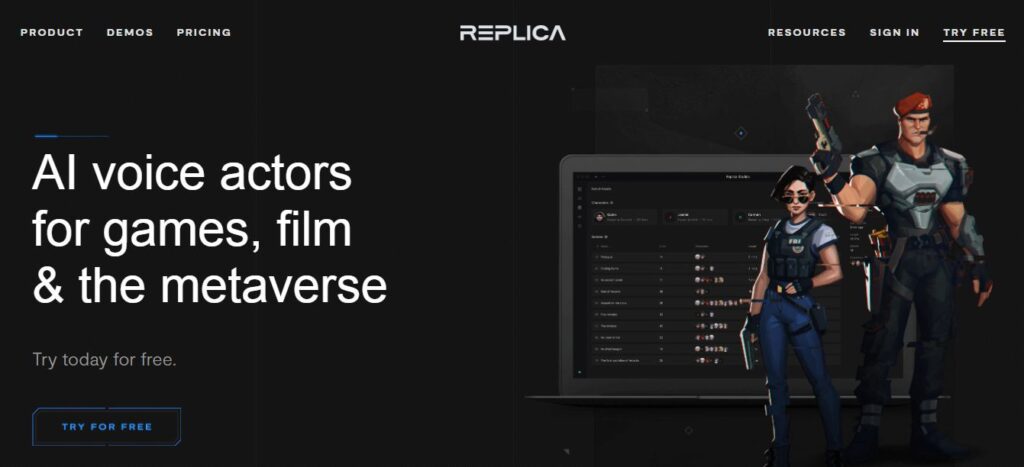 Replica is a design + print firm dedicated to providing the highest quality print, web and multimedia marketing materials. The company's guiding principles are Integrity, Strategic Discipline and Service Excellence.
Established in 1979 as a small black and white copy shop with a client base of law firms in the Center City area, Replica has grown to one of the most respected design + print firms in the Greater Philadelphia region.
Since transitioning to new management in 2009, Replica has undergone a remarkable and exciting expansion into the digital color-printing sector, specializing in the production of annual reports, brochures, marketing plans, advertisements, business cards, photo enlargements, booklets, newsletters, etc.
Replica has built a reputation for integrity, quality work, timeliness, and competitive pricing. In 2005 and 2011, Replica was recognized by the Mayor's Office of the City of Philadelphia as one of Philadelphia's best small businesses.
Replica has a dynamic duo design team who are ready to tackle any of your upcoming graphic design projects. One of the important reasons for Replica's success and reputation is keeping up with the latest technology by investing in equipment, computers and employee training on a timely basis.
Replica boasts a highly trained and motivated workforce specializing in graphic design and post-press services (i.e. binding & stitching). Based upon Replica's rapid expansion into digital media market customers are ensured the highest quality printed materials with the use of state-of-the-art digital printing technology.
9. Woord
Woord is for turn the Web into life-like speech. The voices are Realistic and you can choose between different genders or neutral voices. Also, you can convert large documents or books into audio with one simple click or using our API.
With our platform, you can easily convert text to speech (TTS) and create Realistic AI Voice. Just enter the text and the app speaks it for you.
Woord Features:
Text to Speech Synthesize with 60 voices from 10 different languages. Regional variations are also available for select languages, such as Canadian French, Brazilian Portuguese, and much more.
Male, Female and Neutral voices
Save text for later use
Output as MP3 file
Direct support
High quality audio
Different Varieties of the English Language (US, UK, Australia and India), Spanish, Portuguese, French, German, Russian, Turkish, Hindi, Italian, Japanese, Chinese, Vietnamese, Arabic, Dutch, Norwegian, Korean, Polish and Swedish.
10. Voicera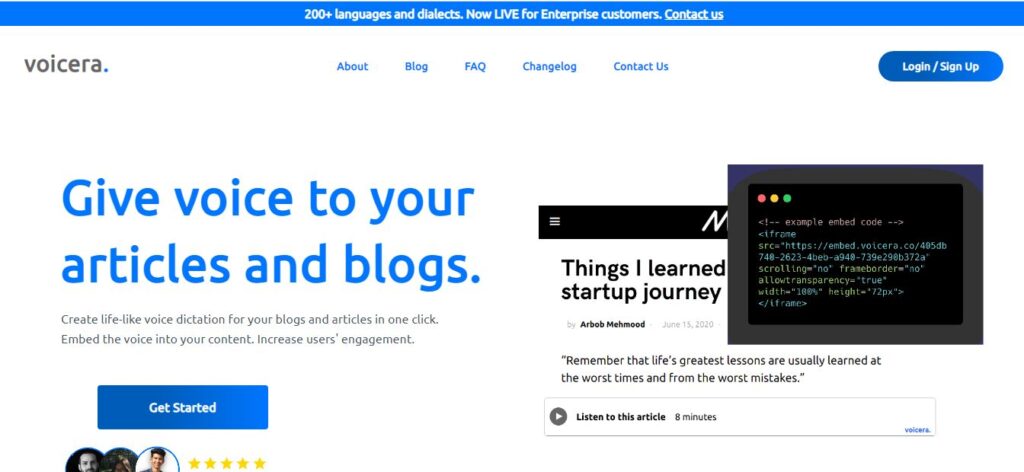 Voicera is on a mission to remove language and literacy barriers to knowledge through life-like AI voice dictation of text with real-time language translation. v1 of Voicera enables content writers and news & media houses to embed life-like AI voice dictation across their article, which their users can listen to instead of reading while doing something else.
Voicera, maker of the Enterprise Voice Assistant EVA, unveiled a number of innovations that further separates its voice collaboration platform from transcription apps and note-taking assistants. The new features, which include an Artificial Intelligence (AI) phone dialer, voice-activated reminders, and visual integrations, help increase productivity from workplace conversations.
Voicera is an AI technology company based in Menlo Park, CA, focused on the utilization of AI technology to harness voice in the workplace, connecting meetings to collaboration systems. Realistic AI Voice Generators Voicera unveiled the market's first voice AI solution for the workplace with its beta launch in November 2017, followed by its first commercially available version of EVA in May 2018.
Conclusion
These Realistic text-to-speech tools help you save time and allow you to spend no time in front of the microphone. Thanks to the latest advancements in AI, the voice generation landscape has changed drastically. These days, it can be hard to tell the difference between an AI voice and a real human voice.