10 Best Freelance Websites to Find Work
Today the work has changed, you can work and make money online from home as freelancer and manage your working time, in this article we have listed the Best Freelance Websites to Find Work, these websites they are reliable and well known in freelancing field.
What are Freelance websites?
Freelance websites provide a platform for freelancers to connect with clients. The site is the middleman between the two parties and provides an opportunity for freelancers to showcase their skills.
Freelancer websites are not only great for finding jobs, but also for getting advice on how to be a successful freelancer. Some websites offer courses on how to find work and manage your finances.
What is the Best Freelance Website?
1. Fiverr

Fiverr is a global online marketplace for freelance services. Fiverr's platform connects freelancers (sellers) to people or businesses looking to hire (buyers). Listings on Fiverr are diverse and range from "get a well-designed business card" to "help with HTML, JavaScript, CSS, and jQuery".The highest-paying jobs on Fiverr include website design, social media manager, proofreading and copywriting, and resume writing. Fiverr takes its name from the $5 asking price attached to all tasks when the company was founded in 2010 in Tel Aviv. These days many sellers charge much more, and the site is increasingly bringing its freelancers high income.
Freelancers work from a variety of workplaces, ranging from home to office. The platform is global, with freelancers and businesses spanning an estimated 160 countries. Fiverr went public in 2019. Today it is a multi-billion-dollar global marketplace. Source: wikipedia.com
2. Upwork
Upwork began over two decades ago by pioneering a better way of working, helping businesses find more flexibility and connecting talent with more opportunities Upwork connects businesses with independent professionals and agencies around the globe.
The company was formed in 2013 as Elance-oDesk, after the merger of Elance Inc. and oDesk Corp. The merged company subsequently rebranded to Upwork in 2015.
Access expert talent to fill your skill gaps
Control your workflow: hire, classify and pay your talent
Partner with Upwork for end-to-end support
3. Freelancer
Freelancer.com World's largest freelancing and crowdsourcing marketplace.
Freelancer is an Australian freelance marketplace website, which allows potential employers to post jobs that freelancers can then bid to complete. Founded in 2009, its headquarters is located in Sydney, Australia.
by number of users and projects. Freelancer.com connects over 62,441,282 employers and freelancers globally from over 247 countries, regions and territories. Through Freelancer.com marketplace, employers can hire freelancers to do work in areas such as software development, writing, data entry and design right through to engineering, the sciences, sales and marketing, accounting and legal services.
Freelancer Limited is trading on the Australian Securities Exchange under the ticker ASX:FLN
4. Toptal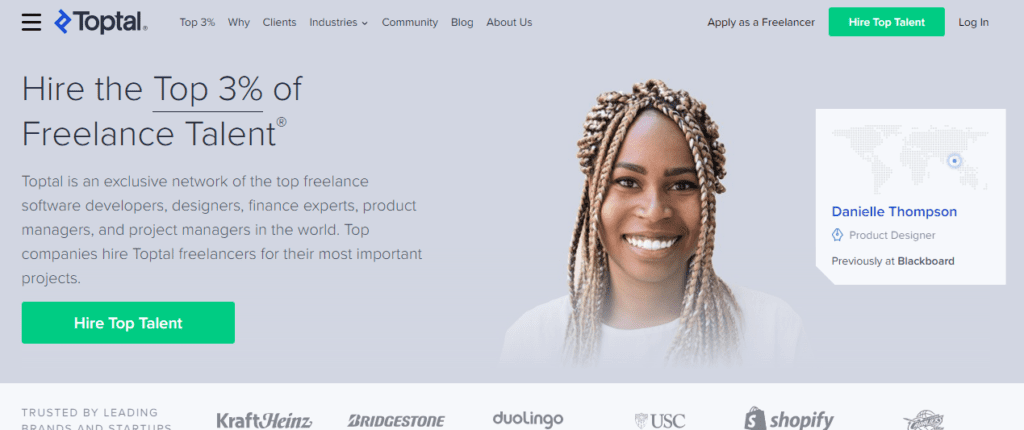 Toptal one of the best Best Freelance Websites to Find Work, it is a network of the world's top talent in business, design, and technology that enables companies to scale their teams, on demand. With $200+ million in annual revenue and over 40% year-over-year growth, Toptal is the largest fully distributed workforce in the world.
is an elite network of the world's top talent in business, design, and technology, on demand. With over 500 individuals in over 60 countries helping operate Toptal's core business, Toptal is the largest fully-distributed, highly-skilled global workforce. Toptal vision is to be the greatest talent company in the world, connecting the world's top talent with the world's top organizations for their most important business challenges.
5. Behance
Behance, part of Adobe, is the leading online platform to showcase & discover creative work.
Creative people around the world join Behance, entering a community made with their original work and creative process in mind. Here, users showcase their work in the form of profiles comprised of Projects.
Behance is free, and there are no restrictions on the number of projects a member can create. There is also no limit on the number of images/media users can upload. The Behance platform is free for creative professionals across disciplines.
6. PeoplePerHour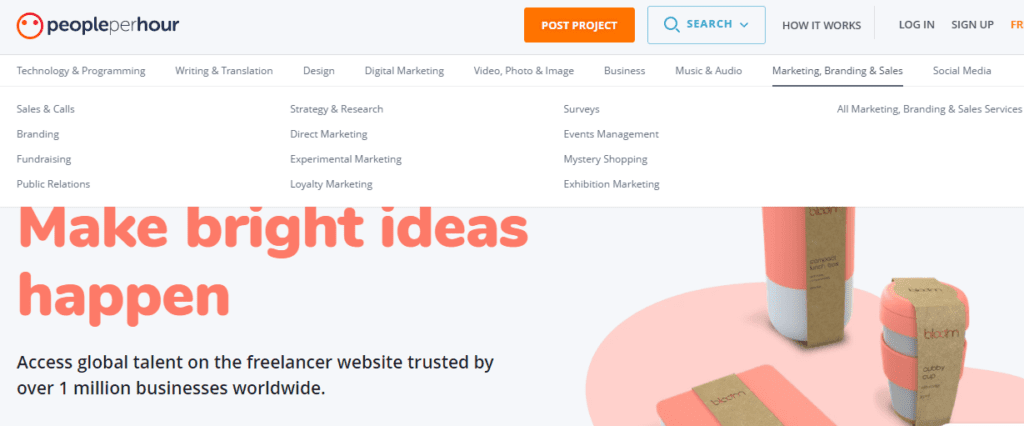 PeoplePerHour started in 2007 with a pen, pad and telephone. A lot has changed since then but PeoplePerHour goals remain the same; connect clients to PeoplePerHour's community of expert freelancers who are available to hire by the hour or project; provide flexibility to work when it suits you, outside the archaic 9-to-5 day; and enable people to live their work dream.
So far PeoplePerHour connected over 1 million clients and freelancers and paid over £100 million to freelancers — We think we might be onto something.
7. Jooble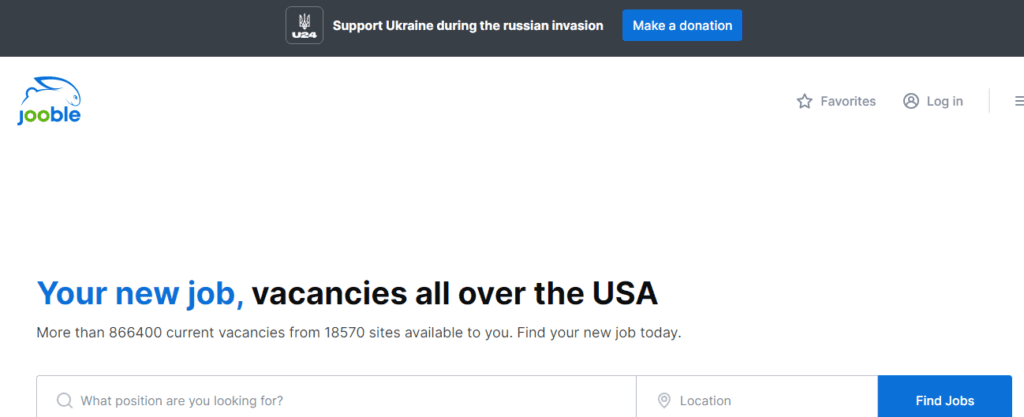 Jooble is an international job search website used daily by millions of people in 69 countries.
The company has been operating in the online recruitment market since 2006. In its — years of existence, the company has gone from a startup founded by two students to a global employment platform. Today, Jooble is among the TOP-10 websites in the world in terms of traffic in the Jobs And Employment segment, according to SimilarWeb.
The company is constantly working to ensure that the employment process is as comfortable and fast as possible, for both the applicant and the employer.
Every day, Jooble aggregates vacancies with more than 140,000 resources from around the world. Sources include corporate websites, social networks, classifieds, and other resources. Thus, all job offers are available in one place.
8. SimplyHired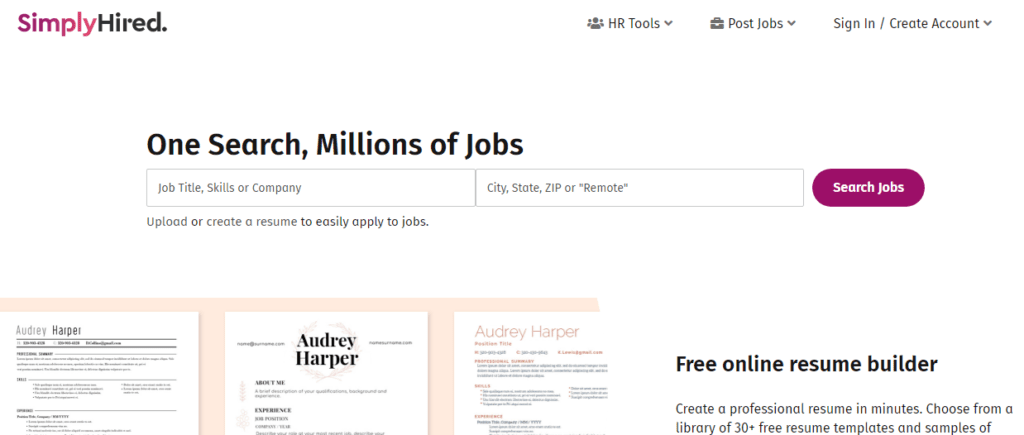 Simply Hired : one of the Best Freelance Websites to Find Work is an employment website utilizing desktop and mobile application for an online recruitment advertising network based in Sunnyvale, California. The company was launched in 2003. Source Wikipedia
9. Designhill
Designhill is world's # 1 creative marketplace that caters to the creative needs of businesses and individuals alike who can source high-quality designs from professional designers and unique products created by independent artists.
Designhill community of over 125,000 designers and artists from nearly 52 countries bring the world's best creative talent to your fingertips. From helping business owners crowdsource multiple design concepts, to hiring the best designers for one-to-one projects, to millions of unique products created by world-class artists on the PrintShop Marketplace.
What started as a design crowdsourcing platform in 2014 has now grown into a global creative marketplace for entrepreneurs and individuals alike.
Designhill was bootstrapped by Rahul Aggarwal and Varun Aggarwal to encourage creative talents around the world.
Designhill focuses on providing resources and support to designers and artists who strive to turn their ideas into reality. Thousands of creative projects have been completed successfully so far.
10. FlexJobs

FlexJobs helps people find professional remote and flexible jobs in 50+ career fields, entry-level to executive, part-time to full-time, in the U.S. and around the world.
FlexJobs expert team works tirelessly to find and screen the best remote and flexible jobs, and to provide information on each company to help you decide if you want to apply. they offers great resources to provide you support, guidance, and tools so you can land the remote or flexible job you want, and that includes client support you can talk to.
FlexJobs was created in 2007 to provide a trusted, more effective, friendly, and overall better way to find professional remote and flexible jobs. FlexJobs was founded by job space pioneer Sara Sutton after she had been looking for a flexible job after starting her family. She realized that millions of others were just as frustrated by the ads, scams, and inefficiencies on other job boards that wasted her time in finding a good flexible job, and so she decided to create the solution she was looking for Called FlexJobs.
Conclusion:
We arrived to the end of the article Best Freelance Websites to Find Work, with these websites you will be able to work and make money online easily using your skills, on the other side if you are looking for freelancer to work on your project use the Best Freelance Websites listed above, so you will be able to find the best profiles that fit your requirements.
What Is Freelancing?
Freelancing is a type of work that is done on a contract basis. The freelancer will work with the client to provide them with their services, and the client will pay for these services.
The freelance market has been growing rapidly in recent years, and it's not slowing down anytime soon. In 2016, freelancers made up almost 34% of the workforce in America. This number is expected to grow as more people are attracted to this type of work because they can set their own hours, choose what they want to do and make more money than they would if they were working for someone else.