10 Best Applicant Tracking System (ATS) For Recruitment
An applicant tracking system (ATS) is software designed to help recruiters and hiring managers to optimize the entire recruitment process. An effective ATS will allow recruiters to source, manage, and process all candidate data while providing a number of tools to better understand, search, and filter applicants. It will also enable you to sort and categorize the resumes and applications received based on keywords and criteria of your choosing so you can better understand which candidates are more suited to the position you are hiring for.

What is the Best Applicant Tracking System (ATS) For Recruitment?
ATS options are available for businesses across the board, be it for enterprise, midsize, or small business requirements. Moreover, based on specific business needs, organizations can also choose various formats of deployment. For example, let's say you need to purchase an ATS solution for a midsize corporation with an employee strength of 800 (spread across three regions) – which you wish to double over the next year. There was a time when you could not find a customized solution specific to your needs, budget, and growth plans. So you would have had to go for a typical one-size-fits-all option. Now, however, organizations are spoilt for choice in a market that offers multiple options for the most specific combination of needs.
As an easy-to-use applicant tracking platform, an ATS helps recruiters find and hire candidates in an organized and simplified way. We have simplified the process by bringing you the best Applicant Tracking System (ATS) For Recruitment.
1.PinPoint
Pinpoint is the fast, flexible Applicant Tracking System designed for in-house talent acquisition and HR teams at organisations making between 15 and 5,000 hires per year.
Attract – Recruitment Marketing
Your team expect great candidates. Pinpoint helps you find them. With simple, powerful recruitment marketing tools and unlimited help from our team, you'll never worry about sourcing great candidates again.
Hire – Applicant Tracking
More candidates should mean more choice, not a selection headache. Pinpoint's intelligent selection tools help you quickly identify the gold amongst your applicants and spend less time on admin.
Retain – Onboarding
Retention starts with a remarkable onboarding experience. Delight your managers and wow your new hires with automated workflows, and a personalized onboarding experience they'll love.
Measurement
Measure your progress and find new opportunities with customizable, actionable reporting. Get insights on your best sources of candidates, agency performance, progress on diversity and inclusion initiatives, and key metrics like time to fill.
And you'll never have to lose another candidate while waiting on a customer support ticket. Both you and your users can get personalized assistance from a real human who moves at your pace, with an average response time of less than 2 minutes.
2.Recruitee
Recruitee offers Slack integration to deliver real-time updates where your recruiting team is. From the Recruitee app, businesses can choose which notifications to be sent to which Slack channels.
What you will get:
Benifits:
1- Select the most important notifications to receive in Slack: your candidates, hiring pipelines, and recruiting team's activities
2- Have the right notifications sent to the right Slack channels
3 – Save time switching between multiple tools (for the whole recruiting team!)
4 – One-click open the candidate profiles or job openings from Slack to Recruitee
5 – A viable employer brand via stunning careers sites-mobile-friendly and one-click sharing on social media.
6 – Great candidate experience with beautiful careers sites, clean online application forms and email automation.
7 – Reach the most candidates with 800+ free and paid job boards integrated in Recruitee. discounted postings available up to 30%.
8 – Chrome extension to source passive talent from all websites directly into Recruitee.
9 – A dedicated that is highly focused on user experience. intuitie interface with a setup time less than 15 seconds.
10 – API and job widget available to show jobs on your own website.
11 – Free demo account available. Low-Cost monthly free.
3.Hire.Trakstar
Trakstar Hire is the easiest way to receive and manage the hiring and applicant process. It is more efficient than email and excel documents, simpler than any other recruitment software.
Developer of a SaaS-based applicant tracking system designed to help growing companies hire simply and predictably. The company offers an applicant-tracking software (ATS) that helps HR departments manage their hiring process through screening and interviewing thus helping them to make hiring decisions faster based on their qualifications, experience, and suitability in accordance with their requirements, enabling clients to collaborate and make informed decisions together.
1500+ growing companies use Trakstar Hire to receive job applications in one place, collaborate with their team on candidate feedback and interviews, and make faster hiring decisions.
Trakstar Hire makes the hiring and applicant process more organized, easier, and more efficient.
Customers include: Groupon (Intl), Progressive Insurance, Crunchbase, Scripted, US Dept of Energy (ARPAE), super markets (Standard Market) and many more.
4.Vid Cruiter
VidCruiter makes your job easier. Our HR tech software significantly reduces time-to-hire and helps you find better qualified applicants all while improving the candidate experience. We use Recruitment Process Modelling to digitize and customize the workflow so it mirrors your existing recruiting process—then enhances it. You'll be online in no time.
VidInterviewing by VidCruiter is the world's most advanced video interviewing platform. Our system offers pre-recorded and live video interviewing that can be customized to meet any recruitment scenario and has helped companies of all sizes find better quality applicants in a faster and more cost-effective way.
We offer:
• Video interviews (live and pre-recorded options)
• Interview scheduling
• Skills testing
• Automated reference checks
• Audio interviews
• Video proctoring
Each product can be used independently or as part of our completely optimized recruitment platform.
Transition to remote hiring and modernize outdated, time-consuming recruitment practices like phone interviews and manual reference checks.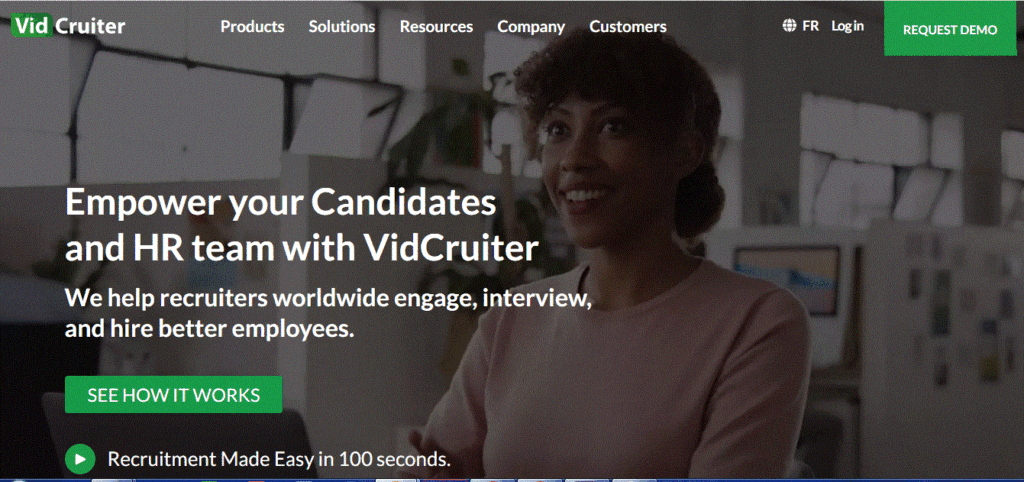 5.Clear Company
Since 2004, ClearCompany's end-to-end Talent Management platform has enabled thousands of companies to maximize talent by empowering people at every stage of the employee journey. ClearCompany integrates data-driven best practices, expert-informed content, and tailored software tools to recruit, ramp, recognize, and retain employees, uniting people and processes to achieve business success. Talent maximization is achieved when HR has the tools they need to plan accurately, execute people initiatives flawlessly, and build culture deliberately.
these essential pillars of talent maximization are the core of our Talent Management platform.
Talent Management | Applicant Tracking | Onboarding | Performance Management | Employee Engagement | Analytics & Reporting.
6.RIPPLING
Rippling is the first way for businesses to manage all of their HR, IT, and Finance — payroll, benefits, expenses, corporate cards, computers, apps, and more — in one unified workforce platform.
Rippling's was designed around the principle that employee data is critical to a surprisingly large number of business systems, including the ones well outside of HR. Maintaining the consistency of employee data across all these disconnected systems, across multiple payroll, HR and other databases, is the reason it's a lot of work for companies to have many different business systems in the first place.
Rippling says it solves this problem by giving companies and employees a single place to make changes, which then propagate everywhere automatically.
By connecting every workforce system to a single source of truth for employee data, businesses can automate all of the manual work they normally need to do to make employee changes. Take onboarding, for example. With Rippling, you can just click a button and set up a new employees' payroll, health insurance, corporate card, work computer, and third-party apps — like Slack, Zoom, and Office 365 — all within 90 seconds.
Based in San Francisco, CA, Rippling has raised $700M from the world's top investors—including Kleiner Perkins, Founders Fund, Sequoia, and Bedrock—and was named one of America's best startup employers by Forbes (#12 out of 500) and the #1 fastest-growing private company in the Bay Area by the San Francisco Business Times.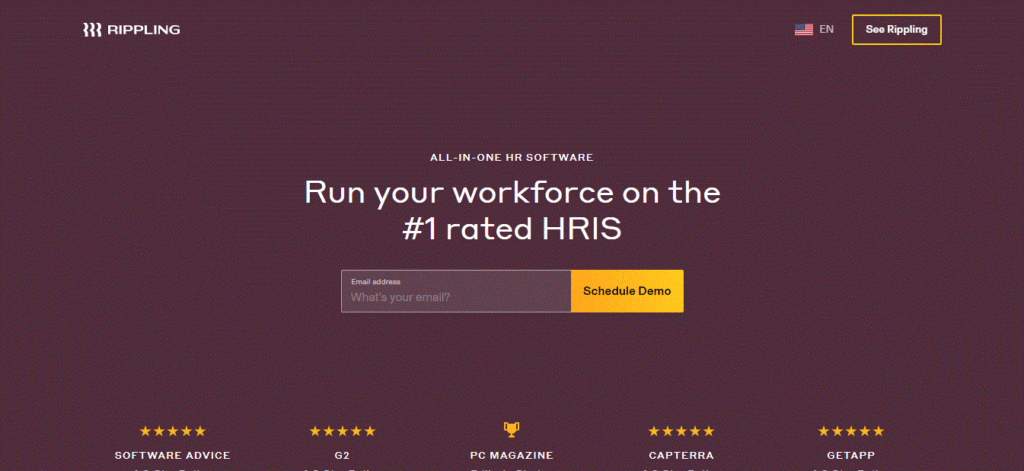 7.Greenhouse
Greenhouse is the leading hiring software for growing companies. Thousands of the most successful companies, like DoorDash, Betterment, Wayfair and DocuSign, use Greenhouse to optimize all aspects of their hiring and onboarding. Greenhouse Recruiting drives engaging candidate interactions at every touchpoint, eliminates administrative burden and keeps everyone on the hiring team engaged. Greenhouse also leads the industry in diversity, equity and inclusion (DE&I) tools, helping to mitigate bias and create a fairer hiring process.
Another definition: Greenhouse is the fastest-growing provider of enterprise talent acquisition. It has won numerous awards including #1 Best Place to Work by Glassdoor, Forbes Cloud 100, and Talent Acquisition FrontRunner leader by Software Advice.
Free from the ad-hoc and "one size fits all" approach of other systems, Greenhouse allows you to build great hiring plans for every role, tailored for each member of the hiring team and to configure the platform for your organization's unique needs.
When you work with Greenhouse, you join a passionate customer base of nearly 4,000 forward-thinking people teams dedicated to making hiring a strategic driver for their businesses. Chosen by more "Best Place to Work" winners than any other software system, and offering an ecosystem of more than 325 technology partners, Greenhouse is the industry's innovation pacesetter year after year.
8.BullHorn
Bullhorn is the global leader in CRM and operations software for the staffing industry. More than 10,000 staffing companies rely on Bullhorn's cloud-based platform to drive sales, build relationships, and power their recruitment processes from end to end. Headquartered in Boston, with offices around the world, Bullhorn employs more than 900 people globally. The company is founder-led and backed by Vista Equity Partners.
Bullhorn Staffing and Recruiting, which starts at $99 per user per month, is an applicant tracking (AT) system that combines unlimited customizations and an attractive user interface (UI). It's a great example of human resources software and management (HRMS) tool that provides a centralized dashboard for a businesses' activities. Bullhorn Staffing and Recruiting is an easy Editors' Choice selection thanks to its ability to deliver on most hiring manager's needs. Great integration with Bullhorn's wider suite of products, and compatibility with Salesforce Automation Software, pushes it over the top for businesses that require those integrations. It is a solid standalone choice for enterprises that don't need to tie all of their HR needs in one tool.
If you're specifically looking for an AT tool but you'd like something that jibes nicely with your CRM and enterprise resource planning (ERP) software, then consider a system such as Zoho Recruit, which is multifaceted and can span an entire organization's technology ecosystem. However, if you're more interested in a standalone AT tool, then you should consider BambooHR and Workable, both of which offer everything you'll need to find, interview, and hire new candidates.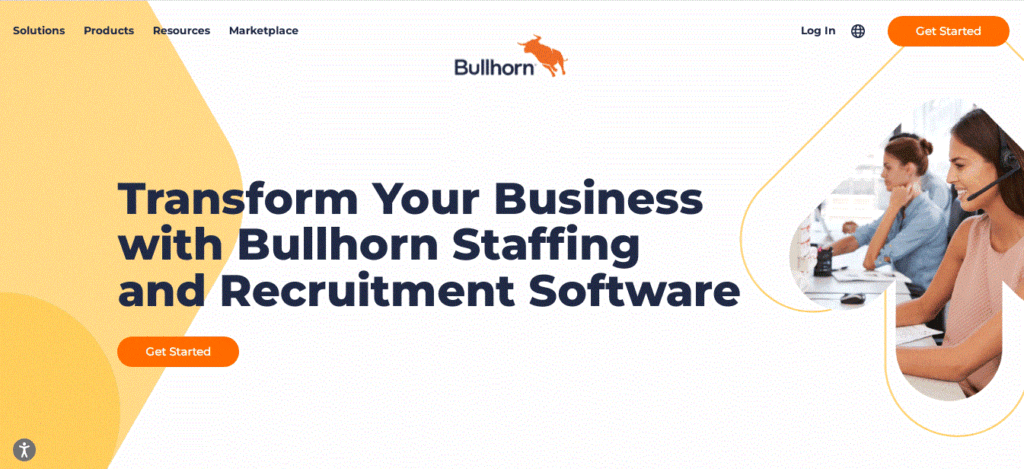 9.Ashby
Ashby helps scaling companies achieve their ambitious growth targets. With Ashby, teams of all sizes can run a fast and efficient hiring process. Trusted by companies including Opendoor, Figma, Notion, Deel and Modern Treasury.
Ashby, a new recruitment platform launching out of stealth, has raised $21.5 million in equity financing. F-Prime Capital led the Series B with participation from Elad Gil, Lachy Groom, Semper Virens, Base Case Capital and Gaingels, bringing Ashby's total raised to $34.5 million.
Ashby was founded in 2018 by Benjamin Encz and Abhik Pramanik, who met while working together at PlanGrid, a construction productivity software startup. Prior to PlanGrid, Pramanik was an R&D engineer at Industrial Light & Magic and co-launched Choir, a mobile app designed to provide therapies to those with mental health challenges. He was also a project lead at German IT service provider Datagroup before building clinical software and processes for the Mayo Clinic.
"Recruitment teams are being disproportionately impacted by current tech layoffs — this creates the need to run leaner budgets and do more with less headcount," Encz told TechCrunch in an email interview. "Ashby is consolidating recruitment tools for companies with double-digit employee counts. [The platform's] automation of tasks like sourcing and scheduling are big advantages for lean recruiting teams."
10.SmartRecruiters
SmartRecruiters' Talent Acquisition Suite is used by high-performance organizations for making the best hires. It has full functionality for recruitment marketing and collaborative hiring built on a modern cloud platform with an open marketplace for 3rd party recruitment services. Unlike the first generation applicant tracking systems it replaces, SmartRecruiters provides an amazing candidate experience, hiring managers actually want to use the product, and recruiters love us because we make their jobs easier. Companies like Visa, Skechers, Kelly Services, and Equinox use SmartRecruiters to make recruiting a competitive advantage.
SAN FRANCISCO – SmartRecruiters announced at the Hiring Success conference today the upcoming release of SmartX, the ultimate recruiting collaboration experience.
Technology providers in the space have invested heavily in building talent attraction tools over the past few years, with candidate experience soaking up much of the spotlight. But what about recruiter experience? Surely, someone needs to take the next step and ensure that recruiters can collaborate effortlessly with all stakeholders to complete the hire. SmartRecruiters is committed to solving this.
SmartX ushers in the next generation of SmartRecruiters. After reviewing over 500K hiring scenarios SmartX promises to land on the ultimate recruiting collaboration experience that makes hiring more:
– Personalized — Tailored experiences for everyone. Manage and prioritize tasks in an end-user customized dashboard, and decide how you want to automate your day with IFTTT recipes. Make this hiring experience yours.
–Collaborative — Effortless team collaboration. Enjoy pre-configured distribution of workload and SLA tracking, easy information sharing for fast reviews & approvals, and interview prep kits & scorecards for optimal evaluations
– Connected — Instant conversations with candidates anywhere via a unified messaging hub. Integrate with any vendor and any HRIS for a seamless workflow. All recruiting needs in one place.
– Predictive — Analytics & automation. Enjoy the most complete and accurate candidate profiles in the market matched with jobs you need to fill. Insights compared against system benchmarks and hiring success metrics are surfaced to keep you ready for executive meetings at all times.
Conclusion
An AI applicant tracking system can improve the matching of candidates to open positions by using natural language processing and machine learning algorithms to analyze resumes and identify the most qualified candidates based on skills, experience, and qualifications.