10 Best Websites to Sell Art Online
In today's world, there are abundant opportunities for professional photographers, graphic designers, and experimental artists to showcase and monetize their art online.
Numerous platforms cater to independent artists who want to sell their work online, ranging from ArtPal to Zazzle.
What is the Best Websites to Sell Art Online?
Keep reading to see the best websites to sell art online :
1. Artpal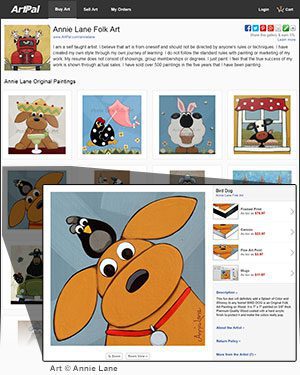 Artpal provides a unique online art buying experience by allowing customers to purchase original art and Print-on-Demand items in a single transaction. Whether you're selling original artwork or prints, ArtPal provides a unified platform where all items can be purchased through the same checkout process. As the only fully free art gallery for selling original artwork, prints, framing, and other items, ArtPal is a necessary platform for artists. Furthermore, creating a gallery on ArtPal is straightforward and speedy, enabling sellers to begin selling in a matter of minutes.
This site offers you the opportunity to :
Get paid instantly : Instantly accept Visa, MasterCard, Discover, American Express, eChecks, PayPal and more. ArtPal processes the payment and transfers the money directly to you without any work on your part. Simple, convenient and safe.
Sell ​​Art of Any Kind: Sell your paintings, prints, photographs, sculptures, handmade jewelry, crafts and more. Whether you're an artist, gallery, collector, or just someone looking to sell your art, you can sell on ArtPal.
Sell ​​originals, prints or use our free print-on-demand service: sell and ship your own artwork, both originals and prints, or let ArtPal do all the printing and shipping for you for free. Buyers can also choose from many different frame options directly from your gallery.
Create your free gallery: free, easy, and you'll be selling in minutes. And that's why over 239,000 artists use ArtPal to sell their art.
2. Artstorefronts
Artstorefronts is an all-in-one e-commerce platform tailored for fine artists and photographers. The platform provides a comprehensive range of tools and features that aid artists and photographers in showcasing, marketing, and selling their work online.
It boasts various benefits, such as :
Higher Conversion Rates: ArtStorefronts is designed to convert maximum visitors into buyers, ensuring artists and photographers generate revenue and grow their businesses.
Happier Collectors: It provides customers with an exceptional art-buying experience, ensuring they are satisfied with their purchases and are more likely to return in the future.
Constantly Updated: the platform regularly releases new features and upgrades to help artists and photographers increase sales and improve their businesses continually.
Exclusive Pricing & Discounts: The platform offers a negotiation process that ensures artists receive better pricing on printing and shipping from world-class vendors.
First-Class Service: Orders are delivered in style with personalized packaging bearing the artist or photographer's logo.
Other notable features include analytics that provide insights necessary to grow an art business, a lightweight CRM to manage opportunities and client relationships, Art Buyer AI that identifies visitors that share the typical characteristics of art buyers, ready-to-print art catalogs and sales sheets for offline selling, and automated email marketing for upsells, cart recovery, and more, featuring pre-written language by ArtStorefronts' marketing team.
3. OnlineGallery
OnlineGallery is a platform managed by experienced internet professionals that serves as an online art platform for artists to showcase their work in a transparent and visually appealing way. The platform offers easy searchability and direct communication with the artist. With a paid package, artists can link to their personal websites and social media, allowing them to increase their online presence.
The primary goal of Online Gallery is to encourage direct contact between the buyer and the artist, giving the artist the freedom to select which of their works to display. Artists can add a profile photo, a biography, and links to their website and social media, and can also participate in auctions and sell their artwork directly from their profile page.
The platform ensures secure online payments and provides protection to both the artist and the buyer. Most importantly, the platform operates on a no-commission basis, meaning artists receive 100% of the proceeds from their sold work.
4. Fine Art America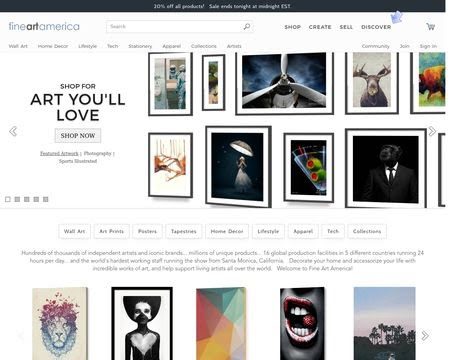 Fine Art America, established in 2006, is the world's largest print-on-demand technology company and art marketplace. It serves as the top online platform for buying and selling a variety of products such as original art, prints, apparel, home decor, and more. Fine Art America offers a straightforward process for artists to begin selling their work, starting with opening an account, uploading their images, selecting the products they want to sell, setting prices, and connecting with millions of buyers worldwide.
The company provides artists and photographers with sales and marketing tools, including branded web stores, Facebook print sales, and e-newsletters, to simplify and accelerate their careers. Currently, more than 500,000 artists and photographers offer ten million images on FineArtAmerica.com, with thousands of new artists and images added each week.
Plus, artists and photographers can create customizable e-commerce websites through Fine Art America, allowing them to sell their products directly to customers from their own websites. Fine Art America handles all of the printing, packaging, and shipping, making it easy for artists to focus on creating and promoting their work.
5. Saatchi Art
At Saatchi art, artists can easily sell their work in various mediums, such as painting, collage, photography, drawing, sculpture, printmaking, mixed media, limited edition prints, installation, and open edition prints.
The platform is fair, transparent, and provides secure payments through check, wire transfer or PayPal. With support specialists who ensure financial protection on every sale, artists receive 60% of the sale price for their works.Benefits of using Saatchi Art include the attention of expert curators who review artworks daily, Art Advisors who make recommendations and facilitate sales to private collectors in over 140 countries, and the ability to reach new collectors around the world through direct mail catalogs, digital marketing, social media advertising, and other channels.
The platform also boasts a dedicated team of art consultants who work to source artwork for commercial partners worldwide and rich editorial initiatives and content features, like Rising Stars, New this Week, Digital Exhibitions, and Curated Collections.
In addition to these benefits, Saatchi Art offers painless shipping for artists, with shipping costs covered by the collector and handled by specialists. Artists can also display up to five different viewpoints of each artwork and manage their portfolio using the Studio portfolio management tool, which allows them to add, edit, and update artworks and respond to sales from anywhere.
6. Ugaller
Ugallery displays a wide range of original art pieces in every genre, style, size, and medium, excluding photography, digital art, and video art. All artworks undergo a thorough vetting process by the curators before being showcased. The company aims to provide clients with a diverse selection of two- and three-dimensional media and does not exhibit reproductions of original pieces such as giclées.
To reach a broader audience, Ugallery runs a large online marketing campaign that includes Search Engine Marketing, Search Engine Optimization, and retargeting ads. The company also has a thriving email list, strong content strategy, and a growing social media following. Exhibiting with Ugallery may provide opportunities to participate in special projects or press opportunities.
However, to ensure customer satisfaction, Ugallery offers a seven-day money-back guarantee, allowing clients to try out artwork in their homes. The return rate is less than 5%, and if a piece is returned, the company will cover the cost of shipping it back to the artist.
In addition to providing a platform for artists to sell their artwork, Ugallery also offers a range of resources and services to support artists in their careers. This includes professional development opportunities, access to a network of collectors and industry professionals, and guidance on pricing, marketing, and sales strategies.
7. TurningArt
With an online selection of over 50,000 artworks TurningArt, provides unparalleled nationwide support, quality, and flexibility for your art program. Their turnkey service allows you to customize your involvement in the process, as the platform handles everything from design and curation to installation and rotation. Plus, with a dedicated Art Advisor, you'll have a personal point of contact to manage your program every step of the way.
TurningArt works with over 2,500 artists across the country, allowing you to feature local artwork in your space no matter where you are. Their extensive selection of art includes prints, originals, commissions, and bespoke installations to ensure you get the right artwork for your space.
Additionally, they offer preferred pricing and flexible options such as combining purchase and rental options, and rotating artwork at the frequency of your choosing.
One of the unique features of TurningArt is their proprietary technology that allows customers to browse and select artwork online using their virtual Art Advisor tool. This tool analyzes a customer's preferences and recommends artwork that will suit their style, budget, and space.
8. Pixpa
Pixpa is an all-in-one platform that allows you to create your professional website with an online store, blog, and client galleries without any coding knowledge. Pixpa's all-inclusive packages enable you to manage your entire online presence in one place, simply and affordably.
Whether you want to showcase your portfolio, create a professional website, sell your products, publish a blog, or manage your clients – you can do all that and more with Pixpa. To see everything you can do with Pixpa, visit the full features list page.
Now let's see some of its main features :
Customizable templates: You can choose from a variety of templates to create a unique website that represents your brand and style.
Online store: Sell your products with ease using Pixpa's built-in e-commerce functionality.
Client galleries: Share your work with clients by creating private galleries that allow them to view, proof, and download images.
Blogging: Publish blog posts to keep your audience informed and engaged.
Mobile-friendly: Your website will look great on any device, whether it's a desktop, tablet, or smartphone.
SEO optimization: Optimize your website for search engines to increase visibility and drive traffic.
9. Society6
Society6 is a hub for independent artists worldwide, with each creator bringing their own distinct designs to the table. You can select your favorite design and match it with our unparalleled selection of everyday goods, including wall art, home decor, bed and bath, apparel, tech accessories, furniture, and lifestyle products, all of which are made to order.
With Society6's extensive range of styles, it's effortless to find products that suit your exact taste. Whether you're seeking art prints, tapestries, throw pillows, comforters, shower curtains, T-shirts,or iPhone cases, the platform has something for everyone.
Reasons to sell on Society6 include:
Showcase your artwork: Whether you're a full-time artist or just a hobbyist, we provide you with an outlet to showcase your creative work on an expanding range of products.
Variety of products: it offers a best-in-class assortment of wall art, home decor,furniture, apparel, and lifestyle products for you to offer in your shop, and our dedicated merchandisers are constantly searching for new and high-quality products to add to your collection.
Focus on what matters: Regardless of where you are in the world, they have a team of experts who will handle fulfillment, printing, shipping, marketing, and customer service for you, allowing you to concentrate on creating.
Find your people: the platform draws millions of diverse, art-focused customers from all over the world who are eager to discover new artists and add unique designs to their everyday lives.
Join a community: with a foster a thriving artist community committed to supporting one another with artist education, trend reports, and creative feedback.
10. Zazzle
Zazzle is an on-demand marketplace where it connects customers with artists' beautiful designs including clothing, accessories, home decor, and gifts.
It ffeatures :
Customization options: Zazzle allows users to customize a wide variety of products, including apparel, accessories, stationery, and home decor, with their own designs, photos, and text.
High-quality printing: Zazzle uses state-of-the-art printing technology to produce high-quality and long-lasting products, including direct-to-garment printing for apparel and dye-sublimation printing for accessories.
Large product selection: the platform offers a vast selection of customizable products, including t-shirts, mugs, phone cases, stickers, invitations, and much more.
Design tools: it provides a suite of design tools that allow users to create custom designs and easily upload them to products.
Fast shipping: Zazzle offers a variety of shipping options, including standard, expedited, and express shipping, to ensure fast and reliable delivery of products.
Conclusion
The trend of independent artists selling their artwork online is on the rise. This approach offers various benefits, such as connecting with art buyers worldwide, gaining increased exposure through multiple platforms, achieving higher profit margins and more.