10 Best Fleet Maintenance Software and Systems
There's a lot that goes into tracking business vehicles and drivers. The best fleet management software can make the process much easier, efficient and cost-effective. From scheduled maintenance and parts inventories to real-time location tracking and document storage, this software can help you stay on top of what's most important for the cars, trucks and vans in your fleet. Here are our top picks for fleet management systems.

What are the Best Fleet Maintenance Software and Systems?
1.Innovative Maintenance systems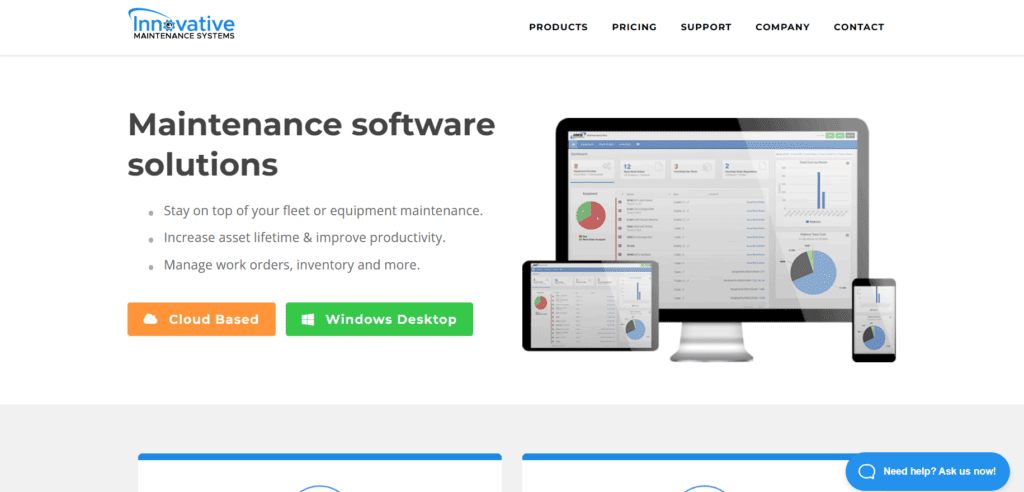 Innovative Maintenance Systems provides leading maintenance management software for equipment and facilities in any industry. With thousands of customers worldwide, their software is completely customer driven. They not only provide the functionality their customers ask for, but they also realize the importance of having a software system that is easy to use. Their company goal is to provide a maintenance system that is easy to use, while maximizing the benefits of keeping accurate maintenance records. In the end, they will help you minimize the total cost of ownership for your equipment.
2.AUTOsist
AUTOsist is a cloud-based fleet maintenance management solution for businesses of all sizes and types. Key features include maintenance tracking and reminders, inspection checklists, work orders, fuel tracking, parts inventory tracking, records management and reporting. AUTOsist includes dedicated service areas to track service and maintenance records as well as fill ups. Receipts can be attached to monitor budget and mileage.
Managers can assign users to vehicles and other assets with permission control. Recurring reminders can be set up for important tasks by mileage and date with the ability for multiple users to get notifications. The system is able to store important records like insurance info, registration and more, and custom notes and images can be attached. Users can sort records by date, mileage, cost, or shop name as well as search by keyword. AUTOsist offers reporting and analytics over metrics such as spend amount which pulls from receipt records. Data can be exported to an Excel file with custom fields, and images can be backed up in ZIP files.
3.Motive
Motive, formerly KeepTruckin, builds technology to improve the safety, productivity, and profitability of businesses that power the physical economy. The Motive Automated Operations Platform combines IoT hardware with AI-powered applications to automate vehicle and equipment tracking, driver safety, compliance, maintenance, spend management, and more. Motive serves more than 120,000 businesses across industries, including trucking and logistics, construction, oil and gas, food and beverage, field service, agriculture, passenger transit, & delivery.
4.Fleetio
Fleetio's suite of cloud- and mobile-based fleet management solutions helps fleets across multiple industries automate fleet operations and manage asset lifecycles. Fleets can manage maintenance, fuel, vehicle inspections, parts, vehicle assignments, recalls, vendors and more. Data about asset utilization, maintenance costs, fuel efficiency, parts and labor can all be tracked within Fleetio.
Fleetio offers fuel card automation plus integration with multiple telematics solutions for automated odometer updates, DTC handling and fuel location reporting. Developer APIs allow the software to integrate with other applications such as QuickBooks and Xero. Mobile apps are available for iOS and Android devices. Customer support is provided via phone, email and a knowledge base. Pricing is per asset per month.
5.azuga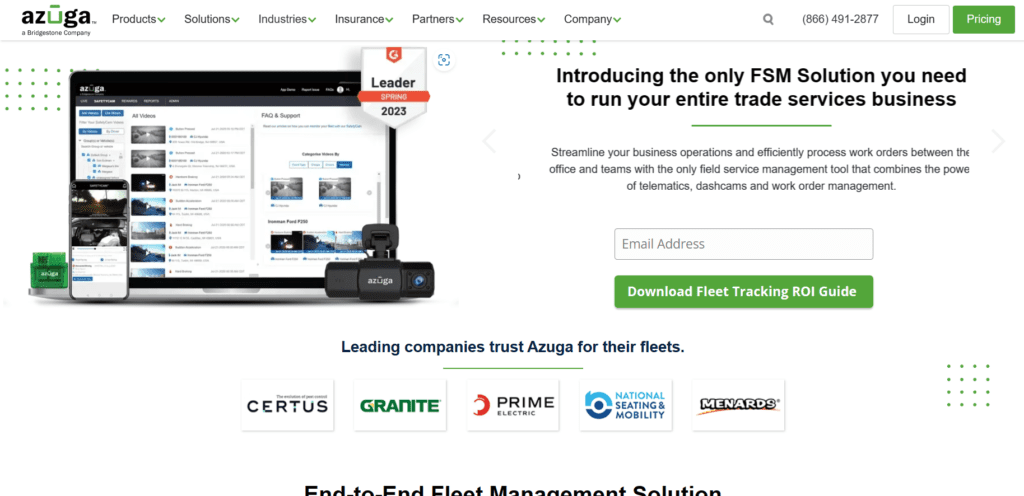 Azuga Fleet is a cloud-based fleet management solution for businesses of all sizes. It caters to various industries including transportation, pest control, commercial security, specialty contractors, construction, equipment rental, manufacturing and more. Primary features include fleet tracking, electronic logs, maintenance management, asset tracking, roadside assistance, safety management and reporting.
Azuga Fleet offers governance telematics, insurance telematics and data science modules within a suite. The governance telematics provides features for road-usage charges, toll collections and emissions. The insurance telematics module offers price and risk measurement, premium management and order management for commercial automobiles. The data science module provides allows users to understand various patterns such as battery health, driver behaviour, fleet maintenance, etc. using data analytics. Azuga Fleet is available in a monthly subscription pricing. It is compatible with Windows, Mac and Linux. Android and iOS mobile applications are offered. Support is available via email and over the phone.
6.whip around
A powerful yet intuitive fleet maintenance system, Whip Around helps you keep your entire fleet safe, compliant, and on the road. The Whip Around fleet management platform connects every point of the vehicle and equipment maintenance process in one system: which means managers can use data related to your inspections, repairs, compliance, and uptime to make smarter decisions for the fleet. Whip Around supports your whole team—managers, drivers, and mechanics.
FLEET MANAGERS:- Monitor fleet health within the fleet maintenance analytics dashboard – Set schedules for preventive maintenance – Create, prioritize, and track work order progress – Get push notifications when defects appear
DRIVERS:- Perform, sign, and submit daily inspections through our DOT-compliant app – Immediately report issues that need maintenance attention by capturing photos and voice comments on their mobile devices – Get push notifications if inspections are missing or incomplete
MECHANICS: – Push notifications for new work orders and defects – Automatic work order documentation and tracking – Easily mark faults as corrected or addressed within the Whip Around app The data drivers collect with the app powers the fleet maintenance management portal, where fleet managers can keep track of fleet-wide defects, monitor work orders, and observe updated driver and asset leaderboards. The aggregated data also feeds into Whip Around's maintenance dashboard so mechanics can monitor defects, work orders, and parts inventory.
Whip Around keeps your fleet compliant and helps your drivers get home safe at the end of the day.
7.verizon connect
If you're looking to keep tabs on safety, compliance or productivity in an efficient, digital way, Verizon Connect delivers. Get one software solution to manage your entire fleet of vehicles, drivers, jobs and assets. Our award winning user interface gives you meaningful insights into your fleet data to help you make better-informed decisions for your business. Cut costs by reducing idling and unnecessary fuel use. Improve safety, reduce accidents and deflect false claims with AI powered dashcams. Increase productivity with better visibility into fleet activity.
Take your fleet tracking platform further with these add-on products to give more context, streamline operations and protect valuable assets:
AI Dashcam
Automatically alert drivers when they are distracted, following too close or falling asleep and review HD footage within minutes of the incident.
Reveal Field
Streamline job management, scheduling and dispatch with a drag-and-drop calendar and technician mobile app.
Asset Tracker
Monitor your costly equipment to help improve utilization, properly allocate resources and track stolen assets.
Logbook for Reveal
Manage ELD compliance, give drivers a mobile app to track HOS and simplify roadside inspections.
8.Fracttal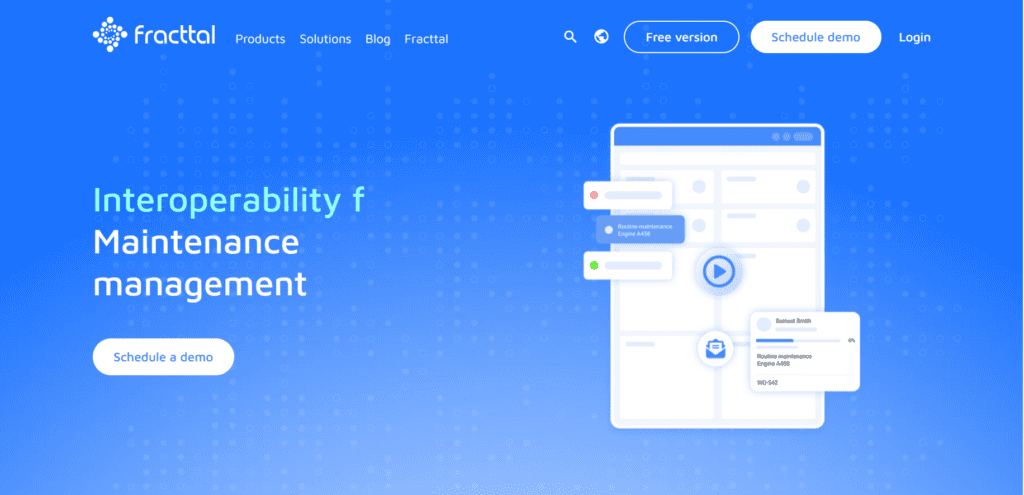 Fracttal is the most powerful cloud-based and 100% mobile CMMS/EAM on the market. We make maintenance management in any type of organization or industry, innovative and unique, helping it in its digital transformation process extending the useful life of your assets and optimizing the productivity of your team.
With Fracttal, monitor all aspects of maintenance management. Plan, assign, execute and report all tasks and KPIs directly to technicians or suppliers from one place. Manage your team, contractors, clients and even get all the HR information without changing the platform. No matter what device you use, Fracttal gives you the best experience.
9.onfleet
Onfleet is a last-mile delivery management SaaS platform suitable for large enterprise businesses as well as SMBs.
Onfleet's software includes intuitive driver apps for iOS and Android devices, robust proof-of-delivery features (photo, signature, and barcode capture), powerful route optimization and auto-dispatching, real-time driver tracking, automated customer notifications and powerful analytics.
Onfleet's RESTful API allows businesses to integrate seamlessly with various systems, such as online ordering interfaces, inventory and warehouse management systems, and more.
Onfleet powers millions of deliveries per month for thousands of smart businesses around the world.
10.MaintainX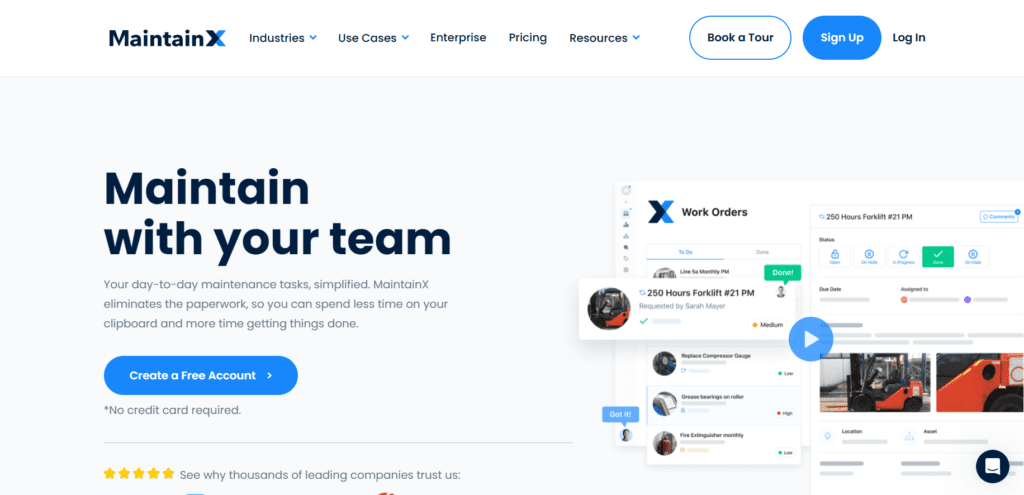 MaintainX is a web-based CMMS tool that can be used on mobile devices. It aims to improve workflow completion and strengthen team communication. It can be used by operational teams in small to large businesses. This solution allows users to track unlimited assets and create countless work orders.
Additionally, this tool includes an internal messaging system that reduces unnecessary emails and speeds up workflows. With MaintainX, users can easily create customized templates, such as procedures and checklists. Users can also upload annotated photos to inspections in order to provide more clarity on the status of an asset/location. Pricing is per user on a monthly or yearly subscription basis. Support is available online or via live chat.
Conclusion
When choosing a fleet management solution, it's essential to consider your specific needs. For example, if you have a small fleet and intend to stay that way, you may not need all the bells and whistles offered by some of the more comprehensive solutions. On the other hand, if you have a large fleet, you'll want to ensure that the solution you choose has all the features you need to manage your assets effectively.
Once you've considered your needs, it's time to start looking at different vendors. There are several ways to do this, including online by requesting demos. Then you can choose the best option for your business growth!