10 Best Embedded Business Intelligence Software
Embedded BI is the integration of reports, dashboards, and data visualizations inside an application. The information is typically displayed and managed by a BI platform and is placed directly within the application's user interface to improve data usability and decision-making.

Embedded business intelligence (BI) software is rapidly becoming an essential tool for businesses of all sizes. By leveraging the power of data, embedded BI software enables companies to make better decisions, improve customer service, and increase profitability. With the ability to collect, analyze and visualize data from multiple sources in real-time, embedded BI software provides organizations with actionable insights that can be used to drive strategic decision making. Moreover, embedded BI solutions are highly customizable and can be tailored to meet the specific needs of any organization. As such, they are quickly becoming a must-have for businesses looking to stay competitive in today's digital landscape.
1. Bold BI
The Bold BI platform allows for the combination of widgets in an intuitive fashion. Resulting analytics can interact with users in multiple ways.With Bold BI's drag-and-drop interface, you don't need to have a technical background to create beautiful dashboards. The flexibility of Bold BI lets you either build and deliver dashboards without installing any software or create and manage dashboards from your own servers.
2. Zoho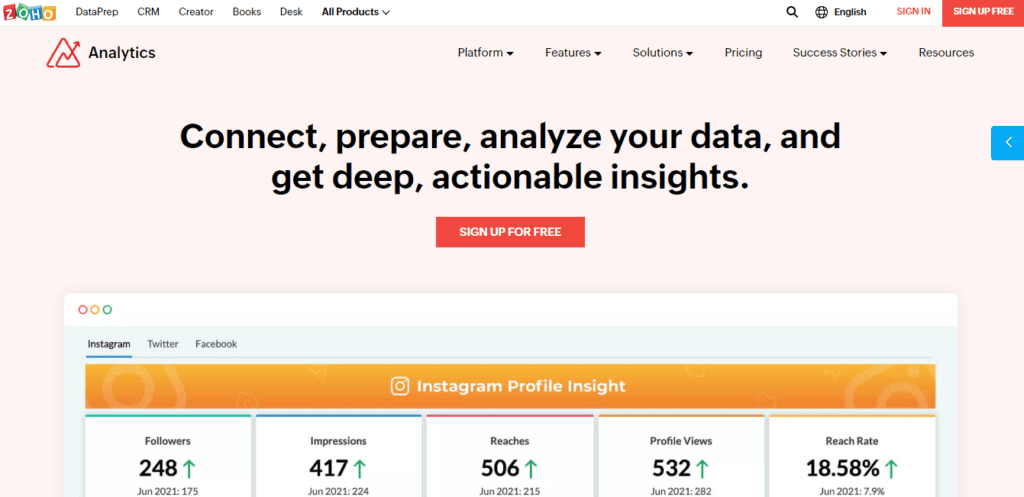 Zoho CRM acts as a single repository to bring your sales, marketing, and customer support activities together, and streamline your process, policy, and people in one platform.
3. Domo
Domo is an American cloud software company based in American Fork, Utah, United States. It specializes in business intelligence tools and data visualization. Domo for Good connects nonprofits with Domo customers for best-in-class data support.it is the software that unifies every component of your business and delivers it all, right on your phone. Domo brings together all your people, data, and systems into one place for a digitally-connected business.
4. GoodData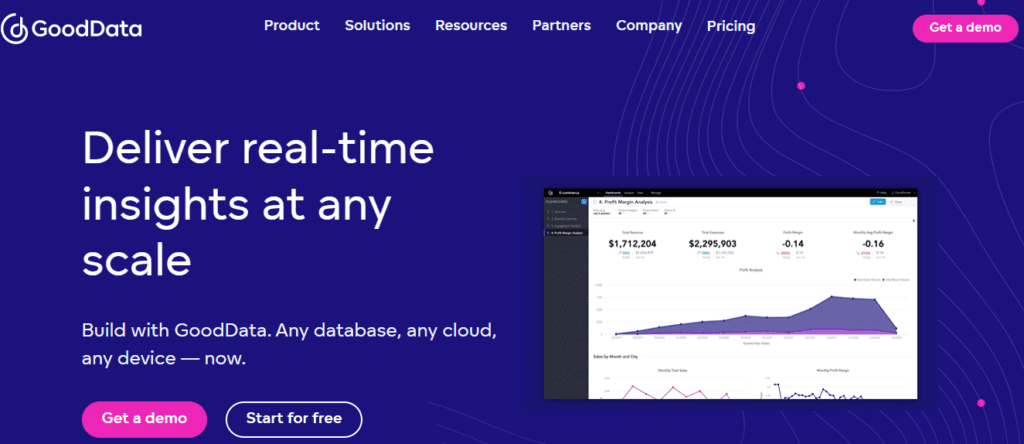 GoodData's composable data and analytics platform provides a single source of truth across organizations and to their customers. To this day, they've helped more than 140,000 of the world's top businesses deliver on their analytics goals and scale their data use cases — from self-service and embeddable analytics, to machine learning and IoT.
5. Looker
Looker is a business intelligence software and big data analytics platform that helps you explore, analyze and share real-time business analytics easily.Looker Blocks help teams quickly get up and running with Looker dashboards and data explorations. it has worked with experts from customers, partners, and Google to build Blocks that accelerate time to value across different data sources, use cases, and analytical needs.
6. MicroStrategy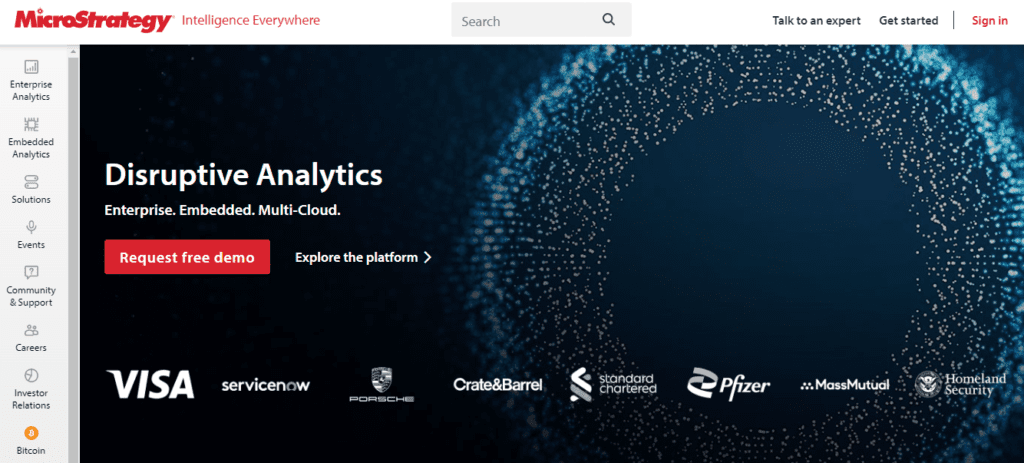 MicroStrategy is a Business Intelligence software, which offers a wide range of data analytics capabilities. As a suite of applications, it offers Data Discovery, Advanced Analytics, Data Visualizations, Embedded BI, and Banded Reports and Statements.it is good at providing capability of data wrangling and preparation. Data from multiple sources can be joined for insightful analysis. The dossier have good number of functionality to create different visualisations and share on the fly.
7. Mode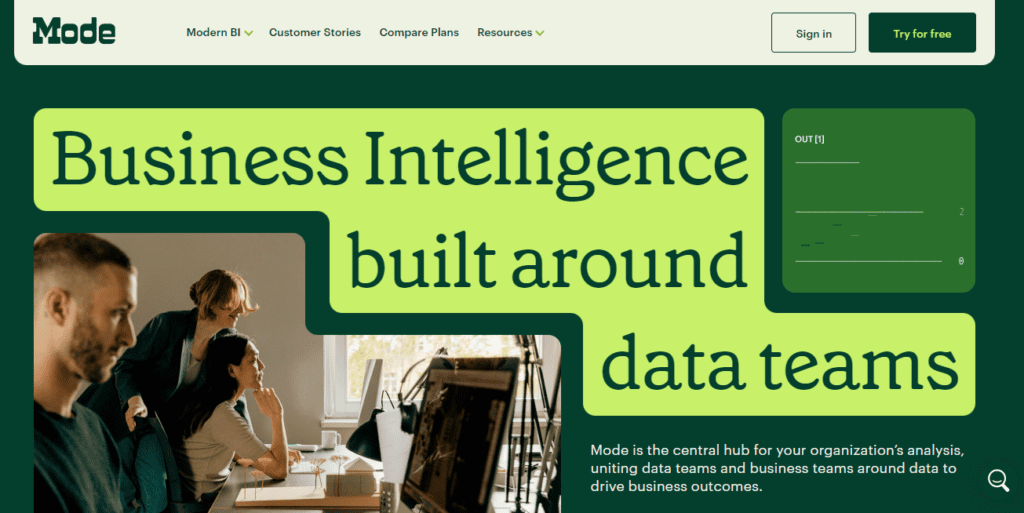 Mode is a cloud-based collaborative analytics platform that helps users manage and create fresh data, perform ad hoc analysis and review critical business segments with custom reports.it is simple to understand and easy to calculate. It can be located graphically, unlike mean and median. It can be used for qualitative analysis. The extremities in the values of the data do not affect the mode.
8. PI intelligence
pi's embedded analytics technology provides dashboards reports, and analytics into the heart of your SaaS application. with Pi platform you can :
Embed no code analytics into your users workstreams
White label for a unified brand experience
A business intelligence platform that easily embeds into your apps existing data stack
Embedded analytics & business intelligence solution that's aligned with your data security model
9. ThoughtSpot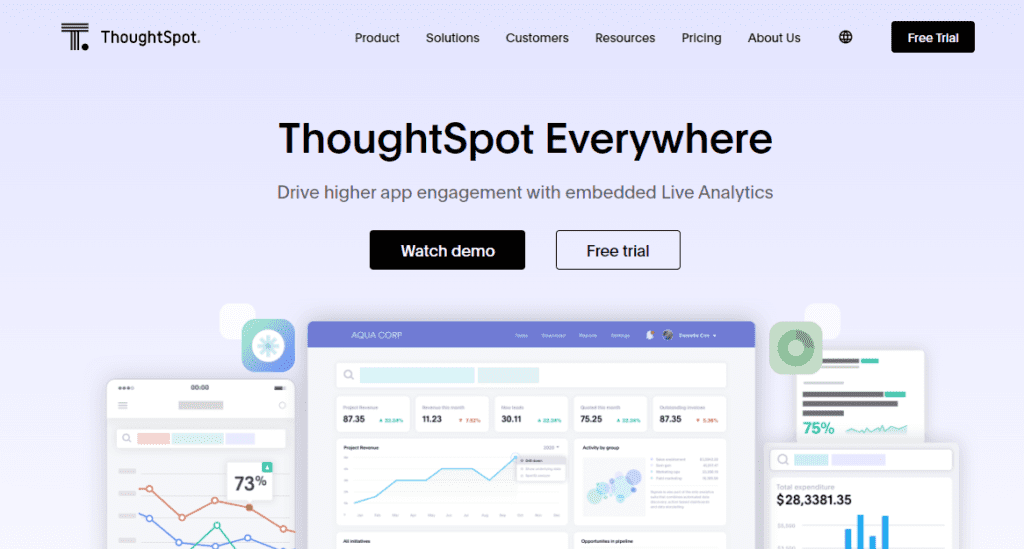 Thoughtspot is a search & AI driven analytics platform that allows you to get granular insights from billions of rows of data. With an AI powered search that learns from your usage, you can get answers to questions you didn't even think to ask.When assessing the two solutions, reviewers found ThoughtSpot easier to use, administer, and do business with overall. However, reviewers preferred the ease of set up with Tableau Desktop. Reviewers felt that Tableau Desktop meets the needs of their business better than ThoughtSpot.
10. Tibco
TIBCO Clarity is a tool for analyzing and cleansing raw data. TIBCO Rendezvous a message bus for enterprise Application integration (EAI) with a messaging API in several programming languages. TIBCO Hawk is a software product that allows monitoring and management of distributed computing applications.
Conclusion :
Business intelligence software has become an essential tool for businesses looking to gain a competitive advantage. Embedded business intelligence software allows businesses to gain insights from their data in real-time and quickly make decisions that can help them succeed. By using this type of software, companies can gain a better understanding of their customers and make more informed decisions. This can help them reduce costs, improve customer service, and increase profits. As the technology continues to evolve, embedded business intelligence software is becoming increasingly important for businesses looking to stay ahead of the competition. We Hope that the softwares mentioned above will be helpful for you !