10 Best Online Learning Platforms: Educational courses
Online learning or e-learning platforms provide virtual courses that has advantages like availability, accessibility, affordability and flexibility. Today a lot of people are studying online and more courses are posted every day on learning platforms the fact of learning online is that you can manage your learning time you can study whenever you want and everywhere for that we are encouraging you to pick one of the platforms listed below to develop your skills.
What are the Best Online Learning Platforms: Educational courses?
Are you looking for platforms to learn new skills online to develop your activities or your personal skills, in this article we have selected for you the best platforms to learn new skills and also you can publish your course. In this platforms you will get free and paid with courses with the certificate, you will find several disciplines from social studies to technological studies.
1. Udemy
Udemy is an online learning and teaching marketplace with over 213000 courses and 57 million students. Whether you want to learn or to share what you know, it's the right place. As a global destination for online learning, people are connected through knowledge. Learn programming, marketing, data science and more. A broad selection of courses.
Udemy's mission is to create new possibilities for people and organizations everywhere. A global marketplace that features an extensive, multi-language library, which includes thousands of courses taught by real-world experts. You can take courses across a wide range of categories, instructors from around the world teach millions of students on Udemy, they provide the tools and skills to teach what you love.
Each Udemy course is created, owned and managed by the instructor(s). The foundation of each Udemy course are its lectures, which can include videos, slides, and text. In addition, instructors can add resources and various types of practice activities, as a way to enhance the learning experience of students.
Udemy courses are entirely on-demand and they can be accessed from several different devices and platforms, including a desktop, laptop, and the mobile app.
After you enroll in a course, you can access it by clicking on the course link you will receive in your confirmation email (provided you're logged into your Udemy account). You can also begin the course by logging in and navigating to your My learning page. There are no deadlines to begin or complete a course.
While Udemy is not an accredited institution, it offers skills-based courses taught by real-world experts in their field. Every approved, paid course features a certificate of completion to document your accomplishment.
Udemy supports several different payment methods, depending on your account country and location. all eligible courses purchased on Udemy can be refunded within 30 days. If you are unhappy with a course, you can request a refund, provided the request meets the guidelines in the refund policy.
One of the great things about learning on Udemy is that you can access your courses from several different devices and platforms, including a desktop, laptop, or the mobile app. The course features that are available on most platforms are:
– Video Lectures, Audio Lectures and Text Lectures.
– Quizzes and Q&A (read and post questions).
– Subtitles (if added to a course).
– Coding Exercises
– Supplementary Resources
– Download Certificates of Completion
– Notes
– Post Reviews and See Reviews
– View Instructor Announcements
– Direct Message Your Course Instructor if enabled by the instructor of a paid course
– Search by Category, Search Marketplace and Enroll in Courses
– Dark Mode.
2. Coursera
Coursera was founded in 2012 with a vision of providing life-transforming learning experiences to learners around the world. Today, Coursera is a global platform for online learning and career development that offers anyone, anywhere, access to online courses and degrees from leading universities and companies. Coursera received B Corp certification in February 2021, which means that it has a legal duty not only to shareholders, but to also make a positive impact on society more broadly, as they continue their efforts to reduce barriers to world-class education for all.
Coursera partners with more than 275 leading universities and companies to bring flexible, affordable, job-relevant online learning to individuals and organizations worldwide. It offers a range of learning opportunities from hands-on projects and courses to job-ready certificates and degree programs.
World-Class Learning for Anyone, Anywhere. Coursera partners with more than 275 leading universities and companies to bring flexible, affordable, job-relevant online learning to individuals and organizations worldwide.
– World-class
Learn from experts at 275+ leading universities and companies. Earn recognized credentials from leading universities and companies to achieve your goals.
– Affordable
Explore hundreds of free courses or get started with a free trial. Earn a university degree and enjoy high-quality curriculum, affordable pricing, and flexible scheduling.
– Flexible
Get on-demand lectures for desktop and mobile—on your schedule. Choose from free courses, hands-on projects, certificate programs, and stackable credentials.
– Job-relevant
Master essential career skills based on comprehensive skills data. Build personal and professional skills with applied learning.
Achieve your goals on Coursera:
– Quickly learn job skills and industry tools
Choose Guided Projects, Average time commitment 1-2 hours.
– Gain new knowledge
Choose Courses, Average time commitment 4-12 hours.
– Master a specific skill
Choose Specializations, Average time commitment 1-3 months.
– Get job-ready for an in-demand career
Choose Professional Certificates, Average time commitment 1-6 months.
– Earn a university-issued certificate and credit towards a degree
Choose MasterTrack® Certificates, Average time commitment 4-7 months.
– Earn your bachelor's or master's degree
Choose Degrees, Average time commitment 2-4 years.
3. LinkedIn Learning
Linkedin Learning LinkedIn Learning is an online educational platform that helps you discover and develop business, technology-related, and creative skills through expert-led course videos.
With more than 5,000 courses and personalized recommendations, you can discover, complete, and track courses related to your field and interests. You can also choose to add these courses and related skills to your LinkedIn profile once you've completed them.
To further enhance your learning experience, many of the courses come equipped with exercise files and assessments, and transcripts for the video. You can also use LinkedIn Learning to provide feedback to courses, and view and download videos offline.
LinkedIn Learning course videos are available in English, French, German, Japanese, Spanish, Mandarin, Portuguese, Dutch, Italian, Turkish, and Polish.
– Prove your skills: Earn certificates to add to your LinkedIn profile.
– Learn on your time: Watch bite-sized videos or in-depth courses.
After you've purchased an individual subscription, or activated a Learning subscription from your organization, you can access LinkedIn Learning. If your Learning account is linked with your LinkedIn profile, your login and password will be the same as your credentials for your LinkedIn account.
Connect your LinkedIn profile to your LinkedIn Learning account to get personalized and interactive learning experiences. Here are the benefits you can start enjoying when you connect your LinkedIn profile:
– Share your learning achievements: Add Certificates of Completion and skills to your LinkedIn profile and share LinkedIn Learning videos with your network.
– Watch courses with your connections and colleagues: See who else is learning with you and build connections.
– Receive customized content recommendations: Get recommendations based on what your connections and similar professionals are viewing, as well as recommendations based on your LinkedIn profile.
– Join learning groups: Deepen your learning by engaging other like-minded learners who have similar career aspirations.
– Ask questions and get answers: Use Q&A to continue the conversation beyond the course with peers and instructors.
LinkedIn Learning courses are recommended for you based on your position and other profile details, such as your learning history and skills you're interested in. You can find a list of recommended courses in the "Recommended for you" section of your LinkedIn Learning homepage.
You can use the recommended courses to:
– Understand what skills could help you grow in your career.
– Find Learning content that you might otherwise might not come across.
If your LinkedIn Learning license is provided to you by your organization, your Learning admin may recommend content to you. These are courses that your organization's leaders believe will benefit you in developing professional skills or knowledge.
4. EDX
EDX is a mission-driven, massive open online course (MOOC) provider. In 2012: Harvard and MIT created a charitable nonprofit organization (the "Nonprofit") called edX Inc. Now it partners with the world's leading universities and organizations to offer high-quality online courses to learners across the world.
Courses consist of video and text content, discussion forums, and a number of problem and assessment types. Click on the course you are interested in to see more details and to enroll. The majority of EDX courses are entirely free to access and most offer an optional paid verified certificate track with graded assignments and the opportunity to work towards a certificate for a fee that varies per course. The Verified track awards a certificate after you successfully pass the course. Verified certificates are a great way to showcase the skills and knowledge you've gained, and can help advance your professional or academic career.
Except for Professional Education, Boot Camps, and Executive Education courses, there is no cost for taking EDX open courses when you enroll in the free audit track, which does not offer certificates or provide graded assignments. However, if you want to be able to earn a certificate for a course and complete assignments, there is a fee that will vary depending on the course.
EDX has a financial assistance program for 90% off the upgrade fee to help learners who demonstrate financial need to earn verified certificates.
There are three commitments EDX has made to the world:
– Increase access to high-quality education for everyone, everywhere.
– Enhance teaching and learning on campus and online.
– Advance teaching and learning through research.
Registering for an edX account is completely free! You can view many of courses for free for a limited time, or you can choose to pay a fee to get access to graded assignments and pursue a certificate.
Most edX courses are in English. Some courses are offered in other languages such as Spanish, French, or Chinese, with English subtitles available for the videos. Before you enroll in a course, you can check the course introduction page under At a glance to confirm the language of the course and its video transcripts.
Unlock the potential within your organization using edX For Business, it offers custom solutions for any business need. The best way to get a program tailored to your goals is to set up an introductory call with the Business team:
– Dive-in and provide specific learning experiences.
Develop skills pathways to bridge talent gaps and drive business transformation with scalable, measurable learning strategies.
– Collaborate to engage employees.
Build and scale a vibrant learning culture with easy access to relevant, individual learning journeys anytime. Help employees learn at their pace in their place.
5. Udacity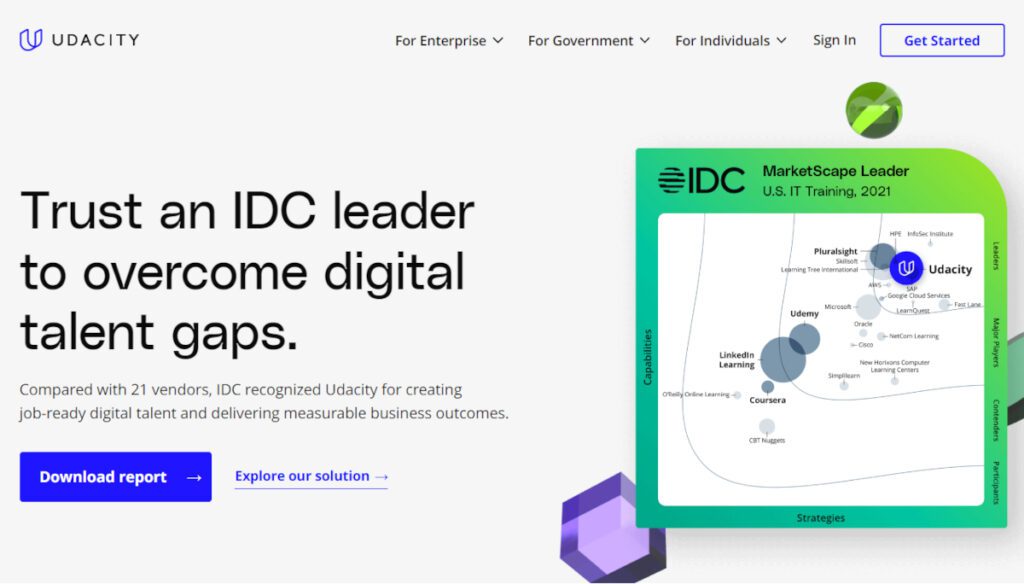 Udacity is the trusted market leader in talent transformation. It changes lives, businesses and nations through digital upskilling, developing the edge you need to conquer what's next.
Creating the job-ready digital skills that empower achievement:
Udacity's proven playbook is globally scalable, addressing the widespread digital talent shortages that impact growth, productivity, and innovation. It collaborates with enterprises and highly motivated individuals to design a tailored talent transformation journey enabled by the Digital Competency Platform.
The exclusive content is co-created and continually refined with industry leaders. Each Udacity program is deeply focused—eliminating guesswork in selecting the right course. Projects go far beyond step-by-step guides, cultivating the critical thinking required for workplace relevance. Expert mentors unblock learning with personalized support, and verify complete mastery of competencies.
From democratizing education to talent transformation:
Udacity began when Stanford instructors Sebastian Thrun and Peter Norvig had a revolutionary idea to offer their "Introduction to Artificial Intelligence" course online to anyone, for free.
Over 160,000 students in more than 190 countries enrolled, demanding a new way to deliver education. A startling discovery emerged: The top 400 students weren't from Stanford. This revelation sparked a mission to make lifelong learning more equitable and inclusive. Udacity has been expanding opportunities ever since.
Building on this globally accessible upskilling platform, Udacity evolved into talent transformation. By creating the next level of job-ready digital talent, equip professionals and organizations to excel in some of the world's most exciting disciplines.
Master competencies with certain success.
– Personalized project feedback and critique includes line-by-line code review from experts.
– Project review cycle creates a feedback loop with unlimited opportunities for improvement—until the concept is mastered.
– Experts leverage industry best practices and provide pro tips.
Highly vetted expert network.
– Experts must complete a 5-step hiring process to join Udacity's selective network.
– After passing an objective and situational assessment, experts must demonstrate communication and behavioral fit for a mentorship role.
– Experts work across more than 30 different industries and are required to complete a Nanodegree program.
On-demand support for building competency.
– Talent transformation accelerates as experts identify areas of achievement and potential for growth.
– Unlimited access to experts means help arrives when it's needed most.
– Timely response to questions guarantees that competency-development stays on track.
6. Alison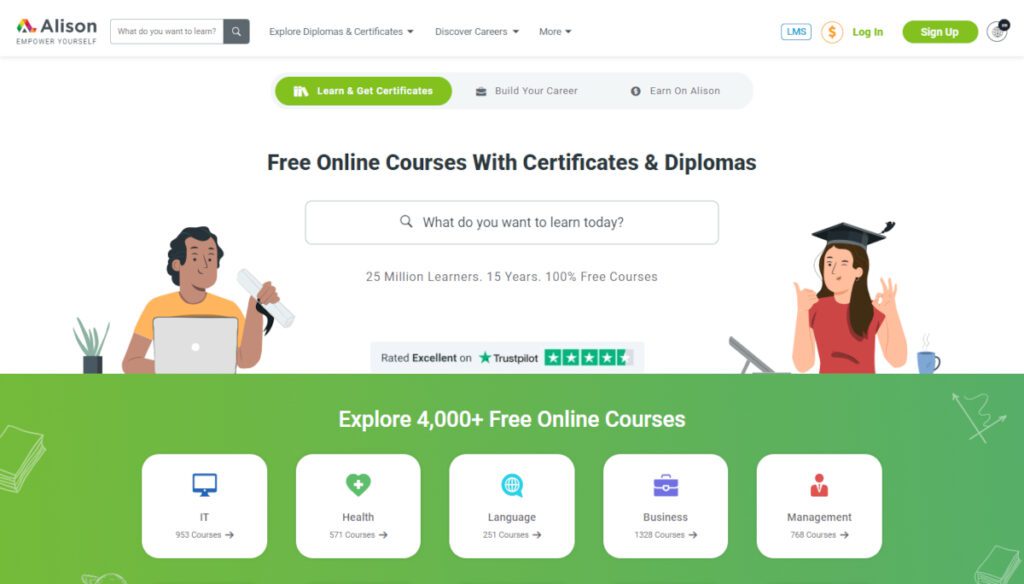 Alison offers over 4000 free online courses across nine distinct categories. The types of courses across the categories include:
Certificate Courses, and Diploma Courses.
– Certificate Courses
Average hour duration: 2-3 hours
There are times when you may wish to specialise in a whole subject area, and there are times where you may prefer to gain critical knowledge of individual concepts within a subject area.
Alison's Certificate courses will help you focus your learning on distinct topics, to provide you with specific expertise in your field or industry. By concentrating your energy on singular concepts, the niche skills you gain could set you apart from the rest.
The Certificate courses include an abundance of subjects, such as: languages, media studies, journalism and public relations, health and fitness, business studies, computer programming and networking, and many more!
– Diploma Courses
Average hour duration: 8-10 hours
With the help of the intensive and comprehensive Diploma courses, you will gain valuable skills and training on key topics, all under one roof.
Diploma courses are specifically designed to give you a more extensive and thorough understanding of a subject area, by helping you master multiple concepts within a subject.
Successfully completing an Alison Diploma course will give you an edge, and greatly enhance your employability and career prospects.
The Diploma courses span a variety of professional subjects, such as:
workplace safety and health, business management and entrepreneurship, food safety, nursing and patient care, customer service, and much more!
Understand how learning on Alison works:
– Register your free Alison account
Registering an account is completely free and gives you unlimited access to the Alison website. Your Alison profile lets you boast about your skills, experience, and Alison Certification to anyone you need to share it with, including prospective employers, friends and family.
– Find the right course
Alison has over 4000 courses available, all absolutely free to complete, and new courses are added weekly.
– Get Enrolled
All Alison courses are self-paced, so you can study whenever you want, wherever you want. Manage your time, track your learning and see your knowledge grow.
– Become a Graduate
You can take or re-take an assessment on Alison anytime you want, but require scores of 80% or more to pass. Once you have passed all the assessments on your course, you are officially an Alison graduate.
– Acquire your Certification
Once you have completed your course, you can download your learner record as proof of your achievement.
– Empowerment
Use your new skills and knowledge to improve how you work, to get that new job, promotion or college placement, or to start a new business.
7. Academic Earth
Academic Earth gives individuals the tools they need to make informed decisions about their educational paths and careers. Whether students are looking for financial aid, comparing college programs, or exploring a school's accommodations for learners with disabilities, it offers free guides and school rankings that can help reduce the stress of an online college search.
It provides these resources because transparent information and data-driven content are powerful tools for accessing high-quality education. It carries out fact-finding for students, helping them identify schools that fit their ambitions, geographic location, and financial circumstances.
Academic Earth is working to bring together the best available content across many subjects and distribute it in an engaging and useful way to learners worldwide.
Videos from MIT, Stanford, Berkeley, Harvard, Princeton, and Yale are available. Some of these are grouped into courses, which each contain anywhere from 4 to 50 lectures.
Download copies of lectures, when the "Download" option appears you can download a QuickTime version of the lecture. Just right click on the "Download" link and select "Save Target As…" or the equivalent for your browser.
Academic Earth was launched on the premise that everyone deserves access to a world-class education. In 2009, built the first collection of free online college courses from the world's top universities. The world of open education has exploded since then, so today the curated lists of online courses are hand selected by the staff to show you the very best offerings by subject area. It also makes sure there is something for everyone: whether you want to explore a new topic or advance in your current field, brings the amazing world of academia to you for free.
Join the increasing number of students enrolling in online college courses and start earning credits towards your degree. One in every four students now take at least one class online, and during the fall 2014 term, 5.8 million college students were taking some of their classes — if not all of them — through distance learning. To keep up with increasing demand for online options, more and more schools are offering a variety of courses that can be completed remotely, allowing you more flexibility in learning.
Ready to enroll in an online college or explore distance learning opportunities tailored to your goals? You can also explore the featured online college courses and programs, offered by accredited colleges with a wide array of topics, specializations, and concentrations. Find what you need to get started today.
8. Studocu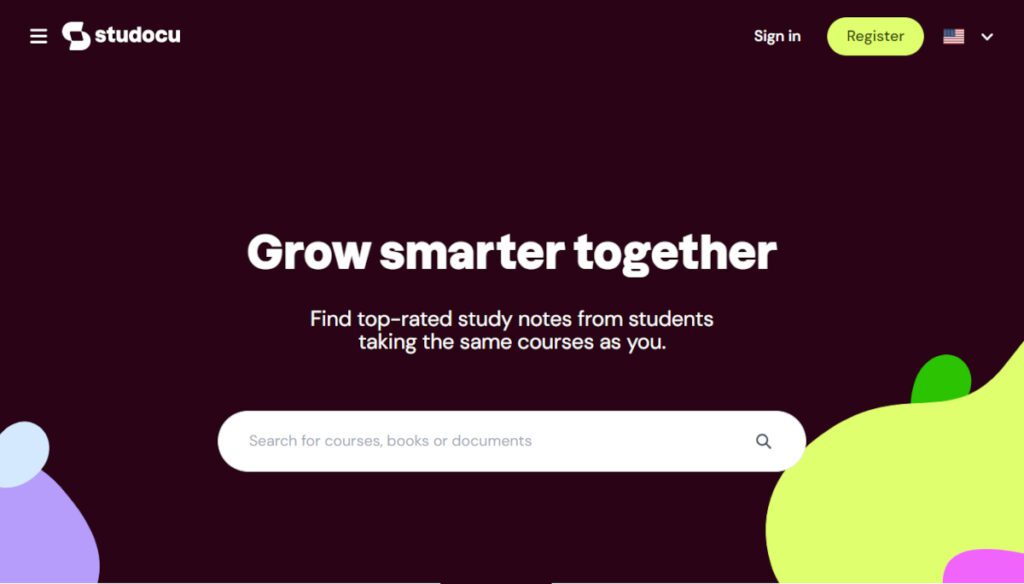 Studocu is a learning platform that is there to give you a helping hand during your studies. StuDocu is a platform for students to share their study material with other students around the world. It's not only about sharing docs, it's for you to find a way to be creative and get inspired. Its mission is to empower everyone to excel at their studies by providing the best tools to study more efficiently.
When you register with Studocu you gain access to more than 5 million study resources available on the website. It provides 80% of the content for free, to unlock the remaining 20% you require a Premium account. Unlocking Premium content, and features such as downloading and printing, is really easy! There are two ways of obtaining a Premium subscription: You can either upload one of your study documents onto the website in exchange for 14 days of Premium access, or buy a subscription.
Here's how it works: The best documents shared by your fellow students, organized in one place. And is available both on web and mobile.
– Everything you need to improve your grades
Students share their study materials organised by course or by book.
– Study anytime, anywhere, on any device
Because your planning is not always perfect, you need to be able to study whenever, wherever.
– Practice makes perfect
For almost every document a practice set is created, consisting of a definition list, a flashcard set and practice questions.
Statistics: 17M students saved, and counting 20K new study notes added every day, from one of the world's most active student communities
– 20M Study resources
1 new each second
– 21K Institutions
In 100+ countries
– 25M Users Every month
The mobile app is entirely free to use. All documents that you can find on the website are also available in the app, completely free of charge. Furthermore, the mobile app gives you convenient, quick access to all study materials that are relevant to you. This way you can easily study while you're on the go. All features and services in the app are free to use. The app is available on both iOS and Android and is free to use for all users, at all times, on both platforms.
9. Skillshare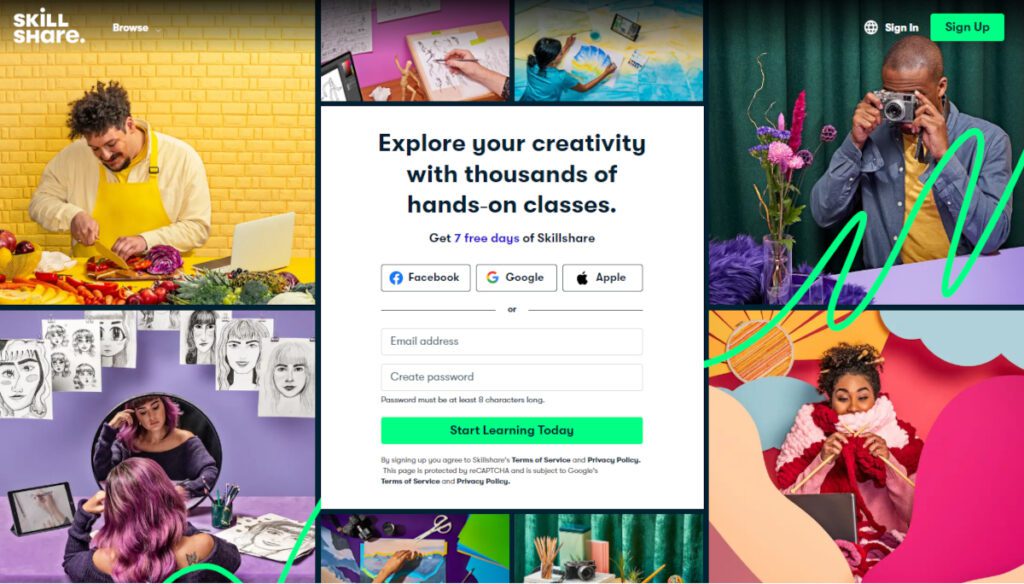 Skillshare is a learning platform for creators. Anyone can take an online class, watch video lessons, create projects, and even teach a class themselves. Skillshare is an online learning community with thousands of classes for creative and curious people, on topics including illustration, design, photography, video, freelancing, and more. On Skillshare, you'll find inspiration from hands-on classes and teachers at the top of their creative fields, so you can take the next step in your creative journey.
– Learn creative skills to achieve your personal and professional goals.
– Tune in and level up at your own pace.
– Go from dabbler to master in a matter of hours.
– Connect with a global community of curious creatives.
As a Skillshare member, you'll have unlimited access to all Skillshare classes to watch when and where you want, and additional features such as offline viewing, access to a vibrant community of lifelong learners, and so much more.
This platform has thousands of classes in everything from graphic design to cooking, productivity, filmmaking, content creation, UI/UX design, marketing, crafts, music, social media, entrepreneurship. If it's something creative, you can learn it.
After your trial ends, your annual Skillshare membership begins. You'll be billed for the year in full, so you can enjoy continuous access to creative classes year-round.
Teachers are everyday creatives and professionals who want to share their passion, and the skills and experience they've gained in their creative disciplines with a community of eager learners. Skillshare's teacher programs are designed to support new teachers at every step in their journey to becoming successful on Skillshare.
10. Datacamp
With Datacamp learn the data skills you need online at your own pace—from non-coding essentials to data science and machine learning. Its mission is to democratize data skills for everyone, companies and teams of every size use DataCamp to close their data skill gaps and make better data-driven decisions. DataCamp teaches companies and individuals the skills they need to work with data in the real world.
Join 2 500+ companies and 80% of the Fortune 1000 who use DataCamp to upskill their teams. Skill up at scale. Data training designed for your business. We learn best by doing, DataCamp's proven learning methodology.
– Assess
Test your skills and track progress
– Learn
Complete interactive courses
– Practice
Practice with quick daily challenges
– Apply
Solve real-world problems
DataCamp offers interactive R, Python, Sheets, SQL and shell courses. All on topics in data science, statistics and machine learning. Learn from a team of expert teachers in the comfort of your browser with video lessons and fun coding challenges and projects.
– Gain domain-specific expertise with skill tracks, a collection of courses curated by industry experts to help you grow your data skills and take your next big step.
– Get on the right path with career tracks, a collection of courses curated by industry experts to help you grow your data skills and take your next big step.
– Learn at your own pace
– Get hands-on experience
– Master complementary skills
Conclusion
Online learning platforms are used by those who want to master a skill, and by teachers and managers to monitors the learners progress. It allows as well course creators to deliver their courses. Every platform has pros and cons, and may specialize in certain range of courses, you will need to select a platform as per your needs and within your budget.