11 Best Email Marketing Platforms and Software
Choosing the right email platform can be tough, as once you commit and start sending email campaigns, it's hard to pause the activity and start from scratch.

You might miss a weekly newsletter or two. And then there's the hassle of migrating your email list along with all the customer data or popups from one platform to another.
[wptb id=13470]
No single email newsletter software is "the best of them all." There's only the software that's best for you… And we're here to help you find which one is best aligned with your specific marketing needs.
What is the Best Email Marketing Platforms and Software?
So, let's dig into 10 of the best email newsletter apps on the market and make your job a little easier.
1. AWeber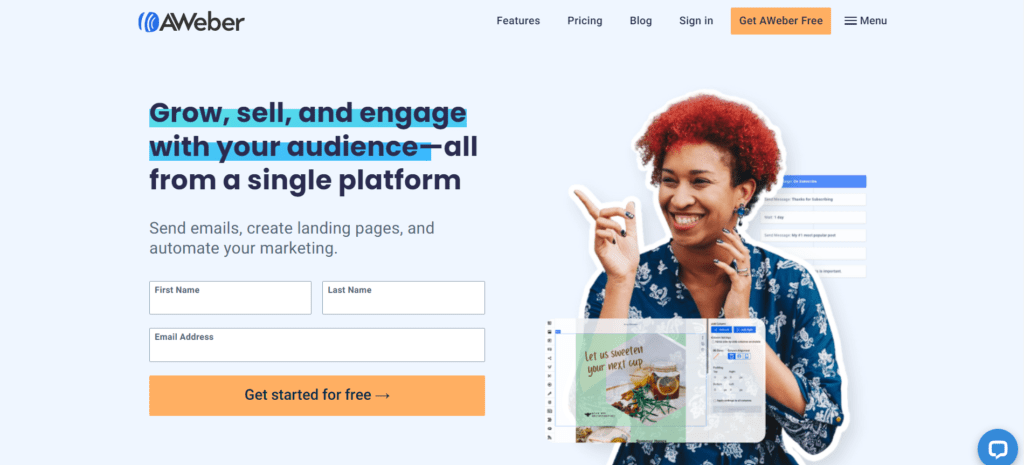 AWeber is an email marketing and landing page platform that stands out for its best-in-class newsletter templates and design tools. It's the only platform we've seen that has direct integration with Canva (a popular online graphic design tool).
Like the other platforms we've looked at so far, AWeber comes with all the core features email marketers need, such as:
A sign-up form and landing page builder to help you collect leads and grow your list
A drag-and-drop email builder to help you design professional-looking newsletters
Automation tools to help you run your email campaigns on autopilot
List management tools to help you segment your subscribers
Dynamic content to help you personalize campaigns for different segments
Analytics so you can see what's working and what's not
there's the Canva integration. AWeber is the only platform we've tried that lets you create images on Canva and use them in your emails without ever leaving that platform.
There are also thousands of free high-quality stock images for you to use in your newsletters if you don't want to create your own.
Another standout feature is AWebers Auto Newsletters. You can use it to send out automated emails to your subscribers to let them know whenever you publish a new blog post, product, video, podcast, or anything else.
2. GetResponse
GetResponse is one of the Top email marketing platform with email newsletter functionality. It has a very broad feature set and can be used to build your entire website and marketing funnels from the ground up.
The drag-and-drop newsletter builder on GetResponse is great. It's easy to use and comes with a free image library, from which you can grab graphics and other visuals to use in your newsletters.
But it's GetResponse's funnel builder that's the star of the show. You can use the platform to quickly set up funnels complete with lead magnets, landing pages, and follow-up email sequences that generate leads and nurture them to conversions.
3. Moosend
Moosend is our overall favorite email newsletter software provider. It's an all-in-one email marketing platform that comes with all the tools you need to manage your entire email campaign from start to finish.
One of the reasons we like Moosend so much is because of how scalable it is. The price depends on how many email subscribers you have, so if you're just starting to build your list, you'll pay as little as $9/month and still get access to all the core features.
Those features include a powerful newsletter editor, CRM (customer relationship management) system, segmentation and personalization tools, landing page builder, automations, and analytics.
Moosend has a simple drag-and-drop editor that helps you to build stunning, rich multimedia email newsletters without any HTML knowledge. You can add in images, videos, and tons of interactive elements.
4. Constant Contact
Constant Contact is a digital marketing platform that gives you a bunch of tools rolled into one. That includes email marketing software plus SMS, social media marketing, and more.
We really like Constant Contact's list-building features. You can grow your email newsletter subscribers quickly with landing pages, text-to-join, Google Ads, etc.
Then, engage with those subscribers by sending out professionally-designed emails. There are hundreds of newsletter templates to choose from, as well as pre-built automated email sequences for many different scenarios.
Aside from email, we also like Constant Contact's SMM and event management features.
If you're running an event, Constant Contact comes with a ton of tools specifically designed to help you promote and manage it. You can use it to build a customizable registration form, sell event tickets, send out customizable email invitations and social posts, and track registrants in real-time.
It also doubles up as a social media scheduling tool. You can connect your Facebook, Instagram, Twitter, and LinkedIn accounts, then use Constant Contact to schedule social posts, launch social ad campaigns, and read and respond to comments all from the same place.
5. Mailchimp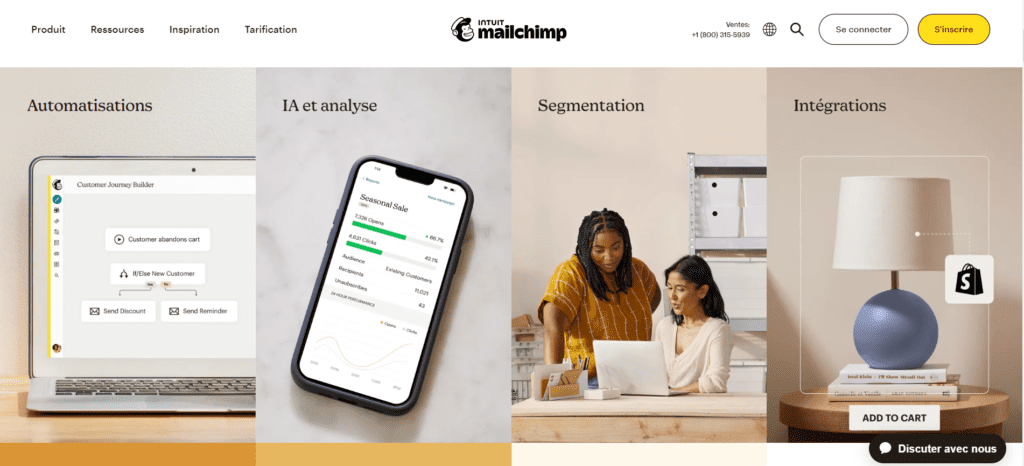 Mailchimp prides itself on being an all-in-one marketing platform for small businesses. That can sound intimidating if you simply want a good way of formulating email newsletters. But because it started out as an email newsletter service, it offers a lot of simple functionality for when you're starting out—along with the opportunity to upscale your campaigns as your business develops.
Its templates are more blank canvas than some other apps' polished choices, but that gives you a lot of flexibility. However, with the app's extensive library of polished themes, you can always buy a great template a la carte. Segmentation options are easy to manage, but expect to upgrade to a premium plan if you want in-depth statistical analysis and performance reports.
Overall, Mailchimp is intuitive and welcoming, and you'll appreciate how it grows alongside your business. But the best part is how generous the free plan is. It's free to sign up, and you can grow your newsletter to up to 2,000 subscribers and 10,000 monthly emails before you have to upgrade.
6. Brevo (Formerly Sendinblue)
Brevo is the best email newsletter software for SMBs. It includes all the usual tools email marketing teams need plus some cutting-edge features like automatic send time optimization.
With Sendinblue you get an email marketing service with a rich email designer, live chat tool, CRM, marketing automation, segmentation, landing pages, and a unified inbox to keep your team organized.
One of our favorite things about the platform is the intelligent sending features. For example, you can use the machine learning-powered send time optimization to make sure your emails are sent out at the perfect time to maximize opens and clicks.
Sendinblue prices depend on monthly email volume, rather than contact list size. This makes it potentially very expensive if you send lots of emails to your subscribers, but great value if you have a large list and low monthly email volume.
7. Campaign Monitor
If you manage email marketing for multiple clients, Campaign Monitor makes that process simple. You can add as many clients as you want; create custom templates, emails, and automations for each client; allow clients to access their campaigns through a white-label version of the tool; and lock specific sections of emails and templates so they can't be edited.
Then, either have clients pay for their usage themselves by reselling the product to them, or you can pay for all of your clients yourself as part of a single package. You can even pay individually for a specific campaign if you have a client who only wants to send emails occasionally to a large list of contacts. Such flexibility is great if you're on a tight budget and need to plan accordingly.
Campaign Monitor's email editor initially encourages you to create a branded template based on the color scheme of your website. The whole interface isn't quite as user-friendly as some options here, but it's still a fast way to customize your messages with drag-and-drop functionality included. On the Unlimited plan, you can even preview what your email will look like in 20 different inboxes, helping you ensure that your emails look great for everyone.
8. Mailjet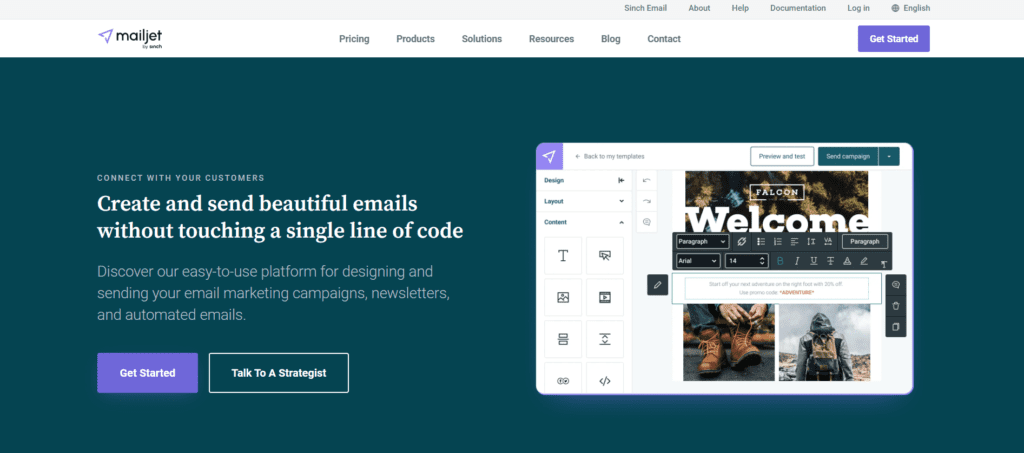 Mailjet has a pretty solid offering, especially when you consider that it's one of the more affordable newsletter software providers on the market – it even comes with a cool collaboration feature we haven't seen in other email providers.
Founded in France in 2010, Mailjet is used by tens of thousands of companies to send their email campaigns and transactional email. Recently, Mailjet has added a multi-user collaboration feature, which allows both marketers and developers to work together in real-time on the same email. Pretty cool, right?
Aside from collaboration, setting up automations , transactional email and SMS is all relatively pain free, as is A/B testing. A host of integrations are supported and there is a handy subscription widget editor that allows you to create and embed an opt-in form on your website.
9. Mailer lite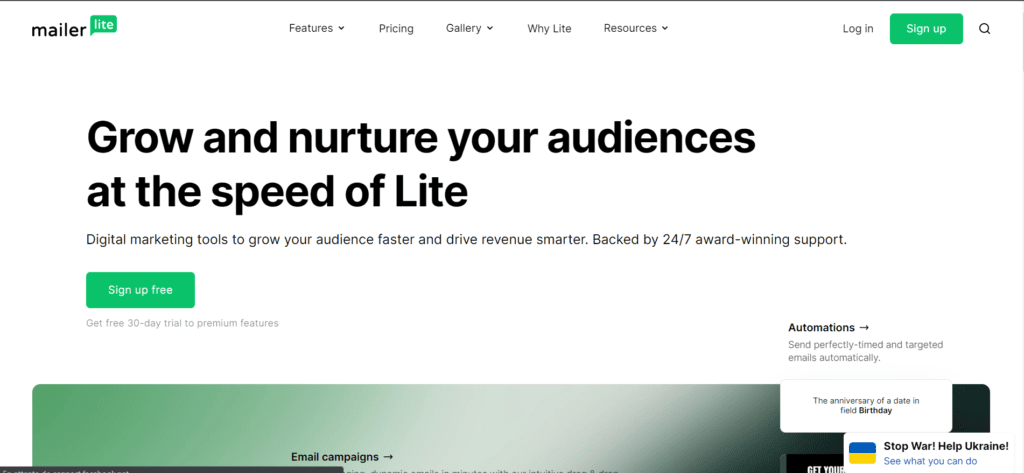 MailerLite is the most affordable email newsletter software we've seen. It gives you much more bang for your buck compared to its competitors, with a range of low-cost plans for businesses with a limited number of subscribers or less and a very generous free option.
And that's not all. On top of all the email stuff, MailerLite also comes with a landing page and signup form builder, email verifier, ecommerce features, etc. There's even an integrated website builder that you can use to build your entire site from the ground up, complete with blogging functionality.
The drag-and-drop newsletter editor UI isn't quite as easy to use as Moosend's, but it's very flexible. You can drag in all the usual content blocks to build your newsletters, as well as special blocks like interactive carousels, event RSVPs, ecommerce blocks, email surveys, and more.
But our favorite thing of all about MailerLite is that it supports paid newsletters. That's right, you can use MailerLite to sell digital newsletter subscriptions and collect recurring payments from your subscribers.
This works hand-in-hand with MailerLite's powerful automation tools. For example, you can upsell your paid newsletter subscriptions to the regular subscribers that are most likely to purchase using automated, targeted workflows.
10. Mailmodo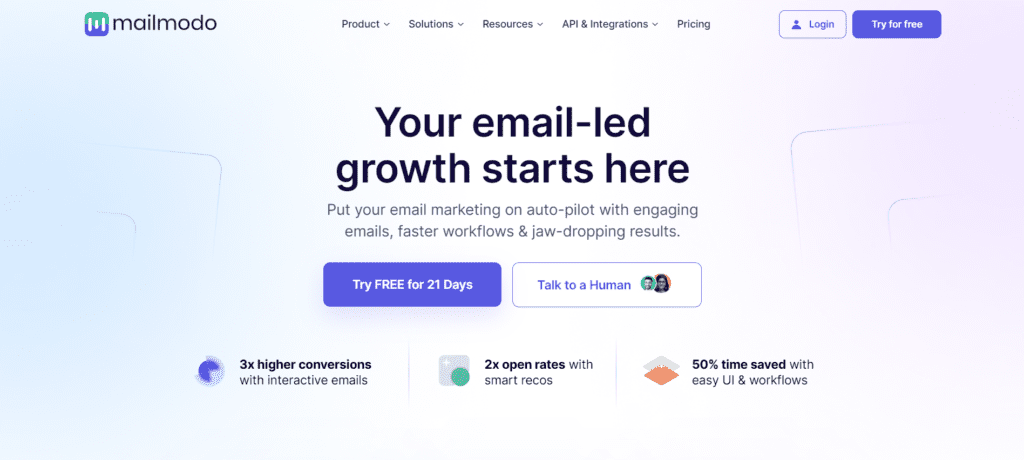 Mailmodo is an interactive email marketing platform perfect for small and mid-size companies in both B2B and B2C.
Mailmodo is a relatively new email service, but don't let that youth fool you. The team is made up of passionate employees with a vision for the future of email marketing. They've built an email marketing tool that stands shoulder to shoulder with others in the market. Using Mailmodo, you'll come across:
Drag and drop editor: The no-code email builder is intuitive and easy to use. Widgets work well and cover most use cases.
Visual automation builder: Trigger email campaigns based on lists, contact data, and integrations like Zapier and Integromat. API and webhook triggers are available too.
AMP and interactive emails: AMP email elements can be included in email templates. This is quite unique. And with HTML fallback, emails look good, even in inboxes that don't support AMP.
Email templates: 63 email templates across 8 categories and all look modern and up to date.
Interactive widgets inside emails: Add forms, carts, calendar bookings, spin wheels, and more to your emails. Interactive AMP elements make emails more engaging and increase conversions.
11. Omnisend
Omnisend is an All-in-one ecommerce marketing Solution, One, easy-to-use platform that helps you drive sales impact with powerful, ecommerce-tailored email & SMS marketing.
Omnisend removes the busywork of engaging, converting and reactivating your ecommerce customers with easy-to-use email marketing, automations and multiple available channels.
Conclusion
Email marketing is hotter than ever in 2023 and this allows the providers to specialize in their own market niche. Whether you are a marketing manager of a large e-commerce brand or an individual interested in managing your own mailing list, these companies are shaping their offer around your needs.