10 Best Domain Name Registrars To Use
If you've been searching for the ultimate guide to domain providers, look no further. We've researched the best domain registrars, all in one handy place, so you'll know the best place to choose and buy a domain name.
If you have a great idea and need to buy a domain name, it can seem overwhelming when deciding where to register it. To help you understand more about some of the available options, we've explored registrar websites and other publicly available data to complete our registrar comparison, so you don't have to. While the information provided is accurate at the time of writing, it may be subject to change.
What are domain registrars, and what do they do?
Before we start investigating the best domain name registrars on the market, let's make sure you understand what they are.
The Internet Corporation for Assigned Names and Numbers (ICANN) is a non-profit organization that oversees and manages the domain name system. Known as the Internet phonebook, it manages IP addresses and matches them with domain names. Each top-level domain (TLD) is managed by official domain registries, who then work with registrars who offer domain names to the public.
If we liken it to a supermarket, ICANN is the head office, the stockroom is the registry, and the registrar is a public-facing store.
Domain names can't be owned outright. Instead, they are rented out for a period of time. ICANN accredited registrars enable you to find, register, and manage a domain name. Protocols are set by ICANN to ensure that domains are only registered by one person at a time. Once you have registered a domain name, they update the registry.
What are the Best Domain Name Registrars To Use ?
The registrar domain service includes the use of an account where you can renew and manage your domain.Here we can recommand you 10 of them:
1. DOMAIN.COM
Domain.com is an experienced web hosting company that offers a variety of shared and VPS hosting products. Customers who want user-friendly hosting at entry-level prices will find almost all of their needs catered to here.
Domain.com offers a decent range of shared hosting products with technologies that make building and maintaining a website easy for its customers. The basic features of its shared hosting packages include:
Free Let's Encrypt SSL certificates
Unlimited storage (within the terms of the "Acceptable Use Policy")
Scalable bandwidth
Free cloud storage
Unlimited subdomains
Free one-year domain registration
The first feature that most potential customers will be interested in is Domain.com's high resource limits. All three shared hosting plans come with unlimited storage, though of course under the condition that this generous allowance isn't abused, used as a data backup facility, or repurposed for illegal activities. The plans also feature scalable bandwidth, which Domain.com claims is enough for 99.5% of its customers.
Combined with the unlimited add-on domains, databases, and FTP logins supported by the higher-tier plans, this means that you'll be able to safely host a number of small to medium-sized websites on a quality shared server.
But by far the feature I liked best with Domain.com's shared hosting plans was its website builder. This drag-and-drop tool is included with all shared hosting plans for free, making it even more convenient for beginners to set up a website.
The one drawback I did notice with Domain.com is that it doesn't readily advertise an uptime guarantee, nor does it offer a CDN. That said, my tests of the web host revealed an above average uptime of 99.984% for the month prior, which is fairly decent.
2. GoDaddy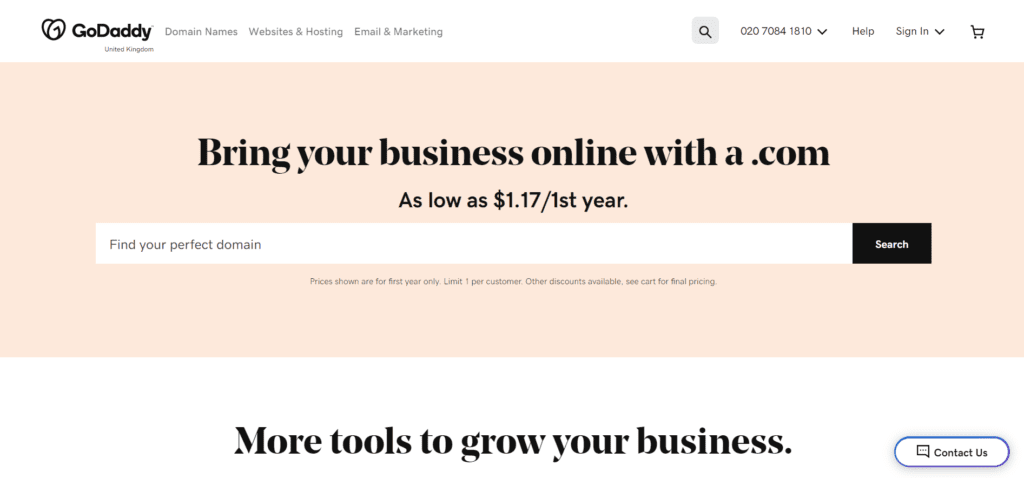 According to BuiltWith, 1 in every 20 websites seems to be hosted on GoDaddy . Undeniably, they are a hosting titan, with around 20 million customers, over 9,000 employees and more than 80 million domains managed.
GoDaddy offers dozens of products and comes with many available plans. So, first let me tell you a bit more about their hosting offer.
GoDaddy is one of the largest domain name registrars. With them you can get almost any domain extension you are looking for: .com, .net, .org, .law or even .today. A .com domain will cost you $14.99 the first year and $19.99 after, not the cheapest.
At GoDaddy, there are shared hosting plans available too. It'll cost you between $8.99 and $24.99 at renewal. With this type of hosting service, you'll share a server with other clients. It's suitable for small and medium projects that don't need top-performing servers.
Like many other hosting providers, GoDaddy has a WordPress optimized shared hosting service. They seem to prepare their servers for a higher WordPress performance, offer WordPress pre-installed and have a selection of themes available. Nothing too exciting if you ask me. It starts at $9.99 a month when you renew.
GoDaddy VPS plans are for those with special server configuration needs. With the root (administrative) access you'll be able to configure your server to your preferences. They also come with a higher performance than shared hosting plans. VPS plans at GoDaddy start at $6 a month (self-hosted) and can go all the way up to around $100 per month.
If the higher performance of a VPS is not enough for your site, a dedicated hosting package is your best next option. With these, you'll have your own server for yourself and won't have neighbors interfering with your project. But you'll need a budget for that as dedicated servers start at $130 per month at GoDaddy.
GoDaddy also offers email hosting plans, so you can have a professional-looking address like info@your-business.com. They start at $5.99 per user per month for 10 GB of email storage.
For the less tech-savvy users, they also have a website builder to create your site with. To be honest, it's not my favorite site builder as some features come up a bit short (e.g. the blog). Other alternatives like Weebly , Wix or Squarespace seem to me more well-rounded.
But their offering doesn't stop there, among others they also have a hosting reseller program so you can sell hosting plans to your clients, web design services and SEO consulting.
3. namecheap
Namecheap, a popular domain name registrar, also offers a slew of web hosting services. But are they any good? Read our Namecheap hosting review to find out.
Summary:
A popular domain name registrar, Namecheap also offers inexpensive web hosting services. Plans come with a free SSL certificate for the first year and a 30-day money-back guarantee. While small businesses may love the budget-friendly pricing, it comes at the cost of low storage for its basic tiers and limited customer support. However, those who aren't looking for complex setups may find Namecheap sufficient.
Pros
Competitive pricing plans
Easy to use interface
99.9% uptime for reseller and VPS; 100% for shared, dedicated and business hosting
Cons
No phone support
Limited hosting plans
Low storage for basic plans
4. HOSTINGER
Hostinger is becoming well-known name in the WordPress hosting industry. They offer affordable hosting, 24/7 live chat support, and a robust platform to host your website. Hostinger comes with automatic 1-click WordPress install, managed automatic updates, enhanced security, free CDN, WordPress speed acceleration, and free site migration. They also offer geolocation specific hosting with a choice of 7 data centers in USA, Europe, Asia, and South America. Hostinger serves over 29 million users in 178 countries. On top of all this, they have a special 80% discount for WPBeginner readers combined with free SSL and a free domain name.
Pros:
Lowest price hosting in the market
Performance Optimized
Great customer support
1-click WordPress install
Free Domain and Free SSL
Multiple Datacenters
Cons:
Hostinger is a popular web hosting provider with a robust platform to launch websites. They offer a variety of shared hosting plans for everyone from beginners to large companies. Their prices are affordable, and their plans include plenty of useful features. See our expert Hostinger review to decide if it's the right choice for you.
5. HostGator
HostGator hosts over 10 million domains and is one of the most popular web hosts in the industry. With 1-click WordPress installation, 99.9% up time guarantee, and 24/7 support, it's a smart choice for every website owner. We consider them one of the best web hosting for businesses. They're offering our readers an exclusive 62% off discount, a free domain name, and free SSL certificate.
Pros:
Reliable Web Hosting
Free Domain Name and SSL
Free Business Email Address
1-click WordPress install
45-Day Money Back Guarantee
Cons:
Higher monthly Pricing
Aggressive Upselling
6. bluehost
Bluehost is part of a massive corporation, Endurance International Group (EiG), which owns various web hosting providers (e.g. HostGator or iPage) and has a colossal market share.
They obviously have the financial muscle to pour millions into marketing. That probably accounts for the huge amount of (overly) positive Bluehost web hosting reviews online.
This US-based web hosting provider offers loads of different hosting-related products, from domain names to dedicated servers. Let me quickly go over their large catalogue :
Domain names: Although they are not the cheapest domain name registrar, you can buy domain names directly from Bluehost. They start at $18.99 a year at renewal, add $15 a year if you need domain privacy enabled. A personal all-time favorite of mine for domain names is Namecheap as it's cheaper and easier to manage.
Shared hosting: Unless you are managing a really large project or you need to geek around with your server's configuration, a shared hosting plan is the one you ought to consider. Think of this as sharing a flat; you'll share a server (flat), but you'll have your own hosting space (room) – cheaper but noisier. At Bluehost their shared prices go from $9.99 to $28.99 per month.
WordPress managed hosting: Bluehost has a WordPress focused hosting service. It's optimized for WordPress sites and comes with several perks like a staging area. It's a bit pricey as it starts at $24.95 a month, more expensive than SiteGround's ($14.99), and other cheap WordPress hosting services.
VPS: A Virtual Private Server is something in between a shared hosting and a dedicated one (read below). You'll share a server with other clients, but there's a (virtual) wall between your projects and theirs. This type of hosting is recommended for those needing special server configurations (e.g. using a particular programming language). VPS hosting plans go from $29.99 to $119.99 a month at Bluehost.
Dedicated servers: Adequate for those websites that generate tons of traffic and/or need a top-performing server. You can think of this as having your own house; no neighbors or roommates to bother you. Dedicated hosting plans start at $124.99 per month up to $209.99
These are the most important hosting related products that Bluehost offers. I was surprised to see that they don't have cloud hosting services.
7. DreamHost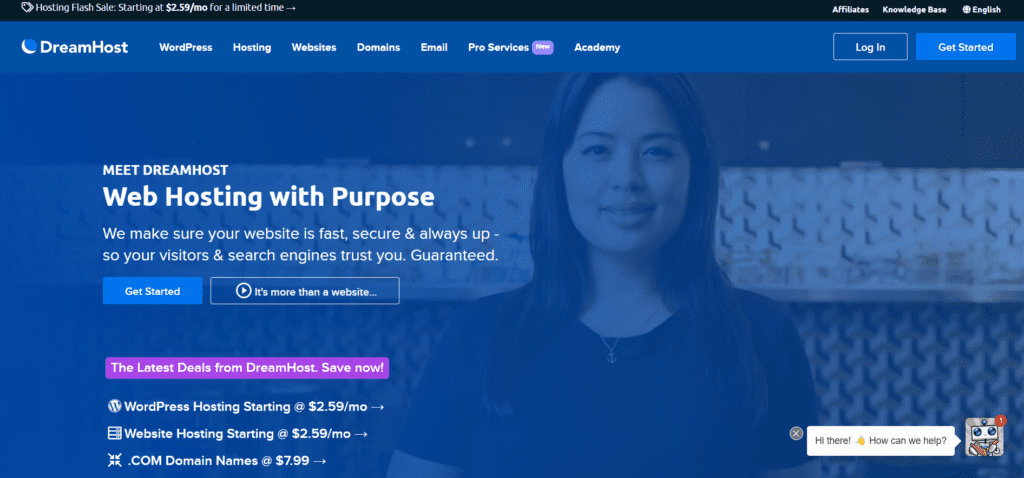 DreamHost is a popular award-winning hosting company, and one of WordPress.org's officially recommended hosts. They offer domain registration and web hosting services, including managed WordPress hosting. Their platform offer everything you need to grow your website, whether you're a new blogger or an established business. See our expert DreamHost review to decide if it's the right choice for you.
Pros:
Award winning hosting
Great customer support
Officially Recommended by WordPress
1-click WordPress install
Free Domain, SSL, and Privacy
Automatic Daily Backups
Cons:
8. HostPapa
One of the earliest hosting companies to power its datacenters with renewable energy, HostPapa is an established provider that furnishes customers with plans backed by award-winning customer service and covered with a bevy of features. Currently hosting more than 500,000 websites, HostPapa is the epitome of a high-value, low-cost provider. We went straight to the source to find out what sets HostPapa apart from other hosting companies and sat down with CEO Jamie Opalchuck, who said HostPapa is "a little bit different than the average beast" in the hosting industry.
The privately-owned company considers itself less of a straight-up hosting provider and more of a one-stop shop for small businesses looking to grow their brand and online presence. Whether through CRM tools, automatic backups, or unlimited storage, we found that HostPapa excels at giving its customers a seamless, easy experience. Each user gets a dedicated account manager and a single bill, no matter how many services are added. That account manager will recommend products, such as email platforms, based on your needs — even if it means suggesting Google Apps or Microsoft Office 365 instead of HostPapa's proprietary platform. "We want to act as consultants and help our customers reach new heights," Jamie said. "It's a different take on the hosting industry." With locations in 18 countries and support in four languages (English, French, German, and Spanish), customer support is a major component of HostPapa's modus operandi. Representatives are available to assist users around the clock, including for one-on-one video chats.
Award-winning PapaSquad Support available 24/7/365
One-on-one video training sessions with HostPapa expert
FREE drag-and-drop website builder
Unlimited storage and bandwidth
SiteLock, CloudFlare, Google Apps, and Office 365
9. WP engine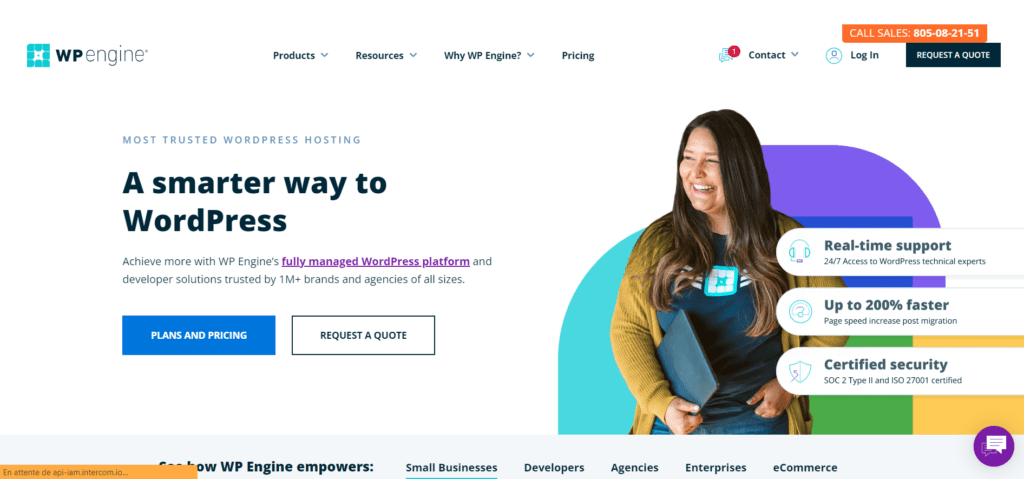 WordPress is a versatile and popular content management system (CMS) that powers millions of websites. As a result, many web hosting services heavily focus on WordPress, with some, like WP Engine, devoting all their resources to it. WP Engine has high-quality, managed hosting that offers excellent uptime, WordPress-oriented security, cloud platform flexibility, daily backups, and other terrific features. It has a few minor downsides, as well; for example, you need to go elsewhere for email accounts and domain names. Still, WP Engine has fantastic plans that make the web host an Editors' Choice pick for WordPress hosting.
PROS
Terrific uptime in testing
Outstanding customer service
Daily backups
Real-time threat detection
Useful staging area
Choice of either Amazon Web Services or Google Cloud Platform cloud hosting
Custom plans available
CONS
Email isn't included with hosting plans
Doesn't sell domains
10. Google Domains
Google Domains helps you register the domain name that you use with your site.
Unlike a lot of other popular domain registrars, Google Domains does not offer any type of hosting. That means you'll need to purchase hosting separately.
Google Domains also makes it easy to connect to other Google services, like Google Workspace, Google Search Console, and more, and you can access Google Domains by using the same Google account you use for other services.
Google Domains Review of Features
Register new domains.
Transfer in existing domains from other registrars.
Free privacy protection included with your purchase.
Google-powered DNS.
Simple management dashboard that matches other Google services.
Part of your existing Google account, no separate login. Also allows for two-factor authentication.
Email forwarding (up to 100 aliases).
Domain and subdomain forwarding.
Built-in integrations/verification with other Google services.
Conclusion
At the end of the article, we will give you a small piece of information that helps clarify the issues and how does a domain name work?
The internet can be seen as a huge network of computers connected to each other through a global network of cables where every computer can communicate with the others on the network.
In order to identify other computers, each one gets a unique IP address, which is a series of numbers that identify that computer on the internet. Since IP addresses are long sets of digits, domain names were invented to make it easier for people to remember them and to visit the websites.