10 Best Spend Management Software
Today's businesses need to be more agile than ever. That means they need a spend management solution that can easily adapt to changes in their business. The right software will streamline processes and cut costs while also improving visibility and uptime.
We know that choosing the right spend management software is not as simple as buying a car or a house. You can't just go with your gut feeling, because the money you save on those annual expenses can make a big difference when it comes to growing your company. So, where do you start?

What is the Best Spend Management Software ?
Let's check out some of the best spend management software providers on the market with some great features and pricing plans.
1. Airbase
Airbase is one of the leading Spend Management Software that is trusted by hundreds of famous companies such as Xero,Oracle , Sage Intact, and others . The platform provides sales leaders with a clear look at all its company spend. The platform has a great card program offering the highest unlimited cashback compared to other alternatives. In addition, the program is so easy to use with no personal guarantee or credit check required all this with no interest or fees. Furthermore, the platform also gives the ability to manage your card's sold without changing them by signing with Silicon Valley Bank and American Express to integrate their cards into . You can also limit the amount you can spend daily just by one click .
One of the great advantages of using Airbase is its bill payment automating system , which helps you deal with all payment types cards, checks, ACH, vendor credits, and international payments and helps you create bills in seconds . Nevertheless , thanks to its OCR technology , it helps business owners get rid of all the time-consuming work like dealing with employee reimbursements .All you need to do is to take picture of the receipt with their mobile app and all the details of your expenses will be scanned automatically and wait for your approval to deposit the reimbursement directly to your bank account .
2. Tripactions
Tripactions is a spending management software trusted by over 8.000 companies around the world like Zoom , Wayfair , Soundcloud , Pinterest , better , UserTesting , Teads , Nilfisk and others .It helps business owners boost their productivity and manage their saving in the most optimal way by offering self-service booking and smart card which helps sales teams with their expense reports .Thanks to its powerful Ai based system , it creates expenses automatically , and then submit them and reconcile them allowing you to gain a lot of time to use on growing your business. In addition , this platform helps you to save up to 27% of travel and expenses and reduce 90% of policy spend .
3. Ramp
Ramp is a leading global provider of Spend Management software for mid-sized businesses. The company provides businesses with an efficient, easy-to-manage solution that streamlines the procurement process and helps them better control their spend. Payem's flagship product – Payem Purchase Order Management Software – is used by companies with over 75,000 employees across more than 140 countries such as Avelo , Mode , Madhappy , Nuggs and more big companies uses this platform to control their spend and save so much time by automating all your processes and taking care of all the hand work . Ramp helps you set up all your bills , issue cards and helps you deal with all your payments in less than 15 minutes . Furthermore , it has a great live support available 24h/24h 7 days/7 to help you with any problem in your execution .
4. Brex
Brex is on of the leading spend management companies that offers great services to help business owners grow their profits and manage all their spend in the easiest way possible which allows them to use that energie to focus on their weaknesses and to improve their productivity . the company sells it services to over 20.000 customers arround the world from big business company to small startups such as Sage , oracle Netsuite , Xero , OpenDoor , Flexport and others. Brex cards program is available in 100+ countries from around the world which makes it a flexible way of payment .In additions , thanks to its powerful system , the platform can process millions of transactions per second and manage billions of dollars in customer deposit .In addition , it helps business owners make decisions faster and save even more money thanks to its automated isnights and reports allerts.
5. Divvy
Divvy is an expense management software that allows you with just a few clicks, to get your month-end expenses reported. Real-time understanding and categorization of expenses saves you time and eliminates the need for lengthy email chains.Thanks to its notification program , the platform allows keeping you aware of all the employees spend and also review , approve and syncronsate all the transaction . Its automated system helps you save hundreds of hours of work by month and gives you real-time visibility of all your expenses and deals with all the Invoices, card charges, subscriptions, and employee reimbursements in one platform. Furthermore, the platform sends daily notifications and organized reports about all your expenses and provides protection from all kind of fraud . Nevertheless, Divvy gives you the opportunity to deal with all the accounting work in seconds thanks to its accounting software and provides complete control over your customers' spend with real-time status and analysis .
6. Spendesk
Spendesk is an expense management platform that helps Over 3500 businesses to save time and money by using the platform solutions to manage their professional expenditures. Using payment cards, supplier invoices, expense reports, budgets, reporting, and pre-accounting all in one place, you can save time and money. It is trusted by a lot of growing companies including Seeders , Seloger , Deezer , Printemps , L'Olivier assurance , Doctolib and others. Spendesk provides its users with complete visibility of all their expenses and an unlimited number of users and payment methods without any fees. The platform processes all the money from your cards , bills and expense report and uses its automated accounting system to deal with all the time-consuming consuming tasks which leave concentrated on growing your profits and making more improvements to your business .Furthermore , it gives you full control of all your team's expenses thanks to its validating software .
7. MESH
Mesh is an automated financial management platform that offers its services to thousands of companies like Portnox, Nayax, Papayaglobal, TrueAccord, Global, and others. The platform offers complete visibility of all the transactions and gives you full control over your entire spend from one place. Mesh is a flexible software that allows you to connect with all your company apps, analyzes your payment workflow, and provides you with detailed insights that help you install an effective strategy to lower your costs and manage your spend in the most optimal way. In addition, Using its Ai system, the platform helps business owners save time and effort by taking care of all the handwork and the boring tasks giving them a chance to put more effort into building their business and improving their revenues .Furthermore , it is possible to integrate this software with your favorite ERPs providing a fully automated workflow and immediate feedback.
8. Center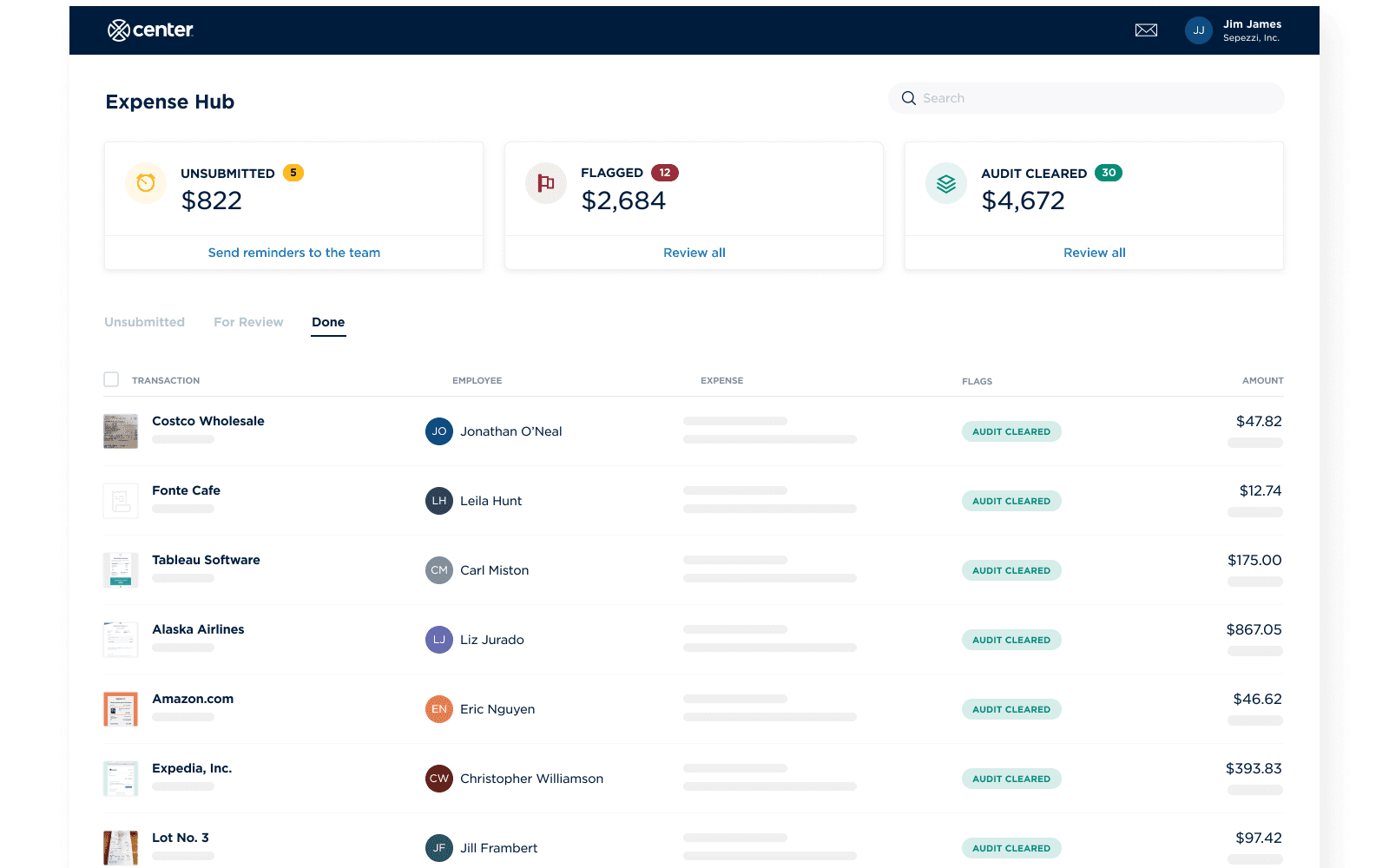 Center is an expense management software built that helps business owners to use their time wisely by taking care of all the tasks that used to take a huge amount of time and effort like accounting , customers reimbursements and Pay card reconciliation .The platform has a user-friendly design that helps your team to keep an eye on everything especially with its detailed analyses and insights in the dashboard that helps you know exactly what's happening with your expense.In addition , thanks to its developed Ai system , Center prioritizes and puts the light on the operations that require your attention and have a big effect on your business productivity , which guides you exactly to where you should focus your efforts and time to grow your business even more .Furthermore , unlike the other alternatives , this platform provides instant notifications concerning every transaction made by any of your teammates sent directly to your dashboard.
9. Expensya
The biggest challenge in managing strategic marketing spend is an inability to coordinate spend across all media with one person. A business owner or manager needs to be able to access all the information surrounding their spend and make decisions based on that information. Expansya is a strategic marketing spend management tool that helps you do just that. It provides a way to view all your marketing spend in one place, and then drill down into the data to see how different strategies performed. It's a unique way to approach your marketing spend and will help you get the most value out of your marketing budget.
If you are struggling with maanging your spend and you have no time to focus on improving your business because of lack of time , Expensya is a great solution for you . This platform is built to help every company from self empoyed , startups and even large companies and multinationals like H&M , Rimowa , Messika , SwissLife , TLD and others . Expensya offers a Multi-budget management and an automated account integration that helps you get rid off all the boring accounting tasks .
10. Payem
Payem, a leading provider of Spend Management software for organizations, is today announcing the release of its new software solution to help businesses better manage and optimize their spend. The cloud-based tool, Payem Spend Management Software, combines data from the company's flagship product – Payem Purchase Order Management Software – with powerful dashboards and key performance indicators to provide users with an easy way to access and analyze data from their procure-to-pay processes. With its latest offering, Payem aims to help businesses better control their spend, as well as ensure that the right goods and services are provided, in the right quantity, at the right time and at the right price. In addition , Payem gives you the ability to limit your buget for each and evry one of your team which helps you lower your costs and get rid of the overspending.
Conclusion
Spend management software is a must for all businesses that want to keep their costs under control.
However, with so many different solutions on the market, choosing the right software can be tricky. Luckily, in our article we gave you plenty of resources available that make it easy to find exactly what you need.