10 Best Quote to Cash Software for Business
Whether your preferred term is Quote-to-Cash (QTC), Configure Price Quote, Order Management or Product & Pricing Solution.

CPQ is an increasingly vital tool for any business selling complex configurable products, used to generate a quote.
What is the Best Quote to Cash Software for Business?
You will find here a list of the best quote to cash software.
1. Hubspot
Hubspot – Sales Hub is a powerful sales software to help teams close more deals, deepen relationships, and manage their pipeline more effectively, an all on one easy-to-use platform.
This software includes :
A fully featured sales CRM,
Quote and CPQ functionality,
In addition to the ability to seamlessly integrate with more than 1,160 tools in HubSpot's App Marketplace. The features are detailed below:
Email Templates:
Save time by turning your best-performing sales emails into templates that can be shared with your team. Just personalize with data from your CRM, and hit send.
– Email Tracking:
Know the second a lead opens an email so you can follow up at exactly the right time and close deals faster. No guesswork involved.
– Document Management & Tracking:
Build a library of helpful sales content for your entire team, share documents right from your Gmail or Outlook inbox, and see which content closes deals.
– Conversation Intelligence:
Automatically capture details from every call so you can uncover the "why" behind team performance. Then unlock coaching opportunities with AI-powered insights.
– Call Tracking:
Prioritize your day's sales calls, make and record calls directly from your browser, and automatically log them in your CRM for maximum efficiency.
– Sales Automation:
Automate your sales process with a personal touch. Set up a series of personalized emails and follow-up tasks to ensure you stay top of mind throughout the sales process.
– Meeting Scheduler:
Eliminate the painful back and forth of meeting scheduling. Share a link that gives prospects the power to choose a time that works for everyone — it'll automatically sync with your Google or Office 365 calendar.
– Payments:
Transform your customers' buying experience with natively built CRM-powered payments. Digitize payments, accelerate revenue growth, and empower your teams with secure, shareable, one-time and recurring payment links — plus native integration with quotes. Feature available for U.S. customers only.
– Live Chat:
Connect directly with prospects when they're actively engaging with your website. Route chat conversations to the right salesperson to build better relationships and close more deals.
– Sales Management Playbooks:
Arm your team with competitive battlecards, call scripts, positioning guides, and more. Better sales enablement and faster onboarding means more time to close deals.
– Quotes:
Generate polished, branded quotes in seconds. Send quotes when your product is top of mind to close deals faster.
– Sales Analytics and Reporting:
Answer important questions about sales performance by bringing all your data together in one place. Get full visibility into your process so you can forecast effectively and deliver exceptional results.
– Mobile CRM App:
Manage your contacts, deals, and tasks from any place and device. Keep up with your leads while you're on the move or away from your desk.
– Pipeline Management:
Stop letting lucrative deals slip through the cracks. Add deals with a single click, assign tasks, and track progress in your dashboards to make tracking sales pipelines a breeze.
– Account-Based Marketing:
Build deeper relationships and turn your high-value target accounts into customers. ABM includes collaborative, intuitive tools that unite your sales and marketing teams.
2. Keap
With Keap you get the all-in-one sales and marketing automation platform designed to help you grow. Using Keaps's powerful CRM and sales and marketing automation, collect more leads, convert them to clients, and turn those clients into fans.
This app also keep track of client payments with native payment processors, you can send and receive payments right in your CRM software, using some of the most prominent names in ecommerce (including PayPal, Stripe, and WePay). The client management is powered by sales and marketing automation, helping you optimize your customer experiences and effectively manage your day-to-day. See everything at once and take quick actions directly from the contact record. Access company and contact details from the Keap desktop or mobile app.
Easy Automations and Advanced Automations, use each solo or both combined for more growth in less time. Either way, you'll convert more leads and close more deals with highly personalized and automated follow-up. Save time by automating repetitive tasks like lead capture and follow-up so you can focus on your business. Automating new and existing tasks saves time so you can focus on other areas of your business. Plus, sales and marketing automations improve organization, create more personalized communication, generate more sales, and ultimately boosts revenue.
Keap's has as well an easy-to-use, drag-and-drop sales pipeline. Sales pipeline management helps you move leads faster, close more sales, and know the status of every deal in one place. Track and manage leads on your customizable dashboard and stay on top of everything until you bring home the sale. You can trigger automated follow-up and tasks to nurture leads through the sales funnel.
3. ExpediteCommerce
ExpediteCommerce's CPQ is a configure-price-quote solution that smooths out the buying process for both online customers and internal users. With powerful features for guided selling, 3D visualization, discount governance, and upsell and cross-sell, CPQ helps enhance average deal size and improve margins.
The CPQ solution is an advanced quote to cash software. Companies looking for dedicated CPQ for SaaS or CPQ for Manufacturing can stop their search here. It enables quick and accurate quotes for even the most complex and highly configurable B2B products. Features such as guided selling, guided selection, & dynamic product configurator help enhance customer experience, boost sales velocity, & improve rep performance.
Recurring Billing & Subscription Management
The Billing & Subscription suite automates operations, eliminates departmental silos, and supports mid-cycle changes to enable confident decision-making in subscription finance. It comprises tools for recurring billing, real-time revenue recognition, accurate revenue forecasts, & end-to-end subscription management. These tools help subscription-based companies to maximize customer lifetime value.
eCommerce Storefront
The eCommerce storefront solution lets you set up a branded storefront that combines the best of human-digital experience that B2B buyers demand today. The solution enables you to expand your market outreach, gain sales efficiencies, & build a rep-free experience for buyers.
Features:
CPQ (Configure Price Quote):
Visual CPQ.
Product Configurator.
Order, shipping, fulfillment, warranty management.
Parts Ordering – clickable 2D exploded BOM.
Service Orders – provisioning & activation.
eDocuments – eSignature.
Recurring Billing & Subscription Management:
Usage based billing.
Metered billing.
SaaS & Telecom billing.
Automated billing operations.
Real-time revenue recognition, forecast.
Flexible pricing, discount models.
Supports mid-cycle changes.
4. Viirtue
Viirtue ViiBE is one of the Best Quote to Cash Software for Business is Viirtue's all-in-one reseller platform designed to expedite your company's sales process and improve your customer experience, that's has many options including:
Automated Invoicing with Usage Rating.
Manage Clients.
Collaborative Quoting.
Expedited Sales.
Tax Automation.
Marketing Content.
Number Porting Automation.
What makes this platform different is:
Proprietary reseller engine: Automate your workflows and simplify all aspects of being a VoIP reseller.
Ultra-competitive pricing: reducing your operating costs while providing an innovative, industry-leading product.
Fair pricing algorithm: Get charged only for seats that are used instead of multiple times for users with multiple devices.
Customer data migrations: Viirtue now offers included data migrations from select platforms.
ViiBE features are:
Voicemail to email: Have voicemails delivered right to your email, complete with caller id, .wav file, and a full text transcription of the voicemail.
Webphone with chat: Chat with coworkers, see if they are on the phone, view your call history or make system changes right from our easy to use portal.
Mobile app: Simultaneously ring your cell phone with your desk phone, or make calls through your web phone.
Call center: Set up call queues for offices with longer than normal holding times. Comes with detailed reporting.
Automated attendants: Automatically greet callers and route them anywhere. Easily customizable through the webphone. Never miss a call.
Conference bridges: Hold password protected, multi-party conference calls on a secure network.
5. Cloudsense
Unlike other offerings, Cloudsense is built to manage the demands of the fast-moving, digital-first publishing, advertising and subscription landscape. Enabling the kinds of complex use cases and scale that other providers shy away from. It doesn't place limitations on your ideas and box you in; instead our versatile solution gives product, sales and marketing teams the freedom to continually innovate, grow revenue and reduce cost.
If you challenge our competitors to support the requirements that CloudSense can handle, you'll soon find that they struggle to absorb the demands on their systems. Whether your are a small, medium or large publisher, extend beyond the simplest of portfolio offerings and you'll see performance levels drop to well beneath the requirements for a digital-first user experience.
CloudSense has a clear vision of a future for commercial operations that truly support digital-first businesses. These are key principles that can be applied to any industry.
This CPQ functions are:
Find and select the right product and service combinations to create a commercial offering within predefined rules.
Ensure accurate pricing, taking into account any offers, discounting and other rules, no matter the product configuration.
Generate a quote, including the requested products and services, with a price that is both fair for the customer and profitable for your business.
6. Experlogix
Experlogix CPQ lets you handle the most complex configuration, pricing and quoting requirements with ease, no programming needed, to simplify and accelerate quote processes, improve quality and accuracy and increase customer satisfaction.
It brings unparalleled, certified integrations to industry-leading CRM and ERP platforms (like Microsoft Dynamics, Salesforce and NetSuite) empowering sales representatives to quickly configure and deliver complex and tailored products without ever leaving their familiar system.
Experlogix was named a Market Leader in the Configure, Price, Quote (CPQ) software category for the Fall 2021 Customer Success Report published by FeaturedCustomers. The Market Leader designation is awarded to providers with substantial customer base and market share, and enough customer success content to validate their vision. Leaders have the highest ratio of customer success content, content quality score and social media presence relative to company size.
It has different features that will accelerate your quote processes:
Front-to-back-office processes:
A seamlessly integrated quote-to-manufacture solution, Experlogix CPQ lets you build sophisticated quotes in Microsoft Dynamics 365 Sales and CE/CRM or Salesforce, and push the entire manufacturing production order to your ERP platform. You can access our solution directly within Dynamics 365 FO/AX, Dynamics 365 BC/NAV or NetSuite, and experience intuitive product configuration.
Efficient approval workflows:
Your sales team can efficiently collaborate and eliminate bottlenecks with sales management and engineering by leveraging automated workflow approval requests. Prevent rogue discounting by setting thresholds for maximum discounts without authorization. Product change requests can route to appropriate team members for fast action and pricing.
Logic-based pricing and discounting:
Experlogix provides an intuitive, wizard-driven workbench for pricing and discounting configuration, allowing non-technical users to create and maintain sophisticated rules and formulas without programming expertise. Whether you price on cost plus a markup, use complex formulas and tables, price based on territory, lease calculations or a combination of all, handle the most complex scenarios with ease, so your sales representatives deliver an accurate price at the highest possible margin each time. Also include Excel integration and API to pull prices from external systems if needed.
Dynamic product visualizations:
You can visualize products during configuration, as options and colors are changed. With Image Compositing in Experlogix CPQ, you can apply different colors and textures, and create complex compositions with layers and effects; your changes are dynamically displayed as you make them, improving experience for both resellers and customers.
As sales representatives configure a quote or order, Experlogix verifies in real-time the accuracy of each selection and instantly provides intelligent feedback via easy-to-understand pop-up messages and color-coded highlights. Up-sell and cross-sell messages guide users to recommendations to provide a total solution proposal that increase revenue. You can also configure our CPQ solution to gather application-specific requirements to recommend the best product or service for your customers.
On-demand BOM and routing:
Experlogix can produce new product items and BOM, or reuse existing ones. Each Assembly and Item on a BOM can be dynamically added with an unlimited number of BOM levels. Routing steps can be added in the same manner – e.g. custom shop floor work instructions. Sub-BOM attributes can be mapped to Experlogix, allowing you to set quantities, units of measure, notes, etc. Sub-route attributes like cycle time, move time, queue time, and others can also be calculated by our solution.
Advanced manufacturing capabilities:
Experlogix adds the "M" to CPQ by providing the most advanced manufacturing capabilities. Our unique modeling workbench enables your product managers and engineers to define component relationships that drive unique combinations of parts, materials, sub-assemblies, routings, or lean schedules. New items with dynamic part numbers can be created in your ERP system with the flexibility to leverage existing BOM and routings, or create new ones. Project-based manufacturing in Microsoft Dynamics 365 FO/AX are also support.
e-Commerce platform integrations:
Companies focused on e-commerce are challenged to offer online customers complex product lines, that are often tailored or configured. Experlogix CPQ provides connections to leading e-commerce platforms such as Microsoft Dynamics 365 Commerce, Dynamicweb, Sana, and others, to power up order processing, production and fulfillment, and create an exceptional customer experience.
7. BlueSnap
BlueSnap 's AR Automation Software streamlines your entire quote-to-cash process, it's easy to implement and requires no coding. You're in total control of your workflow. Start reaping the benefits of a more efficient, automated and transparent workflow today.
Automate each step of the billing, accounting and payment processes through one application that syncs with your existing ERP and CRM software for seamless reconciliation and reporting.
BlueSnap's AR automation solution is pre-integrated with the software you already use, like Quickbooks, NetSuite and Microsoft Dynamics. Partners with leading:
It is an all-in-One AR Automation Software that :
Manage documents electronically and maintain a single source of truth for every customer, including quotes, agreements, relevant product guides and more. Accept electronic signatures to improve workflows.
Bill customers your way. This software lets you easily manage recurring invoices, subscriptions, usage-based billing and automatic payments.
Automate accounts receivable with branded invoices and payment links. Leverage templates and content libraries for efficiency. Enable automatic payments, apply late fees, offer payment plans and more.
Get paid faster by accepting 100+ currencies and 100+ payment types, including ACH, SEPA and digital wallets.
Offer your customers a branded portal for paying their invoices and balances, updating their billing information and viewing important account documents. Its features are:
One Account:
One account, one contract, one integration for all your payment needs
Combined payment gateway, merchant account and built-in payment optimization
Easy Integration:
Multiple integration options to create the payment experience you want
Hosted fields, hosted checkout, embedded checkout
100+ 3rd party integrations to popular shopping carts, CRM, ERP systems and more
Global Reach:
A network of global banks to help increase revenue & reduce costs
Intelligent Payment Routing to optimize authorization & cost
100+ shopper currencies, global payment types & 16 settlement currencies
Fraud Prevention:
Integrated fraud & chargeback management with Kount and Chargebacks911 to protect your business
Built-in solutions for regulation & tax compliance
Reconciliation & Reporting:
Reporting to increase visibility & simplify reconciliation
Real-time data for actionable insights
Access it anytime, anywhere via dashboard, mobile app or API
8. Xait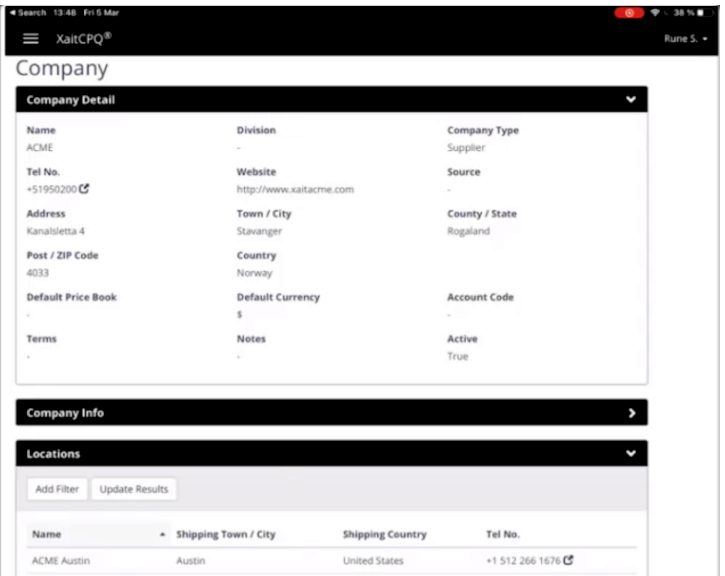 XaitCPQ is one of the best Best Quote to Cash Software for Business, XaitCPQ captures all of the complex product, pricing, and business rules in one central place for automating and streamlining actions in real time.
Helps you to Quickly and accurately price combinations of interdependent products and services:
XaitCPQ helps organizations win more deals at better margins, by making it really quick and really easy to correctly build and price combinations of products and services, and to do so at scale. Having a CPQ software such as XaitCPQ allows you to have everything you need at your fingertips to close deals faster, with better collaboration, control and transparency.
It is perfect for a variety of industries and disciplines:
– Manufacturing
For many manufacturers and service providers spreadsheets start as a low cost, practical solution to your quoting problem. However; as your organization or the use of the spreadsheets grow – you find yourself struggling: managing document versions going back and forth over email, trying to keep prices up to date, all while maintaining calculations when new products and services are added.
Guided selling with XaitCPQ makes it easy for users to accurately price, select products and services – and will eliminate costly ordering mistakes and protect your margins.
– Accreditation
Working in the Accreditation & Certification sector can be demanding. Automate your bids & proposals in the Accreditation & Certification Industry. How the software makes things better for the ones working on proposals:
Executives:
Increasing the quality of your bids and proposals, increasing your win rate.
Making sure you deliver on time, every time.
Ensuring the integrity and confidentiality of your documents.
Sales Managers:
Enabling you to create better bids and proposals up to 70% faster.
Streamlining and simplifying your entire proposal process.
Removing the hassle of battling with layout, numbering, and formatting.
Sales teams:
Saving you time, reducing the amount of overtime needed to complete a project.
Making the latest version of the entire document available to you at any time.
Giving you control of team progress, and how much work remains.
– Professional Services
Using effective CPQ software can improve your professional services sales process and reduce the need for time-consuming proposals.
Quick, easy and safe for teams to design, collaborate, and price highly specialized and unique projects. This means solutions can be scoped, designed, proposed, and secured in the shortest time to maximize revenue and reduce risk from your sales process.
For instance,  one project can have many phases and one phase can have many tasks and within a phase or within a task – it's possible to imbed the configuration rules and calculations to either intelligently predict or produce the amount of billable hours that are appropriate.
9. QuoteWerks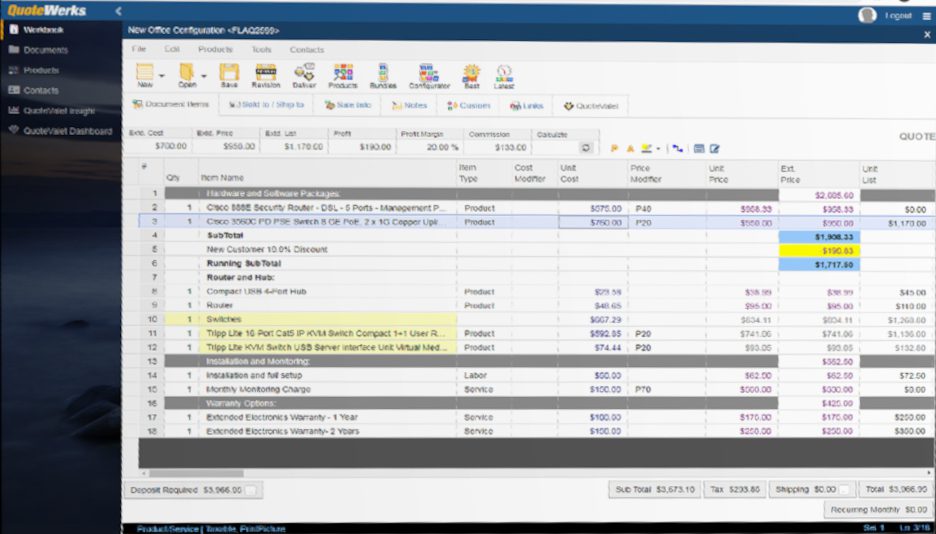 QuoteWerks is designed to make the process of creating quotes less error prone, more efficient and more profitable. Since the creation of price quotes requires an investment of time, and since not all quotes are converted into orders, it quickly becomes important to streamline the quoting process, and in the process realize a tremendous time savings.
QuoteWerks has developed and refined their software over the past 28 years, with over 88,000 users globally. Companies have chosen this sales and quoting software over others for many reasons, including reputation, affordability, turnkey implementation, the detailed and flexible output, and 55+ integrations including CRM/PSA integrations, accounting integrations, and real-time/product content functionality.
This quoting software allows you to successfully manage the quote, negotiations, invoicing, and payments from end to end. The benefits of this software are:
– Create, deliver, & close sales faster: This quote management system is designed to make the sales quote process more efficient for sales reps – from creating, delivering, and tracking quotes, to ultimately closing deals.
Professional Quotes & Proposals: It's important for all of your company's quotes and proposals to be cohesive. This software ensures that every salesperson is sending a standardized document, whether that's a SOW, terms and conditions, or contracts.
– Reduced errors in your sales process: There's a lot of room for human error when quotes are created manually. With this sales quoting software, the provided workflows ensure that every document in the sales process is accurate and consistent.
– Standardized pricing, margins, workflows: Align your team by providing them with a standardized way to create lists, templates, and bundles. Using this software, you can see the cost or margin automatically calculated whenever a product or service is added to a quote.
– Increased efficiency with CRM & accounting Integrations: QuoteWerks fills in the gap between your quoting software and CRM or accounting software by accurately and reliably transferring your sales data between QuoteWerks and the solutions you already use.
– Centralized quote storage: Keep track of all of your documents in one place. Store and manage in a central and searchable location, with the ability to filter by date, company, sales rep, expiration date, and more.
The software offers a vital transparency so that you can create, track, and deliver customer interactions, which includes the ability to see when a customer views the quote, selects options, asks questions, submits an electronic signature, or makes a payment. It seamlessly integrates with all of your systems, integrations allow you to work seamlessly within multiple systems without adding to your workload.
You are notified the first time the customer looks at the quote and each additional time they look at it. Knowing this you can call the customer while they are looking at your proposal, the moment they are most interested in your proposal. You will get notified on all quote activity by email.
10. Orgzit
With Orgzit's quote management system, your sales team can create beautiful & professional PDF quotes in a matter of minutes. The Quote Management Software by Orgzit combines both an intuitive user experience with a robust integrated platform serving the needs of businesses of all sizes. Every business has its unique processing of gathering quotation information and approving the quotes, these business rules can be easily implemented in Orgzit's quotation solution.
What can the software do for you is:
– Create Professional Quotes: Create Customized Professional Quotations for your clients. Promote your brand with every document that leaves your system.
– Reduce Quotation Time: Automate the quote generation processes with the custom quotation tool. You can also create quotes faster and reduce errors in the quotation process.
– Actively Track Quotes to Close Deals Faster: Automated reminders help you stay on top of every open quote so that you always know which quote to follow up on next.
– Automate Tax and Discount Computations: Reduce errors by automating tax and discount computations.
– Real-Time Inventory Checks: Ensure that you never quote on items not in stock with real-time integration with inventory and purchase management.
– Save Time by Automatically Emailing Quotes: Orgzit automates emailing quotes to customers so that you can focus on closing deals faster.
– Manage the entire customer lifecycle: Looking to manage the entire customer lifecycle, and not just quotes? You are covered with the CRM that covers the entire customer journey from lead tracking to quotation to order to customer support.
– Fully Customizable: Implement the quotation creation and approval process as you really work in your business. Customize Orgzit's quotation system to capture the data you need, style the quotes, configure approvals required, and more.
– Maintain Data Privacy: Maintain privacy of your quotes by restricting access to only people who need to know. Easily setup the access controls in accordance with your sales hierarchy.
– Dynamic Pricing: Implement dynamic pricing models for different customer segments, regions, and more.
Conclusion
Now that we have seen what is quote to cash software, and ten examples of software, you can make an informed choice on a good quotation management software that will empower salespersons to quickly create accurate quotes for your organisation.