10 Best Revenue Operations & Intelligence (RO&I) Tools
In tough economic times, every drop of revenue matters. How much revenue are you leaking?

The result ? Lost deals, missed quarters and a lost shareholder value.
A revenue operations platform helps go-to-market teams take control of their entire sales process and revenue operation.
What is the Best Revenue Operations & Intelligence (RO&I) Tools?
If you want to consider using one in your organization, our list of sales intelligence software will be a good starting point.
Our list of the Best Revenue Operations & Intelligence (RO&I) Software:
1. Gong
Revenue operations leaders use Gong's revenue operations software to capture activity data from every touchpoint and forecast with superhuman ability. Gong's RevOps platform uses AI to analyze every customer interaction across sales and CS to deliver insights into your deals, your pipeline, and your team.
Gong is here to help you tear down barriers and get your sales, marketing, and customer success operations working in tandem. Activity data from calls, emails, and web-conferencing combined with AI to analyze and deliver insights makes Gong's RevOps software the essential piece of a revenue operations toolkit. With revenue operations software, your customer data is always up-to-date with a true picture of what is really happening.
Gong's Revenue Operations Software works in four-steps:
STEP 1 Gong's revenue operations platform accesses your sales and CS teams' calendars and emails to log all their customer interactions.
STEP 2 Then it ties that recorded data to opportunities in your CRM and surfaces insights using AI analytics.
STEP 3 It delivers a real-time view of your pipeline and shows you risks before it's too late.
STEP 4 Revenue Operations software from Gong means better forecasting and better sales and CS efficiency.
Gong is known as the #1 revenue operations software. But it's so much more. Gong's Revenue Intelligence platform records and transcribes your team's calls, then uses AI and machine learning to deliver exceptional insights from its revenue operations software. You know what's happening inside deals, learn what works with customers, and see where training can help.
Revenue Intelligence is the new way of operating based on customer reality instead of opinions:
People Intelligence: Your teams have superstars. Find out what they do that works, then press copy-paste across your teams.
Deal Intelligence: It's like a truth serum for your pipeline. Gong shows you where each deal stands, and how to get to closed-won.
Market Intelligence: Get a real-time view of your market. Which competitors are coming up? How much pipeline is impacted? How are buyers reacting to new messaging?
2. Clari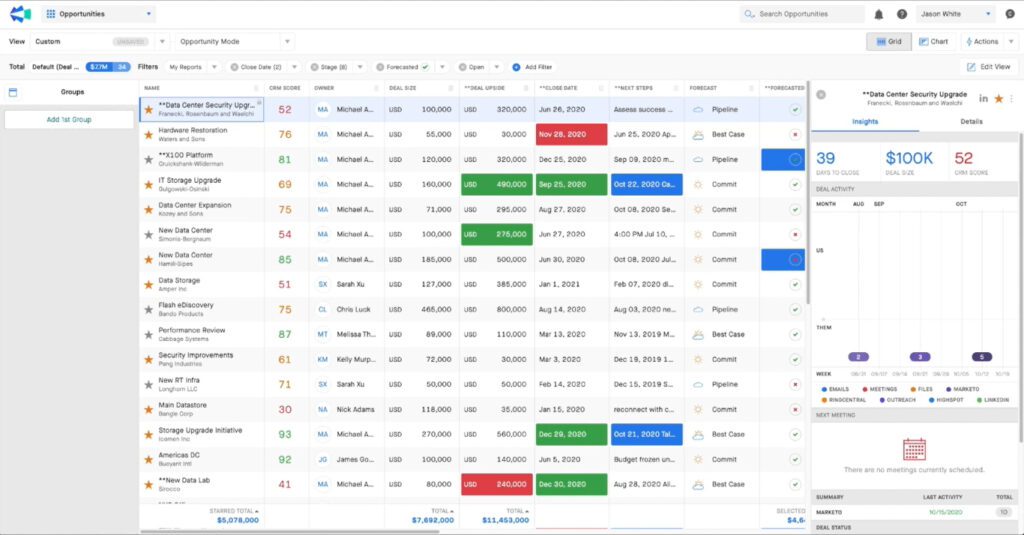 With Clari turn sales and marketing activity data into insights that drive revenue. Better understand prospect and customer relationships, and where your teams are (or should be) focusing their efforts.
Gain a complete view of your team's activity including who they interact with and levels of customer and prospect engagement to improve how you manage accounts and deals, coach more effectively, and fuel your go-to-market strategy.
Capture all your data automatically:
– Activity Integrations: Combine your CRM data with countless other activity signals from email to calendar to phone calls and more for a more complete view of your team's activity.
– Intelligent Mapping: Capturing your data is just the start. Clari also associates every activity with relevant accounts and opportunities to make it accurate and actionable.
– CRM Sync: Focus on closing deals not entering data. Clari automatically logs activities and contacts into your CRM with a unique bi-directional sync.
Get all your teams aligned on the KPIs and revenue goals for the business. Quickly find the right metrics and predictive insights to impress your board and provide deal visibility at the manager and rep level. Build transparency with the right data from all your market-facing teams in a single workspace that your team will love to work with, so you can collectively execute and track company revenue goals.
What you get from this powerful tool is:
– Unmatched execution and performance: Create consistent cadences across your company's revenue process to eliminate surprises and guarantee predictability.
– Full-Funnel Accountability: Drive collaboration across your go-to-market and sales teams for increased visibility, accountability, and subsequent action to drive strategic results.
– Maximum Productivity: Drive increased alignment and productivity across all teams with reduced manual data entry and forecasting visibility for efficient QBRs, 1:1s, and go-to-market decision-making.
3. Groove
Groove has the most advanced activity capture in the industry, providing complete transparency between reps and their managers. Groove customers can rely on real-time Salesforce reporting, collaborate on account lists, better understand the full buying committee, and run live, interactive pipeline reviews.
The different features of Groove's platform are:
– Accurate Salesforce Reporting: Groove's native Salesforce integration ensures access to comprehensive, real-time data.
Eliminate data latency and ensure one source of truth by maintaining Salesforce as your database of record
Improve forecasting accuracy by eliminating shadow CRMs and maximizing activity capture
Export any report as a CSV for use in other reporting systems.
– Opportunity & Pipeline Management: Collaborate on opportunities, update pipeline, manage accounts, and assign tasks using live Salesforce data.
Conduct interactive pipeline reviews powered by advanced activity capture and real-time Salesforce data
Empower sales managers and reps to collaborate in a centralized workspace that automatically updates Salesforce
Update account status, advance opportunity stages, and record next steps without having to switch back and forth from Salesforce
– Advanced Activity Capture: Automatically capture and log all email, calendar, meeting, and LinkedIn activity to Salesforce in real-time.
Easily control which type of emails, meetings, and other activities are synced and which aren't
Capture activities with custom meta-data and associate them with custom objects
Automatically link activities with the correct leads, contacts, accounts, opportunities, and cases in Salesforce
Use search and selection functionality to log activities to any record, including custom objects and multiple records
– Auto Contact Capture: Identify and add new business contacts to Salesforce automatically to get a complete picture of the buying committee.
– Account-Based Engagement: See account-level engagement and drill down to individual response rates.
– Enhanced ROI Reporting: Ensure proper attribution and reporting by associating Groove Flows to existing Salesforce campaigns and hierarchies.
– Groove Insights: Optimize and accelerate revenue performance with an advanced suite of pre-built Salesforce reports.
4. Boostup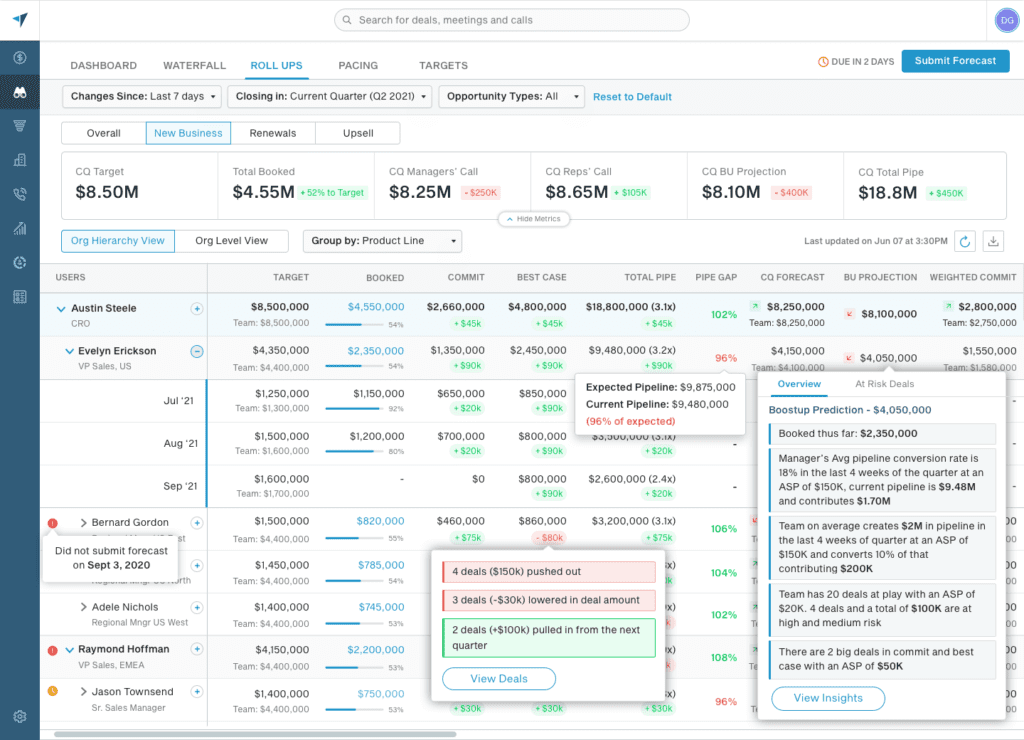 Boostup is the best choice for advanced, predictive forecasting as CRMs & Spreadsheets no longer have all the data & process you need to drive forecasting accuracy. BoostUp's Revenue "Front Office" is built to handle complex forecasting processes, deal by deal insights and FLM account, pipeline and activity insights in a unified experience and boosts forecasting, pipeline and deal confidence for your entire revenue team.
The #1 reason BoostUp is chosen is highly flexible, configurable and customizable forecasting process, BI and workflows. BoostUp's flexible and configurable revenue intelligence and forecasting works with your CRM complexity, allows you to make changes instantly, is naturally adopted by your sales managers, and helps you standardize company wide forecasting and sales process in a way that drives accountability with:
– Multiple Hierarchies
Get 95% accurate on day 1 of the quarter for multiple hierarchies across new business, overlay, renewals, customer success and channel teams. Flexible pivot forecasting data by product lines, regions or any other business object
– Instantly Configurable
Quickly and easily, and without professional services, customize and configure your custom metrics, KPIs, sales and forecast process within BoostUp.
– Custom Object Read/Writes
BoostUp can handle:
Custom Role hierarchies, ownership rules
Custom objects, lead objects, CPQ objects
No need create new fields or copy over fields from custom objects into primary objects
– Highly Reportable with Embedded BI
Get pre-built, embedded BI capabilities including time series metric dashboards for your most common reporting needs. Spend less time moving data between spreadsheets and more time analyzing the business. Flexible, intuitive, interactive, and easy-to-use BI that automatically connects CRM and activity data and gives you the power and control over your BI solution.
– Accurate Pipeline Risk Visibility
Out-of-the-box predictive, time-series analytics, reports, and custom dashboards, reports and metrics eliminate countless hours of manual report building.
– Highly Adopted by Front Line
BoostUp's UI is highly intuitive and designed for the entire revenue team's daily work by providing tasks, actions to be taken, emails, calls, and analyses that guide their strategy.
– Access Inside of Salesforce
Get instant access to BoostUp inside your Salesforce instance. Scale usage of Salesforce and adoption of insights across deals, forecasting, and activity directly within Salesforce.
5. Mediafly
Mediafly is revenue intelligence & forecasting platform that takes control of your pipeline. From pipeline management to forecasting, analytics to execution, flexible, no-code revenue intelligence solution gives your revenue team real-time data and insights to effectively manage your entire revenue journey.
Revenue intelligence is your fast path to predictable revenue growth, as it lets you:
– Improve forecast accuracy
Selling is complicated, forecasting shouldn't be. Automate your forecast rollup while validating projections with machine learning.
– Boost pipeline visibility
Get a 360º view of all seller and buyer activity, so you can assess risk, identify upside and focus coaching opportunities.
– Replicate sales wins
Identify what works, patterns in buyer behavior, and next best actions, all proven to replicate success and grow revenue.
Mediafly is the fast path to close, everything your team needs to manage their pipeline, forecast accurately, and drive predictable growth as it helps to:
Identify pipeline risks and opportunities
Instantly detect pipeline changes, trends, exceptions and risks
Manage rep efficiency and track goals across the customer journey
Connect activities to pipeline, bookings, retention and upsells
Unlock hidden coaching opportunities
Increase win rates and shorten sales cycles with actionable insights:
Spotlight trends and identify gaps in real-time
Drill in, understanding exactly what was pulled, pushed, won, stalled, or lost
Understand pipeline coverage gaps, pipeline health and risks
Create net new and filter reports on-demand at the most granular levels
Static, historical reporting is a thing of the past. Manage all your Marketing, Sales and Customer Success dashboards from a single experience in real-time.
Drill down into activity-level granularity, take action, assign next steps
Share dashboards so key stakeholders to align your revenue team
Visualize funnels by company, product lines, time periods or individual roles to spot trends and inform strategy
Understand the meaning behind every revenue metric and result in time to adapt and improve
6. Revenue
Revenue lets you gain performance visibility, make smarter revenue predictions and close more deals.
Real-time revenue intelligence software automatically transforms multi-channel sales engagement data into predictive insights and next best actions that drive wins.
Capture Every Engagement and Transform Them Into Actionable Insight, and get several benefits:
– Predictability
Make smarter and more accurate revenue predictions by aligning sales, marketing, and customer teams around a common purpose of generating customer lifetime value and a superior customer experience.
– Breaking Down Silos
Large, complex enterprises can become far more agile by breaking down functional silos that exist between revenue teams. By aligning around shared data, revenue teams can move faster, fill in content gaps, focus on the leads most likely to convert and take actions to maximize customer lifetime value.
– More Effective Coaching
Revenue intelligence tools can provide managers with the insights they need to focus their coaching sessions far more effectively. Knowing which conversations need to be coached and see what top performers are doing differently can help managers operate efficiently and make a huge impact.
– Turnkey Revenue Operations
One of the most important benefits is that it makes transitioning to a Revenue Operations ( RevOps) model a lot easier. Revenue recently collaborated with Revenue Enablement Institute to interview hundreds of sales professionals. That research found that "the perceived amount of change involved and the time and commitment it will take to realize benefit from a Revenue Operations model" was one of the biggest challenges to adopting a RevOps model. But the right revenue intelligence platform can automatically set revenue teams on the path to success.
Real-time revenue intelligence software from Revenue.io transforms multi-channel engagements into actionable insights and next best actions. Gain real-time coaching alerts that scale the success of A-players. Provide reps with real-time guidance and next best actions. Make smarter forecasts, and spot risky and neglected deals. Ensure that opportunities are getting the necessary follow-through, and finally know how coaching impacts opportunity outcomes.
7. Outreach
Outreach automates selling plans, assists reps in sales meetings with AI-generated insights, and offers teams true visibility into their deals. With real-time conversation intelligence and best-practice action plans, reps and managers can rely on revenue intelligence for stronger deal management and improve execution in each stage of the sales cycle.
What this software promises is to guide sellers to success with unparalleled deal management to:
– Leverage AI to win more deals:
Eliminate the need for last minute deal-saving efforts. Instead, put AI and machine learning to work to unlock a better understanding of customer interactions, trends, and overall deal health. Outreach helps you spot and avoid surprise risks early in the deal cycles, so you'll never be caught off guard again.
– Increase rep productivity by 30%:
Barriers exist every step of the way in deal management. When reps are distracted, ill-equipped, or unprepared, they're unable to deliver a strong proposition — and you're bound to lose out on opportunities. Kaia boosts rep productivity by automating tedious note taking and sales tasks before, during, and after meetings.
– Improve deal close rates by 13%:
Don't let a lack of transparency derail your deals. Instead of just relying on gut instinct and past experiences to understand deal progress, improve your deal execution with a Success Plan that brings alignment between buyers, sellers and stakeholders on all sides.
Outreach features at a glance:
Real-time call recording and transcription: To build accurate transcripts, Kaia's language model learns your organization's unique vocabulary: product names, competitors, and other industry terms.
Content cards: Kaia surfaces enablement-created Content Cards at the right moment in virtual meetings, so reps can easily answer questions about competitors, product features, pricing and more.
Action item detection & follow-up: Kaia detects when action items are spoken and syncs them to the meeting transcript. After the call, reps can track follow-up items as tasks via Success Plans.
Transparent timeline: A shared timeline is delivered to customers at the beginning of the deal process and is kept up to date as the deal progresses to help navigate the buying process.
Buyer engagement signals: Get notified when buyers view the plan, share it with others, or download specific content.
Centralized resource library: All documentation (case studies, contracts, etc.) shared throughout the deal is organized in a single easy-to-find view for everyone
Plans dashboard: Monitor deal status across a single pane of glass that shows the status of all deals and easy access to individual plans all in one place.
Comprehensive search: Quickly find relevant recordings and moments by searching for keywords in transcripts, notes, or content cards. Filter by teams, meeting, or opportunity attributes.
8. Revenuegrid
RevenueGrid is a revenue operations and intelligence platform that helps improve sales performance. Stop revenue leaks with revenue intelligence, crush barriers to your revenue growth, and improve your pipeline visibility.
This is how RevenueGrid transforms your sales process:
Step 1 Automate data capture and gather all the data related to your deals, prospects, and engagements automatically.
– Autosave all touchpoints to Salesforce
– Autocreate and link to leads and contacts
– Customize data to fit your sales process
Step 2 Gain visibility into your pipeline and understand every aspect of your revenue generation process.
– Pipeline: Identify at-risk deals and the reasons for the risk
– People: Assess your team's sales activities
– Process: Find correlations between sales activities and results
Step 3 Replace guessing with guidance and create Revenue Signals prompts that guide your team through the sales process and help them win.
– Guide reps with automated "nudges" for the best next step
– Automate playbook execution at scale
– Help your team stay at the top of their game
This platform has different features:
Revenue Signals: Signal your sales teams about the next step to take and anything going wrong. Revenue Signals are interactive, contextual alerts that put the "guide" into Guided
Selling. They spur your team into action, advising them of what needs to be done when it needs to be done.
Team Analytics: Coach reps digitally and scale the sales activities that sell best. Get a bird's eye view of all your reps' activities. See the state of each reps' forecasted pipeline, find out what your top-performing reps are doing and which activities they spend the most time on.
Deal Guidance: Guide reps to take the right actions and push deals forward proactively. Help your reps start the day with focus and an actionable list of next steps. When they're armed with a clear "what, where, and how" for each opportunity, your reps will push deals through the sales cycles faster.
Pipeline Visibility: Gain absolute, real-time visibility into every deal in your pipeline. Never let a lucrative deal slip through the cracks again. Know exactly where your quota numbers stand in real time with sales pipeline management software from Revenue Grid. Track changes and shifts, manage your pipeline, and stay ahead of the curve.
Sales Sequences: Multiply meetings and replies with automated, multi-channel outreach. The multichannel automated Sales Sequences deliver a personal touch that makes prospect engagement more efficient. Plus, they provide AI-driven analytics that enables you to determine what works best and how to scale success.
CRM and Email Integration: Automate data capture and access CRM data from your inbox, boost your team's productivity with the complete CRM automation tool.
Forecasting: Base your sales forecasts on the real odds of deals closing. With this revenue forecasting software, you can base your sales forecasts on the real odds of deals closing. Uncover risks in the pipeline and make your actual and forecasted revenue finally match up.
9. Kluster
Kluster beat the target every quarter, it is the leading revenue analytics and forecasting platform for scaling B2B SaaS companies. A platform that is updated daily with the workflows used by peers to beat target, it uses community-designed best practice that helps these roles:
Revenue Operations, Rev Ops and Sales Ops leaders and up-and-comers
Build repeatable process
Scale your funnel
Deliver reports on time, every time
Revenue Leadership, Team leads, VP Sales, CROs and CEO
Generate forecasts you can trust
Own your strategy with data-driven tactics
Visualise and track KPIs
Revenue Professionals, SDRs and AEs
Be CEO of your own business
Simulate your journey to quota
Plan for quarter-to-quarter consistency
Kluster will let you:
– Forecast confidently:
Embed forecasting processes from sales reps up to leadership, and augment with multiple AI and analytical methods for crystal clarity.
– Security alerts for pipeline:
Ever been alerted by your bank about that large purchase you just made?
It does the same for changes in activity and pipeline that will impact next quarter's revenue.
– Prescribed actions for success:
Receive insights with context. Take the right actions. Be predictable.
– Reverse engineer your revenue:
Want to dig into the data? Use interactive tools to engineer your perfect outcome, and assign KPI targets to your team to track real time progress.
– Report to the board:
Stop spending your evenings with screenshots and PowerPoint.
Report to management, and have your team report to you, with real time interactive dashboards.
10. Dreamdata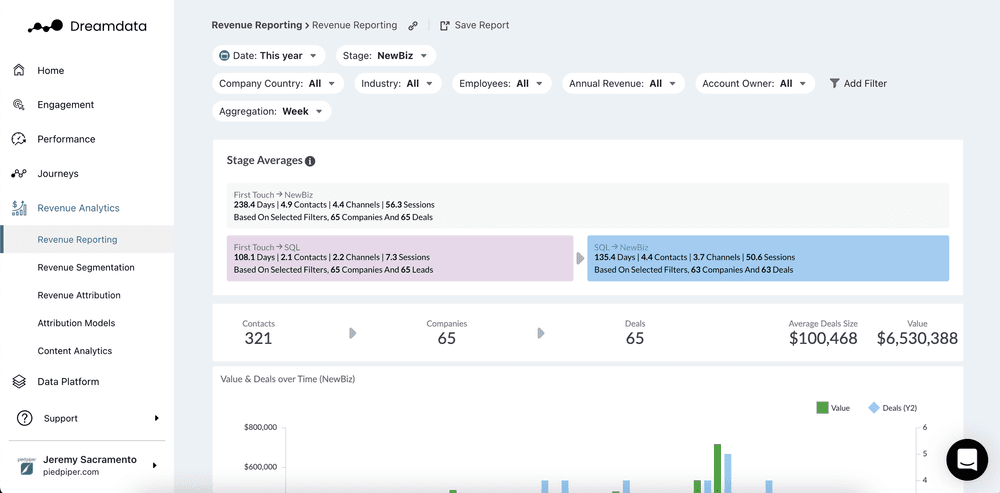 Dreamdata gathers, joins and cleans all revenue-related data to present transparent, actionable analysis of what drives B2B revenue. Dreamdata's Revenue Analytics gives unprecedented insights into the metrics behind your channels, campaigns and segments across the pipeline.
In order to understand where your deals are coming from and exploit your revenue data goldmine, you need to:
Quantify and analyse all your deals.
Understand how pipeline and revenue is generated.
Identify scalable growth options.
This platform provides:
– DEAL ANALYTICS. Analyse the data behind every deal:
Use powerful visuals and custom filters to access key metrics such as average time-to-revenue, top channels and campaigns by revenue, average number of sessions per pipeline stage.
– CORE REVENUE. All your headline revenue metrics at a glance:
Get an instant snapshot of all your headline metrics, including your total revenue generated, revenue per pipeline stage, total number of deals, and average deal length.
– REVENUE ATTRIBUTION. Know your revenue. Compare attribution models:
Run every recorded touch through customisable attribution models – across and between pipeline stages. See which role each channels plays in revenue generation and when.
– SEGMENTATION. Reveal your top segments and verticals:
Break down your deals into all the key B2B segments: country, industry, annual revenue, number of employees. Making planning, targeting and forecasting that much easier.
Dreamdata Helps you build, repeat and scale success. In three steps:
+ Build complete B2B customer journeys
Get unprecedented insights into every touch of every customer journey. From anonymous visitor to paying customer.
+ Gain business critical attribution insights
Reveal the revenue-generating performance of activities across the pipeline, channels and campaigns with B2B attribution.
+ Aggressively scale what works
DeepDive into every aspect of every channel, campaign and experiment to rapidly drive up ROI.
Conclusion
Having a revenue operations software unlocks the potential to using winning methods by your teams to drive growth by automating, instrumenting, and optimizing workflows across the entire sales cycle.