10 Best Sales Coaching and Training Software
Sales coaching and Training software gives salespeople and managers the ability to analyze sales calls to help refine technique, establish best practices, and improve sales close rates. Sales coaching tools enable continuous training with features such as conversation intelligence, live feedback from observers, and the signalling of upsell or close opportunities. These platforms may also provide a repository of previously recorded sales calls, as well as a list of upcoming sales deals in the pipeline. This provides greater visibility over which sales calls may have a direct influence over revenue. In some cases, live feedback or review is offered by a third-party representative or artificial intelligence. With help from these tools, teams can reduce ramp time by quickly identifying areas for improvement and aligning the messaging and approach among client-facing sales people.

Sales Coaching and Training software is a natural complement to sales training and onboarding software which trains new hires and provides continual training through role playing, skills assessments, and microcourses. Sales coaching software may integrate with outbound call tracking software to streamline cold dialing and lead follow-up calls, and integrate with or share features of video conferencing software for joint or observed calls with clients. These tools may also integrate with sales enablement software and sales performance management software so sellers can access relevant resources and receive feedback on their overall success respectively. Emails and calls captured within a sales coaching platform will often be tied to customer data in the company's CRM software.
What is the Best Sales Coaching and Training Software?
Now we will show you 10 of the best sales Coaching software :
1. Bitrix24
Bitrix24 is a collaboration software with complete tools for management, collaboration, communication, and sales. Bitrix24 provides a unified platform for files, projects, messages, tasks, and contacts.
Bitrix24 comes with several dozen integrations available in Bitrix24.Market. Users can also create apps using its REST API.
Features:
Virtual office for a company to work, communicate and collaborate – at home or in the office.
Packed with client management, customer support, and marketing automation features, Bitrix24 CRM is a digital sales suite.
Set tasks, receive work reports, and manage projects online with the ultimate "get things done" tool from Bitrix24.
Tools used for quick and efficient communication with clients.
A template-based website builder allowing users to create websites, landing pages, and online stores.
An online business automation suite to help manage a team and workflows.
Unlimited free users.
2. Wonderway
Wonderway est une plateforme de performance commerciale éprouvée pour augmenter le chiffre d'affaires par représentant avec la bonne formation commerciale.Wonderway utilise le machine learning pour faire correspondre la formation aux compétences que les représentants doivent améliorer afin qu'ils puissent conclure plus rapidement un plus grans nombre d'affaires.
Le personnel formé par Wonderway génère plus de revenus grâce à une formation ciblée des stratégies de négociation. Le logiciel raccourcit également la durée et les efforts de formation requis, ce qui rend les cours de formation plus efficaces.
Qui utilise Wonderway ?Entreprises SaaS B2B avec des équipes de vente comptant 2 à plus de 1 000 commerciaux.
3. Upland
Upland Software Inc is a provider of cloud-based enterprise work management software. The company provides a family of cloud-based enterprise work management software applications for the information technology, process excellence, finance, professional services and marketing functions within organizations. It services customers ranging from corporations and Government agencies to small- and medium-sized businesses engaged in the field of financial services, retail, technology, manufacturing, education, consumer goods, media, and telecommunications, Government, food and beverage, healthcare and life sciences, chemicals and travel and hospitality.
4. Brainshark
Brainshark's data-driven sales readiness platform provides the tools to prepare client-facing teams with the knowledge and skills they need to perform at the highest level. With best-of-breed solutions for training and coaching, as well as cutting-edge insights into sales performance, customers can ensure their sales reps are always ready to make the most of any selling situation.
With Brainshark, companies can: enable sales teams with on-demand training that accelerates onboarding and keeps reps up-to-speed; validate readiness with sales coaching and practice that ensure reps master key messages; empower teams with dynamic content that can be created quickly, updated easily and accessed anywhere; and use powerful scorecards to visualize sales performance trends and make real connections from improved readiness to increased revenue.
5. GONG
Gong unlocks reality to help people and companies reach their full potential. The patented Gong Revenue Intelligence Platform™ empowers customer-facing teams to take advantage of their most valuable assets – customer interactions, which the Gong platform automatically captures and analyzes. Gong then delivers insights at scale, empowering revenue and go-to-market teams to determine the best actions for winning outcomes.
Thousands of innovative companies like Morningstar Inc., Paychex, LinkedIn, Shopify, Slack, SproutSocial, Twilio, and Zillow trust Gong to power their customer reality. Gong is a private company headquartered in the San Francisco Bay Area. G2's audience of software users has ranked Gong .
6. Mindtickle™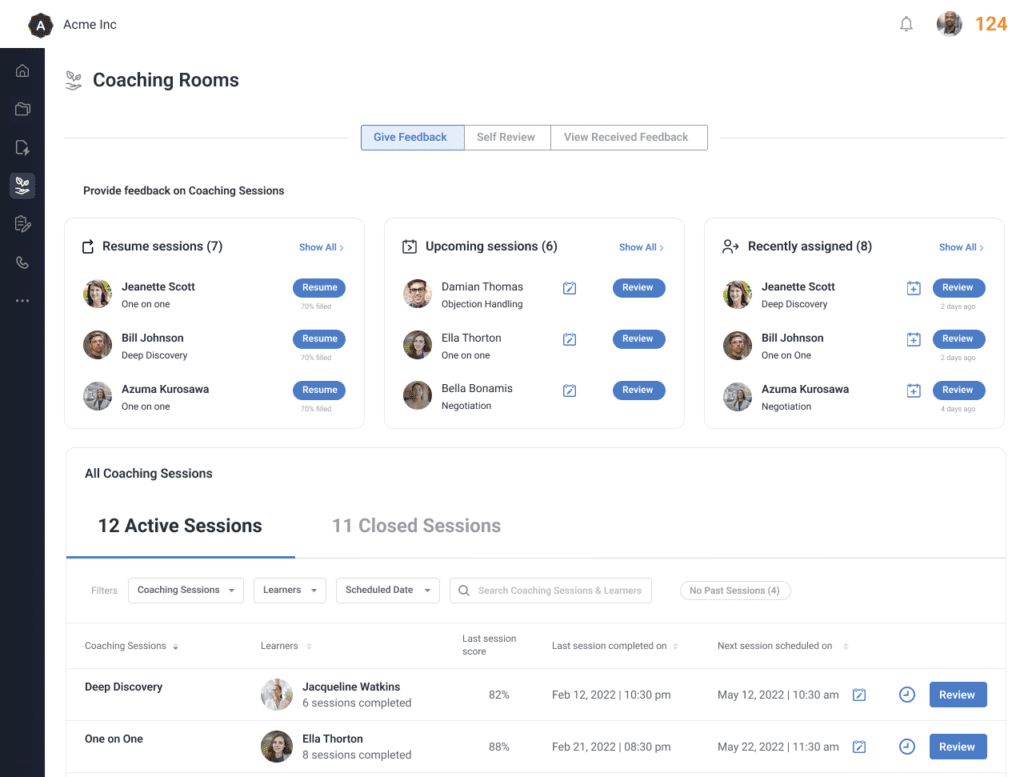 Mindtickle provides a comprehensive, data-driven solution for sales readiness and enablement that fuels revenue growth and brand value for dozens of Fortune 500 and Global 2000 companies, and hundreds of the world's most recognized companies across technology, life sciences, financial services, manufacturing, and service sectors. With purpose-built applications, proven methodologies, and best practices designed to drive effective sales onboarding and ongoing readiness, companies across a wide range of industries use MindTickle's innovative capabilities for on-demand, online training, bite-sized mobile updates, gamification-based learning, coaching, and role-play to ensure world-class sales performance.
MindTickle enables company leaders and sellers to continually assess, diagnose and develop the knowledge, skills, and behaviors required to effectively engage customers and drive growth.
7. Ambition
Ambition's Revenue Performance Platform™ supports your revenue team from frontline sellers through executive leaders. With our Performance Intelligence, Coaching Orchestration, and Sales Gamification, you'll create a positive culture of accountability and encouragement to help you hit and exceed goals. Coaching Orchestration With defined coaching programs, templated 1:1 check-ins, and clear follow-up action plans, you'll bring consistency to coaching.
Sales managers that transfer knowledge, develop skills, offer feedback, and collaborate with their people on sales strategy impact the business by improving rep retention by 25%. Performance Intelligence Leverage Ambition's scorecards, metrics engine, and workflows to align on high-level revenue goals and individual rep expectations. With data in the hands of everyone, you'll boost rep productivity by 25% and increase your win rate by 1%. Sales Gamification A gamification strategy is key in keeping your reps excited, motivated, and in-seat longer.
Celebrate and recognize your high performers with competitions, accolades, and leaderboards. With Ambition Sales Gamification, you create a culture of encouragement and accountability and eliminate all manual steps from building contests to tracking progress.
8. SALES HOOD
SalesHood is the leading all-in-one sales enablement platform used by hyper-growth companies to boost sales performance. SalesHood is proven to reduce time to ramp, lift quota attainment and accelerate sales velocity. Companies like Demandbase, Bombora, Omada Health, Sage, Seagate, RingCentral​, Tanium​, Trinet, and Yext use Saleshood to realize fast revenue outcomes with 100% virtual training, coaching and selling – at scale.
LEARN: Optimize your training and onboarding processes with our learning management system. Prescribe learning paths by role and automate just-in-time learning. Make learning fun with pitch practice and micro-assessments. COACH: Automate and streamline team and manager coaching with templates, tips and workflow designed to boost quota attainment. Get your managers and teams collaborating and improving sales productivity with video sales coaching. SELL: Improve sales productivity with sales content and win stories delivered just-in-time for customer conversations. Create personalized customer micro-sites to share videos and content with customers.
9. SMARTWINNR
SMARTWINNR IS A SINGLE PLATFORM TO DRIVE SALES CONTESTS, SALES LEARNING, AND SALES COACHING FOR REMOTE SALES TEAMS.
SmartWinnr is a comprehensive platform that keeps your sales teams up-to-date with product knowledge, guarantees uniform messaging during customer interactions, and increases sales at the same time.
We use:
Gamified KPIs to boost sales
AI-driven quizzes and regular reinforcements to drive knowledge
Continuous coaching to improve customer interactions.
10. Avoma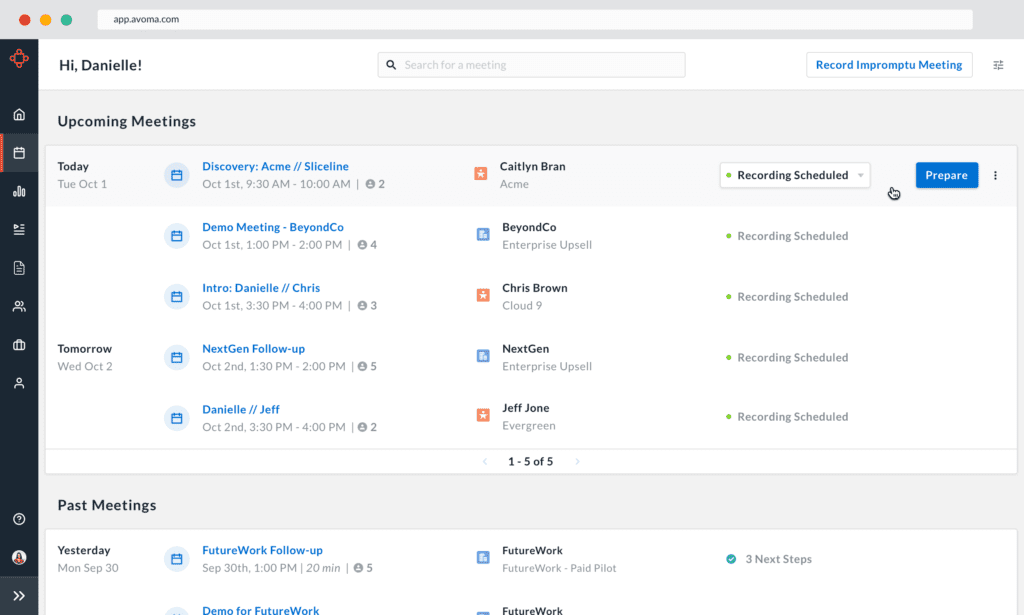 Avoma is an end-to-end AI meeting assistant for customer-facing teams. Its AI-powered technology helps customer-facing teams capture important customer information, before, during, and after important meetings. Avoma analyzes conversation insights, and intelligence to help reps shorten sales cycles and delight more customers. With Avoma, you can automatically record all your meetings, get full transcripts and summarized notes, and actionable insights synced directly to your CRM. Review calls and meetings faster by searching directly within transcripts and using identified topics to find exactly what you're looking for. Avoma seamlessly integrates with your favorite tools.
Segment
Rating
Language
Pricing
Features
finally we will give you a easy méthode to know what are the Common Features of Sales Coaching Software?
The following are some core features within sales coaching software:
Sales pipeline: A core feature of most sales coaching software is sales pipeline features. Sales pipeline features allow users to see all sales deals that are currently in the pipeline. If a sales representative sees a deal in the pipeline they may go back to past conversations with that customer or prospect and identify what matters the most to the customer as well as the most obvious pain points. This makes conversations much more effective with customers.
Video coaching: Video coaching features allow users to coach sales representatives by assigning them video assessments. Video assessments prompt sales representatives to record themselves on video while they perform a mock pitch. After recording themselves, sales representatives send the video over to their managers to be assessed. Video coaching features provide managers with an easy way to score the sales representative's pitch and provide feedback.
Machine scoring: Machine scoring is an artificial intelligence (AI) embedded feature that automatically scores the overall performance of a sales call or video coaching assessment. Machine scoring features automatically transcribe a sales call and identify if key topics were covered, or if the speaking rate was good, and that all emotions exhibited were positive throughout a call.
Sales call library: Sales coaching solutions generally provide a library or repository of past recorded sales calls. By having access to a wide range of past sales calls, new sales representatives easily access calls that were successful and use them to improve their overall sales pitches.
Conversation intelligence (CI): CI features are almost always found in a sales coaching solution. CI records, transcribes, and analyzes sales calls. By analyzing sales calls, it identifies keywords and topics of conversation so users can quickly jump to those points in the recorded sales calls and further derive valuable insights.