10 Best GRC Tools, Platforms and software
Governance, Risk, and Compliance (GRC) is a structured way to align IT with business goals while managing risks and meeting all industry and government regulations. It includes tools and processes to unify an organization's governance and risk management with its technological innovation and adoption.in this article we are going to talk about the best GRC tools but before that what's a GRC Tools ?

Governance risk and compliance (GRC) tools are software or platforms that help organizations identify, assess, and manage risks.
1. StandardFusion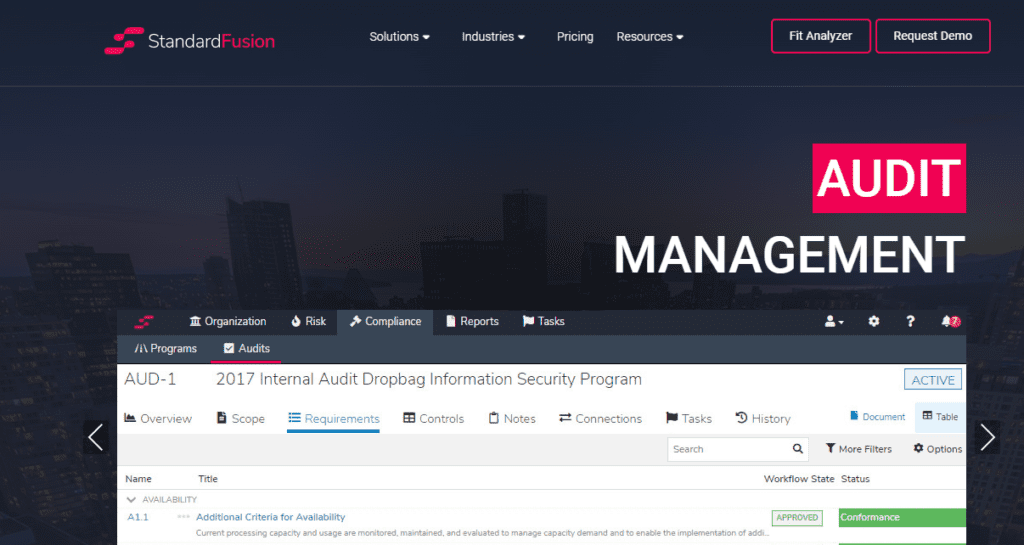 StandardFusion is a company that helps organizations with governance, risk and compliance (GRC). They offer a free GRC tool for small and medium-sized enterprises, which includes an automated GRC dashboard.
The StandardFusion GRC Tool is free for small and medium-sized enterprises. It includes an automated GRC dashboard.
2. Fusionrm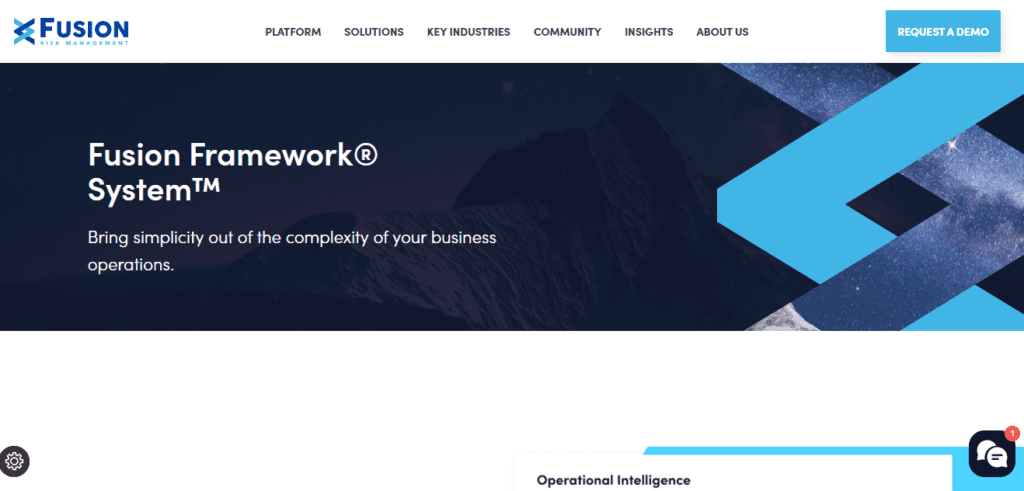 FusionRM is a company that provides governance, risk and compliance software to organizations. The company has been in the industry for more than 20 years and has been helping companies with their GRC needs. It's a comprehensive set of tools with an intuitive user interface.
3. Servicenow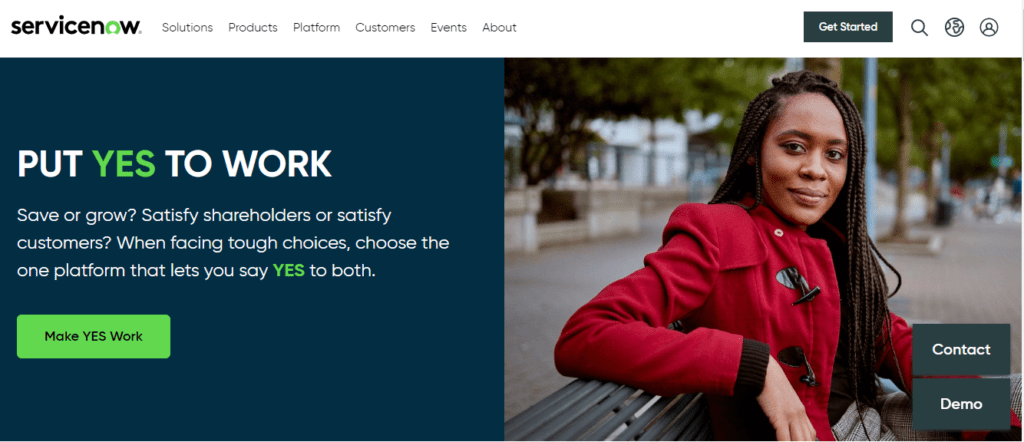 Servicenow is a cloud-based software company that offers IT service and support management solutions. The company provides its services to more than 10,000 customers in over 150 countries. The platform is used by enterprises of all sizes for managing their IT infrastructure by automating the process of provisioning, change management, and release management.
4. riskonnect
Riskonnect is a platform that helps companies manage their risk and compliance. It provides a list of tools that help them with this process.
Riskonnect is a cloud-based platform that is used to manage the risk and compliance of an organization. The platform provides an extensive list of tools to help in this process, including Riskonnect's own tool called Riskonnect Connect.
5. Sai360
Sai360 is a governance risk and compliance list of GRC tools. It provides an overview of the most popular GRC tools, including their features, pricing and use cases.it helps organizations across the globe manage risk, create trust, and achieve business resilience with a unified approach to risk management.
6. 6clicks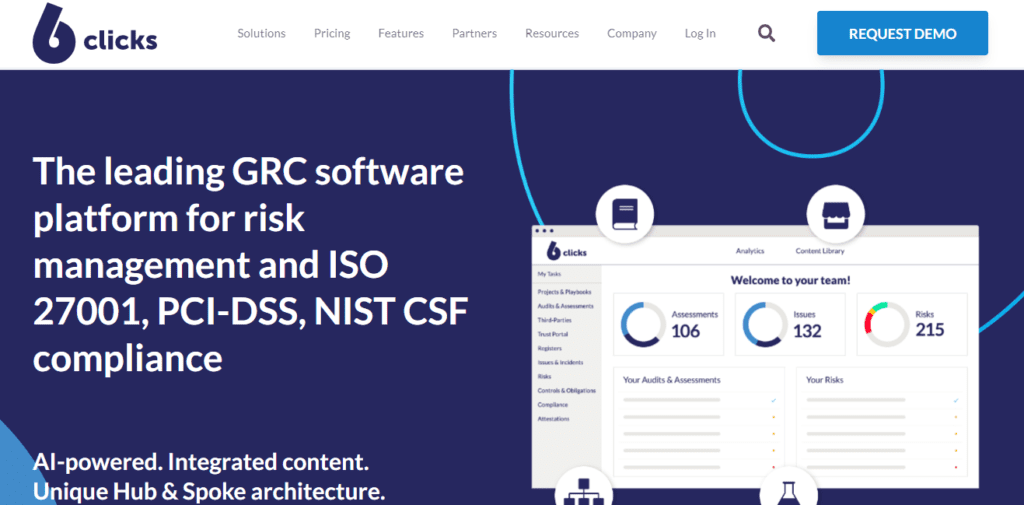 6clicks was founded in 2019 by co-founders Andrew, Louis and Ant in the face of increasing regulation across all sectors, the need for businesses to manage risk better, and a wake of high-profile hacks making cyber security for businesses paramount.The idea was for 6clicks to be used by advisors and businesses that integrated all the functionality you need for audit, risk and compliance, content and AI to supercharge the experience and save time.
7. Reciprocity
The Reciprocity ROAR Platform quantifies risk and shows the impact it has on business programs. Assigning value to risk measured at the program level means different investments can be easily justified, costs can be matched with actual value delivered, ROI can be demonstrated and boards can be informed about the company's risk posture.
8. Navex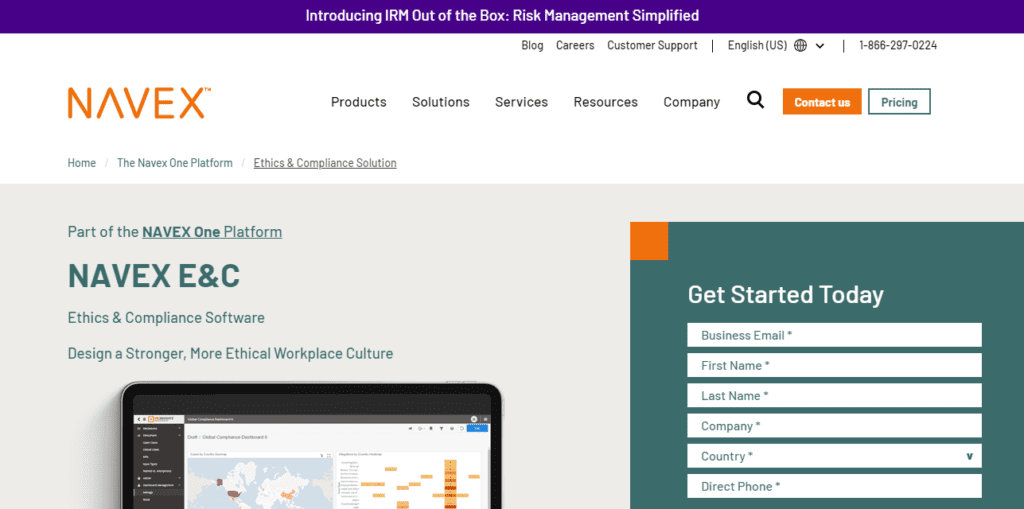 NAVEX is the industry leader in integrated risk and compliance management software and services that help organizations manage risk, address complex regulatory compliance requirements, and foster an ethical, highly productive workplace culture. it is a fully integrated compliance management system that allows businesses to consolidate their entire GRC program onto a scalable cloud-based platform.
9. Metricstream
MetricStream provides powerful reporting and analytics capabilities across all Risk, Compliance, Audit and CyberSecurity products, enabling business users to create rich analyses and derive deep insights for driving business decisions. MetricStream is the world's largest independent provider of governance, risk, and compliance (GRC) products & solutions.
10. RSA
RSA is a global leader laser-focused on identity and access management, reflecting the company's belief that assuring digital identities throughout their lifecycle is of preeminent importance in cybersecurity. RSA focuses on serving the planet's most security-sensitive organizations, with specialties in federal government, financial services, healthcare, energy and technology services.
Conclusion
A modern and a good GRC management tool offers organizations a customizable solution that can easily integrate with an existing technology stack while remaining user friendly. at the end those were our top 10 GRC Tools, Platforms and software, we hope that the previous tools mentioned will be helpful for you.