10 Best Request for Proposal (RFP) Software
In the past few years, RFPs have become a standard operating procedure for procurement departments. This trend is also forcing vendors to become more transparent with their pricing and operational expenses. While this is undoubtedly a step in the right direction, implementing an RFP process can be challenging for any company.
In response to this need, several manufacturers have begun developing solutions that streamline the RFP process and help procurement teams get more value out of it. Request for proposal software allows businesses to manage and track their RFPs more efficiently while still maintaining control over the entire process. Read on to learn about some of the best RFP software solutions available today.

What is the Best Request for Proposal (RFP) Software?
1. Avnio
Avnio is one of the Best Request for Proposal (RFP) Software that you can use as sales teams to boost your productivity . Thanks to its high-quality services , this platform is used by hundreds of great companies such as Salestrip , Volanté , Phix and Salesforce . Using its response cloud , avnio helps you respond to all you complex requests much faster and with more accuracy which allows you a sales team leader to take better decisions , lower your costs and helps you multiply your revenue . Based on its powerful Ai system , the platform focuses all its strategies on your customers and studies every interaction to give insight and analytics and helps you focus more on what really matters . In additon , Avnio gives you the ability to integrate all your favorite apps like Google Drive , Word , Excel , Salesforce and others thanks to its close collaboration which those companies giving you more flexible and comfortable way to deal with your RFPs and Responses . Furthermore , this platform doesn't just offer RFP solutions , thanks to its Avnio Automation it helps you maximise the value from your Salesforce data with Avnio Tables and receive answers on-demand .
2. Qorusdocs
IF you are looking for rfp management software ,QorusDocs maybe be the best solution for you. Using its complex Artificial intelligence algorithms, QorusDocs RFP response software helps you organize your content faster and prioritize for you winning answers thanks to its auto-answer technology.
Dealing with RFPs has always been a boring time-consumingconsuming process that slows down every sales team from moving forward to their goals, that's why this platform was built ! it automates all the process and analyzes those pieces of information to give you powerful insights that help you take the best decisions for your business. In addition, the platform is so easy to use that you don't have to change your favorite work app to use it, you can take all the advantages offered by QorusDocs and continue using your Microsoft Excel app and have a great experience. Furthermore, thanks to its continually refreshed sources of data, it ensures high-quality up to date information and powerful insights.
3. Ombud
One of the best platforms that offer powerful request for quotation (RFQ) software is Ombud , which is an automated response management tool that does all the RFP and RFQ responding process for you allowing you to invest your time on the more important stuff. The platform captures all the changes that interest your content , and after analysis it provides you with detailed insights and proposes answers for all the questionaries based on your last activity and ensures to give you only the best of the best. Thanks to its multiple sources of information, it helps you to keep an eye on all ad-hoc requests and responses. Furthermore, Ombus is a highly secured and flexible platform that allows you to securely share live web view including rich media, and also accepts the export of data on excel,word, and Pdf.
4. XaitPorter
XaitPorter is one of the leading companies that offer great rfp tool , it allows your team to collaborate and make all the necessary chanegs from anywhere where and at any time. The platform has a very simple design with a great user experience allowing you to have an overview of all your tasks, notes , documents, and more. In addition, XaitPorter gives you the ability to export your document to any format that suits you including Microsoft Word and PDF with high quality. Furthermore, this platform is not built only to help with Bids and Proposales , it gives multiple other helpful services to suit different varieties of businesses including sales , financials , engineering and research .
5. Olive
Olive is an rfp software that helps accelerate Your Digital Transformation . This platform uses Artificial intelligence to helps you get rid of all the time consuming work like dealing with emails and meetings and allows to gather needs , deal with departments and keep you aware of all the news about your sale cycle just in one place . Thanks to its huge constantly updated libraries , Olive ensures high quality information and reel insights that generates reel profit .In addition , the platform protects all you important data and the access to you work using a powerful encryption system and offers a premium support to help you at any time you need .
6. Procureport
Procureport offers high-quality quality analyzes and a huge amount of information from its sources to help you deal with your RFPs .Thanks to its Spend Analysis Solution , it provides a user-friendly platform that helps you clean , organize and analyze spend data across your entire supply chain which helps you have a clear look at all the changes that interest your business. In addition, the platform gives you detailed analysis of how much money you are spending, what are you spending money on and what to do for better optimization. It also provides you with accurate insights that can help you focus on the real weaknesses that are holding you from doing better.
7. Qvidian
Qvidian is one of the Best Request for Proposal (RFP) Software is a great tool that help sales team to deal with RFPs and Responses faster and boost their gains . It allows them to track their results and shorten their sales cycle . Thanks to its proposal software it gives you the opportunity to get rid of the busy work using its automated technology and focus more on making responses .In addition , the platform uses an AI system that catches the best RFP responses and stores them in one place so that you can reuse them and learn from them without having to ask professionals about the same questions .The platform is used by some leading companies like Dell , Sap , Cisco , Roesetta Stone and Ing .
8. Arkestro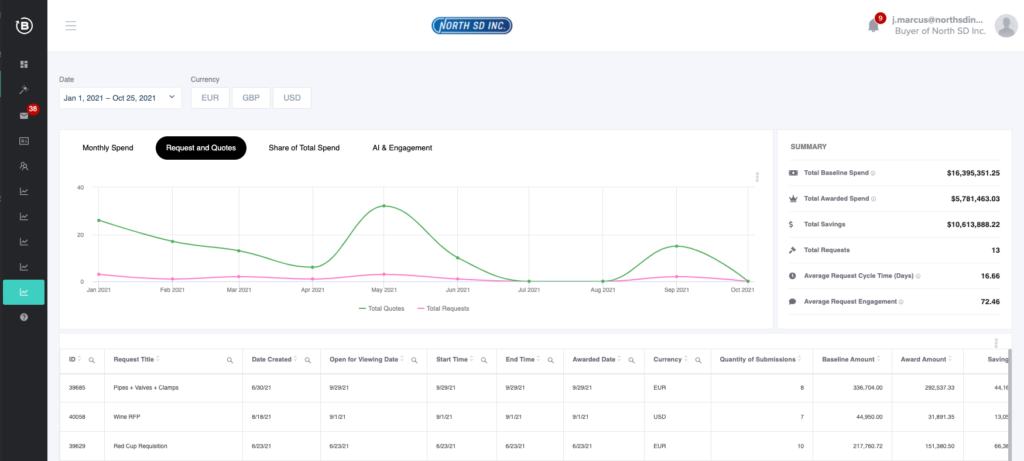 Arkestro is an online platform that helps amplify procurement's impact for business owners . The company has a great reputation and sells its services to hundreds of companies like Holman , box , Materne , O-Basf and others . In addition , thanks to its Ai system and automated data processes , Arkestro helps sales teams gain more time to do the real work and improve their productivity . Furthermore , the platform helps organize the selected suppliers based on its multiple data sources and allows you to bigger your supplier pool with quality and precision . Arkestro also offers a simulation for the procurement cycle before it begins ! Giving you the ability to predict the results .
9. Deep Stream
Deep Stream is one of the platforms that are built to simplify dealing with RFPs and help sales teams to save time and reduce spending . It is used by a lot of famous companies like UST, XOS ,Verkor , Ionity , Maersk and others . Using Artificial intelligence , Deep Stream helps your team with the time-wasting wasting work like dealing with emails and excel , all those processes are now automated and takes less then one hour .In addition , the platform helps you keep track of everything that interests your business, and also all your RFX and communications allowing you the opportunity to see exactly what's working concerning your strategies.
10. Bidnet
Bidnet is a government contracts finder that is offering his services for over 30 years. It gathers hundreds of opportunities from local government agencies and delivers them to its users thanks to its powerful platform and its multiple sources of information . Unlike the other alternatives, Bidnet shows you all the opportunities that match your business needs wish allows you to get directly in touch with the announcing authority without having to waste time on research. Furthermore, the platform has a notification system that sends new opportunities directly to your email in order to not miss any chance and boost your revenue .
Conclusion
Proposal software is just as important as any other segment of your business. The right software can help you streamline processes and ultimately save you time and money. The wrong software, on the other hand, will become yet another distraction that takes away from your day rather than helping you in your efforts to grow that's why you should choose wisely.